Wonder Woman: Trailer, Monolith, and everything you need to know
Get ready to head to Themyscira.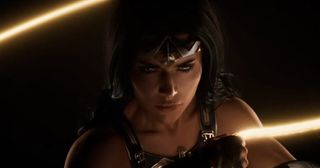 (Image credit: Monolith Productions)
During The Game Awards 2021, a surprise world reveal was shown off, with Monolith Productions announcing a Wonder Woman game. The title will aim to deliver an original story set around the legendary DC Comics superhero. While the game won't be done for a while, we do know a little about what to expect from the game thanks to Monolith Productions sharing some key details on it, and fans are already hoping this game can arrive as one of the best Xbox games available. Here's everything we know about Wonder Woman so far.
What is Wonder Woman?
Wonder Woman is an upcoming third-person, open-world action-adventure game that will feature the iconic character from the world of DC Comics. The title is being developed by Monolith Productions and published by Warner Bros. Interactive.
According to the company in a press release shortly after the game's announcement, Wonder Woman will tell "an original story set in the DC Universe and allow players to become Diana of Themyscira in the fight to unite her Amazon family and the humans from the modern world."
Currently, it's unknown whether the Wonder Woman game will feature any other character from the world of DC, but it's highly likely that at least a few familiar faces from the Wonder Woman comics will be appearing. Due to Monolith Productions describing the game as an original story, it's also unclear whether the game will tie into any sort of established canon that DC has set in its comics, or throughout its movie properties.
Wonder Woman trailers
The first trailer for Wonder Woman was revealed the game during The Game Awards 2021 on Dec. 9. While there's no actual gameplay, or really any kind of hint as to what the story will be, we do get a good look at what Diana will look like in the game.
Throughout the trailer, Queen Hippolyta — Wonder Woman's mother and Amazon Queen — asks her daughter to return home, likely setting the stage for where the game will begin.
Who is Monolith Productions?
Not to be confused with Monolith Soft, the developer of Xenoblade Chronicles, Monolith Productions is a developer owned by Warner Bros. Throughout its history, it's developed a handful of critically acclaimed games, including the F.E.A.R. series, Gotham City Imposters, and most recently, both Middle-Earth: Shadow of Mordor and Middle-Earth: Shadow of War.
For fans speculating, Wonder Woman will likely be closer to both Middle-Earth titles than anything else Monolith has done. In their initial announcement for the game, Vice President and Studio Head of Monolith Productions David Hewitt spoke on their ambitions for the upcoming game.
"At Monolith Productions, we believe in the power of player-driven storytelling to unite people. The stories our players share inspire us every day, and we are honored to take players on a unique personal journey, driven by the values embodied in Wonder Woman," Hewitt said.
Hewitt's talk of player-driven storytelling will likely ring a few bells in fans' heads, and brings us to our next question regarding the upcoming Wonder Woman game.
Will there be a Nemesis System?
Yes. While we haven't seen any gameplay from Wonder Woman or how it will work, Hewitt's comments do confirm that the Nemesis System will be making its way from the world of Middle-Earth and into Wonder Woman. "The Nemesis System raised the bar for player-driven storytelling and we're excited to push the open-world genre forward, combining cutting-edge action with inventive narratives to create a Wonder Woman game everyone will want to play," said Hewitt in the game's announcement.
For those unaware, the Nemesis System was introduced in 2014's Middle-Earth: Shadow of Mordor. The gameplay mechanic was a complex system that essentially created a huge web of relationships between the player and various high-ranked enemies in the game. Taking down a general in an area in Shadow of Mordor, for example, would allow another low-level Orc to rise in power. That Orc would then remember you, resulting in a domino effect of sorts that made for unique interactions for each player.
It's unknown whether Wonder Woman will use the Nemesis System in the exact same way, but Monolith Productions has hinted at it working for both allies and enemies alike. "Powered by the Nemesis System, gamers will forge deep connections with both enemies and allies as they progress from a heroic fighter into a proven leader," the developer said in its announcement.
Wonder Woman platforms
Currently, no official platforms have been announced for Wonder Woman, but taking a look at the platforms that Middle-Earth: Shadow of War — Monolith's last developed title — released on, it's safe to assume the game will be available on at least the Xbox Series X, Xbox Series S, PC, and PS5. While it's unknown whether the game will launch on last-generation platforms like the Xbox One or PlayStation 4, it's unlikely to think it will.
When is Wonder Woman's release date?
Unfortunately for fans excited by the announcement of the game, Wonder Woman currently has no official release date schedule. While Monolith Productions hasn't released a game since 2017's Middle-Earth: Shadow of War, it seems the studio is still not ready to commit to a release date for this already highly anticipated game.
Because of how the pandemic affected game development around the world, we'll have to wait to see when Monolith Productions gives a firmer release date, or whether the game will end up needing a bit more time.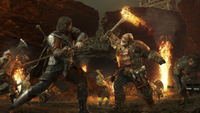 (opens in new tab)
Middle-Earth: Shadow of War
If you're looking to see what type of gameplay and mechanics Wonder Woman may have, check out Monolith Production's last game, which expands on the Nemesis System and continues the story of Middle-Earth.
Buy from: Amazon (opens in new tab)
Windows Central Newsletter
Get the best of Windows Central in your inbox, every day!
Anthony Nash has been writing about games and the gaming industry for nearly a decade. When he's not writing about games, he's usually playing them. You can find him on Twitter talking about games or sports at @_anthonynash.