WP7 Twitter Clients – Review Roundup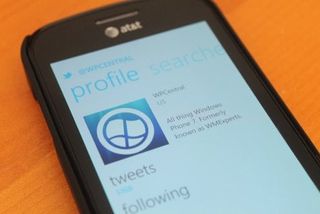 One of the popular complaints of Windows Phone 7 is the lack of native Twitter integration. Fortunately for those of us that are regulars in the twitterverse there are several Twitter clients in the Windows Phone 7 marketplace. Keep reading for a quick look at the Twitter clients that are available for Windows Phone 7. (You should also follow us on Twitter if you're not already. We are @wpcentral. Individual writers are @malatesta77, @coppertop004, @tferrill. Other Smartphone Experts that we recommend are @backlon, @philnickinson, and @palmsolo.)
Twitter (Official)
The official Twitter app is the most downloaded option in the Marketplace. Featuring the panoramic interface that has become so familiar to users of Windows Phone, users can easily navigate between different types of tweets such as your timeline and mentions.
Twitter for Windows Phone 7 offers the ability to log into multiple accounts as well as giving you access to lists and searches. Currently there is no capability for push notifications or live tiles, though these features are rumored to be coming in the not-too-distant future.
Get the official Twitter app here (opens Zune).
Seesmic
One of the biggest names in Twitter clients, Seesmic has applications for all of the major mobile platforms as well as web based and desktop versions. While it doesn't have the same features that you will see on some of the other options, Seesmic offers a more streamlined approach to a lot of the more popular uses for Twitter. Searches, trends, and lists can be added to your Seesmic "Spaces"; making them a shortcut of sorts on the Seesmic home screen. Seesmic also integrates with Facebook, adding additional usage scenarios to a single app.
Get Seesmic here (opens Zune).
Beezz
It may be the new kid on the playground, but Beezz is the only Twitter client that includes push notifications and live tiles at this time. The push notifications alert you to new mentions or direct messages, while the live tile shows a count of currently unread Tweets. Beezz uses a panoramic interface, with the main page linking to the different timelines.
The folks behind Beezz are already planning their next update, which will include a number of requested features. Most notably we'll see a re-worked live tile that will show unread counts for tweets, mentions, and direct mentions.
Get Beezz here (opens Zune).
Conclusion
The best news about the competing Twitter clients is the fact that all of the options mentioned are free, so there's no risk in trying each before making a choice. The real decision is going to come down to which options you will use and which you can live without. If push notifications are a requirement, Beezz is the easy selection. If you're looking for something to handle multiple logins, Seesmic or the Twitter app are the better choice.
Which Twitter client are you using? What are the killer features that made you choose that option? Let us know in the comments!
Windows Central Newsletter
Get the best of Windows Central in in your inbox, every day!
Funny Enough I use two clients, I use Beezz for the live tile count as well as the awesome DM and Mention push feature, but I use the Official twitter app to post and reply because its faster and smoother with more features for me. But thanks to the tiles they sit side by side the perfect combo........ for now that is.

The all suck pretty bad compared to twitter clients on other platforms.

I wouldn't say that about beez. Beez is pretty good.

Beez is buggy. The live tile doesn't work all the time. It's a poor interface. But the reported updated was going to fix these issues, but that was over two weeks ago since that was reported.
Windows Central Newsletter
Thank you for signing up to Windows Central. You will receive a verification email shortly.
There was a problem. Please refresh the page and try again.