On a rainy day, Windows Phone Central visits Electronic Arts headquarters to play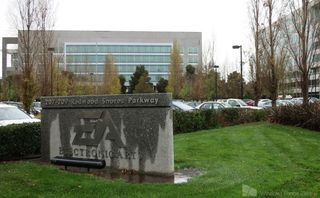 The Xbox One launch is fast approaching, with many game publishers lined up to publish launch titles for the new console. One of those publishers is Electronic Arts, who have Battlefield 4 and Need for Speed: Rivals ready for Xbox One.
In celebration if the impending launch, EA invited us to their headquarters in Redwood City, CA to check out a couple of Xbox One exclusive titles they have coming in the months ahead. We can't talk about those games just yet, but I can share my experiences and impressions of the gigantic publisher's sprawling base of operations.
As the article headline indicates, it was raining up a storm when we visited the headquarters. Two buildings at EA face the street and parking lot, with several more buildings behind them. Their design is elegant and modern, but some external decorations related to the publisher's gaming properties would have been cool.
The lobby leads to the employee store, the upper floors, and a long horizontal hallway. As visitors pick up their badges, they can watch trailers for upcoming EA games such as The Sims 4 and Battlefield 4.
At the center of the hallway rests this beautiful 1993 Ducati Supersport Desmodue 900 bike. Notice the Team Road Rash helmet at its rear.
The Road Rash motorcycle racing/combat series was one of EA's most popular franchises during the days of the Sega Genesis/Mega Drive. Many of us hope the series will return to glory someday. This 1993 bike would have been created between the releases of Road Rash 2 on the Genesis and the 32-bit 3DO Road Rash.
Displays lining the wall celebrate various periods of EA's history. On the left are several early home computer games. At the right, notice Road Rash for the relatively obscure 3DO console. I put so much time into that version of the game, which featured cheesy live-action story sequences and licensed music from bands like Soundgarten. Road Rash was later ported to the Playstation and Sega Saturn.
The display on the right celebrates the beginning of The Sims series as well as EA's strange Def Jam fighting games. Remember those?
Shortly after EA bought PopCap Games, zombies started to infest the place.
Both walls of his hallway are dedicated to EA games that have gone "Platinum" or above. That means they sold at least one million copies. Did you know that EA helped publish Final Fantasy X for the Playstation 2? It hangs on the middle of this wall.
Believe it or not, Electronic Arts really looks out for its employees. When the sky opens up, everyone grabs a free EA umbrella for protection. Beyond this door lies an outdoor playground for employee's children, a massive cafeteria, and a gym.
Here's your friendly neighborhood Games Editor with PopCap's Sylvain Dubrofsky (on left), the lead designer of Peggle 2. We'll have lots more to share about the Xbox One-exclusive Peggle 2 in December!
My visit concluded with a trip to the Electronic Arts employee store, where I picked up these games a few days ahead of the Xbox One console launch. The system itself goes on sale this Friday, November 22nd. You can look forward to our reviews of the Xbox One itself and many of its launch titles in the weeks ahead.
Anyone else planning on grabbing Battlefield 4 or Need for Speed: Rivals?
Paul Acevedo is the Games Editor at Windows Central. A lifelong gamer, he has written about videogames for over 15 years and reviewed over 350 games for our site. Follow him on Twitter @PaulRAcevedo. Don't hate. Appreciate!
The Battlefield 4 commercials have been the best I've seen in a while.

Yeah, I like em too, but the game SUXS BALLS!!!!!

lol..i know... this has been the worst season.. COD, BF4 both were kind of lame...

Did anyone ask if the BF4 commander app will be available on WP8?

And also the Need For Speed Network

Paul, I enjoyed the article, but I must know... did you ask about Plants vs. Zombies 2?

Yes, but they didn't have anything to announce. We can keep hoping!

Wow, did not know EA played a publishing role for the FF 10/-2 iterations. Side not: I'm jelly that I did not get an evite for this!

No, ask them for more Windows Phone things!

I second that. Would love to see more Xbox games on Windows Phone and Windows 8 from EA. A sequel to Mirror's Edge would be especially appreciated.

http://www.youtube.com/watch?v=u6PXba8X6N8

You should have asked them when they plan to bring NHL back to the PC.

There is no intention to bring back the NHL series to the PC, this has been asked and answered several times on the EA Forums. EA views sports games on the PC as a niche market.

Not so sure about that, PC is the biggest platform for EA right now and FIFA is up there with the big guys (BF4&Co.)

I think it would be more reasonable to say that NHL is a niche market. Soccer/Football is played and watched all around the world, while NHL would be limited to only North America? So it's a niche market of the dwindling PC market in the US & Canada only, and probably not worth the effort.

I meant "dwindling PC gaming market"

PC gaming is actually growing again. But yes, they consider that game too niche for PCs at this time.

They should at least make a non-year dependant NHL PC game and they could then just sell roster updates for it each year, that would bring them more than enough profit with only minimal effort after the initial game is done.

While NHL is played in North America the interest spans to many European and other countries whose players play in the NHL. So it's hardly just a US/Canada thing.

why did you not ask for a battlelog companion app on windows phone?????

dude in second last pic has project spark tee... gather thats another exclusive haha

He's probably just a fan. Project Spark is made by Microsoft Studios and is exclusive to Xbox. It's a digital release for Windows Store and Xbox Store.

We do all know that's me, right? It says so right there in the article. It's not even a long article...

*TIMED Xbox One Exclusive Peggle 2 ;)

Bring the damn Simpsons Tap out to windows phone fools.

How did they help publish FFX?

Let me Google that for ya... Wikipedia: Square EA

You didn't seriously just say "Google." You "Bing" things, Paul. YOU BING THINGS!!!

LOL, but yeah. "binging" is better!

Did you only go to the one building with the store? The main lobby in the building across the field has some very cool displays, too.

I also went into the cafeteria building for lunch. Nobody was available to give me a tour of the other building (they did try). Will have to check out more of the place next time. :)

Paul, any info from EA on future WP game development and their take on Xbox integration?

Is there any news about Plants vs. Zombies 2 arriving to WP8 and W8?

Photos taken with the 1020?

Nice! Did they see you trolling, walking there with a Project Spark Shirt? It's a Microsoft Studio Project and has nothing to do with EA ;) Actually, I'm wearing this shirt right now, too :)

Not even a hint of an impression of the exlusives you were shown?

I can say that I liked what I played better than I will probably like the 2 games I bought. Not that I don't expect to enjoy Battlefield and NFS! :)

BF4 is on my list but, not the first games I plan to buy.. as I already have Ghosts.... Still very cool, would love to hang out there for a day or so !

Why now EA Game not support windows phone? No more new game from EA?

EA is still supporting WP.

Where is Real Racing 3 for Windows Phone?
Windows Central Newsletter
Thank you for signing up to Windows Central. You will receive a verification email shortly.
There was a problem. Please refresh the page and try again.