Check out writr, a beautiful journal app for Windows 8.1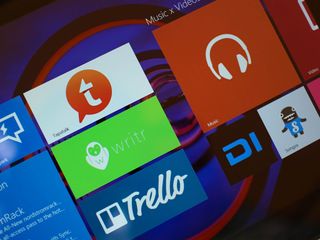 Everyone should keep a journal. It's a good way to gauge self-growth and keep track of your life. There are many ways to journal of course. You could do it the old-fashioned way with a physical notebook like a Moleskin or you can create a digital version using something like OneNote. Writr is an app in the Windows Store that's takes the concept of a journal, but gives it a little bit of a twist.
Writr is a journaling app for Windows 8.1, but slightly different. Instead of a giving you a blank canvas to fill in your thoughts, writr will ask questions and prompt you to evoke a little bit of self-analysis. Staring at a blank page can be pretty daunting for a lot of people when starting out journaling. With Writr the questions help to overcome writers block and any obstacles keeping you from writing. If you're already a habitual journalist, you might not need writr. Though it's an interesting app and we think anyone should check it out, no matter what level of journaling experience they have.
Here are some of the features you get with writr for Windows 8:
A revolutionary digital journal that focuses on personal growth.
Daily questions encourage reflection and self-analysis with each entry.
Gorgeous calendar providing a seamless, intuitive experience.
Bookmarking allows you to never forget those important growth milestones.
Add Tags to posts for context and easy access.
Share select snippets to your social media channels with ease.
Password lock your entries on device.
Backup and Restore your entries and settings.
Add and edit entries for past, present, and future.
We've been playing around with writr for the past week and really like it. It's a fun way to journal, especially if you fear a blank page. Don't worry though, writr also supports blank pages. So you can use the app to journal in the traditional sense.
We do wish the app supported cloud syncing. You can archive and back up to zip. You can then use that zip to restore, but it'd be great to have native cloud syncing capabilities built into the app. Even something as simple as OneDrive integration for the syncing would be awesome. That said, it's a great app and recommended if you want to journal.
The app comes with a fully functional trial that gives you access to everything for 25 days. After that you'll need to upgrade to keep access to everything in writr. It'll cost you $1.99, which is reasonable for a really good app.
Have any other favorite journal apps on Windows 8.1 or journaling tips? Sound off below!
Download writr from the Windows Store (opens in new tab).
Windows Central Newsletter
Get the best of Windows Central in your inbox, every day!
Neat, maybe I'll give journaling a shot.

Tapatalk stands out way more than writr in that article picture. Maybe blur everything else on screen for contrast? Just my 2¢.

Hopefully it doesn't have a version of Clippy that's the Democrat donkey telling me "It looks like you're trying to write a conservative article, would you like me to 'help' you with that?" http://en.wikipedia.org/wiki/Media_bias_in_the_United_States#Liberal_bias

The experience I have with journaling is from iOS back when I used Momento. If there's an app that makes me miss the iPhone, is that one. Nothing comes closer and there actually isn't a decent alternative for it in any OS. Since then, I reverted to the good old pen and paper method. Not as practical, but with a more "to the heart" experience, because I'm taking some time to actually write something... Which is something that gets rarer by the second. There's something about grabbing a good fountain pen and write away that makes journaling that much better. The disadvantage is, of course, much less practicallity and privacy, since anyone can grab the journal and read it, while password protection covers that on the digital alternative. That being said I see potencial in this, though it's still a bit green. Photo uploading should definitely be a feature to implement in the near future.


Looks really great. Thanks.

Does this app support the surface pro and its wacom tech?

Great looking app. But why not released for WP 8.0?

The app is for Windows, not Windowsphone

This was helpful. @b4rtw. :D

This looks fantastic! Been trying to get back to journaling, but have had trouble starting and staying the course. Thanks for sharing! Posted via the WPC App for Android!

Cant find it in the store in India...!!!:(

Ahh man bring it to windows phone too!