Wunderlist app for Windows Phone and Windows 8.1 officially released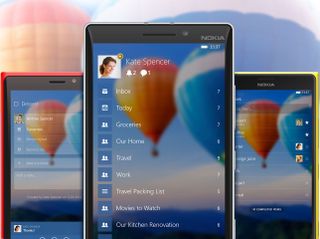 The cloud-based task management app company Wunderlist, which released public beta apps for both Windows Phone and Windows 8.1 in August, has announced that the apps are now out of the testing stage and are officially available for both platforms.
In a blog post, the company said:
The company also announced today that a version of Wunderlist for Windows 7 is in the works and will be released soon. What do you think of this app making its official Windows Phone and Windows 8.1 debut?
Windows Central Newsletter
Get the best of Windows Central in in your inbox, every day!
Exactly they still haven't gotten us out of beta...

8 months with no updates? switch to 6tag then.

I use the official, because the more users it has, the more incentive they have to update. :-)

and the official have far better image compression quality than 6tag and the notifications are much more reliable.

I'm with you. I use whatever is BEST and don't care about "official".
Of course, this whole section of thread is so off topic. ha ha

So much news. So little time to read.

I'm really amazed they are doing a WP7 version. Nice.

It's a Windows 7 version, not Windows Phone 7.

Oops. You're right. I missed that. Idk why that's new. I already had a desktop version.

They had a WP7 version a long time ago, then they pulled it from the store, saying nobody was using Windows Phone.

I got a letter about 2 mins. Earlier

Nice. I only got an email.

I got a phone call.. Lol..

I am amazed by the Wunderlist team. A fabulous job in such a short time. Every other day, the app was updated, and it was amazing seeing how the app evolved. It was quite buggy in the beginning and with every update, the app kept getting better and better. I hope other devs whose apps are in the BETA stage learn from the wunderlist team. Thanks Wunderlist.

let us all forget about instagram , it won't happen :P

Darn wunderlist..... Buggggged and very slowww

Maybe you're using the old version? New one works great!

What's the use of this app?

There is an article about this on WPCentral

They should at least prepare some screenshots...

There's a Flipboard tile on the 830 commercial, hopefully that's the next app we get.

You beat me to it by 20 seconds :D

Great job by the team at 6Wunderkinder.Many thanks guys :) @Daniel, can we look forward to seeing Flipboard this week too?

Where's all the beta complainers now? This and BBM moved very quick from beta to official.

Read above. They're still complaining about Instagram.


What?? Already ?? But the beta just came out....
*Sigh* Isn't there any app out there that can compete with instagram

@Aashish13 the joke was to compete in the time instagram is on beta stage.. :D

I no longer wait or care about clipboard anymore, it's nice looking but feedly and phonly does it for me.

In the other hand, hyperlapse for WP would be an instant turn on for me, forget about Instagram

yeah they should the video o, u tube of Microsoft's hyperlapse. ot got many views. maybe by year end it will come.

watsapp the main update should come by now with more features.
come on FB and Microsoft

How are FB and MS related to a WhatsApp update?

FB owns Whatsapp now. As far as Microsoft I have no idea lol

You sound like you've been living on a cave for a long time....

Live tile doesnt work to me... Even not if i pin specific lists not the main tile... L720 Cyan


Live tile is not working....

The live tile still doesn't work for me.

And yet Windows Phone 8.1 hasn't been released yet on Verizon. SMH

Not understanding official launch when the app's ratings are all from 2013

Because it has been in beta. It was still "official".

Live tile doesnt work, neither on WP8.1 or W8.1... Add live tile and snap view and it will be a GREAT App!

I can't control myself but: Instagram, shame on you!!!!

Realy realy impressed with these guys. Great to do list app that works across all devices.

How do you delete subtasks on WP version?

You don't really, from what I can tell. Only option I've found is to simply "check" them off.... Unless I've missed something.

Sure this app is good to use on Windows phone? I read lots of negative comments on the store....

that's for the version 1.x. This is the version 3.x.

It's the best to-do list out there. Highly recommend.

If I could ever get Windows Phone 8.1, I would love to use this app. AT$T Lumia 920

The bèta app seems to be much better so im holding off on downloading this one

If only all apps looked this beautiful! Love the design

Is Live Tiles working for you? For me isn't since first version of beta - no change yet.

It seams the live tiles isn't working for a lot of people. For me it never worked since the beta.

Live Tiles not working for me, Icon on 8.1.1 preview. But it opens quickly, syncs easy, and is very intuitive, so looks like it's replacing Tasks by Telerik, which I feel has always been clunky and hasn't seen an update for more than a year. Wunderlist is now wunderfully cross-platform and will fit my needs better.

You lost me at "cloud-based". No offline option is an instant fail in my book. Anyone still believing sensitive data stored on these platforms being secure is a fool. Forget Kate Spencer shown in OP's image, just look at Kate Upton. No really, look at her O_O

Should state Windows Phone 8.1. Not available to those of us still waiting for the update.

Think Wunderlist has a way to go before it can be considered a must have task app. A more robust recurring task tool for sure. And, please, a Live Tile, so I don't have to open the app just to find out that I "don't" have any current or past tasks due. I will say though that syncing so far has been flawless. But lets see how that works "after" they have added a Live Tile that can (hopefully) change on the fly. Every 30 minutes is more than fine with me. Hell, twice a day would wet my whistle. Been waiting for a good syncing task app since giving up my Pocket PC. I would even pay their Premium fee for a working, syncing, Live Tile across all my devices.

I can't find the app in the Windows store on my surface 2

Same here "Sorry, we can't find this page. The address might have changed or been removed."

Can we remove the background or at least change it to a custom image or solid color? The app is well designed but I have always hated that semi transparent background distracting the user.

I started using Wunderlist a couple of weeks ago, so I'll download this 8.1 version even though I don't go over to the Metro side on my laptop too often. I'll install the Windows 7 desktop version when it comes out.
Windows Central Newsletter
Thank you for signing up to Windows Central. You will receive a verification email shortly.
There was a problem. Please refresh the page and try again.