Xbox app for Windows 10 updated with test for future streaming game support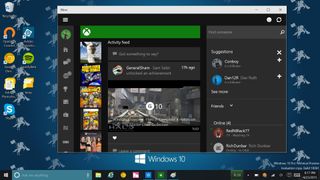 Microsoft is now rolling out a new update to the Xbox app for Windows 10 Insider Preview PC users. It includes a test that will help Microsoft with their development of streaming games from an Xbox One console to a local PC.
Here are the change notes for the update:
Avatars – You can now download and launch the Avatars app from within the Xbox app. After the app is installed, select Customize > Customize your avatar to launch the Avatars app and edit, dress up, and buy new items for your avatar.
Friends updates – We're making it easier to add friends, designate them as favorites and share your name from the Xbox app. The friends list will also show you which of your friends are in a party, playing multiplayer games, or broadcasting. You can also report or block people from the Xbox app.
Game hubs – Similar to Xbox One, you can now view the game hub for an Xbox One game and view the activity feed curated by the game's community manager. Click on any game tile, under Home > Recently played or elsewhere in the Xbox app, and you will be taken to the game hub.
Game DVR – You can now alter the keyboard shortcuts used for opening the Game Bar, starting and stopping recording, taking screenshots, and more. Also, you can now view and manage your cloud-based game clips from the Xbox app by selecting Game DVR > Shared.
Testing streaming – The Xbox team needs your help in providing information about your PC's performance and connectivity characteristics as we prepare to enable game streaming from Xbox One to Windows 10 PCs. To do this, connect your Xbox One to your Windows 10 PC using the Xbox app: from the Connect menu, select your Xbox One console then choose Connect. Once connected, click on Test streaming to anonymously send the team diagnostic information about your PC and network settings.
Turn On/Off your Xbox One Console – The Connect menu in Xbox app has been updated to let you power your Xbox One on and off from your Windows 10 devices when they are on the same home network as your console.
Source: Xbox Wire (opens in new tab)
Windows Central Newsletter
Get the best of Windows Central in in your inbox, every day!
Woohoo!! Can't wait for Streaming from the Xbox!!

I think this is hands down what I am excited for the most with 10.

How to update? No Store Beta on German Win Preview

I don't get the point of streaming really?... You have to be on the same network... Might as well just play on the xbox.... On a big screen right?

You're not getting the point. It isn't actually helpful but cool. That's enough.

I don't get it either. So we can watch someone play the game remotely?

So my wife can have the TV and I can play on my Surface. That is why I am excited.

Unless your 3 year old is watching Doc McStuffins, or your wife is watching Hallmark Channel, or your son wants to play Forza but Alabama's playing LSU, etc etc etc

Haha but it's still only streaming what is on the xbone at the time right? So really it's only like a screen share? Or am I wrong?

The game that's being streamed can be in the background on the Xbox while someone else watches TV, Netflix, Hulu, Plex, etc in the foreground.

Nah it doesn't do that presently. Just streams what's on the screen

Though they did say they were working on it defaulting to TV when streaming is active. I hope this is the case as I dont want to run my cable outside of the Xbox, but I will if I have to.

Or Nebraska Vs. Wisconsin, whatever :) GO BIG RED!

Aren't they both Big Red?

I was hoping someone would catch that. WIth that said, I'm a Husker. :)

As for the present, it's not terribly useful. But I can't say I wouldn't like playing my Xbox in bed sometimes or playing in the living room vs my game room.

How would that work in terms of playing? Would you use a controller? Connected to xbone or the pc? Confused much

You ought to check out the Windows 10 Briefing that had Phil spencer. It's on youtube. He was using a controller on the PC. Not sure if you know or not, the Xbox one controller has full PC support. I use it all the time to play steam games.

Aaah cool, will have to give it a bash. Makes much more sense :)

So it's more like remote access to your xbox than actual passive streaming from your xbox to your pc. I wonder what the lag will be like?

https://youtu.be/RUCn_rvDU-A

You plug your controller into your PC. Watch the video though, good stuff.

I thought streaming was a one way transmission? So it's not like you would be able to hook up your controller to your pc and play a game installed on your xbox or anything.

Yeah, then you only have a limited range for the controller... Not very useful in a larger house?

Works with steam in-home streaming, so I would imagine it works with the xbox streaming. The xbox is doing all the work and the PC is just displaying the video through the network.

You need a gf to know how useful this is

Well how about when your wife/girlfriend/kid etc wants to watch something on TV and you want to play Xbox, now both of you can be happy

Shouldn't the wife be cleaning and the kid playing outside?

Exactly, thats the beauty of this Technology!

Now here is the million dollar question, can my daughter be on my Xbox on her profile playing project spark, while I am on the PC playing Halo 5. That would be cool bro

Probably not because then it's playing two system straining games at once.

Exactly, you are not getting it. so why comment? you can read these articles 80 times and probably say the same, because you don't want to think about scenarios, big or small, why this would be useful to some people. ever wanted to go to roof and watch the stars while playing videogames on your laptop? it could work. or when you are playing games and need to go bathroom? what if you lay down, you don't have tv or xbox on your room but you want to keep playing? again... like I said, it's useful to SOME people. not everyone. and having streaming is better than not having it. also maybe in future this will be available for Windows on the Phone with all the keyboard and mouse and other input support for it. and you say "same network" but there are many ways of cheating that... so I am sure there will be many ways to play from anywhere as long as you have a fast connection. (something that Microsoft can enable officially if they want to).

Remote access, vpn possibly. From my understanding this is based around remotefx

So does this mean we should be able to preview game streaming now? Or is this just a test or something?

Just testing, no streaming yet

Did you read? "Testing streaming – The Xbox team needs your help in providing information about your PC's performance and connectivity characteristics as we prepare to enable game streaming from Xbox One to Windows 10 PCs. To do this, connect your Xbox One to your Windows 10 PC using the Xbox app: from the Connect menu, select your Xbox One console then choose Connect. Once connected, click on Test streaming to anonymously send the team diagnostic information about your PC and network settings."

Yeah just did, Thanks for taking the time to do all of that. wow.....

Nope, for being a jerk. Have good day.

Yep, LOL #lovetheinternet

I know it sounds childish and awkward but,Microsoft are releasing these updates to test these apps and get the users feedback and that move is indeed great but isn't it removing the element of surprise of the features of Windows 10?

Um.. Nope.. I don't think general users know any shit about this preview stuff.

Sure. They surprised everyone with Surface 1 and Windows 8. They were both failures due to thinking they knew what people wanted. They are now doing a 180, building an OS partially powered by what people really want and like.

I think that's the way forward, they are always listening to what extra features we want and implementing them :) even though there are a lot of people using these preview programs it's still only a small percentage of final users!

Thank you,I understand that chances of failure will be lowered with this and eventually people will get what they want but I still hope for some hidden secrets though

The secrets are in hololens, not the bread and butter. Creativity will never die.

Great! Soon I'll be able to play the Witcher 3 on my tablet without feeling guilty about hogging the TV for hours on end! My misses will love it lol

Gonna be nice to play the Witcher via PC. Listen to the Majornelson podcast a month or so ago, family can be watching Netflix on the box and you can play games via your Surface. Almost just like a snap feature.

Can I stream to a tv in another room? ( mind blown)

A tv with a connected windows 10 device.

Yes I'm sure you could, but it would be more on the lines of streaming to a pc/laptop that uses the TV as a monitor.

You need another Windows 10 device because of Xbox App.

Playstation already had this, it is still coming soon for xbox owners...meanwhile I am hear, running my PC through the HDMI on my One, and I can also stream the games wirelessly through steam onto my Surface. Your getting there Xbox, just a bit further ;) #pcmasterrace Most https://www.playstation.com/en-us/explore/playstationtv/

LOL you're wrong mate. Xbox One just requires a Windows PC/Notebook (they are everywhere, you know) PS4 needs a Playstation TV (?)

Is the technology that will be used related to Microsoft's Delorean project or is this entirely separate?

It's different. Delorean had to do with streaming from the cloud.

No Xbox here in Saudi... It's all about PS :/

Buy one from online or get someone to carry one for you from abroad.

Hope that the streaming isn't going to require very fast internet connection to work. Cool features coming.

Streaming is not based on internet speed, its based on the capabilities of your network/router. If you have a good hub then you will have no problems :) or if you lan it up even better

Ok. That's what I thought. It doesn't go through servers, just on home network as you said.

I hope streaming is windows only we need a push for our devices

Dang and I just downgraded my tablet, hmm time to go back to win10 besides I love fact you can move apps to a sd card (something you cant do on windows 8). I've got a feeling they will enable this at e3, coz that would kinda blow other consoles out of the water. Yes, playstation 4 can do it but you need a psp vita or a ps home set, this just requires a windows 10 device which ALOT more people have/will have upon official release of win10.

I'll send them test data soon.

Im running the latest windows 10 build however I am unable to test streaming with my xbox :( It connection but not test streaming option.
I think i have to be in the xbox preview program which im not :(

You can't stream yet, this is just for testing.

Yes I cant see the test streaming option to run the test.

I have the same issue. I can connect to windows 10 to xbox, I get the new options of turning on and off the xbox. There is no link or button to send testing information about streaming. I am on the xbox preview program.

Very nice! Playing Trials while my wife is watching TV will be awesome. Some extreme tracks are still missing By the way, can someone invite me to the Xbox One Preview? My gamertag is 'Datalux78' Thanks

you want in? send me a messege after 5pm central so i can invite you, gamertag is "Nasura xD"

I love that fact that this was in the more recent builds but haveing to be in the xbox preivew program as well (and that is such a pain to get into) makes it a little hard to get a decent test base. Many people on the Preview Forums have put in comments that they don't even have an xbox and those of us that do can't get into the preview program. I would love to test the streaming. I got a new Nighthawk router and I really want to see how it would work for this on the 5ghz network. If anyone is able to... toss me an invite Gamertag: Pharsyde99
Windows Central Newsletter
Thank you for signing up to Windows Central. You will receive a verification email shortly.
There was a problem. Please refresh the page and try again.