Experiencing issues connecting to Xbox Live? You're not alone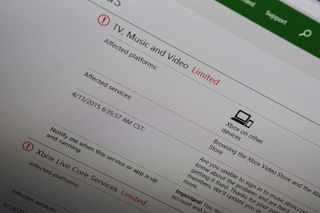 Microsoft has updated its service page to relay details surrounding downtime for Music and Video services, as well as Xbox Live in general. The company is aware of issues preventing consumers from signing into said services, as well as managing user accounts. This is reportedly affecting those on Xbox consoles, Windows PCs and other devices rocking Xbox services.
Unfortunately, that's all we got for now. We'll have to wait for Microsoft to either update the service page with further information or to finally address the problems. The good news is if you're struggling to connect to Xbox Live, it's more-than-likely not caused by issues on your end and you're not alone. As a side note, YouTube, Netflix and Xfinity apps are also experiencing trouble.
Check the Xbox Live status page for more details.
Source: Xbox (opens in new tab); thanks to everyone who tipped us!
Rich Edmonds is Senior Editor of PC hardware at Windows Central, covering everything related to PC components and NAS. He's been involved in technology for more than a decade and knows a thing or two about the magic inside a PC chassis. You can follow him over on Twitter at @RichEdmonds.
I have been able to sign in again just now after trying a few minutes ago.

Why Xbox gets down quite often?
Is it the servers??

script kiddies* I would hardly call DDOS a hack. These poor kids just wants some attention. :)

Just signed in after a few tries

They just banned me. I'm leaving WP soon! Can't use Xbox Music even though I have 3 yrs Music pass stacked! Ridiculous, no reason. I don't even play online! :/

Amazes me how many people get banned for no reason

Serious! I don't eve play online! Don't have gold. All I ever used it for is Netflix! No way to even know what it is about. I'm sure I have done hacking on my Music Pass. Just bought like 6 of them on Pi Day!

I'll wait untill final form of wp10 is revealed :/ if it seemed androidish I'll go android

Weirdest off topic. Ever.

I would email them and try to get that sorted out.

They are super adamant on not giving any info and just keep telling me I breached T&Cs! Entire media life on Microsoft just died with about £90 subscription already paid for!

I used to work for XBOX and unfortunately people there only have that information. I think it's BS that a customer is banned without knowing the reason for it. But it's more a corporate thing. There's no info on why people are banned besides that "TOS Line."

It's a sad state of affairs really. It feels nothing short of betrayal. I've used Windows for over 2 decades and have supported WP from day 1. Converted my family of 6 - all to all in Microsoft. This has left me bitter and as evil as Apple is, this weekend I will start moving away my ecosystem from Microsoft. They really know how to screw over loyal customers.

What's wrong with MS' services? They're down every other month...

You tell me, couple month ago I wasn't able to purchase any music track.i didn't want to hard reset the phone but got no choice. Now the music track keep loading. Very frustrating with the service.

Sweet, haven't been able to stream me tunes today, thought it was just my phone lol

Been down for me since 7am cst. And still down. These issues reduce my Xbox One to a brick, since you really need to be online for everything to work.

It's Xbox One that has started all the problem's with servers, it has more issues than than a printers, Everything was ok online with xbox 360, then the one comes along then it all start's to go downhill, even though it's supposed to have it's own servers??

Lots of downtimes lately for Microsoft. I was super frustrated when outlook stopped syncing a few days ago and now this. I don't know how much longer i can take in this mess. I'll probably defect to google very soon.

Their services are the worst service ever for any customers. Whether it's Xbox, or New OS or they can't even release an OS properly. Their servers always goes down. I just don't know how this company still surviving. Their store is the worst store you'll find in a smartphone and etc etc etc.....

Been down for a couple days now on the Xbox Music side of things. Haven't been able to stream most music since Friday on my phones. Keep getting the "check connectivity" and "this is only available for signed in subscribers" errors.

I couldn't work out this morning via Xbox Fitness because of this. The service came up for me just as it was time for me to get ready for work.

I was playing Gears of War 3 then this happened. I thought i was the only one then I couldn't sign in. Everything is working fine now though.

Companies of online services should automatically have to extend subscriptions for the exact amount of time their network is down. If I can't access services I am paying for during the time I am paying for it, you need to compensate me accordingly. I am not a philanthropist and you are not a charity. This should be law.

I was able to sign in with no problem, but when I found the a terminal in Halo 2. I was not able to get any video playback, hopefully the problem would be fixed and I will be able rough sign in tonight.

This seems to be more than just a regular occurrence.
Windows Central Newsletter
Thank you for signing up to Windows Central. You will receive a verification email shortly.
There was a problem. Please refresh the page and try again.