Xbox One sales numbers crush the Xbox 360 — combined consoles hold 43% of the market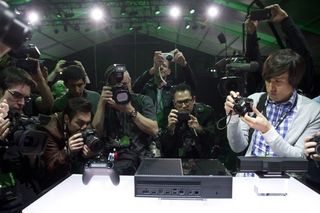 After Microsoft's Xbox One Reveal event, we were not sure exactly how the console would fare in the marketplace. The original variation of the console, which was originally tied down by strict digital rights management protection created a backlash that we were unsure if Microsoft could shake even after their decision to rethink the decision. Do not be worried though – Xbox One is the most successful Xbox console sold to date.
The National Purchase Diary group recently released sales rate for Microsoft's Xbox One entertainment console. The numbers show a record shattering 258,000 units sold in the United States in the month of February alone. When Xbox 360 was launched in 2005, the same time span on the market revealed over 61% less in console sales.
That does not mean that the Xbox 360 is not currently a seller, the last generation Xbox console continues to grow and sold 114,000 units in the United States in February; the date also marks the 100-month birthday for the Xbox 360.
Despite many thoughts that the Xbox 360 is a dead console, the unit continues to sell at extremely large rates and includes some of the latest games to land on its older brother, the Xbox One. On March 25, Xbox 360 gamers will be able to join in the Sci-Fi action fun and purchase Titanfall.
Compared to all competitors within the United States market, the Xbox platforms (Xbox One and Xbox 360) hold a strong 43%. The remainder of the market is largely held by both Nintendo's WiiU and Sony's PlayStation 4.
Other highlights from the February 2014 National Purchase Diary include:
Xbox One continues to see impressive software sales with an average of 2.75 games sold per console.
Xbox One sold 772,000 games in February and Xbox 360 sold 2.46 million, totaling 48 percent of the total software market share (Xbox 360 and Xbox One combined).
During the month of February, Xbox One and Xbox 360 games in the top 10 title lists were as follows:

Xbox One held five top titles in the generation eight top 10 console game title list in the U.S. including: "NBA 2K14," "Battlefield 4," and "Thief," "Call of Duty: Ghosts," and "Plants vs. Zombies: Garden Warfare."
Xbox 360 held six top titles in the generation seven top 10 console game title list in the U.S. include: "NBA 2K14," "Call of Duty: Ghosts," "Fable Anniversary," "Grand Theft Auto V," "Minecraft," "The LEGO Movie Videogame."
How do you like to get your game on – are you using the Xbox One or do you prefer to use another platform to dive into adventure?
Source: Microsoft
Get the Windows Central Newsletter
All the latest news, reviews, and guides for Windows and Xbox diehards.