Xbox One uses a full Xbox 360 emulator for backward compatibility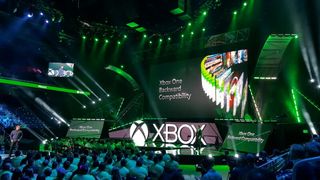 (Image credit: Windows Central)
Microsoft announced backward compatibility with Xbox 360 games for the Xbox One during their E3 2015 keynote, and now we have a better idea as to how that works. It turns out that when you play a compatible Xbox 360 game on your Xbox One, you'll be doing so in a full Xbox 360 emulator.
A Microsoft spokesperson told The Verge:
The feature is available today for Xbox Preview members, who can access 21 compatible games. Microsoft hopes to have over 100 titles ready to go when the feature launches for all Xbox One owners this holiday season.
Source: The Verge
Windows Central Newsletter
Get the best of Windows Central in in your inbox, every day!
Can it play them off discs or will they be download only though? Any performance drops?

I wonder if these games will be able to be run at 900 * 1440

i though that it just insalls it...

They said discs in the presser. And just the same as on Xbox 360. Only Better. (Microsoft's words)

Since XB1 is on x86 architecture,so Imagine if MS would release that emulator along with Windows10 for PC as part of the Xbox app.....

Disk and downloaded titles: http://www.xbox.com/en-US/xbox-one/backward-compatibility

Insert disk and then download ;) That's the statement from the conference

All disc-based games played on Xbox One are like that, including Xbox One discs.

Yet to be seen.... I know going from the Orginal Xbox to the 360 they did "emulation" and let's say, it didn't always work right (see my other post about 3-5 posts down, I went into detail)

Thanks for the info, read your post. I'm hoping Microsoft will be using Just in Time recompiling to bring the speed up somewhat. This could of course been avoided had the 360 been Intel based just like the original Xbox.

Eh to what? Just in Time compiling? If so, imagine you have a book (the game) and a translator (the emulator). If the translator worked as a normal emulator does, they would translate every line (code) individually, even if there was repetition. If they worked as a JiT compiler does, they would see the repetition and write it somewhere so they can refer back to it (the cache). This way emulation can be sped up, as the emulator can refer to the cache instead. Or at least that's the gist of it.

JIT compiling and emulation optimisation, while they often go hand-in-hand, are not the same thing.

it is not the same though.... and you can't compare xbox one to 360 and how power can handle stuff like this. People have said these few games available today work fine. and then while this say "full xbox 360 emulator" on the verge they say "When you launch an Xbox 360 game on the Xbox One the software will startup a virtual version of the Xbox 360 console to play the game" that doesn't explain much, but to me it means like it might use a virtual nice machine for that, and while on PC it can be strange playing videogames. Xbox one will use its resources on that virtual machine which will make it work. I guess it is something like that because developers don't need to do anything only allow the game to be played. if this wasn't going to work, I am sure companies wouldn't say "we will offer this game for free thanks to backwards compatibility" I am sure this will work, this doesn't need any patch and people have reported the few games work fine on their side, and it is still on preview. so in theory it should work better when final.

i thought it felt like a emulator when i tried it a little bit ago. didnt see this article earlier.

You are on the preview? I have been wanting to get on but you have to receive an invite if I have heard right, is this correct?

Same as with disc-based Xbox One games, it will install the game onto the hard drive, and you will need the disc in the system for authentication.

If the demo is any indication, performance won't be any better than on the 360. Mass Effect one ran like a slideshow. But it' in beta so give them time to iron out the details.

I just watched an interview that is on my xbone home page where they say the discs will be playable if you don't ahve a digital copy.

Coming to Windows 10 pcs hopefully?

Can stream to Win10 like Xbox one games

Yep, streaming is supported too they said.

Can they run the Original Xbox emulator on the 360 emulator and have full generational BC with Consoleception?

Lol my thoughts exactly. . Posted via the Windows Central App for Android

Even though the Commodore 64 wasn't technically a console, I'd then like to have a C64 emulator on the orig Xbox, for completeness.

Yes! Cause Bruce Lee on the C64 was badass!!

Loved that game though I never completed it. I don't recall exactly where any more (it was a long time ago!) but there was a particular level that I just couldn't get past.

Xbox and Xbox 360!? That's a ton of games I could play then O.O That's like 300+ games I could play then. xD

I would love to have an Original Xbox emulator. I want to play Phantasy Star Online 2 again!

I'm with you Ingiomar. Rappies forever.

an original xbox emulator sounds "technically" possible, since the original ran on an x86 gpu (a celeron 733Mhz) and pc like components.... but mostly custom stuff from Nvidia. would love to be able to finish certain games. and since they killed live support years ago, they don't have to worry about that aspect.

They already have an original Xbox emulator for the 360. While a direct emulator would be awesome I was more curious if the simpler route of just running the existing XB emulator in the 360 emulator on the XB1 would even be possible.

Run original Xbox OS in Hyper-V on Windows 10 in Xbox One (;

I can't resist looking a gift horse in the mouth on this one! It's absolutely awesome that they are going to do this with 360 games. I can't help but think it would be easier to get Original Xbox games to work on Xbox One than getting a power pc emulator to work. In fact, would they even need emulation for Original Xbox games? After all, we're talking about Windows and Intel here, the legacy kings. Shouldn't it be similar to getting Age of Empires or StarCraft to work in Windows 8? It can be a wrestling match in some cases, but there aren't very many games that leave you SOL. Right?

This is the news I was waiting for to start being tempted by an Xbox One.

I just hope it works better than it did with original xbox games on xbox 360. It only had a couple of hundred games and alot of games had issues when playing on 360.

Exactly then they stopped supporting it

It didn't stop working, they just stopped adding titles.

Microsoft cannot force publishers to allow games to be run on a different console. There is a limit as to what they can do with the license of a 3rd party. If a publisher does not want their game on another console, they can simply say no. There was a good IGN video talking about this today. MS could have all the games run on the XB1 but that does not mean publishers will allow it to happen. It is not all MS. I am sure MS would love all the games to be able to run on XB1.

So, in theory, I can play Xbox 360 games on my PC. LOL so much for that epic 3rd party emulator that was being talked about.

If you have an Xbox One. People who don't have an Xbox One will still want that Emulator. But they will be very tempted to buy one now.

Omgosh....so I can soon rid myself of my 360! Wow!!

I'd hold on to it for a bit. It'll be a while before a lot of games are available, and I doubt that they'll ever have all the games available.

As soon as all the games I have are compatible, I will be clearing the room off my entertainment unit

So do we install the game from the disc and then we don't need the disc again to play?

I'm only guessing but this is my theory. If you bought the game digitally, you will have access to it, obviously. For disk based games, you insert the disk and the XBone downloads the digital copy from the store.. You will need to keep the disk in the drive to play that game though otherwise.. just like it works now.

What happens if you rent a game and do that?

I suspect the same. After you return the disk the download won't work unless the disc is in the drive. You might as well delete the game from your hard drive when you return the game.

So if it's emulating a full 360, can it be a Windows Media Center Extender?????

Oh that would be awesome!

Now this will make me make the jump!

Emulator, Hmmm... I owned an orignal Xbox and when I moved to the 360, they did an emulation of the games (select games, it sucked in away, if you wanted to play a mid popular game that you owned, it was a roll of the dice if it would work), this resulted in games playing but, very, very buggy. Some games crashed, some low frame rates (some videos in games were almost like slow motion and choppy), other games claimed to work but, never worked. The Xbox 360 is PowerPC based (I believe) and the Xbox one is Intel based, so native playing could not happen, each game would have to be re-compiled for the different CPU, so emulation or a extra chipset in the Xbox one (we know this is not the case)would be needed here. Now with this being said, the ORIGNAL Xbox was fully intel based, so it would be possable with minor work to get those games working. A great selection of classics that are really fun to play (the first Halo was on the oringnal xbox) Now, I take it's a not a true console emulation as they are intergrating the game with the Xbox one features and if they are truely emulating the whole console, woudn't every game play right now ? The game selection currenly is pretty weak over all, No COD, No Gears, NO Halo, No Batman, No Rockstar (GTA 4, Red dead, Max Payne 3 etc) and very select games at this point. With a demanded feature like this, I would of expect more work on it before it was announced to have a good chunk of AAA titles available for play. So, by fall time, we will see 100 or more games, dispointing to say the least. I've been looking forward to this for sure but, Not sure how the emulation thing will go, I guess time will tell.

I'm sure they all are likely ready, but they need to get all the testing done for bugs, and different games have different bugs. Plus, they need to get the rights for the games.

Its basically in beta and wont launch until the end of the year. There will be a lot more games and i believe the developer has the option to allow it or not so I doubt we will get games that are going to be remastered and stuff like call of duty since Activision is not going to want you playing their old stuff.

Emulators are never as good as the original hardware it was designed. It will I interesting to see if that holds true. Likely that it will, but for some it might be better than none. I gave away my 360. I don't have any attachments to games so that makes things like this easier on me.

The Xbox to 360 emulation was ten years ago. Virtualization and hardware emulation technologies have grown up a lot since then :)

Exactly. While they call this an "emulator" it's more like the XBOX360 OS recompiled to x86 and wrapped up in a VM.

Yea, for shits and giggles, I'd like to see them package PS4/3/2 emulators as well.

The xbox one has a custum AMD apu, not intel... And you cant really say "The game selection currenly is pretty weak over all, No COD, No Gears, NO Halo, No Batman, No Rockstar (GTA 4, Red dead, Max Payne 3 etc) and very select games at this point" Its not even out yet.... its avalible for preview members only... so why would it have these games if its not even out to the public...

This makes me wonder if the 360 games will start being available in the store for digital downloads or if you have to buy disc or use an external drive with the games already installed.

They said on stage, your digital purchased xbox 360 games will start to show up in your xbox one games library. You can just purchase the 360 games from the website if need be.

They might even add an xbox 360 store, which would be handy to (I'd never use it, but some might).

yes it will they even said that they will start showing up for download. And you have to reinstall all of your games that are compatible....

I am glad I chose Xbox One over PS4... Any day better...

Hoped to have seen them in the games list. Not there yet. So glad I kept adding the Xbox 360 Games with Gold.... Beautiful.

so it means they have a 360 emulator software which runs on xbox's OS which will be about the same as stripped down w10 home soon, so it means we will have a 360 emulator for w10 pc's, hopefully by Microsoft hand, if not, you can count on hackers and 3rd parties to port it

I really just want to play Space Channel 5 again; then everything I was missing ever would be complete...

This proofs how good is the hardware of the Xbox One, this was probably not told during the Xbox One launch in 2013 since the emulator software was not ready, but this news means they finished it and is now working with some title games. Great job Xbox engineers, this makes the Xbox One a much better console now.

The hardware is still crap Microsoft just has good software developers that can work with it

xbox ones hardware is really bad... but so is the ps4's, they are bith low end pc's

Very clever approach here from ms. The drive in the x1 can't read the original 360 disc for playback but by allowing you download "save to disc" they get around that hurdle and also able to get more benefits from the x1 hardware. Hats off ms, you guys are on a roll.

I'm really excited for this. I have yet to finish many games on the 360, and just haven't gotten around to it. I got it set up, just not in a place that I can play when I want. I do hope that they remove the need to get publisher approval. I can't imagine the full 360 library being playable as long as publishers have so much power.

They can't just take someone else's work and do whatever they want to with it without permission. They would probably love to give everyone everything, but someone will always be upset.Difference is one group of people have a legit case to sue for being wronged if it's not done correctly (with permission) while the other group just won't get to play Super Monkey Street Kombat 4 Super Hyper Ultra EX Remixed edition without keeping the older game dongle (XB360, I also refer to my PS3 as a game dongle at this point)

Kudos for the Backwards compatibility but go big or go home.

Edit: To clarify include 360 kniect games.

I thought that was clear considering "kudo tsunoda" is Kinect (v1).

I'm more interested in whether they will support Kinect games this way. This would be a start to fix the issue of having bought into the Kinect mandatory world they described (before they said "Just kidding!") and stopped even mentioning it in promotions. I am actually one of those CRAZY people who like the concept and the fun party games Kinect offers. They are great when the whole family comes over and you want something everyone can be involved with easily.

Does explain why last week's update was 2.5GB....

No that was because their were updates 3 days in a row

Ok, anybody wanting to be added to the preview program. I'll add you no problem, but you have to do the work. I'm not typing out hundreds of gamer tags! If you add me ill accept and then invite you to the preview. Gamer tag is "jasongibbins"

Added as friend. If you could add me to the preview program that would be awesome. Thankyou!

Did he actually send the invite to the preview?

Holy shit, this is a massive game changer and the best news out of an E3 presentation in a very long time.

So if the Xbox One and Windows 10 will be sharing the same code base later this year...does this essentially mean that the Xbox 360 emulator could be run on a well specced Windows 10 device? Interesting thought....

Does anyone know if it'll support multiplayer? I sure miss playing decent Call Of Duty games online.

they said on stage and i was playing with my firends over my xbox one to there 360 so yes it will...

Does this mean we could see Extender functionality on the One ... FINALLY? Port it over and I'll buy another One.

Bet Sony will announce the same thing even though they'll be talking out their arse!

Nope, they got playstation NOW which sucks....

now if only they would port these emulators to PC. Or better yet, start porting xbox games over to PC.

ew.. why... and why would you want a emulater of a game that is on steam... oh im sorry do you not know aht steam is?

Is there an echo in here?

Can someone invite me to the preview program? Gamertag: sskudsk Thanks

I have been playing some xbox 360 games on my xbox one and its so much better! No more lag in the xbox 360's guide menu!

There have been quite a few xbox 360 emulator projects on PC, but it seems like they are being worked on only lately, i use xb360emulator its a great tool, but it isn`t able to play every game available. Hope the day comes soon.

Great article. The DNS option is better than using a VPN regarding content streaming because you can achieve direct connection with the media station ex. Netflix and avoid the "middle-man". Personally, I am using UnoTelly which is similar to SmartyDNS. Perhaps you should check UnoTelly as well if you haven't done so.

I really hope they actually put up decent titles first. I will literally buy an xbox one if they put Diablo III on the first launch games, but I am not waiting another year to be able to play it with my brother, I will just buy a PS4 and play Elder Scrolls instead. Why are they putting the lamest games ever to cross the platform first anyway? Who plays geometry wars? Sure it's a fun game but seriously... Why bother with announcing those lame games? I don't understand.
Windows Central Newsletter
Thank you for signing up to Windows Central. You will receive a verification email shortly.
There was a problem. Please refresh the page and try again.