Xbox One X surpasses PlayStation 4 Pro first-week sales in UK
It appears the Xbox One X is off to a strong start in the UK, outselling its closest competitor during its respective launch week.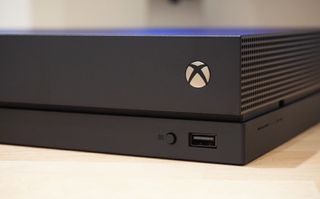 Last week Microsoft's latest video console, the Xbox One X, released across the globe – delivering a premium gaming experience in a high-end package. Achieving significant advancements in graphical processing power, the console debuted as the most powerful on the market, pushing 4K resolutions, HDR content and other visual enhancements.
It's no secret that the Xbox One X was looking to gain traction with consumers – analysts in the UK have increased sales forecasts, after strong interest in pre-orders for the device globally. And following a recent report from GamesIndustry.biz, it appeals the console lived up to expectations – reportedly selling 80,000 units in the UK.
Sharing data on sales, retailers across the country have provided an insight into the reception for Microsoft's latest and greatest console. This puts the device's first week sales in line with the Nintendo Switch and ahead of Sony's PlayStation 4 (PS4) Pro. Last year the publication reported that the PS4 sold 50,000 units during its launch week, managing to sell a further 30,000 units after four weeks on sale. This puts the Xbox One X in a seemingly much stronger position for its initial debut, with a majority of these sales attributed to preorders of the limited-run "Project Scorpio" variant.
While the Xbox One X has been criticised for its first-party lineup and premium price tag, it appears this hasn't detracted from the console's appeal – at least in the UK. With Xbox traditionally seeing greater success in the U.S., it will be interesting to see how the console fares across these markets in the weeks to come. Both Nintendo Switch and PlayStation 4 Pro sales were throttled at launch by stock shortages – an issue the Xbox One X doesn't appear to have been held back by.
What do you think of this recent report? Did you pick up an Xbox One X during launch week? Make sure to drop your thoughts in the comments section.
Windows Central Newsletter
Get the best of Windows Central in in your inbox, every day!
Matt Brown was formerly a Windows Central's Senior Editor, Xbox & PC, at Future. Following over seven years of professional consumer technology and gaming coverage, he's focused on the world of Microsoft's gaming efforts. You can follow him on Twitter @mattjbrown.
Got mine day one; the visuals are stunning, so I can certainly understand the sales numbers, and I expect those who have been wondering whether or not to go for it will be swayed over, if they can try it out somewhere...

Good to hear. What TV/monitor do you have, if you don't mind me asking?

I`ve got a 1x. and I agree, the upgrade is profound. And I have a 1080p 50" plasma. 4k must look incredible.

I'm with you on that I only have a 1080p sony tv and wow games look stunning can't wait to get my 4k hdr tv in the sales

I got my Scorpio Edition on launch day as well. My 3 year old Samsung 4K with simulated HDR even looks great with it. Enhanced games look amazing, even Battlefront looked great for not having a patch. Load time decreases are the best!

"it appears this has detracted from the console's appeal" or "has not detracted", surely?

You saw nothing 👀 (Thanks for the heads up!)

Very happy with my Project Scorpio and looking to potentialy convert a few friends from PS3 to One X. In their own words "The only thing PS4 Pro has going for it now is that it is cheaper."

No one knows the future (but I think someone at Sony said they are not interested), but all your ps4 investment (including peripherals) might not work on ps5/6/7, no FC (at least, no official word yet). I do care about my library and save data. So, no more cross-platform game from PsStore for me. Besides, BC/FC/XPA and unlimited-cross-platform-cloud-sync cost $0.
* win10pc, win10s, win10arm can run XPA titles. 6" win10arm docking on a gamepad is not impossible. This is how I converted my friends.

This is extra pleasing considering the £100 price premium the One X has over the PS4 Pro with Faux K. ;-)

Don't tell DCJBS, he'll say the numbers are lies.

LOL DJCBS is a high-resolution-HDR-hater :-P

Got my Project Scorpio edition Day 1 and I'm so happy I did. Every game I've played on it, whether specifically enhanced or not, just looks incredible. Microsoft's best decision yet!

Please respond,does anyone have the problem of comments not loading in the old windows 8.1 app of windows central.

Tried hard.This new app just doesn't let me do that.Crashes and crashes all around

Happened with me too. Just clear the cache and it works like a charm! I'm using that right now.

I was able to use comments section after clearing the cache.Working far better now.

Nobody will ever pay that much money for a console!

Well, XB/MS fans will pay that much money for the console...

When people pay close to a thousand dollars for high end mobile phones, it baffles me that many thought they would hesitate for the most powerful console ever made. Welcome to the age of premium electronics :-)

Oh boy. again with the "smatphone" agument. There is no need to be "baffled" because in case you didn't know these are two different products with different use and have different markets and consumers. Also a smatphone is a fashion statment unlike a home console. Yes, the XB1x is the most powerful console right now but it is also the most expensive right now. And no amount of deflection will change this.
The real issue here is that for less than half the price you can get a XB1s + game(s). XB1s a console that was out last year and can run every game the XB1x can. You are just paying double the price to run these games better. THAT'S IT. There no need to be "baffled".

And that's the whole point, aim to better graphics and features. Don't forget a couple of years ago consoles starting price was $500.

4 years back the XB1 was $500 but it had kinect. The normal PS4 was never more than 400 bucks. XB1s or PS4 slim are below 200 bucks on black friday. The question people should ask is whether the higher performance worth the extra 300 bucks. I guess console gaming has never been about power. The more powerful console always sold less than the ones with the greater games library. It's just that this is not for most people. The initial MS/XB fanbase will push console sales, it remains to be seen whether the general public really cares that much or prefer to get the cheaper console.

Got the Scorpio edition running on a 4K TV. Funny thing is my TV supposedly does not support HDR but I still see improvement when turning on HDR on the console. One of my favorite games on the 360 was SSX which is BC so I'd tried it on the 1X and it is amazing. I know the game didn't receive 4K enhancements but it runs so much smoother and looks substantually better on the X.

Got the scorpio edition on day one but that one lasted less than an hour before it died. Amazon got a replacement to me on Friday. I hooked it up to my 1080p plasma and ensured this one worked well. It did. I'd say it's worth it if you WANT to upgrade but it's not a need to unless you have a 4k set. If this is your first xbox then it's a different story, I'd probably buy it just for future proofing, but the cost gap is large. On saturday I went to best buy and bought a "cheap" 4k tv and I'm extremely impressed with the titles I own that have been enhanced. I haven't tried bluray but supposedly there is an issue that MS is working to fix.

This is basically 1,5 years of marketing vs 0 marketing. Sony basically didn't and it still doesn't give two ***** about the Pro, and that made devs also not giving a **** about the Pro by only making minimal effort with the ports sometimes being ridiculous ****** (Overwatch and Sonic Forces runs at 1080p, evil within and RE7 runs at 1260p despite all of those games running at 1080p on the PS4). Sony now is only focusing on the PS4 Slim and on PS VR. I only saw 2 special editions bundles with the Pro in 1 year however there was basically dozens of special edition bundles for the Slim. Sony not focusing on the Pro affected everyone that bought the Pro, some games having good ports like horizon, CoD and Ryse of the tomb raider, but most are just lazy 1440p ports despite the console being more capable tham that.

Sony looks to be treating it with the WP marketing technique. =P

Thats why Sony will never compete with Microsoft, the software company and mega corporation with duckets to throw at the wall.

too bad despite all the cash they have they are struggling to invest into making more games, more new ips... new exclusives...

Sony is slowly dying. Scorpio might turn out to bee a big bite to them. Only time will tell.

I don't think that the X will affect much because of their incredible lineup of exclusives next year, but i do think that Sony may die in the future by killing everything except PlayStation, then after killing everything except for PlayStation they will just rebrand Sony to PlayStation.

I'm not sure about Sony slowly dying, but PS division is still doing great. I don't think Scorpio will have much of an impact worldwide.

Sony's individual business units are failing one after another. The brand will live on but there won't be "Sony" products around for long. Best thing for them would be to make the future PlayStations as rebranded Xbox units, with a competing Live service, and backwards compatibility with PS4 thanks to Microsoft. That means Microsoft does all the hardware (there is zero margin in console hardware typically), and Sony's focus would be content and services.

Sony defence force out in full. Oh sorry i mean Guest Alof is out in full. For £450 your getting the best games machine by a long way. And certainly in the UK the best media box as well. Apple TV for example comes miles behind in apps and features.

lol. I just read your comment. I guess NPD showed you... HAHAHAHA
Windows Central Newsletter
Thank you for signing up to Windows Central. You will receive a verification email shortly.
There was a problem. Please refresh the page and try again.