Xbox Series X specs include 12 teraflops, confirms Microsoft's Phil Spencer
Heavily rumored specs for Microsoft's next-generation console have just been confirmed.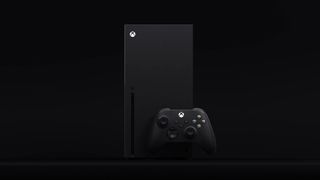 (Image credit: Microsoft)
What you need to know
Phil Spencer, Head of Xbox, has confirmed new key details for Xbox Series X.
These details include the fact that Xbox Series X has 12 teraflops of power.
Windows Central has previously reported that the Xbox Series X had 12 teraflops.
Xbox Series X is scheduled to release in Holiday 2020.
At the Game Awards 2019, Xbox shocked the world by revealing its next-generation console form factor and name, the Xbox Series X. At the time, Xbox would only give rough indicators of technical specifications, stating it had "twice the power" of the 6 teraflop Xbox One X. We don't have to wonder about the exact power any longer though. In a new post (opens in new tab), Head of Xbox Phil Spencer confirmed that the Xbox Series X features 12 teraflops of computing power.
Phil's new post goes on to confirm that the Xbox Series X uses RDNA 2 hardware, with hardware-accelerated DirectX ray-tracing support. The specs revealed by Phil Spencer also confirm a feature called Smart Delivery. Smart Delivery means that cross-generation games are going to work just like Xbox One X patches. You'll only buy one copy of Halo Infinite and then you can play it on Xbox One or on Xbox Series X, there will be no separate charges. Other previously mentioned features, such as Quick Resume, are also still included in the lengthy technical details.
Windows Central's Senior Xbox Editor, Jez Corden, previously leaked these specs for the Xbox Series X, which was known as Anaconda at the time. The sources Jez reported on were indeed completely accurate and this new information matches the previous report. Xbox Series X is currently scheduled to release sometime in Holiday 2020.
Xbox Series X/S
Main
What is the Xbox Series X release date?
How much does Xbox Series X cost?
Why you can't preorder Xbox Series X yet
Samuel Tolbert is a freelance writer covering gaming news, previews, reviews, interviews and different aspects of the gaming industry, specifically focusing on Xbox and PC gaming on Windows Central. You can find him on Twitter @SamuelTolbert.
PS5 does 8 tf... that's a pretty drastic capability difference. Has street pricing been announced for either console?

We don't know for a fact that PS5 only does 8 tf. And no, it hasn't.

Nothing has been confirmed yet with PS5.

I just want to know if I can turn the console on it's side. I like the design... but I don't. I still think the Xbox One X is the best designed console ever. It seems like they always want to turn these consoles standing upright... why? I want mine flat and want my optical disks spinning flat.

It's been stated it can be placed either way. https://www.windowscentral.com/yes-xbox-series-x-can-be-used-horizontall...

I wouldn't mind going back to a flat PC, with an upgraded monitor of course. https://theawesomer.com/photos/2017/03/unboxing_a_1988_ibm_pc_t.jpg

Except TV cabinets currently are designed for horizontal not vertical placement.

I want my optical disks to say stationary and the xbox to spin. Sometimes we just have to stay dreamers.

I still think the "custom" SSD in this may be some form of Intel Optane implementation that will be the first real implementation of the "Always On/Instant On" storage function.
Intel is desperate to get this into the mainstream, and has probably "cut a deal" with MS to supply their "Optane" SSDs at a huge discount.
Either that or;
MS is going with a "custom" 2230 SSD format (the same SSDs they use on the Surface X.)
This would also explain the mysterious "slot" on the back of the XBSeX. It is a custom 2230 expansion slot.
Either way, it will be "hardware encrypted" so you can't just go out and buy one and change it. It will require custom Xbox chips like their Xbox 4K Optical Drives are.
It's all speculation at this time however........

God, I really hope it's not Optane.

This is more than an RTX 2080 Super ...

The real question is; How much of the Ray-tracing will be done in hardware vs in software?
That will make all the difference in performance.
The RTX cards do it in hardware.

They said it would have dedicated hardware for Ray Tracing.

Well the most important part was the 15 game studios and what they are doing. We'll see if all the hardware hoopla is actually put to good use.

Stop teasing me and announce the full system!!!
Windows Central Newsletter
Thank you for signing up to Windows Central. You will receive a verification email shortly.
There was a problem. Please refresh the page and try again.