Xbox shares sustainability report, with new features for Xbox consoles
Climate sustainability from Microsoft.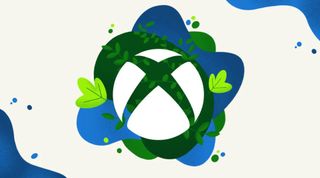 (Image credit: Microsoft)
In an effort to help improve air quailty and reduce waste, many companies around the world are looking at ways to be more sustainable. Microsoft is among the biggest and most transparent companies when it comes to corporate climate responsibilities, and by extension, that also includes Xbox.
Today, Microsoft shared (opens in new tab) a few updates on their progress with Xbox's sustainability efforts, and new features for Xbox Series X and Xbox Series S consoles.
Microsoft is gathering data on enhanced power management on Xbox consoles to explore reducing electricity consumption.
New Xbox consoles will be set to Energy Saving mode by default.
Microsoft will allow Xbox consoles to continue to download updates even during Energy Saving mode, which reduces power consumption by up to 20 times overall.
Xbox Series S consoles now contain "at minimum" 28% recycled plastic resins.
By 2025, Microsoft aims to have shifted the entire Azure architecture to 100% renewable energy.
By 2030, Microsoft wants to ensure all Xbox products and packaging are completely recyclable in OECD (Organisation for Economic Co-operation) countries.
Microsoft has certified that 97% of the materials in an Xbox Series X|S console can be fully recycled in the OECD.
Microsoft has reduced plastic waste by 500,000 kg by converting all Xbox gift cards to paperboard materials.
15 Xbox controllers from the Design Lab currently have 25% minimum recycled materials, with aims to put it up to 28% by May 2022.
Microsoft also shared some tips on how users can contribute to the sustainability effort. Turning on Energy Saving mode on your Xbox console, using the Microsoft Store Trade-in Program to recycle your devices, as well as their mail-back program for devices that are broken.
Indeed, Microsoft in general is working to reduce its carbon footprint, across Azure, Surface, and its other products and services. It's also investing in carbon capture technology in Iceland, among other science-led initiatives.
Jez Corden is the Managing Editor for Windows Central, focusing primarily on all things Xbox and gaming. Jez is known for breaking exclusive news and analysis as relates to the Microsoft ecosystem while being powered by caffeine. Follow on Twitter @JezCorden and listen to his Xbox Two podcast, all about, you guessed it, Xbox!
"Microsoft will allow Xbox consoles to continue to download updates even during Energy Saving mode, which reduces power consumption by up to 20 times overall." This NEEDS to happen. I shouldn't have to keep my console always on in order to receive updates or download on demand. At least give us an in between option that allows remote power on for downloads and streaming. If they can't do this at least give me the option to continue downloading and then power off. The 360 somehow managed to do this a long time ago.

Yeah, I'm wondering about this as well. I have solar so it's not a huge deal personally, but it would be nice if they did this.

I really couldn't care less about the power consumption myself. I just don't like the way the console acts when it is on standby mode. Especially now with QR and SSD boot speeds it is pretty much irrelevant.

What is it about standby you don't like? I haven't had any issues with SX in standby.

Honestly, I forget now everything I didn't like. I felt it was less stable, much like XB1 running in the same mode. It also is nearly pointless compared to the old console considering the boot times. Considering the (quicker) boot of the X1X I felt the NEED to have it in this mode or risk the 45 second boot time like I was back in W95 days. I do remember one bug on AC Origins where the game wouldn't Resume in HDR when on the always on mode. I then had to restart the game ( much like with the online features in QR). I think if you are in always on it doesn't save the game to a QR state if you are playing, which is the older and less stable option that used to happen on XB1.

This is especially relevant for those who are in the Alpha and Alpha Skip Ahead insider rings where system updates are more frequent.

I think they can push system updates when the console is off, right? Or is that also only in always on mode?

I imagine this was relatively easy to do by just adding a script to Energy Saving mode that has the console change to Standby mode for a few minutes to check for updates, then switch back to Energy Saving mode. It's fascinating how something seems so obvious in hindsight. I'm sure this will have a huge impact relatively quickly.
Windows Central Newsletter
Thank you for signing up to Windows Central. You will receive a verification email shortly.
There was a problem. Please refresh the page and try again.