Yet another Samsung prototype with Windows Phone 7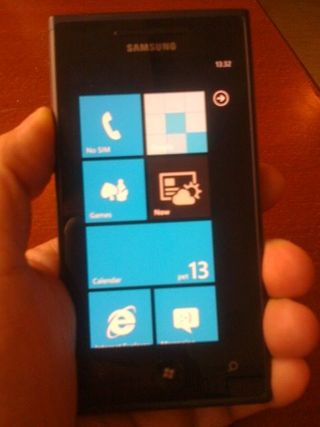 Not much is known or evidently can be said about this device, but it appears Samsung is tossing around another prototype device featuring Windows Phone 7.
Perhaps it's the Cetus (SGH-i917)?
Though rather large and blocky, the device seems to feature, unsurprisingly, an AMOLED screen. Due to the Twitter's location, we're betting this isn't necessarily a device for the U.S., but who knows what Samsung has up their sleeve.
Our overall reaction: meh
Windows Central Newsletter
Get the best of Windows Central in in your inbox, every day!
Daniel Rubino is the Editor-in-chief of Windows Central, head reviewer, podcast co-host, and analyst. He has been covering Microsoft since 2007 when this site was called WMExperts (and later Windows Phone Central). His interests include Windows, laptops, next-gen computing, and for some reason, watches. Before all this tech stuff, he worked on a Ph.D. in linguistics, watched people sleep (for medical purposes!), and ran the projectors at movie theaters because it was fun.
From MS's point of view, it's another WP7 device. The platform is gathering some momentum.

Looking at the clunker that Rim just put out I think Microsoft is poised to eat Rim's lunch. Provided that the "preferred" partner crap with ATT doesn't last too long. Coordinating hosted exchange and Hotmail exchange sync should also be a crucial part of this strategy.

On other tech blogs this device and image is getting beat up pretty harshly. A lot of comments not only that the phone itself ugly, but that the WP7 UI looks terrible and built for children. Some laughed that it appears as though MS couldn't fit the bottom icons on the home screen. I am starting to somewhat agree that the home UI is neither attractive nor an intuitive use of space. The info I get at a glance on my TP2 with Sense is a lot more useful and efficient than these blue squares. I was hoping I'd like WP7 more by now, but it's not happening mainly due to the home screen.

"built for children" You make me laugh. You can always go get an iPhone or Android phone, OK!

Big, shiny tiles, fancy animations, and photos instead of words... Sounds like a child's toy at first glance.

If you read my post, I didn't say it was built for children, but just relaying some comments I noticed.I don't care for the look all that much, or iPhone or Android, for that matter. Personally,I prefer the look and day-to-day functions of Sense over WinMo 6.5. Unfortunately, in my experience, it doesn't ever remain stable after a few months of use. I think it's obvious that WP7 is more media/entertainment oriented than what WinMo has been - a nice customizable business productivity platform. Perhaps WP7 in hand will be different than all of these previews.

"an intuitive use of space" wow. youre retarded

Uh, no, anyone who thinks that WP7 doesn't waste TONS of screen space is retarded. Whether or not that is your cup of tea, is up to you. There is LOTS of wasted space on virtually every app I've seen in WP7.

The purpose isn't to cram as much information on the screen as possible. The most publicized things have a layout that gives each component space to stand on its own. Billboards, Magazine Articles, Newspaper Headlines, etc. Sometimes less is more.

Good answer. I would add this: Less is always more; not sometimes. And I know design. One of the thing I found out in my work: people are afraid of whitespace. They think an ad with whitespace around text and pictures is wasted and they want you to cram additional stuff in it. Or make their logo bigger. Imaging a civil engineer building a city: how would it be without streets and parks? what if you had to walk on the rooftops and peek down to find a house number? LOL Essentially, @Anonymous and @arthurbrownleeiv, what you're saying is, they make you pay so much money for your phone plan, that you want to maximize the use of your screen so you know you get your money's worth. That's funny. :-)

I rarely pay attention to user comments on popular tech sites anymore because there are just so many pointless and troll comments. Besides, I don't know why people are talking about and comparing things they probably don't have any experience with to talk about or use for comparison yet. It looks like you can fit at least 8 of those live tiles without needing to scroll, meaning you can keep up with up to 8 things at first glance, like new text messages, new e-mail, new voicemail, missed calls, weather, appointments, friends, etc. I don't see how that's less than the info Sense can give you at a glance. Additionally, the tiles seem flexible in the information developers can update to their users, meaning you're not just limited to a little picture and a number in the corner. I like Sense and I think, if Sense was a fully integrated UI instead of just a program that runs on top of OSes, it could do alright, but I like the seemingly smooth, non-cluttered look of Metro (though, admittedly, I like WM6.5 Titanium more than both of them).

That is it right there. The tiles are all live and you can assign pretty much anything to be a tile. A contact, weather, playlist, pictures, apps, calendar, favorite internet pages, etc. Microsoft has always said that you can be creative with the tiles its just that I guess some people want the company to do all the creative stuff for them. Sadly.

This is not the Cetus. It's another phone. Or, maybe Samsung is doing what they did with Samsung Galaxy S and delivering several models of the same phone. But due to specifications is different from the Cetus' form factor that invaded the web last week. Anyway, it's hard for me to say this, but I don't like it. It resembles A LOT of SonyEricsson Xperia X10. I'd rather wait for Cetus or get one of the HTC Models, Schubert, which I really liked.

Samsung has been too slow to fix the Galaxy S's GPS problem and upgrade the phone to Android 2.2. I would hesitate to buy any Samsung phone.

It's a good thing then that updates for WP7 will come from MS directly and not from the OEM and carriers. Unless that GPS problem is related to some samsung specific app, then sure it's their problem and they have to update it, but if it's OS based, then you can be sure MS would push out an update to fix it quick.

Also from what I've observed, the tiles are customizable. So I guess you can change the little white fonts to a picture of something? That would help with the overall look of the UI. In addition, the most important thing to me when it comes to phones are: 1) How does it feel in my hand. 2) How does it function and does it deliver as it promised? 3) Overall user experience. 4) Looks. To me, the looks of any of these phones have closed the book on WP7. Also, from the looks of it from videos, it appears it functions better than most phones out there. Unbelievably smooth and responsive. I will know if I'm sold or not on WP7 when I can answer line 2 and 3 above myself. So far I am babying my Evo so I can sell it to get the most powerful and feature filled WP7 my carrier will offer.

***Correction to the above post. The looks of any of the early phones have NOT closed the book on WP7 for me.

Bule tiles do look bad, but mine wont be blue & I will only have maybe 2-3 tiles on my start screen from MS...My wp7 device will look nothing like this

I currently have a WM6.5 phone. Dumping it for DroidX. By the time WM Phone 7 is released it will be a yawn. So much posted about it already and, to me at least, I don't like what I'm seeing. Comparing prices on apps between Windows Market place and Apple, the same apps are "usually" more $ on Windows phones. I don't see this changing with WP7. I'll take my chances with Android and just deal with it. Good luck to all you WP7 die hards.

To me, the looks of any of these phones have closed the book on WP7. Also, from the looks of it from videos, it appears it functions better than most phones out there. Unbelievably smooth and responsive.
Windows Central Newsletter
Thank you for signing up to Windows Central. You will receive a verification email shortly.
There was a problem. Please refresh the page and try again.