Yezz Billy 5S LTE – Hands on and impressions of the forthcoming Windows Phone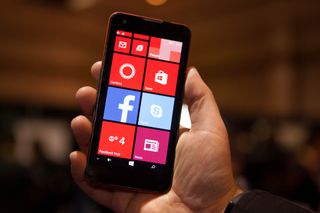 Today in Las Vegas budget phone maker Yezz announced their latest Windows Phone dubbed the Billy 5S LTE. The latest in the Billy series brings a lot to the table for those looking to maximize their bang for the buck, and we got to see one in person tonight.
Yezz CEO Luis Sosa was on hand to give a quick tour of the Billy 5S, which you can see in our video!
To recap, the Billy 5S LTE has the following specifications:
5-inch IPS 720p display
1.2 GHz Quadcore Snapdragon 400 (not 410 as we speculated earlier)
13 MP AF rear-camera; 5 MP front-facing camera
1 GB of RAM
8 GB internal memory, expandable with microSD
Dual-SIM with LTE support
It should be noted that the units on display were working but still prototypes. The final product won't ship for a few months, partially due to the Chinese New Year and it should ship with Windows Phone 8.1.1, although Windows 10 could be an option as well (yes, that was a hint about Windows 10 release).
What is impressive about the Billy 5S is both the thinness (it is just 8mm, although the final product may be thinner) and the design of the removable back plate. That design is from an Italian designer and is one of a few colors that come with the Billy (Yezz includes different color back covers in the box for their other Windows Phones, a nice touch for the customer).
In speaking with Sosa, we learned that Yezz is having much success with Windows Phone, including well over 100,000 device sales in Europe alone. That's not bad for phones that do not get the same advertising as the big-brand names and Sosa was quite happy with the response to their products.
Like other Yezz Billy phones, customers can expect the 5S LTE to be available through Amazon.com and Microsoft Stores. No word on pricing yet, either, although they should be competitively priced.
It was certainly great to talk to the people at Yezz, who are also big fans of this site and you, our audience. We can't wait to get our hands on the final production unit of the Billy 5S as the inclusion of LTE opens its potential significantly for new customers.
Windows Central Newsletter
Get the best of Windows Central in in your inbox, every day!
Daniel Rubino is the Editor-in-chief of Windows Central, head reviewer, podcast co-host, and analyst. He has been covering Microsoft since 2007 when this site was called WMExperts (and later Windows Phone Central). His interests include Windows, laptops, next-gen computing, and for some reason, watches. Before all this tech stuff, he worked on a Ph.D. in linguistics, watched people sleep (for medical purposes!), and ran the projectors at movie theaters because it was fun.
Dang I should get a Yez Billy to go with my YA BILLY

Actually, MS offers previous Yezz products direct to consumer with no carrier subsidy for some time from microsoftstore dot com slash en dash CA (Canada). So I could see it showing up there sooner than any regional carrier picking it up.

Yeh.. We want it in India...

Bring it to India or at least allow to import it via amazon.com

Can't wait to see this. Pricing will help determain if this will fall short or if it will be able to compete againts the Lumia Phones. Would love to see more competition as it always means better things for us consumers.

What Lumia is dual-SIM and LTE? As far as I can tell, this thing has no competition in the Windows Phone space. But what frequencies will it support? That's the key. What is the frequency support like? With all that talk of how well they're selling in Europe, hopefully there'll be one with North American frequency support. I think Blu beat them to the punch here.

Found frequency support list on this page: http://sayyezz.com/en/products/smartphone/billy5slte
Seems like the North American variant is absolutely perfect for major Canadian carriers, as it had everything they want: 2G/3G over CLR (850MHz) and PCS (1900); LTE over MBS (700), AWS (1700/2100), and BRS (2600). There's no one U.S. carrier this is perfect for. It's missing AWS 3G for T-Mobile, it's missing PCS LTE for AT&T.
I can only guess at whether the MBS is band 12 our 17, but I'd guess 17. If its that, that's good for AT&T and most Canadian carriers. If it's band 12, that makes this very interesting for T-Mobile after all.
I'm presuming the HSPA frequencies are mismatched (that it's really 850/1900 and 900/2100).

This is realm helpful information. Thank you. So often one learns more in the comments section than from the actual article.

Lumia 635 Dual SIM, LTE effective speed (kept in sight of
my Lumia 1520 in Wi-Fi and close on AT&T). Got 635 @Amazon with silicon case - screen sheet. I had fail of vol key early, sent back to Amazon, need the vol + power to print screen no re mapping. I think Blu has models on both sides of the RF Pond already. Buddy getting 635 on Boost because his grandfather plan has him locked by price.

Ah! Where are the flagships?

I'm afraid, there's no flag on the ships

Don't expect any flagship announcements at CES. Win10 info is expected later this month.

Get to find out that they're out of Miami.

Yeah, and? Gotta problem with the 305?

Are those software navigation buttons??

Yeah, with a little arrow to set them down if you want to as well.

Do you know if a swipe up from the bottom of the screen would bring up the nav buttons again after they're set down with the arrow?

Yes, that's how it works. You can choose from 2 different modes to close them (arrow or swipe up again) and swiping up shows them.

that would be the case because it's 720p

Yep, on-screen buttons. The arrow is a nice touch.

Sadly it is this makes devices cheaper to make and allows the same device to run Android and Windows Phone OS without changing the design on the phone.

I really like that back cover. Nice touch.

If I heard correctly, the guy in the video said there are three colors in the box.. Right?

Looks like an alien's face. The grip areas on the sides are eyes and the speaker slot is a mouth.

2 GHz Snapdragon 400? Why didn't the Lumia 830 come with that?

Because Nokia doesn't make sense. Or it wasnt ready yet

What speed is the one in the 830? This looks pretty nice.

or is it a typo of "1.2GHz"?

Daniel says just below it's a typo.

Nice looking phone. My two favorite colours.

2 GHz snapdragon 400 processor... I'm sorry but what?

That is a nice looking phone. Glad to see another company have success selling WPs.

Looks really nice. I really like the back cover!

I'm curious to see what the 13mp camera can do..

The camera and flash at the back kinda the same as the ipod touch 5th gen..

I wonder if it'll be any good

Windows 10 release? oh baby

seems as though 5mp ffc will be standard in next two years or so

More phones should have 720p. Better for the battery and perfectly good display quality. A 720p with Snapdragon 8xx series would be sweet.

High five! I'm praying for this since idk when...a while :)
Btw I'm curious how big battery fits into this bigboy.

Good point. 1080p on a phone is too much for me.

As a diehard Windows Mobile/WIndows Phone fan since Windows Mobile 5, I think the state of Windows Phone is a shame. Why won't they produce a high end phone that has specs that would support WP10 but run WP8.1.1 for now? I work for FiOS and can't even demo my product on my phone because WP doesn't have an app for it (same goes for every cable company in America for the exception of XFINITY/Comcast and that app is weak)! I'm sure this is a nice low end phone, but who cares? I'm getting a Note 4 next week being that my 8X and 925 are barely responsive after Developer Preview updates. I will absolutely come back to Windows Phone if it is up to speed with IOS and Android by 4th quarter. If Windows 10 for the desktop, phone, tablet, Xbox, etc. doesn't get consumers excited this year, it never will!

What makes you think the current crop of Windows phones won't be able to support Windows 10? Have I mised an article from MS in regards to the hardware requirements for W10? And if the Preview for Devs has screwed up your phone you can always not use it. You can always use the Nokia recovery tool for your 925 to go back to Win8.

Yeah, as mentioned above, current WP8 devices will be able to run Windows 10.

If you think non quad-core processors will be able to run WP10 effectively, you are sadly mistaken. Just think about when MS said the HD2 would be upgradable.... Think about WP7 phones were said to be upgradable. And even if current hardware is upgradable, it would be a horrible experience.

HD2 had the same hardware as the first crop of WP7 devices. My HD2 ran WP from 7.0 to 7.8 (though not official). So it was upgradable. Oh and the experience was way better that it was on HTC 7 Mozart. Currently there are 3 kinds of quad core SoC's in WP phones now: SD800, SD400 and SD 200. The quadcore SD400 is weaker than the dualcore S4 Plus in 820/920/1020. It's not just frequency... It's architecture that makes SD400 and lowe models so slow. And the graphics chip is weak as well: Adreno 305 is no match to 225 in speed. So, if SD400 can run W10, the S4 plus can do even better. The S4 play is questionable here. However if I recall it right the SD400 is just a quadcore version of S4 Play (lumia 520 - 720, HTC 8S)

I wouldn't expect great performance though. Even the 530 is sometimes laggy on 8.1 and WP is praised for running good on low spec devices Posted via the Windows Central App for Android

What are you talking about my Lumia 920 is running even better and silk smooth with every windows update (preview updates). This is one of the strong points of windows maybe you mistook this for an Android or ios comment section?? :)

Uhmmm how about 930/Icon/1520? 8X and 925 are practically two years old devices, you could have upgraded ages ago to either of the mentioned and had a device that's much better, quadcore and can surely handle Win10. Either way, Daniel hinted in the article that Win10 could be released in just a few months and if that is the case, you can be certain MS will reveal it on a flagship device. Flagships are obviously on their agenda but releasing it with Win10 is a much smarter option from a business perspective. Win10 release is going to make headlines, add the new flagship device to the unveiling/release and surely that flagship will be in the spotlight getting more exposure then it will, were it released as a Win8.1 device that is upgradeable. On that note, it's been clear for quite sometime that MS is putting all their eggs into Win10, so it would be best to have new devices launch with this new OS in order to give them more of a "wow" factor.

Sorry for the off topic question but are you saying the 930 'should' be able to run W10? Due an upgrade in March and have my eye on a 930, fed up with Android, Cheers Posted via the Windows Central App for Android

Well MS said Win10 WILL run on all devices that launched with Win8, so that's a confirmation from MS, what i meant by "should" is while im confident that devices such as the 930 and 1520 will run Win10 flawlessly, I obviously couldnt speak with absolute certainty. On that note, you should definitely consider the 930, it's a beautiful device, a real pleasure to use and the camera is something you will come to appreciate for quite sometime and the denim update is only going to make it more worthwhile. That said though, by March, I think MS will most probably have announced the Win10 flagship, most likely the 940 along with the 1530.

Thanks for the reply, I'm kind of hoping that MS do release a new flagship/940, that way the 930 may drop in price a little more as it's just about within my budget at the minute. Cheers Posted via the Windows Central App for Android

Nice to see more coming out.

Interesting phone & I'm glad they are doing well with windowsphone.
I kinda like the back ... Reminds me of the HTC Mozart. On a side note, glad to see a 5"er with 2 columns again

Two columns versus three is now a menu choice in settings.

Not on a five inch device it isn't...

It is on a Lumia 920 I set up on developer preview. :-)

Lumia 920 isn't a 5" device...

The 920 have a 4.5" screen ;)

I didn't imagine that they'd *decline* that option to bigger phones. Crazy. Takes for letting me know.

It might be a noob question, but I confess that I don't know the reason. I wonder why the News app is in pink? Mine is red and I dunno how to change the color.

This is off topic... but oh well. Check the app settings. You might have it set to red.

Even the Skype tile looks faded. The picture obviously didn't reproduce the screen very well.

I wonder how the camera performs. Great looking phone though.

The ceo seems happy.. Makes me happy ! Great device .... Seriously..superb design with three in the box ! What more do you want!?

Clearly WP is doing well for Yezz as the CEO is happy being associated with it. So much better than the whining morons from Huawei and Acer.

8gb internal memory? Yuck

With 8.1, it's pretty much a non-issue once you add a microSD

Nevertheless some more on storage device never heard anyone. It's cheap these days. The jump from 32-64 for example. Posted via the Windows Central App for Android

No, it isn't, because internal memory is always more efficient, faster, and less of a battery drain than external microSD memory.
16-32gb of on board storage should be the minimum baseline. 8gb is for devices that you give away in boxes of children's cereal.

This is awesome! Loving the design. If it's priced right, I may definitely pick one up just to show support to the company.

Sounds like a nice phone. I want one.

Man, I just bought an 830. I should've waited, as this looks like the exact same specs but most likely will be cheaper

Cameras are likely to be a lot better in the Lumia 830 takes to better optics and better software.

Wow this phone just ate into 830 sales big time. Has all the specs of the 830 but half the price. Lol @ the 830 suckers

Ah but you are forgetting about the LUMIA Apps

830 is still better, if you compare hardware build quality, camera(you can't beat preview tech), glance, Lumia collection apps. But yes. Front cam sucks !

He meant preview for developers tech :P

And CBD + sunlight enhancements + super sensitive, more internal storage, OIS, RR with surround sound. 830 has a lot going for it still, but the Billy 5S will still be good addition to the line-up.

How do you know its half the price?! Did they announce a price? The 3G/4.7" Yezz Billy 4.7 is about half the price of the 830, this is likely to be a lot more than half.

It feels weird reading 5S, lol. Makes me think iPhone.

I think that was their plan

Only matter of Time before Apple sues :/

Looks aesthetically pleasing on the outside. And specs are decent.

Windows 10 release in a few months... Do you know something we dont? What? Lol. That's probably needs it's own article.

Umm... I'm more interested about that Windows 10 hint you typed... Also, sweet phone and I'm glad they're having success. Makes me happy.

I will definitely pick up one when it becomes available in the US. I wonder if it cracks the Verizon and GSM barrier where one phone will have bands for both Verizon and ATT/T-Mobile. This is what I really want since I have service with Verizon and AT&T. This will allow me to only carry one phone (or at least the opportunity to carry one phone).

I also want a phone that supports Verizon and GSM.

It doesn't support VoLTE, nor CDMA2000, so no Verizon or Sprint support in the phone, sadly. The North American version supports AT&T, T-Mobile, the three major Canadian carriers, and all the Canadian regional carriers that are also local phone companies (Sasktel, MTS, TBayTel). It doesn't support Canadian regional carriers that are also cable companies (Eastlink, Videotron).

If priced at $250 or so, this could be a very competitive device.

Windows phone still has low market share. I'm doing my part for the community. I bought every windows phone products that is on the market, some I bought more than one and giveaway to friends and families as gift. I do this to increase microsoft windows phone user base at my own expense. I'm going to buy this too. But I have no idea how to get it from outside of united states.

Wow. You sure deserve a reward. Now that's what you call dedication to the platform

I've helped people purchase a total of about 45 Windows Phones over the last 2 years. About 6 of those people have switched to Android and iOS due to the lack of newer and more powerful Windows Phones. ​

Unless you're a Microsoft executive, I'm not sure why you would be that dedicated to a mobile platform. That's just bizarre.

I don't get why people complaining bout having L830 and think this phone is better. How? O.o 830 is still better, if you compare hardware build quality, unbeatable preview camera, glance, Lumia collection apps. But yes. Front cam sucks !

The complaint about the 830 isn't really the phone itself, but the insanely high pricing. It's double the cost of the comparable Android devices.

Hey...it's the "affordable flagship" remember? A flagship costs 600€...the "affordable" version is 500€. lol The 830 reminds me, in terms of marketing, of the flop that was the iPhone 5C. The 5C was also announced as an "affordable flagship" (though not in those words of course) that in the end no one would end up buying because the difference in price for the better 5S version was so little people would rather pay a couple extra euros to get the better version.

@ DJCBS Lumia 830 is ~300 euro in the Netherlands. Don't be the troll that many think you are. http://tweakers.net/product/400706/nokia-lumia-830/

The 830 is $400 Canadian @ Fido (original price) which is 339$ US or 284 Euros.

Yeah, 300€ in Finland as well. As usual though, it launched at a way too high a price point (360€ or 380€, I think). DJCBS, I often agree with you, but this time your comment has the scent of troll in it.

Marginally better specs than my Lumia 830... (clock speed, mp count of camera) I wouldn't mind a closer look...

It's the same clock speed as 830, Daniel made a typo. Read up in the comments. He said so.

MP isn't a deciding factor here. Yes lumia has 10MP vs Yezz billy's 13, but : Lumia also has Optical image stabilization, A branded carl zeiss lens which is realy important, stereo sound recording,
but i agree, front camera could be better on 830 :) Not that yezz billy is a bad phone, far from that, it is good, but i just feel lumia is still better phone with more of a premium build quality(that's why it is kind of a flagship) wireless charging, proboably a better quality screen etc. but this will sure be more affordable

Kudos to Yezz for their support for Windows Phone. We need more great OEMs like Yezz and BLU.

Interesting. Snapdragon 400 with dual SIM, yet come with LTE support.

No offence, but the lamest name for a cool hardware style WP

I like the design of the back cover. Not the colour, but the design is nice. It's different for a change. And that's good in my book. By the way, the Yezz phones are being sold in retailers here in Europe too, so they're no longer confined to US-only (either through Microsoft Stores or Amazon). So they have crossed the pond.

Well, we do have quite a lot of international readers for whom English is not their first language.

It's a figure of speech! :P

Yo momma so fat she make the Atlantice Ocean look like a pond

Article states they've sold over 100K of devices in Europe, so the article makes it clear they're no longer U.S./Canada only. :-)

yezz billy!! YEZZZ! ! thats what she said.

Dual SIM LTE! Yes. Not sure if I want this phone, but hopefully this is a sign of things to come from all other MFRs.

That means adding something external to the device that is slower then the onboard storage. On board should be no less than 16.

That name needs to change

The Snapdragon 400 should help the poor performance of their last 720p phone which was a bit laggy. I'm interested in how the camera with perform. Does this mean we will see a new generation of other reference design phones from makers like Blu?

I'm all the rage at YEZZ. I'm all they talk about.

Dual SIM with LTE? Gimme gimme gimme!

Hopefully there will be support for Tmo bands.

Yes and no. Yes to 3G PCS, no to 3G AWS. Yes to LTE AWS, no to LTE PCS. It also lists "700" but it doesn't elaborate if it's band 12 (T-Mobile) or band 17 (non-T-Mobile). If its band 12, then overall that's very good for T-Mobile. If not, then it's OK but not stellar.

Having read Most of the comments im amazed at so few people commenting on a possible launch of windows10 for our devices :D

Seriously though. I was expecting them to talk about Windows 10 this month, but not release it until late summer/early fall.

Wow! It actually does. I didn't even notice. Pretty cool

Good, nice report from another phone manufacturer

Can we talk more about the Windows 10 release date hint? Are we expecting this to be released before the summer?

I think Microsoft has made it quite clear that Windows 10 will certainly not be released before the summer (and especially not for phones). From everything I've been reading, I think that end of summer / early fall would continue to be the target timeframe. I *am* hoping, though, that a new flagship phone that will be capable of taking advantage of all upcoming Windows 10 phone features will be released (kinda like when they released the Lumia 920 with videos showing some not-quite-ready functionality coming soon... like NFC payments that we can *finally* now use).

Alright, found frequency support for this thing on Yezz's website: "Dual SIM
GSM Quad Band
850/900/1800/1900 HSPA+
850/900 or 1900/2100 LTE 700/1700/2600 or 800/1800/2600" I think there HSPA frequencies are an error. It's almost certainly 850/1900 for North America or 900/2100 for Europe, not a choice of 850/900 vs. 1900/2100. I think they just paired up the wrong ones. It suggests the North American version supports AWS LTE (1700!), BRS (2600), and some flavour of MBS (700). If its band 17 MBS, then this thing is perfect for major Canadian carriers, and OK AT&T (it's missing LTE over PCS). For T-Mobile, the lack of AWS over HSPA isn't ideal, but acceptable since it supports AWS over LTE. But if this supports band 12 LTE, then its a fantastic phone for T-Mobile if you live suggest they've acquired MBS. Likely it supports band 17, though. Frequency supports rocks for Rogers and Bell (again, with the caveat about whether it's band 12 or 17), and sucks for minor Canadian carriers (Wind, Mobilicity, and Videotron) who all require AWS overs HSPA.

Found frequency support list on this page: http://sayyezz.com/en/products/smartphone/billy5slte
Seems like the North American variant is absolutely perfect for major Canadian carriers, as it has everything they want: 2G/3G over CLR (850MHz) and PCS (1900); LTE over MBS (700), AWS (1700/2100), and BRS (2600). There's no one U.S. carrier this is perfect for, but its not terrible for either of them despite missing AWS 3G for T-Mobile, and PCS LTE for AT&T.
I can only guess at whether the MBS is band 12 our 17, but I'd guess 17. If its that, that's good for AT&T and most Canadian carriers. If it's band 12, that makes this very interesting for T-Mobile after all. I'm not certain how Bell/Telus (Bellus) are deploying MBS, but I know Rogers and AT&T have deployed it as band 17, and T-Mobile is deploying as band 12. I read that Bellus may be deploying band 12 too.
I'm presuming the HSPA frequencies are mismatched (that it's really 850/1900 and 900/2100).

SO EAT THISS HUAWEI!!! There are manufacturers, besides microsoft who enjoy working with the Windows Phone platform. So you can stick your 'nobody makes any money on Windows Phone' bullshit remark somewere, where the sun wont shine!

Hahha this brand was not so popular than Huawei.. BUT they actually making money with Windows Phone. Maybe BLU also success with their WIN Jr and WIN HD but Huawei? hmmmm...

Uhm 930 and 1520? Maybe you should invest in those instead of sticking with 8X and 925.

Geez, I hope it will come before my nephews graduation on March. I wanted to give this as a gift to him.

O yeah! I remember Huawei's remark "Nobody makes money on Windows Phone". LOLz. I think it is not all because of Windows Phone why Huawei did not make money. They make shitty phones. They just look apealing out of the box, but starts to failing when you used it. My friend's Huawei (Android) looks metalic but started to peel off after a month. Not it looks shitty.

Huawei's first effort was actually good: they made a phone with good specs and released it in all markets except India. They even released it on TracFone/Net10 in the US where there has not been any other Windows Phone. However their second WP was a downgrade and they did not bother to release it anywhere except Russia and China. And their promotion was miserable to say the least. At one point they claimed their device is selling well and sold 1m units in Europe and NA. Bizzare enough, they retracted from these claims and suddenly started saying Windows Phone does not sell, I though smelled a Google rat in this.

Yes, they make a very shitty phone but when it was not profitable they blame the OS itself not their shitty hardware. Also, they may not selling in more countries. Also in China, the country where their company born also hard to find it ;P

I just hope when MWC and IFA, Xiaomi publishe their Windows Phone ;) They will rock!!!

Yup , specially with their low prices ! But I don't guess so :/

Microsoft has seriously igored China. There are only three Chinese Windows Phones at present - Hisense Mira6, Hisense NaNa and eSense q47. Bigger names such as Oppo, Xiaomi, Meizu and OnePlus have not made WPs yet. Even ZTE, CoolPad and Yumi have shied away from making one.

The grip of it is awesome

Too bad the lesser known phones like this are rarely available for in-store testing. PS. I might be the only one to thinks so, but those black parts on the back cover should have a bottom part similar to the top part, or just otherwise less "curvy".

Quite a good looking phone! If lumia 830 is still not going to be available for T-Mobile before this one, then this phone will be my new phone :D

The SD400 should obviously offer an improvement in performance compared to the Yezz Billy 4.7's SD200 chip. Please consider upvoting this suggestion I just created for the Lumia 1330.
The currently leaked specs are a bit dissapointing.
https://windowsphone.uservoice.com/forums/101801-feature-suggestions/sug... Posted via Windows Phone Central App on Android

What a cool specs for mid-range phone;)

I really hope I'll find a way to purchase it in Greece... Maybe from Amazon? I don't know, it really attracts me and seems really cool and that Windows 10 implication was even more attractive! Well, for now I'll stick to my HTC 8S...

That orange and brown "alien" cover looks sweet

Folks, more thinner less insulation and high radiation ..health hazard!

Did they name their Windows phones after Bill Gates?

Can I get a Billy West so that it can replace the Cortana voice with Fry, the Professor or perhaps Zoidberg?

Its interesting that their current phone uses Asahi Dragontrail instead of corning's golla glass

After 4 years (5 years?) I gave up on Windows Phone after my Lumia 1020 8.1's last "freeze." That phone was/is about 2 months out of the box. The 920 before it froze up just as much with 8.1. Upgrading to the 1020 was my mistake with ATT. So, I boiught my first iPhone a week ago. Initial thoughts are that I miss the live tiles and Cortana (better than Siri). Time will tell, but so far, the iPhone is not making my life more difficult. I can't say that since 8.1. Ted

Whatever you say, big liar...

This appears to be much more attractive than their initial offering. Good to see.

Billy asked Dracula: "Are you gonna suck my blood?" Dracula replied: "Yezz Billy"

I don't want to be lured away from my current phone, but this new-fangled Billy got me looking! I especially like the idea of having a 13-megapixel sensor in the phone.

Another Snapdragon 400 SoC WP8 model! Ugh! Can't anyone at least go to the 610? It about $20 more! And performance is 2X that of the 410 and that is more powerful then the 400! WP manufacturers must had a thing for the "400" series!

If it has Glance, I'll go for it...

Going to write a post about this Phone on my blog. Seems interesting.
Windows Central Newsletter
Thank you for signing up to Windows Central. You will receive a verification email shortly.
There was a problem. Please refresh the page and try again.