Yezz now says its Billy 4 Windows Phone won't get the Windows 10 Mobile upgrade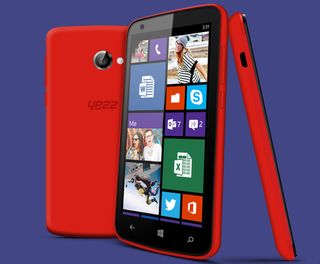 A few days ago, the smartphone company Yezz stated that all of its current Windows Phone device would be able to get an upgrade from Windows Phone 8.1 to Windows 10 Mobile. Now the company has reversed course somewhat, stating that its 4-inch Billy 4 smartphone would not get the Windows 10 Mobile update after all.
According to Windowsblogitalia, the reason Yezz gave is a bit odd. Basically, the Billy 4 has 4GB of onboard storage, but a Yezz spokesperson claims the Windows 10 Mobile upgrade would require that the phone have 8GB of onboard storage. Yet, Microsoft's own hardware documentation for Windows 10 Mobile (opens in new tab) states that a smartphone can have as little as 4GB of onboard storage. It's possible that there is something else storage-related on the Billy 4 that is keeping it from getting the upgrade.
Yezz is still indicating it will release new devices with Windows 10 Mobile in the future but there are no other details on those plans.
Source: Windowsblogitalia: Via: Neowin
Windows Central Newsletter
Get the best of Windows Central in your inbox, every day!
Never heard of Yezz, butt that phone looks cool! ^^

Yezz, yezz it does look cool.

Yeah, it does.. I want one.. Posted via the Windows Central App for Android

It just looks so Funky and Funny! I want one! :p

Do they have any bloat ware they add to the phone, that could be it. I couldn't deal with a 4GB phone anyway, so i'd pass on it regardless.

It's Windows Phone dude, bloatware is a simple long press away from deleting it off your phone

That isn't my point. If the phone has 4GB and windows required 4GB and you have 1GB of bloatware, that's the reason why they wont update the phone.

There's no way any company would put 1gb of bloatware in any phone. No way.

I can't tell if you're trolling or thick. Again if the phone has 4GB of storage, and Windows takes 4GB, it doesn't matter how much bloatware there is, IT WON'T FIT. Hence a possible reason why the phone won't be upgraded.

No system image is that large. Most of them are less than 2gb. And you're the one that said 1gb of bloatware.

It doesn't matter what number I said, it was an arbtraity number. Anything that makes it over the max storage or the device makes it too much. It could be 1 byte, if that 1 byte exceeds the storace capacity of the dvice, you're out of luck. Also it doens't matter how big the image itself is. If the OS needs to reserve 4GB for itself, that's what it will do. I personally haven't seen how big the final Windows mobile 10 inage is, but if MS states it requires 4GB, I think it's safe to say no one is going to sneak extra stuff onto a 4GB device AND have it upgrade to Windows mobile 10. I really don't get why that's outside your ability to understand.

Windows 10 image is around 4 to 5 GB, One Windows, means that Windows Phones suffer from the same Windows Bloats as desktops, and why Consumers are wary of Windows {hones, because they are tired of Windows

Plus Android into Windows 10 Mobile too!!

You do know that the OS on PC and the OS on mobile arenn't the same thing? With one Windows they mean a same desing user interface, same store... on all platforms. The code behind isn't the same. A phone can't execute code that is meant for x86 arhihecture CPU's. And It will never be, because Intel and AMD own the license for x86 arhihecture, and the two companys will never gave out the license to phone cpu OEM (aka Qualcomm)

What you said has absolutely 0 relevence to the topic. You're talking about Windows 10 desktop, which really only has a unified kernal with windows 10 mobile. Any consumer that thinks they can get the same issues on their Windows Phone as they can on a desktop is an idiot, plain and simple.

Samsung used to put 8gb of it.

Welcome to the world of Samsung

But does it actually runs win10 preview???

Maybe it cant download and install.. Till now i have seen updates download to internal storage only, Windows 10 Mobile might be too much for 4GB phones.. They should give an option to use Windows Recovery Tool to upgrade 4GB phones, that might work.

The Lumia 530 has 4gb and is in the official list of supported devices for w10.

Not surprised, the Lumia 530 was built to compete with Motorola 1st generation Moto G, that was when Moto was part of Google, and as you know Google is always going to put tiny storage on their devices (Chromebooks, Nexus, etc) since Google want us to live on a cloud based ecosystem with no local storage. Say no to Google products and in general to devices with low storage like this Yezz device. The standard should be 16GB on starter phones, 32GB on middle range and 64GB/128GB on flagships.

For me 8GB is more than enough ... exandable with MicroSD of cause.

You're wrong, MS already announced that the L530 is not going to get the W10M update because it has only 4 GB internal storage.

How is that possible if the phone can get it with the insider program?

No, you are wrong, Lumia 530 will get Windows 10 Mobile if you put in a micro SD card, as the device can install Windows Phone 8.1 Update 2. In my opinion, the problem with Yezz Billy 4 is about WP8.1 Update 2, if a phone with 4GB don't get this update, it won't be able to upgrade to W10M even with a micro SD card.

So it smells like the oldest story, they don't want to spend time in a discontinued phone... Like MS did with win7.8 512mb devices that could have easily run win10

Maybe just like the recovery tool installs 8.1.2 now, it will install 10 after it's officially released

Maybe 4GB is enough to run W10M, but enough to run WP8.1 while upgrading to W10M. Posted via the Windows Central App for Android

I think this is what is going on too: 8.1 installed fresh is about 3-3.4 GB. The W10 package is about 1.2GB. Even there you are running into storage issues. The package has to unpack, verify its code, install, transfer apps and data then delete 8.1. I can see how 4GB is not enough. Hell, I had to have about 3GB free to install W10 on my 635 and 640 testers. Maybe a straight flash on a blank phone around require only 4GB, but that negates any software migration from a previous Windows version. Also keep in mind that phones are usually the ONLY internet device the owner owns in developing countries, so any non over-the-air solution is a non starter.

Seriously? 4gb? I'm sure all 58 owners of this phone are heartbroken over Windows 10

I suppose the two dozen people or so who own this phone are gonna be pretty pissed off when they hear this news.

We have heard elsewhere that 4GB devices won't get Windows 10 Mobile, so this is consistent. Maybe you can ship W10M on new 4GB phones, but that isn't enough room to do an upgrade.

Yes, you can do upgrades to Windows 10 Mobile from 4GB devices, the problem with Yezz Billy 4 is that looks like it won't get WP8.1 Update 2 which allows to use a micro SD for the installation.

Well they could make it a two step install or prompt users to connect to a PC and use a tool to update. Said tool would back up the data and then update / flash the phone and then restore the data. But the question really is do they want to spend the time and money or not? Sounds to me like they don't.

This is what happens when you buy 3rd party company Windows Phone with low storage. Low end devices do not get upgrades due to this fact.

Why blame the "3rd party" companies when even the L530 (an "official" low-end Lumia phone with low storage) is not going to get the W10M update.

i think WM10 can run on 4GB storage but upgrading from 8.1 is an issue. MS need to communicate properly at the time of launch.

You realize that it's MS new business model to only develop showcase devices and rely soley on OEMs for the general success of the W10M-platform? Pretty dumb to piss OEMs off then.

There is no real market for these cheap plastics.

This should not be a surprise as Microsoft's own lumia 530 has problems in updating Posted via the Windows Central App for Android

Finally Lumia 530 will be able to upgrade with a micro SD.

I've seen a few articles that four gig WPs can't update.Not enough storage do so.

Yeah.. They have issues in upgrading to 4GB.. But OEMs can ship new devices having 4GB ROM with W10M though..

Sucks for the person like me that paid for a phone that won't update to ten.

Yes, 4GB devices can update: http://www.nokiapoweruser.com/windows-10-mobile-devices-with-4-gb-storag... The case of Yezz Billy 4 it's different.

While for the good on wp I hope you're right, i think that's not the case. It says devices RUNNING w10. Not devices running 8.1 updating to 10. I hope it's not different, but it doesn't sound the same.

Maybe they will be able to upgrade through WPRT when image becomes available. Same goes for Lumia 530.

Didn't Microsoft made it mandatory for every phone to have at least 8 GB of onboard storage for Windows Phone 8.1 when it was released?

No, it's always been 4gb.

They did at first, they also had it so they couldn't have onscreen buttons and the had to have a dedicated camera button, look no further than the HTC one m8 for windows to see those two mandates out the window

These criteria were removed to make OEMs reuse their Android shells. Unfortunately some have literally have done that and didn't change the buttons... Lol. Also some even used the QRD shells and didn't bother changing the buttons.

If your phone has 4gb you don't need windows 10 and likely don't even know what it is.

makes sense.. on a 4GB device, after the OS you have what, around 1.5 to 2.4GB free? Then you install ANYTHING, and not all apps allow install to SD, and that number goes down. Not sure how big the Billy 4 restore image is, but on my 830 it was 1.7GB with at&t bloat. So, even on a freshly booted up phone from the store, you would barely have any free space for the update to download AND install. Granted, a restore to Windows Phone 10 option would be a neat idea. Then attempt to restore your backup files.

Is one who bought such a phone really caring about an update and interested in more details about hardware and software?
I think the main audience are persons just wanting some cheap phone to user now and then or to test out Windows Phone.

Another Epic fail of low end Windows phones and the reason Low end windows phones are useless for upgrade!

At this point in time, with Microsoft focusing on apps and services for iPhone, iPad and Android devices it should be critical to focus Windows Phone on high end devices. I'm hoping the Lumia 950 and 950XL come with metal finished cases, since today all flagships don't come with polycarbonate.

I agree with you, No more 1 GB RAM , make it 2GB , no more 4 GB ROM , make it at least 8 GB, No more windows phones without camera on the front, no less than 720P screen, don't forget 2016 is just three 3 months away and this is not 2008. MS must make some strong basic standards for WP OEMs. If these specs are too heavy or not affordable for OEMs to make profits, please let consumers buy decent android phones with these specs for less than $100 USD and use MS's services on their android phones, it will make sense!

This is why wp flopped, it had too high if hardware standards for wp7, not enough people made them, not enough variety so lower sales, so less apps. Android had a lead, but they were not restricted so everyone got in the game.

Come on, We can keep going back on history's footsteps like, then, WP OS was not free, it didn't support multi-core SoCs, Kernel base changed meanwhile, non-Qualcomm SoCs not supported, OEMs not happy with Nokia merger, etc. But as I mentioned earlier, this is close to end of 2015 and today's technology is outdated tomorrow. We all know Android is behemoth and the plan should be how to win consumers to use MS services and that too on MS' own platform.

The way you worded it seemed like you're for MS restricting the hardware Windows Mobile could be put on. If that is not what you meant, I apologize, but Google didn't win because they were first, they won because they we Windows for mobile and the antitheses to Apple.

Absolutely, I am not for MS to restrict the hardware at all, but MS must promote Windows ecosystem with best basic phones with best specs, MS shouldn't have made phones that become basis for OEMs, like 512 MB RAM, no front camera, or 4 GB ROM, etc. For example, MS picks up a processor (SoC) that's already 2 years old in the market, do you think other OEMs will come forward to pick latest and greatest SoCs. This is what happened with L 640/XL. I am against it, and anandtech clearly pointed out while we were arguing WP OS runs buttery smooth on 1 GB RAM!! I would very much like Surface's lead @Panos_Panay take a lead and showcase "one windows Mobile" phone each year with its fullest potential like the way he did it for Surface.

On the contrary, you can't expect to get a 5 star meal from white castle. You get what you pay for. You buy cheap garbage like Yezz billy w/only 4gb of memory, you really expected what? Even though MSFT will do it under those specs, its most likely they have their own proprietary garbage hogging up space.

This is not related with Windows Phone, because all devices with 512 MB RAM or 4GB storage will be able to upgrade to Windows 10 Mobile: http://gadgets.ndtv.com/mobiles/news/lumia-denim-update-lets-select-hand... The problem with Yezz Billy 4 maybe is on the bloatware, or maybe they still didn't got the WP8.1 Upgrade 2.

If you buy a device with bare minimum specs for the current OS, you wouldn't be too surprised if you can't upgrade later.

Microsoft page also said 8 gb requirement for wm10

No, Lumia 530 with 4GB will be able to update to W10M with a micro SD card. And de requiremente for W10M is 4GB: https://msdn.microsoft.com/en-us/library/windows/hardware/dn915086%28v=v... Section 2.3.1

That section is about new W10M devices but not about upgrading old ones. It's about how new devices can be updated to a version higher than the stock W10M version that is shipping with the new phone. The users needs a SD card for that. Has nothing todo with upgrading current phones.

Well, Nokiapoweruser thinks different :/ http://www.nokiapoweruser.com/windows-10-mobile-devices-with-4-gb-storag...

Lol, 4GB of storage, while Android flagship phones now have 4GB of RAM. This is ridiculous, and makes me think that I'll never purchase a phone with less than 32GB of storage.

Honestly I don't know why anyone would. Even if you're looking for a cheap device you can find some with more storage than 4gb.

For those of you thinking that phone is cool, i recommend you got a MSFT store and check it out. Its absolutel garbage, super flimsy and in hand it feels like you hold it tight enough, you can crush it.

What is odd in Yezz's decision? All WP handsets with only 4 GB internal storage are not going to receive the W10M update, including the L530, that has already been confirmed a month back.

Yes, they are going to receive Windows 10 Mobile if you put in a micro SD, I don't know why Windows Central didn't posted abou that, as Microsoft said Windows Phone 8.1 Update 2 activates this option. The problem with Yezz Billy 4 is very different.

Maybe because it's not certain yet? There are lots of rumors regarding 4GB devices currently (from "won't get it at all" over "will get an 8.x update with look & feel of W10M - similar to WP7.8 or Surface RT update" to "will get it only through recovery tool" and "will get it only with SD card").

Does anyone has this phone and tried to download the Windows Insider Preview to it?

I'm expecting a news, Microsoft says about 512 Ram Phones never get Windows 10... Especially for Lumia 520

Now explain how W10M is installed in my test device (L625)

I'm said about Official Update

Installation has more to do with the storage on board. 512 MB is plenty to run Windows 10.

Of course devices with 512 MB RAM will get Windows 10 Mobile, that's for sure. Also, devices with 4GB will be able to get Windows 10 Mobile if you put in a micro SD card, as requirements for this SO are 4GB: https://msdn.microsoft.com/en-us/library/windows/hardware/dn915086%28v=v... Section 2.3.1.

That document only speaks about specs for new phones not about current devices. Totally different things.

Read this
http://m.gadgets.ndtv.com/mobiles/news/lumia-denim-update-lets-select-ha...

I suspect it has to do with the actual installation process itself rather than the OS being able to fit in the space. During installation, more space is needed for the extraction and copying of files. Not hard to see why 4GB, mostly filled with personal information, would be a challenge for the installation of the OS. One way would be to let the phone treat external storage as part of the OS but Windows isn't designed to do that and I don't really see the point of putting resources in that direction, either.

No one will likely care about this devastating news. You can always replace cheap phones with cheap phones.

Yezz Billy should change name to Noo Billy

It's look similar to Samsung Corby Series phone

There was an article from windowscentral that said the 4GB phones wasn't getting the update, nothing new. http://www.windowscentral.com/windows-10-mobile-update-unlikely-4gb-phones

Blame Microsoft for forcing a desktop OS onto a Phone, and expecting Consumers to buy it. Microsoft has lost the plot in Mobile.

If 2gb is already installed and you download the windows10 image to the phone before install, and that image is 2gb that makes 4gb sitting on the phone before the upgrade and if the phone already has apps installed, text, photos etc.... Then there is no room left.

With my 8GB devices it's tight - have to move apps to SD or do a factors reset. Looking at storage on my Lumia 520, system files alone is over 4GB.

I hope Microsoft should come up a solution regarding this issue soon. We don't want Windows phones to be another as fragmented as Android.

//It's possible that there is something else strange-related on the Billy 4 that is keeping it from getting the upgrade.//

4GB phones should have never been made, regardless of the operating system.

Yezz phones are garbage. I had a Yezz Billy (can't remember which one, but I think it was 4) and I returned it the next day. G A R B A G E. Posted via the Windows Central App for Android