Ori and the Will of the Wisps is hard — REALLY hard
By Russell Holly last updated
It sure feels like the last game ... right up until it doesn't.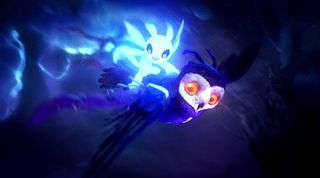 (Image credit: Xbox Game Studios)
As a massive fan of Ori and the Blind Forest, I walked into the launch event for the sequel with what could be described as an inappropriate amount of excitement. The puzzles, the animation, the excitement pulling me to the edge of my seat — I was ready to feel like I did the first time I played the original as I sat down with Ori and the Will of the Wisps.
I've seen all the trailers, I just finished a replay of the Definitive Edition on my Xbox One X, and I was ready to enjoy this game.
Just kidding, I wasn't remotely ready. And you probably aren't either. Here's why.
A whole new Ori
For as much as it looks and feels like the original, Ori and the Will of the Wisps is very different from its predecessor. For starters, it's bigger. Much bigger. The first area alone is massive, and I wasn't able to get through all of it after an hour of gameplay. We know of at least five other areas of similar size, each with its own unique challenges. As much as I loved Ori and the Blind Forest, it wasn't exactly a long game. I'm nowhere near done with Will of the Wisps and this already feels much more substantial.
It's not just level size. The areas you wander through now have merchants for upgrades. You can purchase new attacks, maps to expand your view of the area, and a few other things that are all separate from the skill tree you have to unlock (similar to the original). Completionists are going to have a field day with everything players need to do in order to feel like the game is finished, but even if that's not your thing, there's going to be plenty to do here. The achievements list tells us that much.
Ori and the Will of the Wisps is definitely challenging
The biggest challenge you're going to encounter here is the combat. The game wastes no time throwing you into a boss fight to help teach you to never drop you guard, and it only gets more entertaining from there. The game doesn't hold your hand or explain combat basics to you. Like its predecessor, you are thrown into a situation and need to play your way out. That means, for some, the combat will be incredibly difficult, but for others it will feel natural and worth the challenge.
It'll be a little while before you see a full review of Ori and Will of the Wispshere at Windows Central, but I can tell you for sure if you're a fan of the last game you will love this one, too. However, if you're expecting the game to feel easy just because you're used to the previous game, you're going to find yourself counting how many times you die using numbers you won't be proud to share with others.
Ori and the Will of the Wisps will be part of Xbox Game Pass and available on its own for $30 if you don't want to subscribe to that service.
Collectible
(opens in new tab)
Ori and the Will of the Wisps: Collector's Edition
Limited quantities

Ori and the Will of the Wisps: Collector's Edition includes the game disc, the art of Ori and the Will of the Wisps book, the piano collections soundtrack, iconic Golden feather SteelBook case, and an original soundtrack download.
He's back
(opens in new tab)
Ori and the Will of the Wisps
A new adventure

From the creators of Ori and the Blind Forest comes the highly-anticipated sequel, Ori and the Will of the Wisps. Embark on an all-new adventure in a vast and exotic world.
Best of the best
(opens in new tab)
Xbox Game Pass Ultimate
Xbox Game Pass and Xbox Live Gold in one

Xbox Game Pass gives you access to over a hundred games for one monthly fee. Xbox Game Pass Ultimate also adds Xbox Live Gold to the package so you can play online with your friends.
Russell is a tech nerd who chases the best of everything, from phones to game consoles to laptops and everything glowing or beeping. He's the Managing Editor of gaming content for Mobile Nations and can be found contributing to all of the Mobile Nations sites. Reach out on Twitter!
This means I will die 15000 times instead of 1500 on my hard run. 😜

This is going to be very special indeed.

As long as they have easy mode im good lol

I don't think anything could be worse than escaping from that god damn tree.

Ah it was not that difficult. I'm currently playing Hollow Knight and some of the later bosses are real tough. Much tougher than the original Ori.
So reading this review makes me happy. Looks like they worked really hard on improving an already great game.

I agree. Probably over 1000 of my deaths are just out of sheer stupidity jumping or lack of knowledge on how to progress. Combat was easy, even on hard. HK had some brutal moments for such simple combat. Have you gotten to that arena area yet? That third round was intense. Man, I haven't had an adrenaline shock to the system from a game like that since I did the hardcore run in Dead Space 2!

Funny you should mention that, I'm replaying Ori and I escaped the tree on the third try, it took me ages to do it the first time.

I found the first one tough! Lol

Definitely looking forward to this. In the MS store it only gives you the option to join Xbox Game Pass Ultimate, does anyone know if this will be out on the regular Xbox Game Pass (PC)?

Yes. Ultimate Gamepass is Live Gold and Gamepass together. And is ironically cheaper than regular Gamepass + live gold seperately. But yes. You will have it fine. But save yourself money and just get Ultimate. Even if you have no PC. It's cheaper.

Thankyou! Was not really interested in gold, nor do I have a console, as why i just wanted game pass for pc.

Yeah don't waste your money on gold or ultimate. If you're a regular game pass member you can play this. Ultimate is useless for PC gamers.
Personally I'll buy the game. At least this way I know I'm supporting the game more than if I rented it on game pass.

Yeah, in that case you can just grab game pass for PC, there are a lot of awesome indie and AAA titles on there I imagine you'll enjoy. Deaths Gambit is another good "hard" platformer.

Just downloaded metro exodus, really getting into it lol

I was debating whether or not to play BF again before WotW but this has pushed me to do so. I think that it might be helpful to get a good feel for the controls again before tackling a harder game.

Yeah, I actually reinstalled BF Definitive as well, just to smash it out before WotW, I had already played the original release.

I preloaded WotW from the Microsoft Store and it is currently installing a 15 GB update. I guess that means the final game is available, despite it only being March 9 and the Store entry saying it will be available March 11. I'm also installing BF and it is less than 4 GB, so that's an indication of how much bigger the new game is than the original.

Nope, still can't play until March 11. No matter, if I'll be playing BF again first.

You can always change your location to New Zealand and start playing early. Then when it hits March 11 where you live, just switch the location back. Yes this actually works. You can play early this way on every release.

I always assumed that would work, never bothered trying it though... May do soon.

8 hours in and I'm waiting for the difficulty to start...
Windows Central Newsletter
Get the best of Windows Central in in your inbox, every day!
Thank you for signing up to Windows Central. You will receive a verification email shortly.
There was a problem. Please refresh the page and try again.