You can now browse the Windows 11 app store via your web browser
A new web front for the Microsoft Store is now live.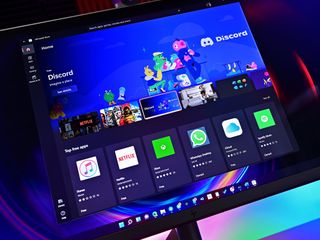 (Image credit: Daniel Rubino / Windows Central)
What you need to know
Microsoft launches redesigned website for the Windows app store.
It now includes listings for unpackaged Win32 apps.
It also uses Windows 11's new mini-install popup dialog.
Microsoft has launched a new web front for its new app store experience that first debuted on Windows 11. Spotted by FireCubeStudios on Twitter, The new website allows users to visit app product pages on devices that don't have the Microsoft Store app installed, such as your phone and tablet, and makes it easy to share links to your favorite apps with other people.
Additionally, the new website also supports the Microsoft Store's new mini-install prompt. When you click "Install" from the website on a Windows 10 or Windows 11 PC, a native Windows prompt will appear asking you to confirm your download, and the app will begin to install without taking you to the full version of the Microsoft Store app.
The experience is pretty seamless, and third-party developers can also use this mini-install prompt on their own websites if they so wish. The new Microsoft Store app website is the first place we've seen that's using it, so hopefully more websites follow.
Taking a closer look at the website, it appears to provide most of the same information as the native Microsoft Store app on Windows does. This means you can see app product images, ratings and reviews, but not app specification requirements. The new web front can be accessed at apps.microsoft.com (opens in new tab) from any device with a web browser.
The old web-version of the Windows app store didn't include listings for the new unpackaged Win32 applications that first debuted on Windows 11. This new one thankfully does. Curiously, this web front doesn't list movies or games, just apps. Perhaps Microsoft expects users to continue using the main Microsoft website for that content.
Zac Bowden is a Senior Editor at Windows Central. Bringing you exclusive coverage into the world of Windows 10 on PCs, tablets, phones, and more. Also an avid collector of rare Microsoft prototype devices! Keep in touch on Twitter: @zacbowden.
It seems very unfinished. It has about half of the information of the Store on Windows and has an Updated date field populated with "0001-01-01T00:00:00Z" (which is why it says Updated 1 January 1). The colour scheme is also just.. nonexistent? Feels weird for something I assume has been in development since June 2021.

It is unfinished. It says "Preview" at the top of the page.

Good article but I realised that @AlurDesign was the first major account to post it. Also, they seem to talk about another person spotting it, @SapphirePublic. That account, small, seems to have commented on @AlurDesign's tweet an older tweet with the URL.

And still no management options for apps you've purchased.
Is Microsoft trying to kill their store off?

still waiting for them to fix the unusable media player that was zune.

There is something seriously wrong with the store search and sorting algorithm. For example, search for "workout". The #1 top app is a $99.00 app "Timer Workout - Pro". App has a single review, no trial version, no video. App is a simple timer by the looks of the in-app images which are not even in English. There is absolutely no way that Windows users are paying $99 for this, sight unseen. So how can this be the top app? In top 10 there are a lot of poor quality apps with poor quality listings (limited images, no video, poorly written description). Some are without a trial version. #10 does not even work at all! I've reported it to the store some months ago, but they have not removed it still, and it is still listed at #10! The app quality problem is well known, but to me it seems this is fairly easy to fix. Use crowd sourcing (user reviews, reports, downloads, usage stats) to remove apps that don't work and list lower the apps with poor user feedback. Make download stats public. Stop hiding reviews from other regions, show all reviews regardless of country, MS can use this to showcase Bing translate. Down-list apps that have not been updated in years. Down-list apps which list a developer website that does not exist (a lot of those, if the website is down for a week, the odds are the developer has gone out of business). None of this is hard to do. So the problem is not so much lack of quality, but that what quality is there is buried under a pile of junk. MS has to fix this if the store is going to be a success.
Windows Central Newsletter
Thank you for signing up to Windows Central. You will receive a verification email shortly.
There was a problem. Please refresh the page and try again.