You can now buy a 7-inch Windows 8.1 tablet from Micro Center for just $59.99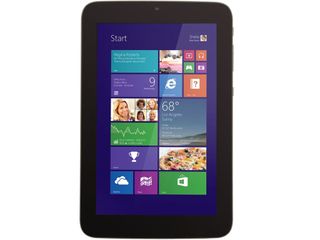 US electronics retailer Micro Center has started selling a 7-inch version of its Windbook Windows tablet after launching 8-inch models earlier this year. More importantly, the new WinBook TW70CA17 model is on sale for just $59.99, which is the lowest price we have seen yet for a new Windows 8.1 tablet.
The tablet has a 1280x800 resolution display and an Intel BayTrail-T Z3735G quad-core processor with a clock speed of 1.33GHz. It contains 1GB of RAM and 16GB of onboard storage, along with 2 megapixel cameras on both the front and rear of the tablet.
Micro Center is still selling its two 8-inch Winbook tablets as well; with one priced at $99.99 with the exact same hardware specs as the 7-inch model, and the other for $139.99 with 2GB of RAM and 32GB of storage. As we have reported before, these prices and devices are only available for people who travel to one of the 25 Micro Center retail store locations in the US. Do you think a $59.99 tablet will be worth the price?
Source: Micro Center Thanks to "wpguy" for the tip!
Bing it! ;) http://www.microcenter.com/product/439773/TW70CA17_Tablet_-_Black

Someone uploaded a quick first look about it too: https://www.youtube.com/watch?v=9un-LIUvBXc It really is a steal! Specially considering the Office 365 subscription included. I wonder if you can activate it in another PC so you don't have to deal with its tiny screen (but you could use HDMI anyway)...

Yes you can activate the included 365 subscription on another machine, you get 2 subs for the price of the basic WinBook.. I have also succeeded to remote-controlling the WinBook 7" machine through a TeamViewer link, no need for HDMI connections that way. This also works fine.

Doesn't really help since 8.1 forbids app installs to an SD

Still helps for music, pictures, and video.

With no media stored internally, just OS and not many apps (though I do have the Halo SA app on there), Wimbooted and used for light weight stuff, my 32gig tablet has 10gig left. Anything less than 32gig is not worth the effort of unboxing until MS sort out the app-to-sd situation. A small thing, but it would change everything for cheaper Windows tablets.

Which you can change http://www.askvg.com/how-to-change-metro-apps-default-installation-locat...
https://www.windowscentral.com/e?link=https2F%2Fclick.linksynergy.co...

Unfortunately, that doesn't work on 8.1: http://answers.microsoft.com/en-us/windows/forum/windows8_1-files/to-be-able-to-change-windows-81-apps-default-drive/54213d95-0afe-4e54-9f69-9687609cfef3

Doing this will almost certainly hose the whole app system and require a Windows reinstall. Please do not try this trick in any form with Win8.1.

I can confirm, wreaks havoc on 8.1, just had to do a reinstall because I didn't research carefully enough.

This should basically be used as an rt device anyway. Please do not install any legacy programs.

What's the OS footprint on these new 8.1 Update 1 tablets? I know they've supposedly shrunk it quite a bit, but 16GB sounds very light on storage. I guess you'll need to lean on cloud storage and connectivity a bit more than usual. To that end, I hope WiFi and browser speeds are good.

The OS footprint on these devices is ~4GB. Therefore, 8GB free. They also have MicroSD storage so you can add up to 128GB and not be dependent on cloud storage.

There is very little left over after the OS is installed on the WinBook. I bought the 7" version. After activating the Office 365 package, removing the Microcenter AV and installing AVG antivirus, and installing TeamViewer so I could control the WinBook remotely, I just had about 65 MB left on the C: drive. Once I got Windows Update de-bugged & running, it was only able to install 2 of the recommended 63 updates before it croaked & told me I did not have sufficient space on the C drive to install any more updates.

AVG? Seriously!? It is a great AV but fills a lot of space and will consume all your RAM... IF you seriously NEED heavy protection, I recommend MBAM, Spybot and EMET. However I guess that you would be fine with the preinstalled Windows Defender. And also, you could make some research in order to create a portable recovery media USB, so that you can reclaim those hidden 8GB.

Mine just clocked 28/6 MBps on my Tenda router, Comcast server, OOKLA speedtest. This is contract (25/5) limited.

While I am doing benchmarks, my Winbook TW700, with Atom Z3735G @ 1.33 GHz, clocks between 235 - 265 Million Double Precision Operations per Second (MFLOPS) in the Linpack Java benchmark.

This is one of the only small ones with HDMI out i'll be checking out over the weekend

They should make a phone at that price. Windows needs a really cheap phone. Android has em around 40.

The 530 is a comparable price, isn't it? The problem is, while it's fascinating that it's even possible to produce a smartphone or tablet for that price, I bet using one for any length of time is a pretty joyless affair.

Some people just need/want a smartphone. WP works well in the case.

The surface mini is still coming out later right??

Good I hope not. Mini tablets are really not wanted, even Apple can't succeed with the iPad mini.

An 8" RT(with SIM) aka surface mini @ $180, 12" RT(with pen support) aka surface @ $330, and an 8" surface pro mini(with SIM)@ $250 would be great.

Great deal, but 7 inch is a very small screen.

Screen on these device display shade striping. Also on the 8 in

I checked out all the available models at my nearest Microcenter, specifically looking for the banding issue. None of the display models exhibited the issue.

I bought one, device display on 7" is perfect.

Do these tablets with desktop like windows 8.1 OS even work properly..? With just 1 gb ram and a puny processor like intel atom.

The processor handles it fine, not sure about the 1gb of ram thou.

It handles fine, I have the hp stream with the atom and 1gb ram and it runs flawless.

+1 for the HP Stream 7 & 1GB RAM. It works really well. The HP tablet has 32GB storage on board though, which I think is a sensible move over the 16GB on this device.

Don't under-estimate the intel atom bay trail processers. They are really snappy and battery efficent for web browsing, running apps, multitasking, watching videos. Only time you will find them slow is when you are copying data or running full blown x86 and x64 based applications such as Visual Studio.

Windows 8.1 works flawlessly on my gran's old PC with Pentium 4 3.0Ghz HT and 1 GB DDR2 ram. Including playing games like nfs most wanted(2005). So this tablet really is a killer for the price as compared to any other tab.

My 3-4 year old AMD Atom-equivalent netbook runs Visual Studio, Office, etc. just fine. Generally, the only noticeable lag was during application launch. Also, my netbook has a regular hard drive, vs. solid-state storage in the tablets.

I bought the 7" version. The OS runs just like it does on a much heftier Lenovo N580 laptop. However there is no space left on the WinBook to even install Windows Updates.

Bizarre. Hopefully something like this will come our way in Europe. I will def pick one up! Why? Because for $60 I love to have a throw around device

http://www.linxtablets.com seem pretty competitive in the UK... If you have a suitable tablet to trade in, you can pick up a 7 inch Windows 8.1 tablet for £50. If no deals appear over black Friday, I'm going to grab myself a 10 inch version I think...

Too bad they closed the one in Santa Clara, CA :(

Nice. No office 365 though

free year of office 365 is included.

I bought a 7" WinBook. It came with a 1-year sub to Office 365, which runs both on the WinBook and can also be installed on one other computer of your choice.

I wish I had the spare cash - This would be worth a trip up to Denver.

I would use this just for smartglass

This is stupid, why even post this for cause on the site it says add to cart but in store only...dumbest shit I've ever seen.

For all the readers that live near one and can take advantage of it.

What will I do with this? I rarely used mg dell venue 8 pro as much as I loved it. The lack of good apps makes this a hard buy....

Media consumption, and for that price it is hard to beat.

I'd buy it if it had a sim slot tu use as a phone. It'd be so useful to have the capabilities of a real pc into a phone

With Windows 10 can you install apps to a memory card? These 16GB tablets are practically worthless unless you can install apps to expandable memory. $99 HP Stream seems like a much better deal because at least it ships with 32GB and a nice display. The $140 Winbook tablet seems like a nice device as well with a full size USB 3.0 port.

This has a full sized USB 3.0 port. It is the identical device in terms of specs aside from RAM and storage across all models. The screen resolution is the same, too...1200x800 IPS. They all look about the same line up at the store.

Windows 8.1 is unusable at 16gb.. you choose between apps or having Office instead - also, windows updates likely will fail due to low space for downloading and decompressing.. I believe this will change on Windows 10, but there is NO way someone can run on 16gb and not have issues. People install stuff, space is non existent, conclusion - avoid this mess.

You want to use Office for heavy duty things on a 7-8" screen? You already have a Microsoft account...use the free basic online Office and save the space if you are doing casual Office work.

Office 365 is a collection of desktop applications, which can be installed to any drive (i.e., an SD card), right? I haven't tried it yet, but surely someone else can confirm/refute.

my point is, there isn't any room to install apps. Because a full Windows 8.1 os will occupy the 16gb quickly through windows updates, cached files, etc.. Age of Empires is roughly 1GB, many popular games are in the 200MB range, so my point is you wont be able to install as many, or not even close to as many apps as with a chrome or iOS 16gb equivalent tablet.. and if you sacrifice space to have Windows functionality, you still can only do so much with an SD card.. it's just not practical or in most cases possible to work with 16gb.

windows updates likely will fail due to low space for downloading and decompressing I bought a 7" WinBook and can confirm Windows Update fails due to insufficient disk space, after activation of the included Office 365, AVG antivirus & TeamViewer.

The 7 inch sound like a sweet deal, but the 16Gb goes extremely fast. I have the Cube iWork 7 inch with 16Gb of storage, and with the bare minimum of apps installed (I even deleted some of the preinstalled apps), I now only have 2.4 Gb left. I just performed a factory reset on it this morning, set it up as a new PC, and was left with 5.2 Gb...I was pretty happy with this at first. But, once I got through the 128 updates from Windows, I'm back to around 2 Gb again. These ultra cheap, low storage devices are strictly for casual media consumption, and for that purpose, I'm very happy with the Cube. Just know what you're buying before you buy it. :)

You might be able to reclaim some,of that space by running disk cleanup. I do wish Win 8.1 allowed modern UI apps to be installed to the SD card, though.

I was hoping that clean up would help, but it didn't. I'm really hoping that Windows 10 allows us to install apps to an SD card. That would help everyone with 32Gb and below so much.

Well, don't run Windows 8.1 you can install Ubuntu 14 on it. You can get a Samsung Class 10 Pro microSD and it will run 80m/s which is twice the speed of the onboard 16GB. It also has a USB 3.0 port for more storage space. The reason Windows 8.1 is so snappy with just 1GB of RAM is because it's 32bit But you can run full blown 64bit with Ubuntu and everything works. Windows This thing is a steal.

Too bad it's in store only. The nearest one of me would require travel through holiday traffic on the highway and sanity is worth more than the savings.

This isn't a temporary sale price. You can go after the holidays :)

The size and storage of this device puts it in the fun and browser category and surely not meant to be a full productivity machine.. Windows store apps don't take up too much space unless you plan to download tons of apps....browser book reader ETC, great Price for low end users.

I bought one on Monday. Went to see the screen quality on the 8"/$99 model. This has the same exact resolution. Both have your typical 1200x800 IPS screen. Truthfully, I can't tell the difference watching a video on the tablet vs my 928 or my wife's 8X or even our Surface RT. Only temporary downside is they don't have the folio cases in yet. Thankfully I have a generic 8" neoprene sleeve I use with my Kindle eReader....which I actually paid more for. So worth the money!! Was going to leave Thanksgiving dinner early to try to score a $79 HP Stream 7. This has better specs in my book.

Can this article please get updated to provide the full specs? People don't go to the site. It is LITERALLY the same device as the 8 and 10 devices except 7" and 1 gig/16 ssd. It has office 365, full USB 3, Micro SD/hdmi/usb and a full year of office 365. The display is 1200x800 IPS. There are front and rear cameras, BT 4.0 and wireless b/g/n. Same quad core baytrail CPU as all the other 7-8 windows tablets.

I Live in Michigan .Read this article, went online, placed the order and now its charging up. Thank you for the great tip . As always, Windowscentral is on time . I have a Kindle fire, but I dont care for the OS and Amazons hold on the device .7 inch is cool with me. I rock a 1520 32 GB and for this price ..??? are you kidding me( smile) Happy Holidays Everyone!!!

Good ol' Madison Heights..got lots of stuff there before moving out of Michigan..

Double-check your processors. Close, but not quite the same.

In for 3: One for a holiday gift for my sister in law who just watches videos, one to play around with and one for a gift for later...

I'l grab one for my Mother In Law. This would be great for email, Skype, music from TuneIn radio and light sufing the net. She's not really a techy type but we could send tons of photos to the cloud where she could enjoy them.

I bought the 10" $199 with the keyboard/folio a couple months ago. Love it! My only gripe is the battery life. Currently have a 32GB microsd that has D3, Hearthstone and Heros of the Storm installed. It actually runs all games ok enough for me to get Blizz fix in. I am hoping to find a good deal on 64 or 128GB because I installed Visual Studio on the main drive and I don't have much room for any more apps. Great little device for consumption and a little bit of play.

Nice but needs 2 GB RAM to be decent.

Well, at this price everyone should get one. I mean seriously... this thing is a gift. It is supposed to be a music player, video player, ebook reader, offline GPS thing (i'm not sure it isn't a-gps); and to be used for web browsing, note taking, social interacting and so much else that people do on a smartphone today. And with Office 365 + hdmi you could have some serious stuff done as well!!

And with Office 365 + hdmi you could have some serious stuff done as well!! I would not do any more than minimal typing into any part of Office 365 using the available Win 8.1 onscreen keyboards. They are all maddening on a 7" screen. I've been playing with my new 7" Winbook for a couple of days now. Office 365 runs fine except for the input & display problems inherent in a 7" screen. I have been using a Lenovo N580 with 8.1 & Office 365 running, so am already familiar with the OS & Office software.
However, the included Office 365 subscription can ALSO be installed on another computer of your choice, which greatly enhances the value of this installed software.


Well, I was assuming that you would have a nearby keyboard since this thing has a full sized USB port for this kind of purpose...

If I have to use a full size keyboard I might as well use a full size laptop.

Ok, sure! I might as well get an i7 Surface Pro 3, but unless you can find a new full sized laptop with touchscreen and O365 for ~60usd then your reply is utterly irrelevant. But whatever, you returned yours because it obviously did not have enough storage left after installing AVG and apparently because you are too classy to be able to plug a monitor AND a usb keyboard. I really thought it was obvious that if you plug an EXTERNAL monitor in order to use O365 you are most likely going to be using an EXTERNAL keyboard and mouse as well. Also, FYI, I do not own one because I am not in the market for such a machine, but I would have been glad to get one for someone else in my family if there was such need. No need for you to reply though... you have already made your point (repeatedly) several times across this comment section.

Windows device never have GPS... It's their one huge disadvantage over Android tablets. It's like I can't go full Linux because of office and I can't go full Windows tablet because of GPS...

stay with windows. at least work doesnt suffer

Take a look at some of the 8" tablets. The ASUS VivoTab 8 model without the Wacom digitizer reportedly has GPS.

I have got to say I am impressed. You have to realize I was a huge netbook fan and this has waaaaaay better performance than my old eeepc with 2gb ram and a 60 GB Apex SSD...

Amazing gift for kids....or anyone needing a consumption device. I love my Dell Venue 8...tremendous value for the money...otherwise might be tempted.

anyone plz give me an 8 inch windows tab with the dimensions of an ipad mini, ie 200 by 135 mm ! All the current windows tabs have horrible length to width ratio, the only 8 inch tab that had my heart beating is the upcoming Lenovo Miix 3, which is exactly 200 by 135 ...sadly it lacks a full usb 3 port .

I returned the TW700 I bought on 12/1/14 to MicroCenter during its 15 return policy period. I decided I wanted to reset the machine to its factory condition and found I could not do so. I got online with a MicroCenter support tech and we went around & around, always coming to the same end - the machine saying it could not be re-set. I have done this many times before on other Windows machines, this is the first that refused. The tech told me I would have to return it to the store to have the resetting done. I though, no thanks, this is a basic function I won't do without. So I returned it for a full credit while I was able to. A few days after I did this, I found MicroCenter has released a special downloadable utility for the TW700 to increase the usuable space on the C: drive. http://www.microcentertech.com/winbook/index.html
Program downloaded is called WBOptimize.exe Talk on the internet is that it shrinks the pagefile and disables the hibernation file, gaining from 1.5 to 4 GB of space, depending on who posts the results.

I bought two of these and use them as "servers." SInce they have USB ports and HDMI out the make wonder small server devices. One is monitoring my solar panel array (which was previously done by a netbook that used twice as much power). It is running MS SQL Server Express. The other replaced a laptop that runs a USB Bitcoin miner, an ACARS aircraft data logging program that logs ACARS traffic to a MySql database as well as records local police radio traffic. This one replaced a 35watt laptop. I did have to buy a $7 16GB MicroSD card and a $12 powered USB hub for the bitcoin miner, keyboard/mouse, and scanner cable. So far all is working great and with the Office 365 subscription as well as the power savings (power is expensive where I live) these things pay for themselves!

Hey. I upgraded this tablet to run Windows 10 and it's running it very smoothly.
https://www.youtube.com/watch?v=K74xkaPq0wk
Amazing

https://www.youtube.com/watch?v=K74xkaPq0wk
Windows Central Newsletter
Get the best of Windows Central in in your inbox, every day!
Thank you for signing up to Windows Central. You will receive a verification email shortly.
There was a problem. Please refresh the page and try again.