You can now play the Battlefield 1 trial on Xbox One and PC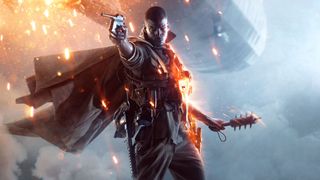 Battlefield 1's early access trial is now playable on both Xbox One and PC, provided you have an active EA Access or Origin Access membership. While the trial was originally scheduled to go live tomorrow, subscribers of the services can now access the game on both platforms.
The Xbox One trial can be installed through the demos section of the Xbox Store, entailing a 45GB download. The PC version of Battlefield 1 can also be installed via the Origin desktop client, requiring 40.4GB of free space. Those who have pre-loaded the title can start playing straight away, provided you have an active EA Access subscription.
Playtime during the trial period is limited 10 hours, with only two of the game's six campaign missions available before launch. On the multiplayer side, five maps and four game modes are currently playable, with more arriving once the game's 'Early Enlister Deluxe Edition' releases on October 18.
If you enjoy the trial, remember that all progress made during the early access period will transfer through to the full version of Battlefield 1!
Are you looking forward to Battlefield 1? What do you think of the trial? Make sure to let us know in the comments!
See on the Microsoft Store (opens in new tab)
Windows Central Newsletter
Get the best of Windows Central in your inbox, every day!
Matt Brown was formerly a Windows Central's Senior Editor, Xbox & PC, at Future. Following over seven years of professional consumer technology and gaming coverage, he's focused on the world of Microsoft's gaming efforts. You can follow him on Twitter @mattjbrown.
just got the deluxe edition for 69 on amazon

The trial was schedule to open tomorrow on Oct 13.... and it did.
​It opened on Australia time UTC+11 it is already Oct the 13th over there. I am not sure why the blogosphere is confused about that.

Ok, showing in EA Access hub. Directs me to the store, but won't play, says I am too early.

Yeah, it's early and EA Access hasn't been updated yet. Have you tried going here and clicking Try Now? Then try to play the game on your console, and it should be registered to your account.

Yeah, tried that. Steps I took > EA hub > Trials > Battlefield. Try now > go to store > install. Very quickly starts, says complete, because I already have it downloaded. Each time I try it says "to early" error.

Change date or time zone?

downloading now woohoo!!!

Are they going have a trail for people that don't have EA access? Or is this the future of gaming where we pay 60 bucks on a game we cant try first?

It's not a "trial". It's called early access, which means EXACTLY what the words mean in plain, simple English: early access.
This "trial" you speak of, happened over a month ago. And was open to EVERYONE, regardless if you pre ordered the game, or not, or what level of pre order you purchased into.
Is this the future of gaming? This paying extra to receive extra perks, and/or premium treatment? Probably so. Just about every other industry went that way ages ago. Gaming has been the last hold out.

Actually that wasn't a "trail", it was an open beta, that is completely different. The trail I am speaking of is the one with 4 maps and I think part of the SP? Also it is not paying extra to get premium features. It is paying extra to get features that used to be included for 'free' in the original game purchases. Game demos should NOT be considered a premium feature. I don't go to a dealership and pay to subscribe to a Nissan club to test drive a car. This is just EA being EA and doing what they can to continue to rape the gaming industry like they have for the past 20 years. But at the same time I see that game demos for other publishers don't seem to exist on this generation console.

Well EA Access is $4.99 a month, so you could get one month and also get the 10% discount off the full game if you like it!

If you are canny, and you have Access is get the discount, and they send you a code for a free month code. Pass that on to a friend that doesn't have it, they then get the 10% EA Access discount and when they pre-order they can send you their code. Worked for me.

I understand all of that (and I am really not saying anything against the service), I was just inquiring as to why there doesn't seem to be as many game demos as there used to be.

Incidentally, Smyth's toy store in UK have a superb price on this. Worth checking out if you don't mind the disc. £36.99.

I love how the art direction veers towards a modern superheroic badass depiction of soldiers, and away from the drab, old-looking stuff that would have been more accurate. WWI is dangerous again, dude! Take that, History Channe.

Gonna download and give it a whirl tonight. I'm taking my XB1 on the road for a week for work in a Hotel and plan on playing Gears4, BF1 and finishing up Doom. Any XB1 travel tips?

So ready for the single player too. Looks promising.

awesome game . i'm waiting for crack :))

Oh ooooh! XDDD Posted via the Windows Central App for Android

I will wait until the servers are full

sucks to be Sony for not allowing EA Access LOL

Because it's not a trial as such - this is the full game, just limited to 10hrs.

It is a trial of the full game. 40GB isn't that much these days. Posted via the Windows Central App for Android

Agreed, that's on the average to low side.

Waiting til I hear they will have dedicated servers for PC. This matchmaking crap isn't the same.

Battlefield has always had dedicated servers, especially on PC. BF1 will have dedicated server support but for BF1 the only provider will be EA unlike before where you could rent a server from an official provider. Hope that helps with your decision.