Yummly debuts 'Lite' version of recipe app ahead of native Windows Phone launch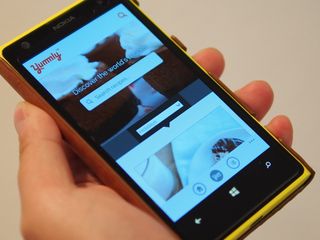 Yummly is launching Yummly Recipes Lite for Windows Phone in time for the holiday season so you can cook up some great dishes or find some inspiration for your next party. Though this is only a lite version, Yummly promises that a full native version is in the works and will launch in the spring.
Here are some of the features that Yummly Recipes Lite currently delivers:
The most powerful way to search the recipe sites you love: Why waste time sifting through the wrong recipes? Our unique search filters allow you to find the perfect recipes by holiday, cuisine, taste, diet, nutrition, allergy, cook time, technique, and more – so the recipes you find first are the right ones. No need to worry, we have all of your favorite recipes from your top recipe sites (AllRecipes, Epicurious, Food52, etc.) and from the best food blogs (Chow, Serious Eats, Steamy Kitchen, etc.). You can now also track the nutrition and servings of what you ate with Yummly's seamless integration with Health App.
Collect, save and organize your favorite recipes in your digital recipe box: Saving your favorite recipes couldn't be easier. With the simple tap of a 'Yum' button, your faves are stashed for safekeeping in a digital recipe box. Once saved, create personal collections for easy organization and sharing of your recipes.
Discover recipe recommendations, just for you: Set up your taste preferences and we'll only serve up recipes that match. As you use Yummly, like magic, it learns about you like (and don't like). Yummly will provide you with recipe recommendations every day that you are sure to love. In a bit of a food rut? Let Yummly help you out with a cornucopia of tasty suggestions. The more you Yum, the better it gets!
Thanks to Travis B. for the tip.
Chuong's passion for gadgets began with the humble PDA. Since then, he has covered a range of consumer and enterprise devices, raning from smartphones to tablets, laptops to desktops and everything in between for publications like Pocketnow, Digital Trends, Wareable, Paste Magazine, and TechRadar in the past before joining the awesome team at Windows Central. Based in the San Francisco Bay Area, when not working, he likes exploring the diverse and eclectic food scene, taking short jaunts to wine country, soaking in the sun along California's coast, consuming news, and finding new hiking trails.
I am more interested in the "full version in the Spring" part of the news. Are they holding off till some kind of preview version of Windows 10 for phones?

No its just incomplete they want an app in by the Holidays

VLC for WP Beta got a new update... Where is Daniel... Fell Asleep?..:p

I wouldn't blame him. They're probably working on it though.

He's not working at this hour.

Is this just a IE wrapper? If so for one its actually not bad. Just hope the full version is an actual WP app.

Have you noticed that you can still visit your recipes while offline :) Looks like an IE wrapper but it is something else.

Omg I am so sick of people filling comments up with unrelated drivel about other unrelated apps they want!

And this drivel you spew as well.

I've found myself having moved on from many of these services since they were so slow to get to Windows. Honestly, I use the Msn apps to replace most things. I do wish for pepperplate though.

Im glad Yummly is finally here though. BigOven doesn't have the greatest recipes, I'm not a huge fan of AllRecipes new update, and the MSN app is ok.

I just get me a women or two. Takes care of the kitchen and my laundry. All women are like tile..lay em right the first time and you can walk all over em....jk

I don't need this app i have MSN Food and Drinks

Nice, I hadn't heard of this app before today. Installed & will use!

Wow, it searches SeriousEats! That validates this app for me. I will have to download it and try it out.

Offtopic:huge collection of windows 10 pics=>
http://www.thecollectionbook.info/gallery/?f=/windows/nt%20kernel/window...

This app is buggy on my 925. Stops scrolling and becomes unresponsive.
Windows Central Newsletter
Thank you for signing up to Windows Central. You will receive a verification email shortly.
There was a problem. Please refresh the page and try again.