Zootopia now available to rent or buy on the Windows Store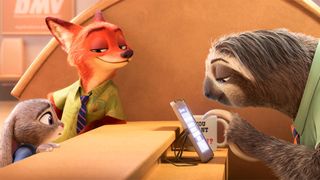 Zootopia, the latest animated comedy from the folks at Disney, is now available to purchase and rent on the Windows Store (opens in new tab).
Starring the voices of Ginnifer Goodwin, Jason Bateman, Idris Elba and more, Zootopia takes place in a world where animals rule. The story follows our protagonist, Officer Judy Hopps, as she seeks to prove herself on a police force dominated by decidedly tougher animal folk.
So far, Zootopia has received praise for being entertaining for both children and adults. If you'd like to check the movie out, you can purchase it for $19.99 in HD, or rent for $5.99, at the link below.
See at the Windows Store (opens in new tab)
Dan Thorp-Lancaster is the Editor in Chief for Windows Central. He began working with Windows Central as a news writer in 2014 and is obsessed with tech of all sorts. You can follow Dan on Twitter @DthorpL and Instagram @heyitsdtl. Got a hot tip? Send it to daniel.thorp-lancaster@futurenet.com.
So what? It's also available in physical format from your local BMS as well as iTunes, Amazon Prime, and plethora of other sources. Not sure why this is news really.

It's not news. It's all part of generating traffic for the Windows 10 Store. So besides apps, WC will also advertise (popular) movies and music. Basically, Windows Central has become Microsoft's publicist. I hope they get paid for it.

It's about racism. Watch with that in mind

Almost every Disney movie is.

Wasn't Walt Disney a huge racist?

No he wasn't. He would comment on racism in his movies and poke fun at it (see the satire he used with the crows in Dumbo) but he wasn't a hateful man.

I didn't see it yet, but thanks for telling me the moral of the movie Posted via the Windows Central App for Android... I'm sorry

That guy on the right is MS..

C-o-m-I-n-g S-o-o-n ? Posted from my NoteBook.
Keep Calm Because P.A.O.K. you are...

Bwahaha Posted via the Windows Central App for Android... I'm sorry

So if I buy a movie, say Zootopia, will I be able to like get the video file to transfer here and there or just access it via Movies and TV app?

You can download it to some devices for offline viewing (e.g. can download it to Surface but can only stream it from Xbox one). Not sure about downloading it and then transferring that downloaded file, rather than having to re-download it to the target device.

From what Paul T complains the biggest problem of the MS movie store is that if you buy a movie, and do not download it (since, of course you own it and have the rights to stream it anywhere at any time) some movies might dissappear because of licensing issues between MS and the publisher, so you basically lose your rights to the movie

That right there is the biggest enemy of digital stores. You only have access to it as long as Microsoft says so and Disney says so. If any one of them changes their mind, then bam, your $20 is gone, no warnings, no refunds.

Keep in mind, that problem isn't just with the Microsoft store. It's been an issue with Apple, Amazon, Google, and anyone else that offers digital content. That's one reason I will always purchase a physical copy of a movie. The other reason is the price is the same for physical (Blu-Ray+DVD+digital) as it is for digital only. This is just idiotic.

What I do is download it, and save to a HDD, so I can plug it in to my Surface. I can play it on any Windows 8.1+ device I own. Posted via the Windows Central App for Android... I'm sorry

Its boring. Best and probably only moment is what's on the picture

And that scene was shown, practically in its entirety, in the trailer.

Eh, the scene with Mr Big was rather funny. Posted from my Surface Pro 3

Rental prices are so steep on Movies & TV. I usually just head to the Redbox two blocks away and rent movies for $1.50 instead of the $5.99 on Movies & TV. Whenever Movies & TV does 99¢ rentals, though, that's a steal. They should really make that a regular thing: a regular selection of 99¢ rentals, changing every Friday night. It's also disappointing that older movies don't go on sale more often--and, when they do, they rarely go cheaper than $8 or $9. Rarely you'll get some for $5, and sometimes the bundles are a good deal, but I would buy a ton more movies on there if I could get them for $5 or less. Considering most of them are in the bargain bin for 99¢, I'm not going to pay $12 to $20 for them.

No idea who down voted you, but I'm with you. I'll check the store on weekend for "free movie weekend" and at 99 cents I usually get them too.. I can go to the mall and find tons of movie bargains for $5 where Microsoft wants to charge that for a rental. I know they're in it for the money, but they need some type of price parity, there is nothing "premier" about their service.... and now that Internel globaly has gotten so fast you can just download most stuff for *cough* free

We are also talking the Microsoft who STILL charges $59.99 for a few month old game that you can buy ANYWHERE (Best buy, Amazon, and many other places) for under $20... And for $20, you get a nice case and a nice disc with it too...

kat.cr and others are better for this anyway. It's funny that almost everything you can buy is only available in the US, and there's simply no other way for other non-European countries. Another case: there is a service that allows you to buy it. But you can't possibly watch it in English with subtitles, localized voice only. And I hate translations. They always have some terrible mistakes which greatly affect the performance, or ruin jokes. Good example is "hold the door". It phonetically is very similar to a known word, but any translation would ruin it. It did. Only answer? Pirate the show! P.S. Don't call me pirate, I watched Zootopia in the cinema first.

That doesn't make you not a pirate.

If there was any other way to override geo restrictions, I would do it. But, really, there are two options of doing it legal way: 1) buy US VPN, register virtual US card, slow down your 60 mbit connection to something like 2-3 mbit and watch everything in 480p/predownload it, and pay stupidly high prices for traffic through VPN, along with general ISP payment. 2) move to US. Get myself a green card, etc. These options really kill the idea of "press Pay and watch". It is simply way faster and thousand times cheaper to go pirate. Now I have a question. Why don't these services stop giving a crap where you're from and just give you access? I forgot the last time I pirated a game - Steam does it so great... All of these resellers should learn from them.

Give me another legitimate and fast way to do it. I'll forget what torrent is straight away.

Also, five damn dollars for the rent? I watched it in a cinema for two and a half, 3D. Now I should pay twice the price to be able to watch it on my phone or PC, with much inferior display and quality, huh. Industry really needs to reconsider prices if they actually want to sell anything and stop the piracy. Games do it by going online(Dark Souls is the best example), achievement system, DLCs, etc. Also, when you buy it, you actually get nice 30-100-500 hours of fun, so it feels sorta deserved. On the other hand, moviemakers can't think of anything but putting DMCA complaints all over the internet... Pathetic.

You've said an awful lot, and nothing that proves that you aren't a pirate. You can justify it all you like, I don't really care, but it's still a fact that you pirate.

Well, the good thing about not living in the USA is that the FBI won't be knocking on his door for being a pirate...

It's such a nice movie....Niceeee**Pari**

It's also available on your favorate Torrent site in full 1080p with HD audio sound tracks.... The Blu-ray is only like $20.... Just buy the blu-ray, and keep the format alive.

Awesome movie loved the part with the sloths that was too funny.
Windows Central Newsletter
Get the best of Windows Central in in your inbox, every day!
Thank you for signing up to Windows Central. You will receive a verification email shortly.
There was a problem. Please refresh the page and try again.