ZTE Tania hits the UK, available from Clove for £250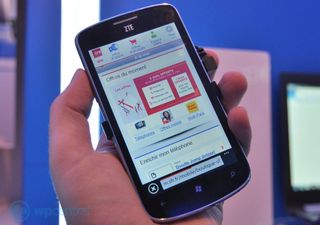 The ZTE Tania, a budget Windows Phone, has arrived into the UK. While the ZTE handset isn't the most feature rich Windows Phone available on the market, it wont have a negative impact on the user experience. Packing a 1Ghz processor, 4GB storage, 512MB RAM, 4.3" screen and 5MP camera, the Tania is no slouch and even left us surprised at CES 2012.
All that's left is for the company is to surprise us with a high-end smartphone with 16GB+ storage and an AMOLED (or Super LCD) display. Should you be interested in purchasing the budget handset, head on over to Clove where you can pick one up for just £249.99 (incl. VAT), but note that stock wont be in until February 13th. We'll look to see the device available on contracts with UK carriers soon enough for £10-£20/mo.
Check out the press release after the break.
ZTE Tania with Windows Phone comes to the UK
19 January 2012, London – ZTE Corporation ("ZTE") (H share stock code: 0763.HK / A share stock code: 000063.SZ), a leading global provider of telecommunications equipment and network solutions, has announced the availability of its first Windows Phone device in the UK – the ZTE Tania.
The ZTE Tania is great for both business and personal use, and makes it easier than ever to connect and share with friends, family and colleagues. With 4GB internal storage and a 4.3 inch touch-screen, the ZTE Tania is smart and stylish with a chassis measuring just 10.7mm in depth.
The ZTE Tania comes fully equipped with Microsoft's latest release of Windows Phone. Windows Phone has a wide range of fully integrated functionalities such as a direct link to users' Xbox LIVE accounts, an intuitive and seamless sync for Microsoft Office Mobile, and Zune music streaming. The phone's Live Tile feature brings friend and family groups to life by delivering the latest updates and news from popular social networks, including Facebook, Twitter and LinkedIn directly to the home screen.
The 1GHz processor and ultra-sharp cinematic WVGA 800 x 480px screen make responding to emails, editing documents and browsing the internet fast and intuitive. In addition, the device comes with a five megapixel camera with autofocus and flash.
The ZTE Tania is the most affordable 4.3" screen Windows Phone on the market and will be sold on contract at tariff points between £10-£20. It will be launched with a number of key channels including Brightpoint, Virgin Media, Go Mobile and a leading specialist retailer.
"We're delighted to be working with Microsoft and as a key partner will support the industry forecasted growth on this exciting new platform with both the ZTE Tania and in the future a growing range of devices. Last year, ZTE announced its plans to build market presence with ZTE branded devices with the release of the ZTE Skate, Libra and Tureis. Our first own-brand handset to enter the market in 2012 is the ZTE Tania," said Mr Wu Sa, director of mobile device operations at ZTE UK.
"Having ZTE join the Windows Phone family is great news. Their expertise will be crucial in delivering Windows Phone to new and different customers. We look forward to continuing and developing our relationship with ZTE in the future," said Leila Martine, director of Windows Phone UK.
Market analyst IDC reported in late 2011 that ZTE had become the fourth-largest mobile phone vendor in the world after it shipped 19.1 million units in the third quarter, ahead of both Apple and RIM. ZTE gained an overall market share of 4.9 percent, up from 3.5 percent a year earlier, and was the only Chinese company in the top five. Additionally, Gartner predicts Microsoft will reach second place in the mobile device operating system rankings by 2015 with 20.3 percent market share.
Rich Edmonds is Senior Editor of PC hardware at Windows Central, covering everything related to PC components and NAS. He's been involved in technology for more than a decade and knows a thing or two about the magic inside a PC chassis. You can follow him over on Twitter at @RichEdmonds.
Thats too much for a phone with only 4GB when Lumia 710 will be going for less.

yeah but this phone monthly price is HALF of what you`ll pay with the NOKIA.

Now ship that to the US to pre-paid carriers -- boost, cricket, virgin, etc. They need an alternative to cheap android phones. Try to bump up GB to 8 at least.


I agree with Gmotagi that 4GB is not enough but if the memory in it is courtesy of a microSD card it could be a good phone to get and put a larger card in it. Wiki says it uses flash memory not NAND, but it is not much of an article, so I would take what it says with a grain of salt.

£250?? With 4 GB and crappy screen? Is that a joke?
Quick glimpse on Amazon and Expansys shows:
16GB of storage:
HTC HD7 - £288.79
LG Optimus 7 - £194.49 8GB:
Acer Allegro - £244.99
HTC Radar - £289.99
HTC 7 Trophy - £269.99
HTC Mozart - £259.00

Only the HD7 has a 4'3 screen. Also, every phone you listed has Generation 1 Snapdragon.

You nailed it on the head, sir.

I suspect that Tanya has Generation 1 CPU too, and personally I don't like 4.3'' screens (and it is a bad one in Tanya).

2nd Gen processor. Gen 1 isn't being made anymore.
Also a 4.3 screen will be more expensive than same screen at a smaller size. Also video reviews of this phone claim the screen is pretty decent.

That's not what I heard - it has TFT LCD screen.

250 NO CONTRACT .. NOT 250 with contract!
all the other phones going for same price are WITH contract... UGE diffrents..
otehr WP go for like 600$ no contract!!!!
250$ is CHEAP!!! probably 0$ with contract.

It's £250 ($386) not $250 - and in UK there are other WP7 devices without contracts for the same or similar price.

yeah i just cant make the EURO symble on my PC .. lol
also the price plan shold be half of what you`ll pay for the other phones.
that also makes up for it.

£ means Pounds not Euros.

I could criticize the phone but honestly I hope it sells tons. The more WPs sold the better. There's still a market for low end phones so hopefully this phone finds a niche. If it does sell pretty good it could also encourage users to jump on the Skydrive bandwagon to makeup for the 4GB of space.

God knows when WP7 will catch up. Hate to see it take so much time to catch on.
Windows Central Newsletter
Thank you for signing up to Windows Central. You will receive a verification email shortly.
There was a problem. Please refresh the page and try again.