Zubie for Windows Phone, a simple way to keep tabs on your vehicle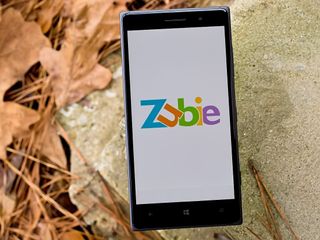 The other day we mentioned that Zubie had released their mobile app to the Windows Phone Store. What is Zubie you ask? Zubie is a plug-in module for your vehicle that will locate your vehicle, log its movements, and monitor critical engine components.
The module will transmit all this information to your Zubie account where you can check in on things through a website portal or the Zubie Windows Phone app. The app is free, but the module runs about $100 and comes with a year's service. The service sparked our curiosity and after using Zubie for the past week, it comes across as a useful tool for those looking to monitor their vehicles closer.
-Quick note: Zubie is currently only available in the U.S., U.S. Virgin Islands, and Puerto Rico. The module is currently only compatible with cars with data ports, which are cars manufactured after 1996.
The Zubie Key
The Zubie system has two components, the vehicle module, and the website/mobile app to monitor the module. The vehicle module or key is a small, plug-in unit that is about the size of a little toy car. The key will plug into your vehicle's data port where it will chat with your car's computer. The Zubie key will monitor your engine and track your vehicle's location then transmit all the data to your Zubie account.
Installation is simple. Just set up an account (more on this in a second), add the Zubie key to your account and then plug the key into your vehicle's data port. Once the Zubie key is installed, you will need to take your vehicle out for a 15-20 minute activation drive. This initial run will establish a connection with your vehicle's computer, as well as link the Zubie key to your account.
It took my unit a couple of hours before it was recognized by the app and according to the documentation, and it can take up to 12 hours for the connection to be established.
If you are worried about the Zubie key draining your car battery, don't. The key appears to transmit only when your engine is running in order not to tax your battery. The Zubie key is transferrable from car to car without issues.
Zubie keys are typically running $99.95 and can be purchased through third party retailers such as Best Buy (opens in new tab) and Amazon.com (opens in new tab). The purchase price does include a year's service, after which it will cost you $99.95 to renew the service per year.
The Zubie App
Your first order of business when you launch the Zubie app is to set-up an account. Creating an account isn't very complicated but you will need a credit card. While the cost of your first year's subscription to Zubie is covered with the purchase price of the module, Zubie still requires a credit card to avoid any interruptions in service at the end of that first year.
I'm not a particular fan of this and my suggestion is to make sure the automatic renewal feature is turned off in your account settings if you aren't sure if you will need Zubie past the first year.
Once an account is created, you can add the Zubie key to your account, install it in your vehicle and go for that activation drive. Keys added to your account will have a customizable profile where you can name your key, customize the profile image and identify the primary driver. Make. Model, VIN, and mileage will be added to the profile automatically as the Zubie key talks to your vehicle's computer.
The layout of the Zubie app isn't very complicated. Your main page is a Google map view (otherwise known as the live view). You will also have a thumbnail window for each Zubie key associated with your account displayed across the top of the live view. The Zubie key thumbnail will list your vehicle's current location and in tapping the thumbnail window, you vehicle's location will be pinned to the map.
Tapping on the thumbnail window will also give you access the two control buttons at the bottom of the screen. These buttons will pull up your trip view and vehicle information for that particular vehicle. Additionally, up under the three-dot menu you will find options to add Zubie keys, add users to your account and add places to your account. Associating a location or place with your account will give you the ability to receive notifications when your car arrives at that destination.
The trip view will list all the trips your vehicle has taken, sorted by date and time. If you tap on an individual trip listing the map view of the route will appear along with details of the trip that include:
Fuel Cost
Hard Brake occurrences
Rapid Acceleration occurrences
Idle Time
Top Speed
Trips can be tagged as personal, business or other for quick reference. Please note that trip recording begins when you start your engine and ends when you turn it off. So a trip to the store and back will be documented as two trips - from home to the store and from the store to home.
The vehicle information page of the Zubie app will list information pulled from your vehicle's computer and includes battery information, general engine status, market value based on Edmunds. It will also monitor the following engine points.
Catalyst
Components
EGR System
Evaporative System
Fuel System
Misfire
Oxygen Sensor
Oxygen Sensor Heater
Zubie monitors all the elements of your engine that would trigger the "Check Engine" light on your dashboard. If everything is operating as it should, you will see them marked with a green check mark.
Performance and Overall Impression
Overall, I was pleased with the accuracy of Zubie. The Zubie key located my vehicle within a few feet of its actual location. Trip recording was also accurate, and the details of each trip can be useful if you are monitoring a young driver's habits.
While I liked the features and potential of the Zubie system, the app does need some fine-tuning. Simply put the app is slow as molasses. It takes a considerable amount of time to pull up information or transition between the various views. It also needs an option to keep you logged into your account. If you need to find your vehicle quickly, having to log in every time you pull up the app can be cumbersome.
The website provides the same information (with more elbow room) but does not have the same lag as the Windows Phone app does.
The only nit I have with the Zubie key is that the white plastic stands out like a sore thumb. Shame it didn't come in black or gray plastic to blend in better underneath your vehicle's dash.
Cost wise, I think the initial cost of the module and subscription isn't unreasonable. However, I do think the renewal rates are a little on the high side seeing that you already own the equipment. Still, $100 annually to be able to locate a vehicle used by a child or help recover one that is stolen is a lot less than available alternatives.
Overall, I was impressed with Zubie. I can see Zubie coming in handy for parents with children just beginning to drive or even small business owners who want to track their company car's movements. The Zubie system is not a service that everyone will need but if you want to monitor your vehicle's location and performance, Zubie has a bit of appeal about it.
George is the Reviews Editor at Windows Central, concentrating on Windows 10 PC and Mobile apps. He's been a supporter of the platform since the days of Windows CE and uses his current Windows 10 Mobile phone daily to keep up with life and enjoy a game during down time.
I want this. But I don't have car.. :(

http://images.wikia.com/simpsons/images/e/e9/Nelson_Ha-Ha.jpg

Can one actually use it for a bike?

What additional features does this have over an OBD adapter?

The main point is that it actually tracks and logs your trips. Standard OBD2 apps let you see your ECU readings, but they don't track your trips.

If your vehicle is stolen, this thing will be the first to be thrown out of the car. Good for keeping tabs on your kids I guess, but that's pretty much it.

If it came with an extension cable so it didn't need to stick out that would be ok. It would need this for some cars, as many have the connector under the handbrake, so you wouldn't be able to release the handbrake with this in place. Volvo now include the same offerings built into their cars, so I imagine other manufacturers will follow suit, as they normally do. They also include the ability to unlock the car from the app, and on some models start the heating, so you don't need to carry the second remote for the heating or rely on the timer anymore.

You couldn't even keep tabs on the kids as the adapter is not reporting your position but the app via YOUR phone, the adapter is nothing more than an ultracheap OBD adapter with a fancy case in combination with an expensive service. I can't believe this wasn't pointed out in the article that your phone does all the heavy lifting as otherwise you would need a cellphone subscription to go along with it.

Hmm. That is an important detail. There are OBD trackers which have their own cell modem and GPS receiver for location services, and they look like this and don't cost much more. See CalAmp LMU 3000 series. If it's true, 100 USD/year is preposterous for what is essentially an OBD streamer. I do internal support for a major telecomm that uses various trackers in their service techs' vehicles, so this article caught my eye. Must research more.

The device does the tracking, not the phone. I can leave my phone at home and my trips are still recorded. As a matter of fact, you don't even need the phone app but do everything from the website.

This thing can actually help thieves steal your car!!
http://www.autoblog.com/2014/11/08/car-remotedly-hacked-israel-cyber-sec...

Reminds me of the overreaction to the one Ebola case in the US. It happened to one car and someone wrote an entire article based on a non threat..

I just linked the article as it is relevant to the topic. This is a technical website and not Facebook that people will get paranoid without knowing the facts, hopefully.

I am making the same thing for as a project ,

This i want. But i live in Sweden :(

I want Zubie for motorcycle :P

I already have an obd adapter and four different accompanying apps that I acquired at minimal cost. Something like $30. A hundred dollars a year sound very expensive to me, but more power to Zubie for trying. I will take a look at this though as the service sounds intriguing.

First thing I would do and a kid would do that is up to no good would be unplug the thing.

Rhymes with b00bies. I'll let myself out now.

So.....exactly how does tho report your cars location? Article didn't get into any of the technical details.

Your phone reports your location. The OBD2 adapter merely reports that the car is turned on and moving.

I actually need a tracker. I have a motorcycle and I tend to leave it somewhere it might get stolen. I need a gpa tracker. does anyone know a brand that does this?

Collecting data on my driving habits...no thanks.

You mean like the black boxes required on all new cars sold in the US? It's too late, we are already all being monitored.

More importantly, how long until my insurance company requires this? Since they already report coverage to my state's DMV, my Zoobie records (and thus my entire driving history) would then be available via subpoena (or official looking letter) to any law enforcement agency that wants it. Welcome to the panopticon, kids. But hooray for a new windows phone app!

If you do nothing illegal what are you worried about

I don't have a 2015 vehicle.

My desire to get one is pretty low.


So does it use its own cellular connection or piggy back on your phone? If its own, which network?

If it's like the ones the telecomm I contract under has deployed, it should have its own SIM and use whatever data network is available using a scripted APN, not your cell service. I imagine that's part of the subscription cost.

I'm guessing obd2 not obd1

Standard II, yes, should be.

Just get onstar same thing but better and they can't throw it out. Plus you get a discount on your car insurance depending on your insurance company. I save $180.00 a year from my car insurance and onstar costs $165.00 a year

Hmm... I was strongly considering getting Automatic, which is the other service that does this, but they didn't have a Windows Phone app. I guess Zubie it is.

I have one. I believe I read somewhere that it uses T-Mobile service for sending data back to the Zubie servers hence the annual cost. It does not use the GPS on your phone but it is built into the device.
Windows Central Newsletter
Get the best of Windows Central in in your inbox, every day!
Thank you for signing up to Windows Central. You will receive a verification email shortly.
There was a problem. Please refresh the page and try again.