Zynga announces 'With Friends' social gaming network with Windows Phone support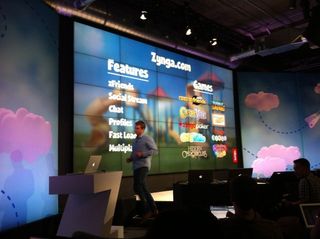 Last week at the Windows Phone Summit, it was finally revealed that Zynga will be bringing Words with Friends and DrawSomething to Windows Phone this fall. Actually, Microsoft's Ben Rudolph teased that both games are "so-close-you-can-taste it" meaning we may be getting those marquee titles by the end of the summer (fingers crossed).
It also looks like that Zynga partnership is going deeper than just those two games. The popular online gaming company just announced 'With Friends' which is hailed to be their own social gaming network and it sounds a lot like Xbox LIVE--you can create a profile, see your friend's profiles, message them and see what they have been playing. Heck, you can even meet people with similar game interests.
What makes this fascinating though is the fact that it works across platforms. The social network will launch on iOS, Android, Windows Phone and of course be on the web, making it a true cross-platform gaming social network...thing.
We're not sure if it will be any good but we just like the fact that Zynga is on board with Windows Phone these days.
Source: Wired
Daniel Rubino is the Editor-in-chief of Windows Central, head reviewer, podcast co-host, and analyst. He has been here covering Microsoft since 2007 when this site was called WMExperts (and later Windows Phone Central). His interests include Windows, Microsoft Surface, laptops, next-gen computing, and for some reason, watches. Before all this tech stuff, he worked on a Ph.D. in linguistics and ran the projectors at movie theaters, which has done absolutely nothing for his career.
This is really great! Can't w8...

I see what you did there! Nice! Haha

the more big names that come to wp the better

Why not just use Xbox live? Seems easier I mean its already cross platform in a lot of ways just. Glad there coming to get more people on board with WP but i must say i hate zynga and there games lol

But the Xbox Live service isn't cross platform! If the With Friends games were to be XBL games, you wouldn't be able to play against your iOS or Android friends. I thought that was the whole reason people wanted these games?

That's actually not true. Kinectimals has been released on iOS, which is an Xbox Live title. Plus, the Xbox Companion app is avialable on both iOS and Android. MS is making Xbox Live cross platform (across mobile devices, doubt we would ever see Xbox Live for Linux.)

Or they can just release the games as is. No need to brand every game as an Xbox Live game.

Nothing in this article indicated these games would be Xbox Live branded

Not a fan of Zynga. But have Fun, with friends...

This is awesome, cause ,zynga is a big Company, and with this wp gets more attention. AWESOME

WHAT! So this isnt an Xbox Live game? So I wont have alllll my friend already in my friendslist and I wont have achievements? That is crap.

What are the chances that this is a port instead of a rewrite, meaning it'll be native code and therefore WinPho 8 only??

The two announced games were mentioned for WP7.

That is two games, this is a new service. I would like to know too.

This is great. Finally I can play folks without needing to grab my android tablet. Zynga must also be quietly working on Windows 8 versions.

These are Nokia exclusive apps for now :( dam U Nokia im sick of ur exclusive apps, ur killing us!

I know what you mean :( p.s. I expect you'll be getting a torrent of "Nokia actually cares about WP unlike Samsung/HTC blah blah blah" comments explaining why some feel as if you aren't allowed to be upset over Nokia nailing so many exclusive apps. Though on one hand I realize they're merely timed exclusives I'm still a bit irked that I'll have to wait. Ah, oh well. First world problems (:

Are you sure? When was it stated they are Nokia exclusives?

As far as I know this are not exclusive to Nokia.

Read the linked article. They are Nokia exclusives for 2 months.
http://www.wpcentral.com/words-friends-and-draw-something-coming-windows-phone-fall

Well I would gladly give them to you, I have a Lumia 800 and have no desire to play this. Unfair indeed.

Ha, I appreciate it but I don't really have an interest in these either. Just trying to clarify things around here :)

The 710 and 800 are relatively cheap if you want in the exclusive app party. :D

First article that came up. I read it on the official Nokia website earlier.

http://www.sunstar.com.ph/manila/feature/2012/06/26/zynga-brings-2-hit-g...

Draw Something is losing people everyday. It was just a phase. Zynga could have released it a long time ago, but was just lazy. I personally am not excited for these games, but my grandma might be. I would rather have Instagram, and maybe some sick Gameloft games. I would think we would have instagram at least by now due to msfts close ties with Facebook, but I guess not. :(

Exactly, its like Angry Birds all over again. Simple apps such as Instagram and Zynga games could have come ever since they have been on Android!

So we'll be getting these types of games a year after they are released and very few care about them. Alright.

Well, Drawsomething is coming to windows.. Then how about Temple Run ?!!! I want Temple Run to be in the part of Windows Xbox Live ..

When data security researchers focus on finding malware specifically designed for mobile platforms, they lose sight of an important mobile platform threat source the social network.Eurochance100

The latest trends in mobiles has changed everything and many applications are bringing mobile and computing very closer. web design firm new york

I know that everybody must say the same thing, but I just think that you put it in a way that everyone can understand. website design westport, CT

What a nice piece of information buddy. I 'll try to follow these steps. Thanks for sharing a such a nice informative post. vail valley custom home builders

Hope to get something better than this. running Colorado http://eagleoutside.com/

The picture at the top is very nice. Happy to see the post. The designing of site is awesome. www.billabongretreat.com.au/

Hi. I read a few of your other posts and i wanted to say thank you for the informative posts. swimming pool heaters
swimming pool heaters


I have been through the whole content of this blog which is very informative and knowledgeable stuff, So i would like to visit again. custom home builders Vail, Colorado


I'm really impressed with your article, such great information you mentioned here, thanks for your sharing and waiting to see your future posts. Swimming pool supplies dallas

In fact your creative writing abilities have inspired me to start my own wordpress blog. Residential Plumbing Maintenance Agreement

The picture is very good. The painting is a great work. Every body should appreciate it. Guest Blog Posting Serivce colorado

This is very educational content and written well for a change. It's nice to see that some people still understand how to write a quality post.!
SunVPN review
Windows Central Newsletter
Thank you for signing up to Windows Central. You will receive a verification email shortly.
There was a problem. Please refresh the page and try again.