#1 ToolKit is a super stunning (and useful) Windows Phone app that you must try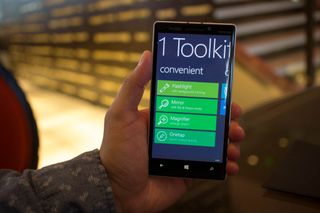 As a recent homeowner, having a set of tools within reach is very handy. The #1 ToolKit app for Windows Phone has the same purpose, but for your smartphone. Developed by Ccool Media, #1 ToolKit provides five app sets that you may find useful.
Head past the break to watch our hands-on video.
Sets for #1 ToolKit
Meter: Ruler, Compass, Protractor, Level
Convenient: Flashlight, Mirror, Magnifier, OneTap
Converter: Unit Converter, NFC Writer
Sound: Noise meter, Recorder
Time: Timer, Stop Watch, World Clock, System Info
My favorite set is the first one. Being able to use my phone as a ruler, protractor, and level tool is kind of amazing. It works well on phones with small bezels.
The ruler lets you drag two end points. Just align them with two points that you need to measure, and it will tell the measurement in centimeters on inches.
The protractor also gives you two points to play with, but it also integrates with your phone's camera. Click the camera button at the bottom to remove the solid color background. With the camera turned on, it'll be easier to align two lines to measure the angle.
The level tool also looks great. When the phone is lying flat, the circle stays in the middle. If the surface is a uneven, the circle moves off-center. You can hold the phone sideways.
Another tool that is cool to check out is the noise meter. It tells you how noisy it is where you are. For example, this article was written in a hotel lobby with 67dB noise.
The #1 ToolKit provides plenty of tools worth checking out. If you have a favorite, you can pin the tool to the home screen. #1 ToolKit is a free download from the Windows Phone Store. Give it a try and let us know what you think in the comments!
Do you have ideas for this app? Head into our forums where suggestions and feedback for this app will be passed on to the developer!
Windows Central Newsletter
Get the best of Windows Central in your inbox, every day!
This is a great app. Love it. Get it while it's free.

Jesus Christ! What a wonderful app....just look at the features and transitions...never seen anything like this on any app...wow. Thanks for this developer.

Whats Jesus got to do with it? he didnt develope the app...

Or spell check the word you used, "develope". lol


How do you know he didn't?

We have freedom of speech, they can say "Jesus", all they want. Thank God for Jesus. May Microsoft's Ecosystem and product line be blessed and flourish, as they continue to listen to their customer!

My only thought was... AND IT'S FREE!! An app with a quality build, will designed and FREE?? What's the catch?

The best part.... there is no catch(except it's awesome)

Too bad this apps requires way too many things on my phone such as picture library and contacts, will not install it.

Your loss. I see how it uses all of those things.

requires the picture library to save the picture of the protractor tool. requires contacts to share location in the compass app. all the permissions needed are legit.

It's like "Jack of tools pro", only better it seems. Will try it.

I just spent 15 minutes trying to catch it out but couldn't. The level, ruler and even the fb meter was spot on. The only thing was that when I tried the SOS light I had to close the app to get it to stop but I figure that if I'm in a situation that needs it then I won't want it to stop. I will use it for another week and if it is still as good with no crashes then I will donate my usual £1 to the developer, might even add a bit extra. Thanks to the developer.

try reinstalling. it works fine with my 1020

Beautifuly made app. 5 stars.

Love this one for some days ago! The interface it's awesome ...

Sweet app. You guys write so much about Windows Phone you should just rename yourself to Windows Phone Central :)

Windows phone central is the best Sam!!

Rodney is the best❔ .... Is that what you meant❔

All these teasers of the rename are driving me nuts. Hope you announce it soon! lol

Lol!.. I see what you did there.....

Not really thrilled about a flood of Xbox articles. I'm not a gamer. Should have been two consolidated articles at best. Nothing to do with mobile. At least surface is mobile...ahem, mobile nations

im not xbox fan... koz im PlayStation fan!!!! :D so yeah WPCentral should stop these xbox articles... +1020 +W8.1

If you think about Xbox's core is based on windows since the beginning

Not the name of the site though is it?

Never seen an app very well organized like this. Like I said in the comments, the developer should be rewarded for this application, unless he add advertising in the next update

let him add advertising or get money for it. You want quality apps without the devs getting paid? Go somewhere else.

havent had it long so i cant offer a full review....but i will admit, the guy in the mirror app is particularly attractive ! ;-)

Wow. Replaces like 5 different apps.

Love it, but was a Caccum cleaner?

Wow, fantastic app. I replaced a bunch of small apps with this.

Yeah it really is a superb app. Installed just a day before WP central recommending it.

Ha! I installed it the day before you.

Two days before you, hehe

5 days before you :)) his Facebook is Tom Tran , CEO and founder of CCool Media . I know him . This app is the first step before his team will launch a bunch of cool apps like this one and of course, $$$ . He also mentioned a lock screen custom app like micro demo in build event . Be advised: His team only make app for WP only

I don't see any ads in the screenshots. How on earth does he make money off this? I enjoy paying for apps I like and use, giving back to the dev.

You can always donate a couple of dollars to the dev.

I asked him about that . They should make 2 versions of this app : The free with ads and the paid one but he said this like his grand opening so it will totally free and he will considers about this :)

I love it when devs only work on WP.

great app its very helpfull . :D

Groovy or Excellent! One of me new favorites!

I'm annoyed that the name starts with '#', it fills up the first page of my app lists, and spoils my muscular instinct to tap at a particular place to open the alphabet menu. Otherwise the app is great !
Just hope the 'level' feature was more accurate, it says my room's floor is tilted at 2 degrees in every direction, not even physically possible. Jack of tools is better at this.
And a feature request, please also give a feature to find latitude, longitude and altitude by gps data, then i can uninstall jack of tools.

This app is amazing, replaces a lot of apps!

Been using Jack of Tools Pro since long. Will give this a try.

Was using the same... But after seeing this app and how well it's designed, I think this toolkit is the new winner. I would pay for this app.

WOW You can pin music/media controls to your Start screen! Also the transitions are amazing, never seen any app do this. :D

Jack off all tools user here and paid for the pro version, if this one is free and function greatly then absolutely awesome.

I also use jack of all tools pro but this is really good and has nice animations but restart function does not work at least on my 1520.

It works great on my Ativ S

Amazing app. Developer team must have spend quite a while building all these features and individual animations. Granted, a few bugs here and there, but still amazing. Great to see it available for free.

Wow, my hat tip to the developer, this is a really case of amazingly beautiful and useful app we got! Nice!

"FANTASTIC" app! Thanks for the heads up.

It's an app winning a contest hosted by microsoft in vietnam.

Just needs an altimeter and speedometer.

Thanks wpcentral for very nice review I'm doing new update version ,replace nfc writer to GPS Speed meter with Velocity , Altitude Thanks guys !

Awesome, please keep us posted!

Daniel Rubino, Mark Guim i tried contact you via google hangout but no luck , any idea for us easy keep community ? Tom

drop me an email: daniel at wpcentral DOT com

Thanks for chiming in. Will keep eyes open for updates.

hi , is there a way to calibrate the ruler? im on a 1320 and inches and cm scales look suspiciously bigger.

I second this request. Awesome app though.

Same issue on a Lumia Icon. Need to calibrate the ruler. Right now 3/4" on the app's ruler is 1" in real life.

Typo on Noise Meter - other than that, pretty impressive work!

Hi Tom Tran. Can you provide advice as to why your app requires permissions to access just about everything on the phone (id, user, contacts, music, pictures library, etc, etc). I generally dismiss free apps that want to know too much about me for seemingly no reason as they look like a scam. Thanks. Graeme

The versatility of this app is second to none.

Cool. Good luck using the level with a 1020 or 925 though--at least without a thick case.

Very excellent, the dev got the design spot on. Also l like that it let us pin most of the function to start screen.
.. ... btw, where is the kitchen sink ??

Well i'm greatly pleased with this app. Cool!

Really good, and love the interface - but Phone Storage comes back 0.00GB (actually 16GB) and says "No SD Card" (actually 32GB)!? That's a pretty glaring bug. (Samsung ATIV S - WP8.1)

Yep, same thing on my ATIV S.

Same on my 920, though no SD card is right on this case.

You can also pin individual tools to your start screen (go to All Tools, press and hold tool you want to pin). This replaces many apps on my 925. Nicely done!

Great app, just got it and tested it out. Beautifully built and works very well in my short amount of testing time.

This is the type of app that i wouldn't mind paying for. Very useful and well designed. We don't get that very often.

This is a great app. But there are still some fixes that needs to be done. Like phone information gives 0GB memory nd no sd card info. And the compass doesnot switch to maps window etc.

The SOS sequence (from the flashlight) on my Lumia 920 is not working/programmed properly. A proper SOS signal should emit long-long-short-short-short-long-long, but this emits all long beams,

You're wrong here. It's actually three short, three long, and three short signals in that order. One of the few things I remember from boy scouts. The other being, how to tie a hanging knot. (We, the kids, pressured the teacher to show it to us, after he confirmed he knew how to tie that).

Thanks for the correction. You're right about the proper SOS sequence.

Oh gawd the bounce effect is not pleasing to my eyes

Fix the sloppy typos in the app, all in the Noise metter and cacuum cleaner, Morderate, that is just plain sloppy

Hey this is the best app I have seen ever. I cat find a way to contact the dev - help. I would like to help translate the app in Bulgarian.

I want the bloody lockscreen app that MS demoed at Build. My lockscreen looks plain and old. Need to spice it up.

Ok wow, it really is a very well done app! Haven't seen anything even approaching the utility of this app on WP, especially with the superb polish this has. Definitely recommended!

Was about to ask about this app after seeing it's tile in a photo for a different story. The icon caught my eye first.

Don't normal like these multipurpose apps but this one is very very sexy

Very nice app ....lol 16 apps in one. who needs lots of apps when you get apps like this.

I have jack of tools pro. The first thing i noticed that flash light opens much faster in #1 than jack and #1's interface is much much nicer. #1 does not have jack's altitude meter/ speed meter/ geo camera/ lattitude and logtitude (sent #1 devs feedback to implement these if possible). #1 has some features that jack does not have like onetap/ NFC features/ SOS in flashlight/ Sound recorder/ World clock/ System info/ unit converter/ stop watch.

Great app. Downloaded it last week. Awesome app

Author steeling things from other application! http://forums.wpcentral.com/windows-phone-apps/286953-1toolkit-just-anot...

App is awesome, but this is sad :(

I'd hold judgement on that, they could've both just implemented API calls in the order they appeared in some MS documentation. Kind of like why every weather app provides the same info.

Nope. One of his developers (as author told me) did it, and hi just did not know about it. No matter who did copy code and XAML from another application, this is not right!

I like #1 tool better. I have deleted the old app.

This is awesome apps. Very usefull. Finaly replace insider pro with this one. :D

Just when I found a beautiful Timer App that uses a Metro style rotary Dial this comes up. The World just isn't fair.

Amazing App. Nice review of this app. Has all the essential tools that I need. Yippie!

My feedback (since the forum thread is now locked - See Rays comment for why): - Take the Systeminfo component out completely (since it's not yours). - In the Timer UI, what I have found is that the activation tap point to get to the LoopingSelector is only on the very top edge of the H:M:S boxes in the main view. If you tap in the middle or the bottom of the boxes it doesn't work. So this is a small bug (I'm using a Lumia 630 btw). - In the Unit Converter UI, the icon for Volume is too obscure. Yes, it works in English (sound volume, volume of liquid), but it might not in all languages. Use a plain cylinder icon instead (which would mean changing the Data icon to something else too). - In the Unit Converter UI, change the "Surface" caption to "Area". - In the Unit Converter UI, replace the "Quantity" converter with an "Angle" converter (degrees, arcminutes, arcseconds, radians etc).

However, don't take this to mean I don't like this app. Apart from the minor issues found this is a damn good app, with a UI that shows of Metro/Modern UI really well.

Now downloading it,from info and screenshots seem worth it,giving it a go

Awesome app...just tried it...awesome UI, animations..waitng for the next update...!!!

How well does the level work on the 1020 with that honking big bulge? Not so good I'd have thought!

Awesome app packed with bunch of useful tools.

I've found another minor bug - the Pivot control for Settings and Themes doesn't handle light background themes properly. It keeps a black background, but then honours the theme and draws the text and controls in black... making them invisible.

Actually, it doesn't handle light background themes properly anywhere - put your phone into light background themes, go to the noise metter (sic) and try and read the dB level descriptions.

Amazing app. Replaces a lot of small apps. All in one app. Thanks wp central for such a good suggestion.

I am really disappointed in the app, Why Does it need my location to use these tools? Out of sets there is no need for the location to use Flashlight or noise level. Now I don't trust a app that clearly does not need location data. I suggest you use this app for Flashlight
http://www.windowsphone.com/en-us/store/app/flashlight/3a81b414-7e97-469...

I agree..the flashlight you recommended is the best one I have come across

I'm not a fan of that one because the flashlight doesn't work with the screen off.

the compass needs it. there's mapping capability and it works great!

awesome would be such a small word for this app and the developer. The app is awesome coz probably we needn't ask for more in this app. The developer bcoz the app is being given away for free!! Kudos to that. I've never seen an app so well-built.

in my case its crashing every time i use one of the tool and exits from the tool. In case of NFC tag writer, it doesn't even complete the process :|

Great article Mark...and nice find! I downloaded the app and it was so good that I've uninstalled 4 other tool apps which didn't compare to #1 ToolKit. There's a nice selection of tools for a variety of needs all in one easy-to-use app. I'm still testing some of the individual items in this app but so far, each has been very useful.

Very Nice app... I've seen only one issue.. this can not found my SD card. Yeap, there's 128GB SD that WP does find and use. But this app says there's no SD card? ~ScottGeek.

I got it while it was free... I updated my windows software with the latest developers update and now the toolkit is showing advertisements with its bug fix update that also came out today. Terrible!

After future investigation I found that I really stole a lot from our applications. This is all file sinside his application. I moved it to SD Card and then opened SD Card on my PC. What HWTest.dll is doing there? It is Hardware test! wrHelper.dll? - Directly copind from Hardware Tests ptHelper.dll? - Ha! This is .dll file from our "Quite Hours" application. To set volume level! I am sure that there are other .dll files from other applications, not only ours! This is a link to screenshot http://imageshack.com/a/img843/6787/0p6o.png

As i talked with you . I have a developer helped me do some part of this application . I didnt know how he get your files . But when you report me , He fired here. I said i will do system info again with my layout & code and i did it. WrHelper.dll and ptHeper.dll do nothing on my new system info. But because i didnt know it there so i just not remove it on project. Decompile code and you will see i not use there .dll at all

Seems you are still lying to me! All our files are still in your project even in last update! You still show Phone's name and taking this info from OUR library wrHelper.dll! From ptHelper.dll you are using Sound volume control functionality. And you are tying to tell me that sysinfo is the only part you stole? You are blaming some mystical developers in your team, but as I said to you before. You are responsible for what you are publishing!

Damn... that sucks. I am uninstalling this App....

This app is no longer published Thanks to Microsoft.

Not available on my store :(

This looks like a very high class interaction design app. The WP8 store would be a better place if more developers paid this much love and attention to interface design. Sorry to hear about the code dispute. What's the status on the code rewrite? I'm sure there's plenty development potential at XDA dev to replace a couple of libraries. I would like to see this app become available again.

The ruler is absolutely inaccurate. Shows about 1,6x bigger distance than the real distance actually is.

Ok! Excellent app, no doubt, I was recording an interview, finished and it is not stored anywhere in the phone. Is this intended for pro use? I lost an important interview, I should have used OneNote instead. The problem was that my recorder was not working. THIS IS NOT AN APP FOR CRITICAL SITUATIONS, JUST FOR FUN!

Paying to remove adds causes it to break. When I contacted seller through link in store to their Facebook page I was told the app was a fake and to report it.