1001 Spikes and Blood of the Werewolf unleash old-school platforming on Xbox consoles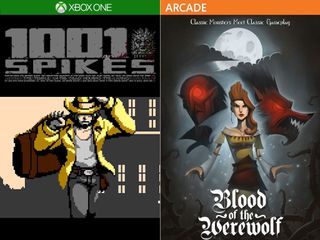 E3 has been a hectic week of new console game announcements, both retail and downloadable. With so many ID@Xbox games just announced for the Xbox One, it's easy to miss that a new indie game actually came out this week! 1001 Spikes is a retro-style platformer from Japanese developer 8bits Fanatics and publisher Nicalis. I guarantee fans of Spelunky, platforming, and local multiplayer will absolutely eat it up.
Meanwhile, the Xbox 360 picked up a new downloadable platformer of its own. Blood of the Werewolf from Scientifically Proven and publisher Midnight City/Majesco is a single-player platformer featuring classic movie monsters. It carries a value price of $6.99, making it one of the most affordable XBLA releases in quite some time.
Here's our impressions of both titles, including exclusive screenshots and hands-on video of 1001 Spikes!
1001 Spikes
Back in March, Microsoft announced a batch of 25 ID@Xbox games coming to Xbox One – including 1001 Spikes. Now 1001 Spikes has launched, giving Super Time Force a serious run for its money as the best indie title for the Xbox One so far.
1001 Spikes (full title: Aban Hawkins and the 1001 Spikes) stars a pulp-style adventurer on a quest to liberate a fabled treasure from a deadly temple. The game is a love letter to the platformers of yore, coming to life entirely through beautiful retro pixel art and uber-catchy chiptunes. It really looks and feels like an NES game, only much larger in scale and with some excellent multiplayer.
Old games were harder than most newer games, and that applies to 1001 Spikes as well. Each level is filled with traps that will kill Aban instantly if he's not careful. Unlike Spelunky though, the levels are hand-crafted instead of procedurally generated. When you take a hit, you can learn from it and avoid the pitfall on your next attempt. And you have 1001 lives with which to beat the campaign, so the game feels challenging but fair.
In addition to 2-player local co-op in the campaign, 1001 Spikes also offers three arcade modes for up to 4 local players. Only one starts out unlocked, and it even features a lengthy (and fantastic) cinematic intro, just like the main campaign. Players choose from four characters (including a Halo Spartan, a Castlevania-style hunter, and a Ghosts n' Goblins-style knight) and battle through 19 single-screen competitive stages. You respawn right when you die, making arcade mode a blast even for less skilled players.
1001 Spikes is one of those games that doesn't push the Xbox One hardware in any way. But unlike Nutjitsu, it's beautiful and unique looking and packs tons and tons of modes, content, and characters to unlock. We'll share more details in our upcoming review! Also, you need a US account to download the game for now.
1001 Spikes – Xbox One – 236 MB – $14.99 – Xbox Store Link

(opens in new tab)
Blood of the Werewolf
Like 1001 Spikes, Blood of the Werewolf is a challenging action platformer. It's a lot less pretty though, with a middling art style and a camera that seems zoomed out too far for a 2.5D game.
Looks aside, Blood of the Werewolf has a real Castlevania vibe – now that I can appreciate. Players take on the role of Selena, a lady werewolf who must rescue her child from monsters after her husband is murdered. She'll journey across 10 story levels and battle more than 30 types of monsters along the way. And she switches back and forth between werewolf and human forms depending on the in-game moon, a very cool mechanic.
Besides the main Story mode, Blood of the Werewolf offers its fair share of extra stuff to do. A brand-new for 360 Endless Challenge mode provides procedurally-generated levels that up the difficulty considerably. Players can also engage in Master Challenges, developer-approved challenge levels.
I haven't actually played Blood of the Werewolf, but it looks fun and the price is right for the production values on offer. Let us know if you try it!
Blood of the Werewolf – Xbox 360 – 1.75 GB - $6.99 – Xbox Store Link

(opens in new tab)
Paul Acevedo is the Games Editor at Windows Central. A lifelong gamer, he has written about videogames for over 15 years and reviewed over 350 games for our site. Follow him on Twitter @PaulRAcevedo. Don't hate. Appreciate!
And Aban Hawkins and the 1001 Spikes is already out on the Xbox 360 for $1 on the indie channel. This is an upgraded version, with the addition of multiplayer. But is it 15x better? It'll be interesting to see.

XBLIG pretty much have to cost a dollar because they don't sell for much higher. The Xbone price is in line w the Steam and other proper console releases of the revamped game.

Unfortunately yes (so far). Will add that to the article.

Xbox One is not region-locked, you can buy from any store. Buying from another store is very easy.

Not really interested in 1001 spikes, but I recommend Blood of the wolf, just recently picked it up for 1$ on steam >.

Does Steam use some form of achievement system??

Yeah, games have Steam Achievements. They're fine but there is no limit to how many Achievements a game can have so some games have way too many, and viewing and comparing them is a lot worse than on the 360 (those processes still suck on One, unfortunately).

Some games, yes. Out of 250+ games, only 3 or 4 have way too many. Some games don't have achievements at all, usually older games. Personally I love steam achievements, it gives completing a game more incentive. You might not get a gamer score, but hey....its just a number :)

Yeah, they're still fun to go for, for sure. Much better to have an Achievement system than not!

it would be great game for wp8 . so sad. there is no good werewolf game in wp store..

Man, I really wish these XBLA-esque Xbox One games were launching at $9.99. My wife is going to have to get a second job or something. 1001 Spikes looks intriguing. Super Time Force was amazing (Gamespot's Game of the Month for May, over Watch Dogs, Wolfenstein, and Mario Kart 8). Really excited about several ID(at)Xbox games they showed at E3, particularly Below and Ori & the Blind Forest. Plus, then there are all the user-created games in Project Spark! Xbox Ones is pretty awesome.

Yeah, I really like STF and 1001 Spikes. I think my preference is 1001 right now because the gameplay is simpler and the stages are shorter. But STF is even prettier, super clever, and very funny. Can't go wrong with either one. Pricing-wise, since ID@Xbox games can set their own price we're basically getting the price they'd be/are on PC. That is good for devs but harder on us consumers. Hopefully the prices will drop and go on sale similarly to their PC counterparts as well.

Use Bing for search then you can turn those points into money for your Microsoft account and use that to buy games... Been working good for me so far.

So you haven't *actually played* our game...but you critiqued it, and concluded that the art is "middling". Did you just look at screenshots, or what? Anyways, thanks for the review - I'll pass your feedback onto our lead artist. - Shannon Kelley - Scientifically Proven Games

Hey Shannon! We can discuss the piece in more detail through email if you like. And I asked for a review copy but no response yet.

Paul, I'd be happy to provide you with a review copy for XBLA or Steam, so that you can play the game before you critique it. This game was a labor of love, from a small ~12 person dev team, and I'm very proud of our work. Saying things like "camera that seems zoomed out too far for a 2.5D game" is somewhat frustrating, because if you'd played the game you'd know that the camera zooms with the character. We're quite proud of how well that game mechanic works. When did you ask for a review copy? I'll track that email down, and make sure that you (and any other reviewer that we may have overlooked) get a copy. Just promise that you'll play the game before criticising it this time, eh? - Cheers! - Shannon Kelley - Scientifically Proven

@S R Kelley Happy you responded. As someone who has actually played the game I was going to post to state the same about being critical of game that they did not even play. Love the game, keep up the good work.

You guys. The article was positive. Art is subjective and nobody has to like the game's visuals. But we did get a code today and we'll try to follow up with a more in-depth review later on.

For $4.99 I might be tempted by Spikes it but doesnt look like a $14.99 game. I like the look of the Werewolf one more actually.
Windows Central Newsletter
Get the best of Windows Central in in your inbox, every day!
Thank you for signing up to Windows Central. You will receive a verification email shortly.
There was a problem. Please refresh the page and try again.