15 Xbox games we're anxious to see in 2018
As 2017 begins to slowly draw to a close, players are looking ahead to the new releases of 2018. Here are 15 Xbox titles we're expecting to see in the new year.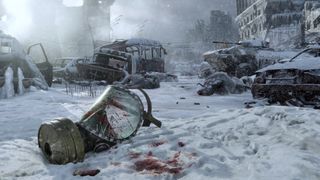 Sea of Thieves
Sea of Thieves is a massively-multiplayer online game exclusive to Xbox One and Windows 10. Set to release in early 2018, Sea of Thieves will drop you directly into a living, breathing world, filled with secrets to discover, locations to explore, and the opportunity to become one of the legendary pirates that roam the seven seas as you interact with other players aiming to do the same.
State of Decay 2
State of Decay 2 is an Xbox One and Windows 10 exclusive releasing at some point in 2018. After humanity is pushed to the brink of extinction by a deadly outbreak, State of Decay 2 pits you (and up to three friends, if you play co-op) against a zombie-infested world in which mere existence is a struggle as you fight to survive. Work with both friends and NPC human survivors to build communities and effectively defend them from your impending doom.
Red Dead Redemption 2
The sequel to the original critically acclaimed Red Dead Redemption, Red Dead Redemption 2, releases in Spring of 2018. This game will follow the story of an outlaw known as Arthur Morgan and a gang known only as the Van der Linde as they battle and pillage their way through the rough and unforgiving heart of American mainland in order to survive and evade capture. Rockstar Games has advertised the addition of an all new multiplayer mode as well.
Crackdown 3
This Xbox One/Windows 10 exclusive focuses on one thing, and one thing only: causing as much mayhem as possible.
In Crackdown 3, you'll play as a juggernaut of destruction, rampaging through a city and demolishing everything and everyone that blocks your path. Using guns, explosives, and tech powers, Crackdown 3 will transform you into a demigod of chaos.
Vampyr
Vampyr is a unique role-playing game that will allow you to play as a doctor in 1918 London who was recently turned into a vampire. With a deadly plague loose in the city, you are forced to both feed on London residents in order to survive in your vampire state while simultaneously trying to develop a cure in order to save lives. Your choices on how much you embrace each aspect of your new life will either doom London or save it. Vampyr is slated to release in Spring of 2018.
Anthem
Anthem is a futuristic open-world exploration game in which you and your friends can traverse and interact with the setting with special exo-suits called Javelins. There are several different forms of Javelin to use and discover, each having strength and weaknesses.
The world of Anthem features several dynamic elements, such as weather and wildlife, and the way in which you interact with it shapes and molds your own story. Anthem is releasing sometime in Fall 2018. It is currently unavailable for preorder in the US, but Amazon Canada currently has it listed.
Far Cry 5
In Far Cry 5 (which releases on February 27, 2018) you'll take control of an American moving to Hope County, Montana. However, upon arrival, a fanatic religious cult begins to violently take over the region.
In order to take the community back from the cultists, you must rise up and light the first flames of resistance by fighting for your freedom using any means necessary.
Metro: Exodus
Metro: Exodus is a sequel to Metro: Last Light, in which the protagonist Artyom joins his Spartan comrades in a risky, daring journey to attempt to find a new home for the citizens of the metro tunnels under the nuclear wasteland that is now Moscow.
Featuring both linear and non-linear segments, dynamic weather and a narrative affected by choices, Metro: Exodus is the most ambitious entry in the series yet.
The Crew 2
The Crew 2 is an open-world vehicular experience in which you are given freedom to explore your surroundings as you see fit, with a wide variety of cars, bikes, boats, and planes at your disposal. Races with other players can occur anywhere, ranging from traditional tracks to the sides of mountains.
Darksiders III
Darksiders III introduces Fury, one of the Four Horsemen of the Apocalypse, as a new playable character in the Darksiders franchise. In Darksiders III, the Seven Deadly Sins have escaped and are running rampant through the world, controlling it. Fury is the only one able to stop their reign, and thus sets out to dismantle each of the Sins by herself. Darksiders III comes out in 2018 at an unknown date.
Skull and Bones
Skull and Bones is a multiplayer naval game that will test your skills as a pirate ship captain as you and several allies engage with an enemy fleet in tactical ship-to-ship combat. Utilize cannons, ramming and sailing maneuvers in order to outgun, outnumber and outsail your foes.
Skull and Bones arrives in Fall 2018. It's not available for preorder in the US just yet, but you can find it on the Amazon UK store.
A Way Out
A Way Out is an incredibly unique concept in which two players must work together (in split screen or online) over the course of an adventure. Initially tasked with cooperating in order to break out of prison, the two main characters end up becoming dependent on each other's helpful skills and attributes in order to stay alive. Whether it's evading law enforcement or solving puzzles, the only way these two will succeed in their plans is together.
A Way Out arrives at some point in 2018. It isn't up for preorder in the US, but you can preorder it on Amazon Canada.
CODE VEIN
CODE VEIN is a Japanese role-playing game in which you and a selected partner roam out into a hostile, unforgiving world. Between the various different partners to choose from and the massive arsenal of weaponry at your disposal, CODE VEIN allows you to create a character build that suits your own playstyle perfectly.
The Last Night
The Last Night is an upcoming platforming title that takes place in a future where robotics have surpassed humanity in intelligence, strength, skills, and creativity. Humans now live in a world in which machines do and create everything for them.
Very little is known about The Last Night, other than the fact it releases in 2018. Between the gorgeous cyberpunk art style and the interesting story bits we have so far, though, The Last Night will hopefully be a wonderful experience.
Currently, no preorders exist for The Last Night.
Greedfall
Greedfall is a fantasy open-world RPG set in the era of the 17th century. You, along with several other explorers, treasure hunters and settlers, arrive on an island filled with magic and wonder. As you explore your surroundings, you'll be thrust into an experience full of rich character development, epic discoveries and more.
Greedfall, unfortunately, is not available for preorder yet.
Your thoughts
Which of these games excite you the most? Have you preordered any of them or want to? Are there any other releases in 2018 that you're looking forward to? Let us know in the comments below!
Get the Windows Central Newsletter
All the latest news, reviews, and guides for Windows and Xbox diehards.
Brendan Lowry is a Windows Central writer and Oakland University graduate with a burning passion for video games, of which he's been an avid fan since childhood. You'll find him doing reviews, editorials, and general coverage on everything Xbox and PC. Follow him on Twitter.