4castr 'Stratus' update brings big improvements for serious weather fans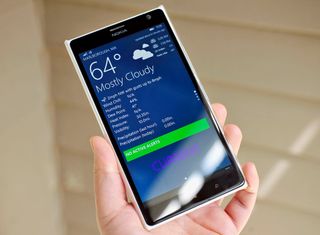 4castr is a wildly popular weather app for Windows Phone, maintaining a 4.4 rating (out of 5) on the Store. Today, version 1.5 'Stratus' has gone live, and it brings with it a massive list of changes and improvements. The app is free with in-app-purchases to unlock premium features, making it a fun option to toy around with, especially if you want detailed forecasting.
Let's take a look at what today's update brings. Grab a coffee, because the list in long (and we just love detailed changelogs).
4caster 'Stratus' 1.5 (now available)
App
System Tray is now shown on every page
Pages are now automatically scaled
New Secondary Page Template
Added option to use m/s for wind speed for metric users
Changed "Sunrise" and "Sunset" text to icons
Added new high wind icon
Added code to detect wind speed and show the appropriate wind icon
Changed water drop icon
Improvements to how data is processed and displayed
Optimized 4castr logo
Improved app load time
Now supports fast app resume
General UI Tweaks
General speed improvements
Main Page
Redesigned entire page
Developed new gesture methods and optimized animations
Panels now move and follow through to reflect gestures
Header and navigation dots disappear when panel is about to overlap during gesture
Added "pull to refresh" gesture to the Current Panel
Created "pull to refresh" to "release to refresh" animation
Added pressure trend arrow
Redesigned alert preview box into a user control
Alert preview box now shows alert issue and expire times
Redesigned alert view overlay
Improvements to how alert text is displayed
Added "read this alert" feature
Added alert open & close animations
Added alert selection and alert back key press animations
Multiple alert list improvements
Forecasted temperature (high and low) now scale based on length
Swiping left and right now works within the forecast text scroll viewer
Redesigned glance forecast items into user controls
Added tilt effect to glance forecast items
Added Wind Chill to hourly forecast
Added Heat Index to hourly forecast
Swiping left and right now works within the hourly forecast list
Fixed radar legend to reflect actual Weather Underground radar colors
Fixed several animated radar bugs and improved load time
Improvements to application bar
Improvements to "share weather"
Add Location Page
Redesigned entire page
New clean & simple "Allow GPS" prompt
GPS is now the preferred method for locations
Added deny animation
Fixed location search box bugs
Redesigned location list item template
Location results now show full location, type, latitude, longitude, and ID
Improvements to navigation model
Customize Icons Page
Redesigned entire page
Added four new icon packs (seven total)
Rewrote determine icon code to reflect actual weather underground condition documentation
Fixed select custom icon bugs
Icons are now stored as two resolutions
Voice Command Page
Fixed scaling issues
Replaced five day forecast with full ten day forecast
Added "close app after voice command response" feature
Background Agent:
Added option to change run interval (hourly, every 2 hours, or every 4 hours)
Added manual background agent reschedule button
Rewrote download weather code
Rewrote render and update tile code
Live Tiles
Redesigned all live tiles into user controls and adjusted margins
Added support for Windows Phone 8.1 Transparent Tiles
Fixed high contrast bug
Rewrote live tile render code
Rewrote live tile update code
Better rendering memory management
Tile Settings are now saved as custom data type
Alert Toast Notifications
Rewrote alert toast code
Replaced old custom sound with new customize sound options
Option to use chime + alert title announcement
Alert titles can be read by Redd Horrocks (in American or British accents)
Voice accent is determined by region, however can be changed in settings
That's a lot of changes and Windows Phone 8.1 early adopters will like the new transparent Tile option. There are so many changes that we left a few of the deeper ones off this page, but you can head to developer Bailey Stein's blog to read more about the update here.
Needless to say, we like it when developers pay attention to their apps and user requests. While 4castr may be too much for some users, we know a lot of you will enjoy the new features and overall UI improvements, including better gesture controls. I've been beta testing it for a few days and appreciate the changes.
Want to give it a spin? Version 1.5 is now live in the Store and worth the download. The app is free, but by going Pro ($1.99, in-app-purchase) you get Live tile support, customizable weather icons, alert Toast notifications and 16 app themes.
Grab it here. Windows Phone 8/8.1 only
Windows Central Newsletter
Get the best of Windows Central in your inbox, every day!
Daniel Rubino is the Editor-in-chief of Windows Central, head reviewer, podcast co-host, and analyst. He has been covering Microsoft since 2007 when this site was called WMExperts (and later Windows Phone Central). His interests include Windows, laptops, next-gen computing, and for some reason, watches. Before all this tech stuff, he worked on a Ph.D. in linguistics, watched people sleep (for medical purposes!), and ran the projectors at movie theaters because it was fun.
Marlborough, MA. Cool. We are neighbors.

This week's app update roundup will have a huge list of updated apps!

LOL, somehow I feel this changelog is a shout out to WPCentral for getting on devs about their changelogs. Bravo!!!

Lol. That being said I wish submitting an app had a separate change log feature. It's a pain trying to format your description to prettily include a change log while submitting an app.

A 32MB weather app? For crying out loud! No wonder the change log is so big!

Wasn't amazing weather HD over 100mb?

Or close. Posted via Windows Phone Central App

I wish the developers of WhatsApp / Facebook / Instagram were as dedicated as developers of clock and weather apps.

Paying for live tile support? C'mon.

Devs need to make a living too you know.

I know, I *AM* a dev. I just think limiting a core feature, one of the best features IMO, to the paid version is overkill.

It isn't about making people pay to pin a live tile. It becomes a problem when free user devices check the weather over twenty four times per day (in the background). I would be willing to offer a free live tile, but it is not possible with the API limits.

Holy Moly that is one big update!

Nice. I love the way 4castr looks and leave it on my start screen, but secretly use other apps to check the weather. Sounds like I can delete them now.

After five minutes I hit the upgrade to pro button. Anyone that puts that kind of work into an app gets my support.

Reminded me of Trish stratus

oh look another weather app. oh look another cloud.

Is this the one that's particularly good for uk weather? I'm sure i read that somewhere. If not, I'll stick with the met office app.

The app opened the first time after updating, but it won't open now. :-(

Did you restart your phone?

Yep. I ended up reinstalling it. Works now ;D

And now its doing it again :-( This is giving me a sad

Please update the app and let me know if it fixes it: http://www.windowsphone.com/en-us/store/app/4castr/bab2bc66-4fe6-43b7-bc...

I just use Blue Skies :) Simple enough and polished for me.

The Comment Forecast: 1. 90% chance of a dumb "seems faster" front moving in.
2. 100% chance of someone whining about news of a weather app even though they clicked on the story.

And that is how you do a ChangeLog. It's a shame so many seemed to have moved to the 'General Fixes and Improvements' Model.

Having problems getting the app to open again after using it for a while... I've restarted my phone, but keep having to reinstall. :(

I've fixed this issue - please update: http://www.windowsphone.com/en-us/store/app/4castr/bab2bc66-4fe6-43b7-bc...

Awesome! Update seems to have taken care of the issue. Thanks for making this great app. I've been a loyal user since launch.

Love this app, havent pinned since 8.1 because of transparent tiles. SUPER excited with this changelog (for a lot of stuff to make an awesome app even better) but it will NOT work for me. At all. I've re-installed thrice and reset my phone once. Will wait for things to get ironed out I guess

This bug has been fixed. Please update: http://www.windowsphone.com/en-us/store/app/4castr/bab2bc66-4fe6-43b7-bc...

It would be nice if you will update this app with live animated icons on live tile. Could you do this?