5 uses for a VPN you didn't know about
By Cale Hunt last updated
What are some lesser-known uses for a VPN?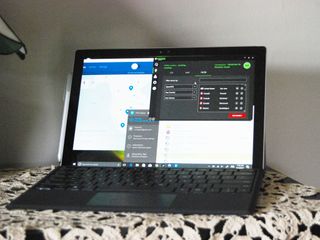 When it comes to using a virtual private network (VPN), there are some generally obvious advantages: privacy, security, and freedom. If we take a closer look at a VPN, there are also some uses that aren't immediately obvious. Thinking about subscribing to a VPN but not sure whether it's really for you? Have a look at these lesser-known uses before making a final decision.
Prevent DDoS attacks while gaming online
The rise of eSports (in other words, competitive gaming) has been almost unbelievable, but we're glad it happened and we're glad they're here to stay. Just like in real sports, there are many people who simply can't handle a loss. Instead of throwing a racket, cursing at an official, or taking a pipe to the leg of a figure skater, there is something called a distributed-denial-of-service (DDoS) attack that essentially cripples a gamer's ability to use the internet.
How? Thousands of packets are sent to a computer at once, effectively jamming everything up. Nothing else can get in, and nothing else can get out. A VPN keeps your connection encrypted and hidden, so you shouldn't have to worry about being the target of an attack. If you're playing in a high-stakes tournament, this can be the difference between a trophy and a forfeiture.
Note: Steam's subscriber agreement specifically states that using a VPN to disguise the place of your residence could result in your account being terminated.
This is to prevent people from grabbing games at slashed prices in other regions. The wording here seems to imply that sticking with a server in your own country should be alright, but use a VPN with Steam at your own risk.
Advertisement
Don't get mixed up with illegal torrents
Torrents have a really bad rap, and for good reason — you can get pretty much anything you want for free, at any time. However, there are many legitimate, legal reasons to torrent files, but unfortunately, the powers that be often can't differentiate between legal and illegal.
If you like to share legal files quickly with a P2P network but don't want to end up on a watchlist, a VPN can hide your identity. Even though you aren't doing anything illegal now doesn't mean you won't be doing something illegal in the future, and it would be a shame to have your name on a list somewhere.
Stay safe while online shopping
More and more people are turning to the internet to shop, and, while many mom-and-pop shops are suffering, there's really no denying the ease with which we can shop online. When you purchase something, you generally have to enter a lot of personal information, including, a lot of the time, your credit card number.
If you're concerned about the safety of your personal information, keeping it contained within an encrypted tunnel during checkout should at least let you sleep at night while your package is en route. There are plenty of people out there who would like nothing more than to make you never want to shop online again, so be proactive and keep your info protected.
Keep targeted ads out of your sidebar
When browsing the internet, there are multiple entities keeping tabs on you, usually for marketing purposes. If you've been looking at sushi places nearby because you have a hankering for a Bakudan roll, it's sort of annoying to see sushi restaurant ads for the rest of the week.
Because a bunch of people are generally using the same IP address at the end of a VPN, you can expect to see a bunch of random ads rather than ones targeted directly at you. No more ads for a new pair of the exact same shoes you just bought two days ago!
See prices in different regions
If you're in a position where you're often comparing or writing about prices in a bunch of different regions, you might have noticed how difficult some apps and websites make it switch back and forth. Instead of figuring out exchange rates or searching around for, say, a Canadian price while you're located in the U.S., just connect a VPN to a Canadian server.
The app or website will think that's where you're located, and the prices will, after a refresh, change over. This works with pretty much any country that the VPN has servers in, and is specifically invaluable in our line of work.
Advertisement
More VPN resources
Getting serious about a VPN? Be sure to check out these other articles we've written on the subject.
Cale Hunt is a Senior Editor at Windows Central. He focuses mainly on laptop reviews, news, and accessory coverage. He's been reviewing laptops and accessories full time since 2016, with hundreds of reviews published for Windows Central. He is an avid PC gamer and multi-platform user, and spends most of his time either tinkering with or writing about tech.
In many Europen countries, you can live-stream TV programs from local TV stations but only if your IP belongs to their home country. All you have to do is use a VPN server in the corresponding country. Many VPN providers offer large choices of countries to choose from.

It's sad that you need a VPN to protect yourself from a gamer using a booter against you. I never thought about that as a use for a VPN before. I guess as long as the booter doesn't know your IP address, they can't attack you. Though they could still attack the gaming platform. And, as you mention, several platforms like Steam prohibit VPNs as a violation of TOS.

try FrootVPN specially when playing online games or downloading torrents. it has a Secure internet connection and hide your IP Address for your privacy protection. #vpnsecure

secured vpn service is one of the most valuable invention of our time cus it hels o us in many ways to be free onlin, like: protect your private information while using a public wifi, access geo-restricted contents, protectect your information from you service provider ISP, invade hackers and so on... here is the list of top 5 vpn service i will recommend: http://downloadvpn.org/
Windows Central Newsletter
Get the best of Windows Central in in your inbox, every day!
Thank you for signing up to Windows Central. You will receive a verification email shortly.
There was a problem. Please refresh the page and try again.