6snap brings better picture capture quality, new languages, and more in latest update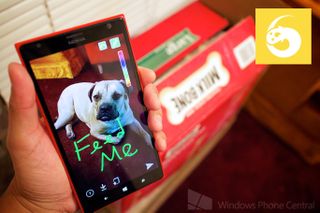 6snap, the popular unofficial Snapchat app for Windows Phone has just received a noteworthy update. Version 1.3 brings new languages, better quality of picture capture, and more. If you haven't heard of Snapchat, it's a photo and video messaging service that lets users set a time limit for how long recipients can view their 'Snaps.' Read on for the change log.
6snap version 1.3:
13 new languages
better quality of photo camera
show recent friends on 'choose friends' page
remove red waves (text correction) when add text
show number of sent/received snaps when click on snapchat title
improve performance and security
According to a recent report from Business Insider, Snapchat has about 60 million total installs and 30 million monthly active users. There is no official Snapchat application for Windows Phone, but 6snap by Rudy Huyn, does a great job bringing the service to our favorite platform.
Just like the official apps on Android and iOS, there are main panels that you can switch between by swiping. The left panel is your inbox. It shows snaps received from your friends and also the status of the snaps you send. The middle screen is the camera. Click to take a photo or hold to record a video. The right screen is your friends list. You can add friends by clicking the icon on the top right corner.
After taking a photo, you can select the duration on by clicking the bottom left icon. You can choose up to 10 seconds. Want to edit the image before sending it away? There are filters available, but it's more fun using the pencil tool. Use the pencil to draw over the photo. Not feeling artistic? Just click on the image to type the text.
When you're done just click the arrow and select which friends to send it to.
6snap is a free download from the Windows Phone Store. Are you a Snapshat user? How do you like 6snap and its frequent updates? Let us know in the comments!
Windows Central Newsletter
Get the best of Windows Central in in your inbox, every day!
6snap stopped working after I installed the update...

Did you uninstall/reinstall?

Yeah, try this. I installed for the first time, works likes a charm, no issues.

Perhaps a change of heart about snapchat's purpose? More than a tool to send sex pics.....

I have tried to re-install it, but it still does not work. Lumia 820

No problem here. Still working great after the update. And the update brings support for the dutch language. Cool.

Same here.. Tried all the above. :/

Same here :( Lumia925 GDR3

try and change the phone language to English this worked for me.

That worked. Thank you ;)

Change system language to US. Worked for me.

Same here... My 6snap died... Crap!

Same Here:/ Lumia920/GDR2

Doesn't work...come on, girls are waiting for my penis pictures!

8====D send them this hehe lol

Hehe, må jo være litt gris :P

I really think instagram direct will bury snapchat

I do too. However, I never was a fan of either, so I don't have much knowledge on the subject.

The update is not available to me just yet. I'll wait until it goes live. :) Edit: I got the update 2 minutes after I commented here.

Can't seem to find this anywhere: "show number of sent/received snaps when click on snapchat title".

Broken for me as well :-/

Is there any way possible to get the notifications every time you get a snap and not every 30 minutes? Cuz its annoying and i gotta check my snapchat every 2 mins.

No it's not possible at all.

I agree with you, notifications could be a lot better and it is possible to fix

It's not possible at all :) Why don't you tell us how Rudy can fix it when even he says it's not possible. You are obviously the expert here.

Well if i knew how to i wouldnt have posted a comment here dumb a**

Dude, my first comment was to you, the second one was not. I answered your question, show some respect.

Its not possible to fix as the Snapchat servers aren't configured to send Windows Phone push notifications so Rudy has to get the app to poll the servers for new content

Update worked fine (Lumia 920 with GDR3) but it has removed the feature where you could exit the app, come back in and view a snap again. :(. Is there any way to roll back the app or re add this?

I reported that feature as a bug, because it is not how SnapChat is supposed to work.

That doesn't answer my question.

The number count of snaps is on the far left screen, above your recently sent/received snaps. Click on the "Snapchat" logo/text.

Pictures on my 1020 are still awful...kinda disappointed...

Does this app still drain battery like crazy? I stopped using because after opening a snap, my battery would just drain constantly.

turn off the backround app from settings.

Not working here either! Samsung Ativ S, GDR 3.

On Twitter Rudy said that , there is a mistake , the image quaity improvement are with 1.3.1 update . Not this one .

Change system language to US. Worked for me.

The update is not available anymore for me... Weird.

Been waiting for camera update

It's not in this update, it's in the next according to the developer :)

I bet I'm bring really stupid here, but how do I send snaps to everyone at once. I can never find the feature :(

Press and hold "Sent to" ;)

The update never came up for me for some reason...

and the "search contact without entering your phone number" still popups an "error occurred".

Photo looks like 3D on screen..

Did he release multiple updates for this within the day? I downloaded an update this morning and then it asked me to update it two more times when I got home. Maybe some sort of weird glitch with the store?

does anyone know if this (or any other snapchat client) is coming to windows phone 7.8?
I feel like my lumia 800 would be perfectly able to run this app; but it is only avaiable on wp 8 :/

I tried to use 6snap during a concert and was unable to send a (full) video. I was able to send a video of no more than 2 seconds in length - I received an error similar to this: "unable to send. file size must be 1MB>" I'm not sure if this is a limitation of 6snap or Snapchat, but I was rather disappointed; especially, when I paid for the app. Hoping this gets resolved soon! Otherwise, I love the app!

will this compatible with others who have the Offical snapchat??

just downloaded and is a lot better than the (unoffical snapchat)
Windows Central Newsletter
Thank you for signing up to Windows Central. You will receive a verification email shortly.
There was a problem. Please refresh the page and try again.