6tag 5.0 for Instagram set to be a universal Windows 10 app, features upload and video editing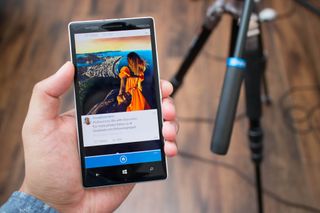 The Instagram client 6tag version 4.0 barely got out the door this morning before being temporarily pulled due to a caching issue. While we wait for the 4.0.0.1 fix to roll out to the Store, it is worth chewing on that version 5.0 – likely not due for many months – is planned to be a universal app for Windows Phone and Windows.
Many developers are already contemplating the Windows 10 OS refresh and new developer tools, which are set to be unveiled later this spring at Microsoft's Build 2015 conference. Huyn is a connected developer, often featured by Microsoft so thinking about a universal app using Windows 10 seems like a no-brainer for the prolific developer.
The news comes in passing from Huyn on Twitter where he was responding to a frequent request for his Instagram app 6tag. Specifically, people are still yearning for the ability to upload and edit pre-existing videos. Currently, 6tag users can shoot live and upload within the app but cannot take a video stored on the phone and upload it like in the official apps on iOS and Android. In response to the request, Huyn comments:
Of course, since we just hit 4.0, a 5.0 update is rather significant meaning we are likely many months away from such a release. However, the prospect of using a Surface Pro 3 or an 8-inch tablet to upload photos and videos to Instagram is certainly tantalizing.
Considering Instagram have all but dropped support for Windows Phone 6tag is the next best thing (heck, it is often better). We look forward to seeing 6tag – and other indie apps – go down the path of app universality with Windows 10.
Source: Rudy Huyn (Twitter)
Daniel Rubino is the Executive Editor of Windows Central, head reviewer, podcast co-host, and analyst. He has been covering Microsoft here since 2007, back when this site was called WMExperts (and later Windows Phone Central). His interests include Windows, Microsoft Surface, laptops, next-gen computing, and arguing with people on the internet.
Also new version I like. lots of good features coming. hopefully 6snap figures out a way around the whole mess that it's in...

I love that guy. He's our biggest suppoter and WP's early savior. But we need more official apps... Developers! Developers! Developers!

I wish his 9gag app worked a little better, to be honest. I don't really like how we navigate it.

Often better? Heck it's better in every single aspect! The official 'beta' instagram app lived not more than 5 minutes on my phone!

Well, better than our official app for WP, but it is missing some features (like video uploading and editing) from the apps on iOS and Android. So in that regard, it is worse ;)

is that a limitation of the platform? I've always been wondering why microsoft seems to be dragging their feet in matching Android in terms of depth and power as a development platform. I've seen notices in apps about how I can't use custom mp3s for ring or alarm tones. What is the actual story there about development on WP and its strengths/weaknesses vs iOS/Android? I never see a comprehensive feature on this, just a lot of platitudes from execs at pressers

That's a shame. The so-called 'beta' program is in course since one year and no updates in the meantime.

Bout time we get video upload from album. Jeez! I have soo many videos.

This sounds good, I can't wait. Especially like the article says"instagram has basically stopped support for their WP app".

Nice. 2 of my biggest complaints! Can't wait for 6tag on my 2520.

Not for your device :( 1320
Tired of windows phone... No otg.. No apps.. Nothing new.. Just fucking old technology..

Yeah lets go grab an LG G3 like smart people

G3 lags man ...amazing considering its high end specs. Research it you'll see.

I have a G3 it's really doesn't lag as ppl say, but since its android it does go through momentary brain farts lol Posted via the Windows Central App for Android

The app isn't available right now due to a known bug, it'll be up later. Do you even read?

It's been pulled while he fixes a bug. It should be available again soon.

Was it really necessary to swear??

Is it necessary to be so precious?

The current absence of the app was addressed just a few articles ago, AND in this article. I don't think Daniel's article about commenting guidelines helped much, even though it should have.

Don't know why instagram even bothers.I'm surprised they haven't pulled their shitty beta app that hasn't seen a update in over a year.

Rudy Huyn FTW! Microsoft definitely needs more devs like him. Hope we'll see a huge improvement in app quality and availability when Windows 10 ships.

What about a people tab in the discover pane? Or real time notifications? Or user names in notifications? 6tag used to get updated frequently, now it's like once every several months.

Real time notifications is a limit not controlled by dev. The reason app isn't updated as frequently is Rudy is busy. There's a lot of projects he worked on that we don't know about due to NDA. For example he built official dropbox app for them but they allowed him to publicly day it was him. Daniel Gary has been working under same conditions.

I really hope Huyn remains independent and isn't swallowed by the Microsoft machine like Sam Sabri was.

If so they'll find a way to ruin his apps, or make them better on competing OS's.

Don't worry, we're taking good care of Sam:-)

Uploading videos from my library, FINAAAAAAAAALLY...

looking forward to the video features

it will be news if the new version support hyperlapse... just sayin'

Same video features are also required for 6sec .

Finally this great news..... Go Rudy!

Still no DM or video upload... Why is Microsoft not bothered about instagram? It is the fastest growing social network, both in user base and popularity! As a frequent instagram user I am so frustrated and disappointed that Windows Phone instagram users are still so pathetically disabled compared to Android and IOS... I have to use a paid add on in the movie maker app to upload existing video. But the most shameful thing is that I am still not able to receive Direct Messages... I would love to recommend Windows Phone to anyone but if they are a serious IG user I unfortunately have to tell them to go to Android and IOS and stay as far away from Windows Phone as possible... :(

Average sadly agreed for now! I'm always hoping in the future since the day I decided to turn to WP.

How do you not get DMs in 6tag? Click that mailbox icon up top, feature is there.

Yes honestly this feature was released long time ago.

You're part of a platform that is trying to grow. You can either be a part of that movement or whine and complain and choose not to be.

I have been evangelizing Windows Phone since the days of 7.5 after switching to a gorgeous cyan Lumia 800 I've never looked back! I don't have an Android or IOS device to fall back on or use as a secondary handset, like many users on here! I'm 100% Windows Phone and 100% Microsoft. I have converted my whole family to WP as well as my girlfriend and most of my friends and work colleagues and they all love it! I have a 1020 as my daily driver and recently invested in a brand new 830, I buy lots of apps and support lots of devs both with app purchase and feedback. I am part of the Developer preview as well as insider program, I am active on uservoice and give Microsoft direct feedback all the time! I don't know much else I can do to "help the platform grow" other then code apps.. You my friend seem to be one of those closed minded fanboys that jump on their high horse as soon as someone says something remotely negative, labeling them as whiners and complainers, when all I did was state THE TRUTH!! and the TRUTH is that a platforms growth is directly linked to app competence and availability. IG is a VERY VERY important app for any platform and WP is lacking behind for way to long now! Its causing people to go elsewhere and I for one WANT THAT TO CHANGE!!

Me too. I only use windows. On my desktop, laptop and phone. Oh and Xbox one. App selection is a concern sometimes, but sometimes pinning the website to your home screen works almost as well (I.e. Fantasy basketball). Like with any system, there are problems here and there but as far as best bang for buck, it is and always has been windows imo

Preaching to the Choir brother, just don't have an Xbox one yet, maybe in the next month or so I'll get one. ;)

are wonderful all these beautiful things you do, but why you complain with Microsoft because a company which Microsoft hasn't control don't want to make and app for you? You need to complain with Facebook, send to it mails and feedbacks and make suggestions.

I am, but whose opinion do you think Facebook holds in highest regard.. The average user or a multi billion dollar international tech giant company that helped start this all called Microsoft?? Come on guys! Think further then your noses! Facebook knows very well that there is a large group of WP users that have to be satisfied with a crap "beta" app.. A hundred or thousand more complaints to them won't change anything! Fact is the WP market share is just so small that they don't give a $#@ about us! That's where Microsoft comes in!! They have the authority and financial backing to talk to facebook and ACTUALLY do something about it! Either that or help get a FULL FEATURED third party app off the ground... Something I'm flabbergasted they have failed to achieve yet....

If the opinion of the avarage users bring to Facebook more money the the opinion of a multi billion dollar international tech giant, the answare is easy

I use 6tag for uploading and editing and the official app for notifications since they don't work on 6tag on my Lumia 625 for some reason.

Yes, notifications have stopped on my 1520 as well. I wonder what the problem is.

I asked him this question yesterday on twitter thanks for responding rudy I don't understand why instagram doesn't just give Rudy official status on his app

yeah, Dropbox did, but Instagram doesn't do it

Put a smile on our faces...

Instagram have dropped support for WP?? Since when?? Why?? This sucks

This is something I wanna know...

Beta app that hasn't seen a update in a year.Safe to say that they don't care just like Pebble and Snapchat.

The third-party apps are not able to save wp! Come on guys! Is not symbian or firefox OS is windows of MICROSOFT. They needs a radical solution.

That's what I'm talking about! Let those universal apps show up!

Eff yeah, love ya to bits Rudy!!!

I can't wait until I get Windows 10 on my L925 & HP Stream 7. Why can't 6Tag be Universal now since a lot of Apps currently are like Microsoft's MSN offerings & Tweetium are atm, or is it just a case of why bother when Windows 10 is just around the corner so to speak?

I think that is because there were not real benefits for and app like 6tag to become a Universal App (until now), if the developer don't care about Windows tablet/PC devices (and don't care about video). But leaving it as a legacy WP app give to Rudy more user base and also because he could have had more time to work to other project (the conversion need some work to do). But now that the user base of WP8 is very reduced and the intention to add the upload of video, in addition to the fact that Windows Runtime is the future (and the present) of the Windows ecosystem, he has decided to work on te WinRT version

Awesome. Rudy huyn...! (:

You mean Instagram isn't coming with some spectacular update for beta soon? Next month makes a year which seems to be the sweet spot

Question, Rudy 's 6tag app "spoofs" instagram I to thinking its an android correct? Of we only use the 6tag app does that throw the analytics of usage off?

The fact that this app will be a universal apps doesn't mean that will be a Windows 10 Universal App
Universal Apps run on our Windows Phone 8.1 since it was launched.
We don't need to wait for Windwos 10 for a Universal App version of 6tag, we just need that Rudy ends the development.
The only thing that you need to do to transform a "legacy" WP app in a Universal App is to use WinRT APIs available for WP8.1 (instead of Silverlight). The (presumable) reason why he want to add video upload an editing with the Universal App version is because he want to use the built-in APIs to capture, edit and transcoding of a video provided by WinRT

Great, we need a good client on Windows!

Great guy Rudy!
Also, screw you instagram for ignoring the WP community that you consider a minority. We want #MinoritiesRights in software and services too.

6tag is still my favourite Instagram client, across platforms. I often open it more often than the official app on Android. HOWEVER, whenever I want to upload something, I still turn to the Android app. First because, well, photos and videos are free and I can upload as much as I want. But the real reason is because 6tag (and even the official WP Instagram app) downgrades the quality of the photos upon upload. It's not the first time i upload a photo from the 1020, with all its glorious sharpness, just to have 6tag downgrade the picture quality. But if Rudy ever solves that problem (which is, admitedly hard due to the costs it could involve) I'll gladly even ditch the official Android app.

Needs video save to storage

And then MSFT can change it's app store's name to Universal Studio.

I always pay the small fees for getting rid of ads in Rudy's Apps, cause they are SO GOOD, and I want to support him. I wish him to purchase Snapchat and turn that evil betch right.. They are just horrible to their users, worst company ever...
Windows Central Newsletter
Get the best of Windows Central in in your inbox, every day!
Thank you for signing up to Windows Central. You will receive a verification email shortly.
There was a problem. Please refresh the page and try again.