6tag with new Modern design now available for download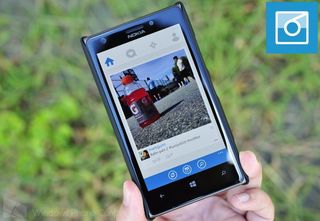 Windows Phone may not have an official Instagram app, but we've got by far the best Instagram clients on any mobile platform. For example, Rudy Huyn's 6tag has been killing it lately with new one new feature after another. The latest update brings a completely new UI and is now available for download.
6tag was last updated only a handful of days ago. That new version brought the ability to manage multiple account and various other improvements. Today, version 1.4 is bringing a completely new UI, but as an option. Check out the video below to see it in action.
Want to switch between the two different UIs? Go to the setings and select the application design. It's nice that 6tag gives users two options for very different interfaces. You're bound to find one that fits you.
What's your preference between the Modern or Polaroid UI in 6tag? Sound off below.
Interested in grabbing 6tag? You'll need a device with Windows Phone 8 and you'll want to go to the Store. Otherwise use the QR codes below or swipe to the right in our app.
Looks awesome
Edit: Daniel is in the screenshots :P

Gotta feed the hand that feeds you :)

Thought I was the only one who prefers the old look. Functionality is better, but I feel that top bar takes too much room for no real reason

There's an option to use the old style of you prefer that.

By creating the modern UI, Rudy made it so that a Windows Phone 7.x version will be easier to make. Expect it relatively soon.

Does relatively soon mean a week or like a month?

You'll have to ask Rudy :)

Not trying to sound like a douche but, what does the UI have to do with porting it to WP7.X?

Swipe gesture used in Old design Can be done in wp7 (poor performance)

When it is coming for wp7.x

I actually like the Polaroid look of 6tag because it is a unique look but the modern isn't bad either :D

Someone could make a great Instagram client just by using the exact same layout that the WP Central app uses. Just sayin'. ;)

Rudy Hyun makes the best freaking apps. I should have never bought instance. :(

Really? You regret spending a couple of bucks? I actually prefer the look and feel of Instance. Feels like a real WP app more than 6tag does. Glad we have choices.

Its my dad's debit card and I've spent more than a 100 dollars on music and apps so yes. Shh... also its kinda laggy on my 8x. I haven't tried 6tag but I have tried 6sec and its awesome! Super smooth and very cool design.

Instance is coming out with a version 2(whenever that may be) but I was an instance original user back when it had its original name and I switched over to rudy's 6taf app because this man definitely knows how to support his products a d he does great work in a short time. You don't have to buy the app for 6tag. Its Free

6tag is very good, smooth and reliable. Instance IMO looks and feels much nicer, but is buggy and prone to crashing and freezing. Wish it could look like Instance but work like 6tag. :)

With Cruel's dad's credit card!!!

Looks great, but will take a few minutes to learn vs the old ui.

Seconds...unless you're not a caffeine addict like me so you can probably enjoy yourself and take your time meaningfully, I'm just gonna go over here and shiver. "O.o" #tangent

I'm not sure you could make this app any better. The new look is phenomenal. Developers like Rudy make me proud to own a windows phone.

I love the new UI, it truly makes navigating the app a lot more fluid.

Love it! By using this new sexy UI, it makes me even feel more sexy. :)

I got it before the post, but it says 1.3 for me. Anyone know why?

Yep, it should be version 1.3, even the link to WindowsPhone Store states 1.3.0.0. Besides, like the Modern UI much better, thanks Rudy!

We need to lobby for Rudy to get a consultant job for WP. I'm sure if MS lets him develop the YouTube and Facebook apps, they will truly be winners.

The new modern UI is way better. Much more natural flow to the app with the swiping instead of tapping. Great job

Wish they would add the option to hide the "6tag" name in the paid version. I know it's important for recognition but it doesn't help me sell Windows Phones to people :/

What if a friend of yours comes to the store and types Instagram, but the results don't give him what he wants?

That's why I set it up for them.

That's very deceptive. What do you do when and if Instagram changes their API again breaking 6tag, instance, etc.?
If I was your customer, I'd be ticked if you sold me a windows phone suggesting that it has an "official" instagram client when the reality coulnd't be further from the truth.

6tag *does* have official support from Instagram. I do tell people it's unofficial, but I kinda push it under the rug.
Btw, I don't work at AT&T or anything, just to my friends and family. :P

6tag rocks! As for WP7, I'm sure you hear it from us all the time, but upgrade. Trust us, you'll be very glad you did.

Waiting for the first phone with WP8.1 onboard to be released. If it's like the 1020 with GDR2 or the 1520 with GDR3, then that means the next phone to be released may be the first phone to also experience WP8.1. That, right there, will be my first Windows Phone 8 device.

Most of the people asking for a WP7 version, can't upgrade yet. It's not because we don't want to. Trust US.

But he said a WP7.8x version will come with the next WP8 version update

HE DID? WHERE? I NEED A REASON TO JUMP A LOT

I prefer the Polaroid option personally.

On a personal note, a 7.x app would make my daughter very happy!!!;

"Following" activity still not showing up. uhghgughguh

...done updating! UI is impressive better than the official.

Perfect in every way!!!!!!!! Loved the old look love the new look and fits the windows phone with the side swipes and all

Rudy Huyn! Plz make the Filter and Border work separately. I don't want to apply an effect to my photos then it gets overriden when I apply a border. Thank you so much.

When it's coming for wp7?

Hmm... I like them both.
Polaroid is original and creative, but modern is intuitive.

My favorite part is at the end when they put in Rudy against Georgia Tech and he gets a sack.

Was that a true story? I can't remember.

Based on a true story. I believe what happened at the game was in fact true though.

How do you enlarge a pic? Taping it doesn't work

anyone have a solution for flagged accounts? already tried a lot of methods but didn't seem to work.. my hashtags are not searchable for almost 2 months already.. boohoohoo..

anyone have a solution for flagged accounts? already tried a lot of methods but didn't seem to work.. my hashtags are not searchable for almost 2 months already.. boohoohoo..

anyone have a solution for flagged accounts? already tried a lot of methods but didn't seem to work.. my hashtags are not searchable for almost 2 months already.. boohoohoo..

I don't like the navigation, it looks like a bad port.

I have a question that may have already been addressed but... So if I got 6tag or any instagram app, can i make an account through it? Because you just can't do it online you have to register through and app. there wouldn't be any point to me getting it if i didn't have an account first.

Thanks for the input.

Yes 6tag lets you register a new account.

Microsoft needs to buy Rudy now!

He'll knock out their Facebook app in two weeks and slap Ballmer on the way out.

Cool, now maybe he can spend some time on TVShow and fix the 'News' section not updating after the first time. Sent him an email with no response. It's a pain having to reboot everytime in order to get it to work. Don't get me wrong, he's an asset to the WP platform, but it would be nice if he spent some time on some of his other apps.

Tvshow email was hacked, can't access it, follow me your email to rudyhuyn at gmail.com

Why 6tag and instance are now identical????

Calling CNET's Molly Wood... ROTFL

Love it! But there seems to be a bug. Most of my friends' pictures show up twice in my stream now?

Love having both options, but I have to say I like Polaroid more. I love the action of swiping the individual pictures to comment and like. It's fun!

This is actually really cool... Oh and also did anyone notice that we can now change the live tile color too? Or was that there before? Anyways now I can't choose between the two designs D:
I like some features of the modern design and some of the polaroid one...

Its gr8 new UI but facing uploading problems everytime . It shows pic. For uploading but crashes then. Reinstalled even still no improvement!!! Plz fix

The only issue I have is that the UI changes back to polaroid-esque when in the capture screen. There's also a typo there, whereby the switch camera text is the wrong way around. Using the rear camera, the text should say front camera. Also not sure what the red arrow to the far left does in the capture screen. Anyone enlighten me on that one?

I like the striped background, but the new UI looks so much cooler. You're the man, Rudy!

I love both UI's but I'm sticking with Polaroid and that rotation gesture that gets you to like, comment etc... That gesture alone makes it more unique then any other app...pure Rudy

Mine doesn't wanna update.. Is it just me?

WHERES MY SNAPCHAT APP :'(

You can blame the folk at SC for that, there was one already but it was taken down with a C&D after about a month or so.

Why the picture posted got the quality reduced so much? It gets blurry...

I have the same problem. I really like the app, but the reduced quality is a deal breaker for me. :(

This article says 1.4 but the store and the app say 1.3 with the new UI. I'm confused...?

The modern UI is faster and more WP8-like, though I do miss the picture flipping which is really cool and Huyn's trademark. Interestingly enough it's still there when you go to someone's timeline.
And yeah, the app says it's 1.3.

Umm post being removed again..

WOW. Love the new modern UI, Rudy!
Great work!
+920

I just paid to remove the ads, which I usually do to help out the developers and prevent my fat fingers from buying 40 subscriptions to Vibe. Unfortunately you dont get that real estate back for more viewing area. You still have a large block of nothing at the top.

I hope Rudy does Pinterest next.

The last couple releases have made my rear camera non-functional. Just a black screen, I've rebooted the phone as suggested but it still doesn't work.
HTC 8XT here. Earlier releases it worked fine, the last 2 have killed the rear camera. Front facing works as expected.

I love this app. It is polished. But what we need is a 500px app.
Instagram crops and kills quality. Checkout my lumia 1020 gallery http://500px.com/FrankJL

I prefer to use the old style. So I love that the new updated UI is just an option! Thank you for the two options!

I'm waiting the 7.8 version soooo much!!!

Any instram client app I download on my 521 will not connect. Any other app I download connects fine. 6tag keeps telling me failed to connect. I have been scouring the internet for a solution and cannot find anything. I just switched from driod and Instagram has always been my favorite app. I really want to return the phone now :(

I am having the same problem. I saw your comment is 1 year old , did you find any solution ??

My Uncle Evan got a nice 12 month old Lincoln MKX SUV only from working part time off a pc. web link www.lock60.com

After the latest update , I am unable to log in . It shows Failed to connect , tried re-installing 6-7times , via all the sources , email link , laptop, windows store... still the same problem.I even tried to log in through instagram, but even then the same problem. Please help
Windows Central Newsletter
Get the best of Windows Central in in your inbox, every day!
Thank you for signing up to Windows Central. You will receive a verification email shortly.
There was a problem. Please refresh the page and try again.