8.1 HD Tiles, delivering transparent Live Tiles to your Windows Phone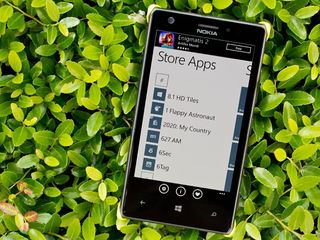 8.1 HD Tiles is a Windows Phone 8.1 app that will let you add transparent Live Tiles to your Start Screen. The app not only offers transparent tiles for two hundred apps but 8.1 HD Tiles also offers tile options for settings, websites and blank tiles that can be used as spacers or to categorize groups of Windows Phone Live Tiles.
The app is compatible with Windows Phone 8 devices but some of the system settings will not be available and the tiles are not transparent. 8.1 HD Tiles is an easy way to add transparent Live Tiles and a nice addition to the Windows Phone 8.1 app library.
8.1 HD Tiles Design
The main pages for 8.1 HD Tiles divides the categories of Live Tiles and includes pages for Store Apps, System Apps, Websites, and Miscellaneous Tiles. At the bottom of the main pages you will find three control buttons that send you to the app's settings, view the about screen and rate the app in the Windows Phone Store.
8.1 HD Tiles' settings are singular with an option to view the Live Tile options before pinning a tile to your Start Screen. Live Tile options include changing the name of the tile, removing the icon from the tile and enabling flipping of the tile.
The Store Apps cover almost two hundred apps ranging from Angry Birds to Instagram. System Apps covers twenty-eight settings and system apps (games, pictures hub, etc.) and then you have twenty-one websites that can be pinned to your Start Screen. The downside to the website tiles is that 8.1 HD Tiles lacks the ability to pin a customized website Live Tile. The pre-existing selections aren't shabby but having the ability to customize the URL for the tile would be nice.
The Miscellaneous Tiles include an invisible tile, transparent tile, a Live Tile with a customized name and a transparent flip tile. These miscellaneous tiles can come in handy as spacers to expose more of your background image or to categorize groups of Live Tiles.
Overall Impression
8.1 HD Tiles can be a handy utility app for creating transparent Live Tiles for Windows Phone 8.1. While the app is compatible with Windows Phone 8 devices, it is designed mainly for Windows Phone 8.1 devices. The user interface is simple to pick up on and the range of Live Tiles is nice. 8.1 HD Tiles does have support for both 720p and 1080p devices and the icons are well drawn up.
Overall, 8.1 HD Tiles is a well-designed Windows Phone app for delivering transparent Live Tiles to your Start Screen. While the need for transparent Live Tiles seems to diminish daily with apps being updated with such support, 8.1 HD Tiles will still be a handy app for customizing Live Tile names as well as creating blank and category Live Tiles.
8.1 HD Tiles - Windows Phone 8 - Free - Store Link
George is the Reviews Editor at Windows Central, concentrating on Windows 10 PC and Mobile apps. He's been a supporter of the platform since the days of Windows CE and uses his current Windows 10 Mobile phone daily to keep up with life and enjoy a game during down time.
Interesting, hopefully it got apps that I want to make it transparent...downloading now. Thanks.

I am actually back to solid colors... I got bored of backgrounds and felt I lost the original look of WP... I am kinda old school...

It's funny you say that because I changed my background like every few hours because I wasn't happy. Felt like I was having an android moment!!! Thankfully I found a background pic that wasn't too busy but still keeping with the 'ol skool'!

Yeah, I'm back to solid colours for the last couple of weeks.

Yup. And now we're all suffering because everyone is squaking for transparent tiles everywhere and the start screen is a bland mess.

making tile transparent kill its live feature. nonsense of being a live tile

Me too. I'm kinda back with the old school solid color background. But for a twist, I used backgrounds with color gradients. It's inda cool because it has some ffect to it when you scroll.

I'll get back to you in a couple of months and let you know if I like it or not :/ 8.1 apps really?Only a handful of people are on WP8.1 and company's are doing this?How about updating your 8.0 apps to start with sense the entire user base is still on 8.0

This app is only applicable to 8.1, there is no updating it for 8.0. Also, that's the entire point of the developer preview, to allow developers to preview apps that will work on 8.1 (including ones that are 8.1 specific).

Yes,I can read.The article say's it's for 8.1

You, sir, are babbling about nothing.

@iyae I'm talking about 8.1 apps, or did that just go right over your head?It makes no sense to release apps that no one can use.

Everyone who is intrested in having WP8.1 can have it now. And lots of people did. If you don't wand to try it now- dom't spoil the fun for everyone else. Or ignoring the 8.1 news before official update is to difficult for you?

Does the message counter for Viber or any other messenger work on these tiles?

Icons are way to small ):

I downloaded yesterday, it was my 200th app.

Gratz. Just the other day I passed 1489, but that's not all. 8.1 is not showing all apps :/

My 308th app...1 week ago
But it doesnt work properly on my L525... :(
App gets pinned...but diesnt open properly...closes after splashscreen... :(

is there any way to count number of apps currently installed on the device.(apart from manual count)

Yup, you can check from the store, think it can be accessed when you click on the ellipsis.

Send yourself an email :)

I did not understand why the app developers have included the apps which already have transparent live tiles by default in this app

on my apps it shows how many aps you own but when you hit a number like 708 it gets hard to find any app you liked but delated it haves no classifier and its really annoying the shit out of me

Excellent! I was looking for another way to make my Start screen look horrid!

I use transparent tiles for the upper portion, and solid colors for the lower portion. It's on my Twitter page :)

The icons are so too small, both small and medium tiles have smaller icons than the original apps tiles.

It would be nice if one of these apps offered transparent tiles for Skype, Authenticator and PayPal.

And OneDrive. Mind boggling to me that Microsoft owns Skype and OneDrive, Microsoft is who developed this transparent tile scheme for their phones, and these two apps can't be made transparent. Also would love to be able to make the "photos" app transparent as well as things I pin such as individual contacts.

Yeah,and make coffees too :)

use this with startperfect, awesome

To each his own, I guess. I like the background option, I have yet to find a not so busy BG but yes, I love the option. I will download the app. I hope it has the icons for the apps I still have with solid BG :)

Hey man, I had the same problem. Now I use "blurred" bg's, they look cool and make the tiles appear" sharper.

What a poor screenshot. There is nothing of added value in there except for a misleading advertisement.

Transparent Tiles app does the same thing too. Anyhow, this is good too.

Skinery Themes is still superior in every way. Also...why the hell does the developer need access to the location on an app for tiles?

I think some developers are just lazy about specifying the capabilities needed.

I pin Pandora and it wont open, just takes me back to start screen. I have the Pandora app on my icon so not sure what's going on. Apps I don't have it says I need to go to the store. I understand that, but this seems buggy to me.

i love background star theme , but i don't like transparent tile . i prefer colorful tile with background star theme

just install this app a few minutes ago when I open it has a limited offer to give a rate and review and the ads will be removed , very good
Windows Central Newsletter
Get the best of Windows Central in in your inbox, every day!
Thank you for signing up to Windows Central. You will receive a verification email shortly.
There was a problem. Please refresh the page and try again.