$99.99 HP Stream 7 Windows 8.1 tablet on sale now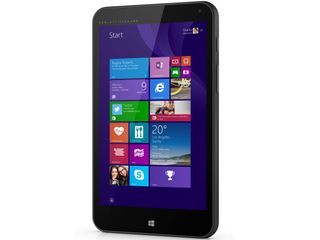 HP has started selling its previously announced Stream 7, a Windows tablet costing just $99.99, a day after sales began for the company's new $199 Stream 11 notebook.
HP didn't reveal much about the hardware specs for the Stream 7 when it was first announced, but now that it's on sale we finally know that it has a 1280x800 resolution display, an Intel Atom Z3735G processor with a clock speed of 1.8 GHz, 1 GB of RAM and a 32 GB eMMC drive for storage. It also has a 2 megapixel rear camera and a 0.3 megapixel front facing camera and its battery is supposed to last up to eight hours.
An 8-inch version of the HP Stream tablet was also announced a few weeks ago but it has yet to go on sale. Are you in the market for a $99.99 Windows 8.1 tablet?
Source: HP (opens in new tab)
Windows Central Newsletter
Get the best of Windows Central in your inbox, every day!
Honestly who would want that?

anybody who wants a cheap tablet. that's a lot of people.

I definitely wouldn't be doing heavy-duty work on it, but I could go for it for things like Xbox SmartGlass, Plex, and eReading. That's about all I really want to do on a tablet anyway.

Exactly. Keeping it basic. I enjoy my laptop for most uses and tablet serves purpose you mentioned.

At $99, it can be a book/comic/magazine reader, alarm clock, music player, remote/smartglass, travel media/game device, etc. My Logitech Harmony remote cost that and does one thing.

You mean I shouldn't try to run Photoshop on it? /s I mean c'mon folks for $99 if it has similar performance to the Surface RT it will be miles ahead of any Andriod tablet at that price point.

this tablet is accualy badass for 99 bucks it has a solid stade drive quade core prosesor and Hd graphics the fact that it is 8.1 full you can run full windows apps ive been able to play guitar hero 3 with the controller the sims 3 and batman arkham city among more on a tablet this is not a E-reader no much more :)

Me I need a cheap tablet for now
I'll get a surface next year

Specs arent much different than Dell Venue 8 Pro people paid almost $250 for new. For 99 a lot will bite.

Very similar specs, just a 1GB less RAM.

I would do office, magazine, watching videos, and more. I would buy it.

But is it lighter than air?

And we can view every extension of files

To add - could be the ideal Xmas gift for many a kid, pining for their own tablet.

Maybe people who aren't as narrow minded as you?

Considering the success of cheap Android devices I'm going to guess a billion plus people would want it?

Use coupon code SV3846 for an extra $10 off. Now only $90. :)

And comes with Office365 for a year, a savings of $69!

You can say as i want, don't hesitate!

You'd be surprised. $100 is impulse buy range. And at that cheap price, you don't really care as much about quality.

Kids. Great way to brainwash, er, introduce them to Windows. Windows has loads more parental controls compared to IOS and Android.

I want this kind of tablet. Pretty neat for light web browsing, read emails, watching videos on the go, reading ebooks, news, and probably some light gaming. Seriously, 1GB RAM surely enough for that. And 32GB storage ... well ... Given that 16GB storage usually has only 6-8GB usable part, then 32GB is edeal for most things.

Anyone that uses a 7 inch Android or Kindle tablet could just as easily use this. It has the advantage of being able to use the exact same apps you use on your desktop machine.

Just because you have no use for it doesn't mean nobody does. This would be awesome to keep next to the couch for quick look ups, or for Smart Glass. It would also be nice for some Facebook and Twitter use. Gotta start thinking outside of your own simple mind.

Educational Institutions that want to just use .pdf versions of their textbooks but don't want to pay $60 for each copy. If these things can hold 5 textbooks and last 3 years they could drop the price of texbook costs dramatically.

Old comment i realize but this thing has sold like crazy and rightfully so! the performance is amazing for the money! I keep mine as a daily driver now and it works wonderfully.

Fair price, I'll go for it

I'd get one if I didn't have a 1520.

Your Lumia 1520 isn't jealous. It won't resent the company.

I have a Lumia 1520 too and getting another 7 inch tablet to accompany 6 inch phablet seems weird

Woow to bad my mom bought a piece of crap one more expensive and with 512 ram....

Might pick up two for my kids for road trips and playing games.

exactly. so many people bash it on specs. They don't realize nobody gets this as their primary and/or only device. This is perfect for when you really don't care!!!

Honestly, if you have a Microcenter close by, check out the Winbook TW801. Its a better value at $139. 2GB of ram and full size USB 3.0 port.

Just picked one up, great device and value. I still might grab this.

Exactly this. Definitely not a primary device but good enough for my girls for watching videos and playing games while traveling.

That's nice is it available on online stores?

Buying this for my mom. She wants something for email and web browsing that's ultra portable. Seems capable enough

Now for god sake ppl should realize that android tablets are complete waste.

Delete your comment ppl will go mad behind u

Actually, a digitizer pen would be very useful on a device like this.

No 5K display? A bit careless from HP.

What ? No quad HD 64 bit octa proxy n no 4GB ram.. Dammit -_-

The lack of 5.1 surround and a decent subwoofer at this price point is disturbing.

Worst of all, doesn't come with a keyboard!

Or a 22 point touch screen!

I can overlook the absence of the 5.25" floppy drive, but lack of an RS232 port is a real bummer.

I actually need an LPT port for my kickass dot matrix printer...

So no built in 3D printer? Really upsetting.

Did I just read this thing doesn't even have wireless charging? Dell, are you even trying?

Ha ha ha
This is probably the first time the terms "kick ass" and "dot matrix printer" have ever been used together in the same sentence. :)

Hell, if it can't play Crysis, who would want it, right? Right???

Can't even use it in your lap.

Was going to get my daughter a Nokia 635 or something similar to use as a mp3 player and wifi device. I think this may be a better choice now though

Well, you could get a pre-paid SIM for the 635 so that she can call you in case of need. Just a thought.

"0.3 megapixel front facing camera" For when you want everything to look like it's Minecraft. :) Really though, for $99 with WP8.1? Argh... I've had meals that cost more than this. So tempting...

What did you eat, actually. Just curious.

Ruth's Chris, for example.

Forget the meal, I've had a bottle of wine at Ruth Chris that cost more than this tablet.

I've wiped my ass with bills that valued more than this tablet.

Then lit it on fire to light a cigar that cost more...

I once paid $30 USD for a crab cake.

Food? :) I don't remember most of my meals. The point is that $100 is cheap. :)

You would if it was a rib eye form Ruth Chris with garlic mashed potatoes, creamed spinach and tempura onion rings . Yummy!

Can we count on WindowsCentral for a review?

Bought! Just an FYI...the total was $109.49 with tax if anyone is interested.

I was curios, you have had the device for a couple weeks, how have you liked it? Does it have decent build quality and performance?

I don't know if I'll buy this one but I'm going to buy one of these cheap tablets just because

Would order, but really needs case and keyboard

No USB or Bluetooth makes it a hard sell for accessories like keyboards, docking, etc.. ALSO the battery life makes it tough to consider this a travel device unless you're going on a very short trip.. all around great price but hard to justify buying it unless you're flat broke and can't afford a real tablet with real utility value, my opinion..

It has bluetooth 4.0 and micro usb 2.0 (see hp data sheet on their site) the battery is indeed small with 3000 mah.

What? Lumia 1520 is 3400mah.

I checked the specs and it has a USB and Bluetooth, so good news on that. The battery life is about the sane as the new Surface, so that should be fine. Just charge it overnight.

See, the finished about battery life at this point should be moot. I have a portable charger that seeks for $25 and gives me a full charge. It's by Motorola. I've left it in my car for 4 months without needing it and it retained its charge when I did finally need it at a festival. There are larger ones for devices like this. Leave it in your center console or trunk of temperatures get extreme where you live. Just remember to charge it on your trip home via USB "bullet" style charger on the trip home or when you get to your destination and put it there for the next time you need it.

I meant the "complaints". I have no idea how I managed to get "finished"... Also strange that I can't edit my post!

Also a plus is that you can charge it with a USB battery. You can't do that with other tablets that have a proprietary power connection.

I just don't see how low spec tablets can run so smoothly. I mean I get it and all and I have a surface rt first Gen, but I would think they all would need at least 2gb of ram. I dunno.

i have a Notenook with i5 and 6Gb Ram... and use for travelling and college an older netbook with a 10 inch screen, an old Atom at 1,6GHz (single core) and 1Gb DDR2 Ram and works GREAT with Win8.1 (now i'll install Win 10 TP just to try how goes with my little baby... and use it for taking notes, editing docs with office listening music, etc.. with newer Atoms and DDR3 RAM's like this tablets had and SSD Storage this tablets should fly with Win 8.1... Obviously no "hardcore" use but for study or little things may just go GREAT

I also have trouble with that. So far I've seen Windows 8 run on very low spec machines without issue but I'm not sure how they would do with multiple applications running.

A lot of people underestimate Bay Trail Atoms. They will stream 4K video easily, as well as run Skyrim, Sleeping Dogs, Bioshock, Arkham City, etc. All for on the go at $99? I have one myself and I play Guild Wars 2 on it. That's pretty freaking impressive, especially when against Android tablets that are nothing more than $200 Youtube devices.

But wouldn't the ram be involved in that equation too?

Don't the Bay Trail Atoms do Miracast too? Get a streaming stick for this thing and you're set.

I run Windows 8 on an old Mac Mini from 2008 (I think) that has a Core 2 T5600 and 2GB of RAM, and it runs fine, except HD video... these new Atom CPUs are about the same performance-wise as that old CPU. If the graphics is up to par, it should be fine.

Also comes with office 365 personal, microusb, Bluetooth, wireless according to several sites

When will the Microsoft store get this? Want to see this in person.

I am getting the 8" version for sure it will come with 200MB of data included.

When the new stream devices are at the Microsoft store I will buy them for Christmas presents. I wont buy unless it's a signature edition.

No, but it does have Wi-Di/Miracast. A $40 streaming stick will connect to your HDMI device.

It really annoyed me that no news site would say the stream 8 has t-mobile 4g data. Who else offers the 200mb? Gurantee you we will see that as the walmart model. Thats the one that is going to go after the mass market.

Tempitng. Although, saw what sounded like a good point in one 7in tablet's "hands on review" (think was the Tosbiha) - UI elements of Windows 8 in many parts (they specifically mentioned the app/program menu that you swipe up from start screen) becomes difficult to read on such a small screen. Hopefully Windows 10 will be better in that sense also. Anyone with a 7 incher (I mean a tablet!!) that could comment?

i read somewhere that the toshiba has a lower res screen (1,024x600) that makes windows think it has a screen 1280x800 screen res maybe that's why. One thing i know for sure this tablet is (way) better that the toshiba encore 7

Ah, that might be it.. thanks, very helpful!

Someone might buy one and ship it to you for a small shipping and handling fee. :)

I'd ship it to you if you paid for the shipping....and the tablet of course. :)

My two year old is using my old BB playbook to watch videos and cartoons, and I can't really do nothing on that device because its obsolete. This HP device would perfectly replace it and add some really good value in functionality. I love the flood of these new cheap tablets! So many choices...

They hide the specs pretty good on the site. Here is the full spec sheet. This should be linked in the article. It would resolve so many questions about what it really is and isn't https://store.hp.com/wcsstore/hpusstore/pdf/k4f52ua.pdf • Operating System: Windows 8.1 with Bing(1) • Processor:Intel® Atom™ Z3735G Quad Core Processor(2b) • Display: 7 inch diagonal multi-touch IPS wide viewing angle display (1280x800) • Cameras: 0.3MP Front-facing Camera; 2.0MP Rear-facing Camera • Memory: 1GB DDR3L • Storage: 32GB eMMC(15) • MicroSD: MicroSD (up to 32GB of expandable storage) • Wireless: 802.11 b/g/n(19) • Bluetooth®: Bluetooth® 4.0(26) • Weight: 0.77 lb(76)

Weaird that it only allows SD up to 32GB.

It's likely what HP had on hand to test with. If they don't test it, they don't support it. It's not like the MicroSD controller would prohibit anything larger than 32GB (I havent seen one in the market.)

Yeah, right. HP can't afford to buy a 64 or 128 gig MicroSDXC card for testing. MicroSDHC tops out at 32 gigs. 64 and 128 gig cards are MicroSDXC. So, if they put a MicroSDHC controller in the tablet, 32 gigs will be the max. I can see why they'd do it at this price range. A 128 gig MicroSDXC card would cost more than the tablet. If they can save $0.25/unit by going with the lower capacity controller, they're not going to alienate too many potential customers.

Im waiting for windows 10 devices

Yaa but this device will get updated too and Microsoft is week know for providing updates. Unlike Google

Good question, it does not seem to be in the HP site store yet...

It's available on shop.hp.com. Just placed an order. Plus, others in the comments here have found $10 coupons, which work.

Wow, they really hide the Add to Cart well under "View all Products" tab.. :)

Holy shit. This isn't half bad. Considering the fact that the more "high-end" dell venue 8 also has 1280x800 display. I need this thing. I wouldn't do much on it anyway except watch videos and read articles.

I can finally replace the orginal Galaxy Tab that I let the kids play with. Nice to have cheap Windows tablets available.

I could get one of these and sell my Nexus 7 and have money left over. Food for thought.

my daughter would love it. she's only 3 yrs old like many other 3yr olds in this world

Nice $10 discount also using "sv3846"

I'd rather a 6.5-7" Windows Phone

Does any one a cheap Windows tablet that has GPS? I'm looking for one to carry one in the car.

at first glance, it looks better than the other known ~$100 win8.1 tablet with the slimmer side bezels and higher resolution screen. I'll be waiting for more of the spec sheet to be released: dimension, weight, and free Office would be the cherry on top

Full specs can be found on their website - see the link the friendly fella TechnoTim posted in his comment above.

well then, this tablet look's like a winner! thx

That's the price of a copy of Windows 8.1, and it even comes with a free tablet! I'd say that's a pretty good deal.

I am willing to pay 50$ more for two things: a larger battery and 1GB of RAM more, other than that, its a good value. Edit:
I wold like to add another 10$ more for GPS

How do you buy it/ I didn't see a buy button on HP's website

I don't see a list of stores that are going to carry it. Anyone know where you can get it at a brick and mortar? I'd at least like to hold and try it before i purchase, although at $99 i hardly think i could go wrong. I'd also like to have it tomorrow (i lack patience). I've been holding out for a 1080 tablet, but for this price i'll make due. Considering the only time i use a tablet is vacation and on the couch watching tv, i really don't need all the extra crap that makes other tablets expensive.

I jsut bought mine at OfficeDepot in lexington SC. Note they said they only had one. I assume they got more than one and sold some, but honestly I did not ask. ($99.99+tax) So Far I like it, but am wrestling with if I really need the extra inch a Stream 8 will provide.

I'll buy it... All I need is a big pdf reader for schematics and excel spreadsheets.. Good move hp!

This upcoming holiday season is going to be interesting when it comes to Windows 8 Tablets...

So, i been trying to buy it. First try ended this way: "We couldn't process the URL clicked or entered. We have logged the error and will investigate. Please re-enter the url, visit our home page, or try search." Second try ended saying they can't process my order at this time. They will save it in my cart so i can try again later. Edit: tried a couple more times, no luck.

Lets hope companys start to sell these world wide, Not one windows win 8.1 8inch tablet to found here in Thailand, Wanted the Dell Venue 8 pro but its not sold here. :/

Why does a 1520 cost $600 again?

You can sse coupon 'SV3846' to reduce the total price by $10


Use coupon code "SV3846, CONNECT" to save $20. I just bought one for $79.99! Confirmation page and everything!

Where did you get it from? I don't see a buy button on HP's site

For that price, I would consider picking one up. I hope the site does a full review.

When will it come to india. This will basically be my internet surfing reading and multimedia device.

$99 is great, but I can't seem to add one to my cart. Are they sold out already? The $10 coupon works (I tried it on another product). Thanks for that. I'll try again tomorrow.

When it's available in India?

They have sold out. C/S rep told me on phone they sold 25k in an hour and are not expecting more in for weeks. Thankful got a few at 69.99 each after 3 vouchers lol.

hi, can anyone please post the exact link to the product page, i can only find androids

No longer listed. Has been removed from site.

I'm not sure why these cheap tablets 'forget' the HDMI port. The Winbook TW800 has one at the same $100 price point.

Just ordered one from the HP store (UK site). Cost £85, but won't ship for another week or so. It was listed at £99, but by the time I finished the payment process the price had gone down to £85. Weird. But good.

85. Paid just under 50£ each via HP US.

Nice. You getting them shipped to the UK?

It was sold out online, but I called up HP and they said they had a couple more in stock and thanks to the $10 off coupon people posted above it came to about $97 total with free shipping. A great traveling/browsing the web type device. I just hope that the microSD card slot goes beyond 32GB, but if not that's okay too

What did you ask the sales rep I tried this but the person I got never heard of the tablet. She said if I gave her the product number she would be able to help me but I couldn't get it since it was sold out online. And before I called, a online chat person told they did have some in stock but I would have to call.

I told them I wanted the Stream 7 Tablet, and then at first they started giving me options for the Stream mini laptops, and then I repeated myself again and she apologized and said there was a few left. But the product name is: HP Stream 7 5701 Tablet US, good luck and I hope you get one!

Thanks, I was able to order one. It should be here Wednesday.

S​o, has anyone received theirs yet? Looks like I didn't get in on the first batch. HPs order status doesn't tell me anything good about my order.

How much of the ssd memory usable. I should be getting mine on Wednesday.

May have finally ound the tablet that will make me upgrade from my HP Touchpad ;) Actually, looking forward to having both (as my touchpad now runs Android KitKat )

Got mine at Office Depot this afternoon. ONe thing I wish is taht the WIndows Implmenetation on the tablet KNEW it was on a tablet. For example, if I am running pandora for music, when the screen goes dark it stops the music. The oS and apps seem to assume they are on a desktop amchine or laptop, and tablets should allow some different things (but I "get" why this is, such is the down side of a full OS on the tablet.

Just picked one up...used 5% Bing Reward and got Free two day shipping from Bing Rewards