AccuWeather is one of the best weather apps for Windows 10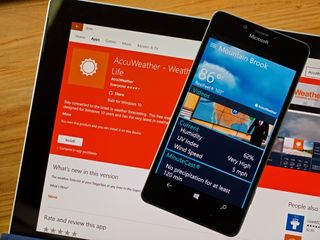 AccuWeather has been a staple weather app since the days of Windows Phone 7 and has seen its fair share of facelifts over the years that included interface redesigns and new features. AccuWeather has kept pace with the evolution of our Windows ecosystem.
The app is now built for Windows 10 with both the PC and Mobile versions offering the smooth interface customary to the platform. With all the changes that the Windows 10 app has gone through, it was time we revisited the weather app. The free Windows 10 app still has some room for improvement, but overall it's a solid option to consider if you are searching for a weather app for you PC or Mobile device.
I think the most noticeable change in the Windows 10 Mobile app is that the design transitioned from a panoramic layout to a vertical. The vertical scrolling design lends itself to one-handed operation and presents the basic weather information in snapshot fashion.
The Windows 10 PC version of AccuWeather offers the same information snapshots for your forecast city, but the larger screen of the PC or Tablet provides a bit more elbow room. The PC version shares the same vertical scroll the Windows 10 Mobile version offers, but the tiles are not in a single column.
Regardless of the device, AccuWeather's main display offers:
Current temperature with ReelFeel temperature and current conditions illustrated with weather graphics
Access to weather videos
Current conditions that include humidity, UV Index and Wind Speed
Minute Cast, a prediction on when to expect weather changes (e.g. when it's gonna rain)
Hourly forecast
Looking Ahead forecast that is generally what to expect in twelve hours
Daily forecast highlighting today/tomorrow
Weather Maps (radar imagery)
Tapping on any of these snippets of information expands the screen that includes more detailed weather data. The weather map is animated and covers both satellite, radar and future radar imagery.
Along with the snapshots of weather information, the primary display for Accuweather has a menu button in the upper left corner of the screen. This drop down menu provides your forecast location information, the ability to log in/out of your Accuweather account (sync locations between devices), access to the settings and the ability to share the app.
Locations can be based on your current location or entered manually. You can manage these locations, pin them to your Start Screen and tag them as favorites through the edit menu located at the bottom of the app's drop-down menu.
Settings are a little on the modest side but does a nice job of things. Options include General settings that cover units of measurement, Live Tile on/off, which location to use on start-up and turning on/off severe weather alerts. AccuWeather also has options for theme choices (dark and light) and turning on/off animation.
The Windows 10 Mobile version of AccuWeather lacks lockscreen support and this is a good spot to talk about where there is room for improvement for the Windows 10 weather app.
While the Windows 10 PC version has lockscreen support, the Windows 10 Mobile version should have it as well. The lockscreen is a great way to stay informed of the weather at a glance. Hopefully, lockscreen support is an update away and includes the option to use local images for the wallpaper.
Live Tile support isn't terrible but lacks the customization alternatives have. AccuWeather needs to take notice of weather apps like Amazing Weather HD and Appy Weather where you can customize what information appears on the Live Tile.
The Severe Weather Alerts can help in preparing for the worst Mother Nature can throw at you and while I like the in-app and Live Tile alerts, AccuWeather needs to have support for Toast Notifications to further enhance the warnings. It also wouldn't hurt to have notifications like The Weather Channel app for nearby lightning strikes as well.
Overall, the AccuWeather app remains a solid source for weather information and forecasts. The mobile design has evolved into an easy way to scroll through the forecast when you only have one hand to spare. The desktop app takes advantage of the larger display to offer a clean, informative appearance.
It is a crowded field with regards to Windows 10 weather apps, with plenty of quality choices to consider. While there is some room for improvement, the AccuWeather remains one of the better options of this genre of apps.
Download AccuWeather for Windows 10 PC and Mobile (opens in new tab)
Get the Windows Central Newsletter
All the latest news, reviews, and guides for Windows and Xbox diehards.
George is the Reviews Editor at Windows Central, concentrating on Windows 10 PC and Mobile apps. He's been a supporter of the platform since the days of Windows CE and uses his current Windows 10 Mobile phone daily to keep up with life and enjoy a game during down time.
Why is there never a live tile pic of these weather apps? Despite how good they may be the potential user will always want to see how it looks on the start screen.

That's a good point. I never thought about it before. The live tile for Accuweather is where I think it looses. The font is too small, they share too much info, and it seems like the first tile flip is random selection instead of the current weather conditions. It is nice that the radar appears on the live tile. I hope the app developers add a section in the settings to let us choose the information that is displayed on the tile and to make the text larger or make it bold.

Because one of the big issues with Accuweather is their live tile seldom works correctly. That's there only thing keeping it from being my default weather app.

Yeah, I switched to The Weather Channel App because of that, and lack of "future" radar on Accuweather. I may revisit that though, because the Accuweather app has a cleaner look in my opinion. And a lot less ads and clickbait than TWC app has.

Well, one,of the best tiles Ive ever seen is MSN weather app

Too bad it's almost always showing just the app name and icon when you unlock the phone. Posted via the Windows Central App for Android

I still think windows native one is best.

I prefer it too....except I wish the Android version had push alerts. I'd like to know when there's a weather watch, etc. when it happens other than when I just happen to glance the widget. Nice having the same familar look and feel on all devices and platforms.

Probably because it doesn't show your current location unless you're at home. The Accuweather live tile sucks, that's why I don't use it and that's why It's NOT the best.

I've been back and forth between the weather channel and this app I think the weather channel has the edge

Agreed, but only slightly. Accuweather's live tile is the weakest point for me. Too much info in a very small font. I wish both apps would bring back the local weather forcast videos. I would play them while I was getting ready for work. Now they only have very generic region weather reports.

Have a look at aurora weather, It's bloody brilliant, a 3 way flip on the live tile as well Dead accurate too in the uk using weather underground, in my humble opinion it knocks the socks off accuweather which since the last update has gone pear shaped!!

One of the best weather app but there are bugs in the live tile. When we pin tile to start screen it remains orange for some and doesn't update. Live tile also does not provide 3 or 5 weather while previous versions in wp8. 1 and this was very hand and never needed to open app again and again Posted via the Windows Central App for Android

I used this for a while and looked it, by I hate having that apps, so when MS took away the ability to uninstall their weather app, I stopped using this one. I should stop reearding MS for crappy things like that, though.

You can say they have the best app all you want but I'd never touch Accuweather. I mean, who in their right mind would trust a company that puts out 90 day forecasts? 10 day forecasts are considered the longest you can go with proper accuracy and even those change constantly. I wish Weather Underground would make a Windows 10 app. They're android app is quite nice and I find them to be a very trustworthy source for weather.

Where does the MS Weather app get it's data? For a while at least, it was WU...

Amazing Weather HD is powered by Weather Underground and is my app of choice. It's completely accurate my area (NE Florida) and has one of the best Live tiles of any weather app out there.

Yeah, I too love Amazing Weather HD, not only for Its awesome live tile and lock screen options, but I love all the information it gives you as soon as you open it. No searching around to find the info I need.

In answer to my own question, it looks like its "Foreca.com." I've never heard of them. I will say, around me at least, while I really like the layout of the app, the accuracy is pretty poor compared to AccuWeather.

I have personally found both Accuweather and The Weather Channel to be entirely too bloated and slow to load at times due to heavy resource usage. It's hard on a limited data plan as well. The Weather Channel is the worst offender in this regard. I have found that using the MSN Weather app along side NOAA Weather RADAR for the radar portion (which also has live tile Radar) that I have everything I need in a quick, responsive interface. I'll stick with that.

I am using Accuweather now, and switched to it a few months ago. Its pretty good and it is accurate but the interface is not the best IMO. The best user interface IMO is WeatherBug by a long shot. No other weather app comes close to it.
Why am I not using that app?? Well 90% of the freaking time the maps and radar do not work. Accuweather the maps and radar work 100% of the time quickly and accurately.

Amazing Weather HD has one of the best live tiles

If it would work it stopped showing any weather data a few Redstone builds ago. Reinstall didn't help. Regardless of the city I chose. Worked before

I've tried all these weather apps and I still give my vote to the native Microsoft one hands down. Flawless for what it does love it.

I tried few weather app, AccuWeather is best inside the app, but for quick view, MS Weather live tile is better.

I found when Accu went W10, the UI was way too bright and simple. On the free app there would be a huge ad right in the middle, which was quite intrusive. I like MS weather for its simplicity, but in the end I ended up with Amazing Weather HD. Great app with many configurations for the live tile, and best of all, the live backgrounds! I tried them all, but I finally found one I 'really' liked. Still use MS as a back up, and accu on the work devices.

For mobile I preview 4castr. Its live tile & alerts are really good. For minimalistic Blue Skies is excellent. Haven't used anything other than MS' own on desktop.

Pro-tip: "preview" = "prefer"

You should try Weather Quote, why isn't this app famous? Its one of the best free app I seen so far. It has lock screen weather and quotes :D plus a lovely start screen tile that you can customise.

I've used this for years on Android, and have paid for it both there and on Win 10. I was actually really pleased to see the Win 10 version ahead of Android in some respects, such as the future radar prediction. While I initially had issues with the tile updating on Win 10, it was an issue which plagued multiple apps, including 1st party. Reinstalling Win 10 from an oem image resolved that. However, while the UI on a mobile device (judging by the screenshots in this article) largely mirror that of Android, which is fine, the layout on my Surface Pro 3 is awful. About 1.5 inches of the left border is permanently taken up with a location selection, which won't minimize to a burger menu or equivalent. Of the remainder of the screen, half of it is permanently taken up with a photograph showing current conditions, something which take a fraction of the screen on mobile and incorporates menus anyway. Of the portion of the screen that's left which shows useful information, you have to scroll down to get to the radar tile because it's off the bottom of the screen. You have a graphic of it in the article, under the PC version. It's just a complete waste of screen space and poor UX. I'd love to convey this directly to the developers, but I'm not sure how. They obviously take on feedback, because when they initially switched to material design on Android, it was quite poor, but they quickly ironed out the kinks.

Native W10M app would be all I want but it's never worked properly for me now on two different handsets (and many different builds, including the current Insider Ring preview so little hope then in the Anniversary update) - when you first press the tile you get an "error has occurred" - go to the options and select Favourites, and then click your home location and all is well. So it's a small thing but it's been irritating enough to drive me to Accuweather... oh and perhaps because of this the live tile rarely works either, and that's really important when most of the time you just want a quick glance at what's coming up

The weather app Forecast is also really good, especially for European users. It has a clean UI, you can customize the units of measurement, the live tile is clean and fairly minimalistic. No weather alerts though, if you need those. It's been my favorite for years now.

Stay cool George, gonna be a hot one...daily for two more months.

I've been using The Weather Network app for a while and have found it to be quite reliable. The live tile is also pretty good!

Live tile has never worked for me and still doesn't on my 950 XL. Support says they are aware of the issue. My goto is The Weather Channel

Amazing Weather HD is stillmy favorite on mobile

Vieather app - still the best personally :)

BTW! MSN Weather Rocks!!! Best Live tile functioning.

I thing dead line is on aug 2... It may decide the sustainability of wp...

The Weather app from Microsoft on Windows 10 is better and have a better UI.

Can't even enter my location without the app crashing so it's utterly useless for me Posted via the Windows Central App for Android

I love using perfect weather fun and so far has the best live tile

If you take a look at this mine is the 5th picture down, with the weather live tile. http://forums.windowscentral.com/windows-phone-8-1/271565-84.htm#_=_

I much preferred the old version with pivots The live tile worked well, plus you also had the option to add weather information to the lock screen which the new one doesn't do. I am using the MSN weather app now ans it is OK. .

Unfortunately it lacks hourly windchill forecasts, which are absolutely crucial in the upper Midwest. The Weatherbug app had that, but it seems to have been abandoned.

I wish Wundermap would come to Windows.

Does any other weather app for W10 mobile besides Amazing Weather HD support the Lock screen?