Acer adds Real Sense 3D camera to its Windows 8.1 Aspire V 17 Nitro laptop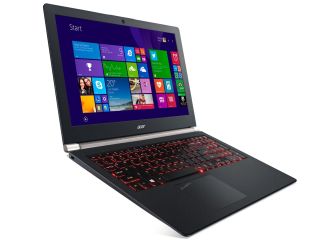 Acer will release a new version of its previously launched Windows 8.1 Aspire V 17 Nitro gaming laptop with a built-in Real Sense 3D camera from Intel. The company announced the new model as part of its CES 2015 product reveals.
Acer stated:
The notebook will launch later in January, but a specific price was not revealed.
Source: Acer (opens in new tab)
Windows Central Newsletter
Get the best of Windows Central in in your inbox, every day!
That's a nice add to the laptop especially the 3D scanning feature

Actually Acer sucks in quality.

I was just saying the technology used in LAPTOP was good not the quality. But I agree with you.

U wot m8? We have an acer laptop(idk the actual name, but it has a pretty cool i7 proc) and an aspire p3 at home and both of them works nice...so I Just wanted to tell you that I have not noticed any 'sucking' in quality yet.(for like 3-4 years now)

Too expensive actually. Posted via Windows Phone Central App

LOL No!
Why don't you give your own reviews instead of judging others. :P

Exactly they make repairs more expensive compared to their competition

Let me tell you the price... $2399-2499

I don't think so... Acer rarely sell their high end laptops with super expensive price.

you can actually get it for much less, 1310 at newegg http://www.newegg.com/Product/Product.aspx?Item=N82E16834314681

Off topic: Apps aren't downloading on my WP8.1 Lumia 720, they're just pending. It's been like this the whole day, is it just me or other people have this problem?

Why would you ask that here? Go to the forums.

Mohammed, yes, there's a bug in the store. Many people are having this issue too including me. Hope that Microsoft will working for a fix ASAP.

Does it have an SD card that was recently added? If so, you will have to cancel those that are stuck in the installing state and just go to the store and download them fresh.

Mine with the old SD card having the pending download issues too. For temporary, if u have an apps update , don't pause it , just keep downloading unless u want it pending forever.

No I don't use an SD card. Plus @MattMcQueen some apps are on deals and I fear I wont get to download them when the problem is fixed :/

U mean u already purchased that apps? Maybe I can help on that, u have twitter ?

Yes. I've experienced this today actually but after I gave it some time it worked eventually
Also about the deals u mentioned above... If u have pressed the install button and the app starts to download or even says pending then u already have purchased the app on your acc so don't worry u will still be able to download it back any time as long as its still in the store

On the touch free navigation front, has anyone here tried the Leap Motion?

860M? The 970M is a beast of a mobile graphics card and I'd rather have one of those in there seeing as this is a 2015 release. Posted via Windows Phone Central App

Exactly. With an 860m, you will be playing games on low settings and barely pushing 1080p. Crysis 3 would be out of the question.

i have an 860m and I can run everything on middle or low settings ( FHD). 860m has DDR5 and its pretty fast so dont judge it. 970 is 25% to 40% faster

Why would anyone want a gaming laptop that can only play modern games at low to medium settings? Less than a month ago, I was about to pull the trigger on an 860m laptop, but I realized that it would struggle with all of the games I like to play. New games that are coming out will be borderline unplayable on such a machine. I decided it would be better to spend a little more and get one with a 970m, so I got the Asus ROG 571JT.

Exactly. Why would they add gimmicky features like a 3D camera while neglecting to upgrade to the 970m? This is supposed to be a gaming laptop

If thy didn't have the gimmick, they would be competing with laptops like the Y50 and if they bumped the graphics (and price) that would put them in MSI range, and MSI makes a better built laptop than Acer. Posted via Windows Phone Central App

Sounds like the Kinect! Same hardware approach.

It's graphics card's ram, not the physical ram.

Really killer spec and tech...

Cool now will they actually be able to make solid products with stable drivers

What no Larrabee to drive it(or mantle for that matter)

I hate two things, the gaming design and Acer brand.

All of the customer reviews on Amazon and Newegg I read about Lenovo laptops, showed that just about every model had quality control issues. Wifi cards that were hooked up wrong and didn't work, etc.

If you need a lower cost gaming laptop. For the most powerful configurations you can do better with other brands. And I find it a bit too think for my preference, but I am coming from using a Razer Blade Pro and now a MSI Stealth Pro(with a 970m. Acer.... Think ahead.) Not to mention, this laptop has a 4k screen, and the 860M can't push 4k at 60fps. So don't waste your money. Posted via Windows Phone Central App
Windows Central Newsletter
Thank you for signing up to Windows Central. You will receive a verification email shortly.
There was a problem. Please refresh the page and try again.