HP and Acer offer new high-end Windows 8.1 gaming laptops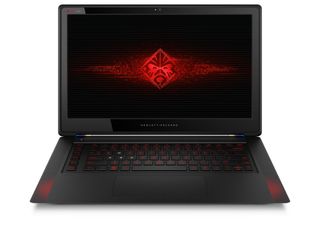 HP and Acer are both going after the gaming PC crowd with new and powerful Windows 8.1 laptops, and each company is taking a different approach towards their design and their hardware.
HP's entry is called the OMEN and is a bit of a reference to a line of gaming PCs built by a company called Voodoo that HP acquired several years ago. The new OMEN laptop packs a big 15.6-inch 1080p screen inside an aluiminum case that's just 4.68 pounds and is 19.9 mm thin. Inside there's an Intel Core i7-4710HQ processor running at 2.5GHz and a NVIDIA GTX 860M GPU.
HP is selling the new OMEN for a starting price of $1,499 with 8 GB of RAM and a 128 GB SSD. HP will offer users a way to upgrade the RAM and storage space on the laptop for higher prices.
Acer's new gaming laptop is called the V Nitro Black Edition, which also has a 15.6-inch display but is a bit heavier (5.26 pounds) and thicker (23.9mm) than the HP OMEN. However, Acer's laptop screen serves up a 3840x2160 4K display compared to the 1080p screen on the OMEN.
The Acer V Nitro Black Edition has the same CPU and GPU as the HP OMEN but comes with 16GB of RAM, 256 GB of SSD storage space and a 1 TB hard drive as standard. In addition, Acer is throwing in a digital code to download a free copy of the upcoming Ubisoft action game Assassin's Creed Unity. The laptop is now available for $1,499.99.
Does the HP or Acer solution offer the best choice for a gaming laptop?
Source: HP, Acer
Windows Central Newsletter
Get the best of Windows Central in your inbox, every day!
Acer V Nitro looking much better
But its not available in India

i dont think either of them will be available here man

I take it you mean specs and not looks, cos looking wise the HP wins hands down.

Too late I bought the lenovo 50-70

Man I would love to get on of those!! Sadly gaming PC market in India is very low so these two might not see the light here. :'(

even if it does manage to release here, due to the tax system, the price is going to be out of reach for majority of the gaming crowd

majority of indian gamers are gamers who download games from torrent.

Majority of Indian gamers are gamers who always lag in dota 2 game and type a bunch of non English language to communicate with teammates. And the worst, feed all the game

Hey that's not fair! I talk purely English and am the one usually telling ppl to stop feeding. Damn you for categorizing us all like some.

You don't even know anything about Indians..... We are the guys who speak English grammatically correct....

Alienware is the biggest brand name in gaming PC market, they are available in India since years, don't know what is stopping you from buying. Don't forget that these $1500+ laptops will all cost above 1 lakh in India just like Alienware.

& unlike aw they dont give you the opportunity to switch out the discrete gpu when it becomes out of date.

Yes, Both AW17 and AW18 are upgrade friendly.

Brother no disrespect intended but don't you think I might at least know how many ₹, 1500 dollars are. More over you are right Alienware has been available in India for long but that's it, you are stuck to a single choice if you want a gaming laptop. All I am,saying is that we Indians deserve more choices.

ASUS ROG series and MSI GT series are also available in India, there you go, not one or two but three of the biggest hardcore gaming brands are available in India apart from mainstream Lenovo gaming laptops. So, pick your choice, enough options are available in the Indian market for gaming laptop enthusiasts.

Would be interested. Would be more interested in how gaming graphics cards cope with CAD as against a work station.

I smell an Omen price drop.

Sorry to go off topic, but... Can someone plz give me some pointers to convince my friends that Windows phone is better than IOS (Lumia 930)

First of all, the customization options and camera
You had better study the 930 and the IOS device before start any conversation.
If you need any help with this send me a massage on Facebook
(I'm a pro, on of my teacher will buy a730, and my and my best friend will get the 830 and sell his s3)

Wireless charging. Most iphone users have bought new charging cables because they break all the time.
Better camera
32gb vs most people having 16gb
Can see info on the start screen, ios just a list of apps.
Kids corner is awesome. My 3yr old can play with my phone without worrying about in app purchases etc

What will you gain by doing this?

Drop your lumia on the ground and drop thier iPhone from the same height see which one is shattered

No Man don't do that. I broke 920/1020/1520.all of them from very low height but I hit the precise spot to break the glass...those glass are scratch resistant but not fall resistant. And iPhone changing glass is cheaper than lumia

iOS quality is on the decline. They had to withdraw an update for the first time recently and I hear countless reports from iphone users I know about things not working after installing an update, plus battery life issues. Apple is obsessed with thinness to the point of making the battery too small. The galaxy S5 for example has 1000mAh more battery capacity. 1800 vs 2800 approximately.

Try to bend both phones. Careful, don't hurt your hands when bending Lumia.
Enough said

Go to the forums, don't derail the conversation here, especially for something so juvenile.

Acer just blew HP out of the water.

Shame it's so boring and pedestrian looking, hardly appealing for a gaming laptop.

No doubt the latter one has got the better specs but I guess I would gave got omen because of the build quality and ruggedness of HP laptops

yup... been using an HP laptop for the past 7 years... DV6.. still going strong except for the battery :D

I have to agree. Throw their $300 Best Buy stuff out the window but the high end HP laptops are actually really good.

My aspire 4720 run for 5 ye6 years while my aspire 5755G run for 2 years. Both still running ok

Ohh...I'm not saying that Acer makes bad laptops.We've got three HP laptops at home(A DV9000 DV4 and pavilion 15) all of which are still in good conditions.Going for HP is just my personal opinion. ;)

They are good only if HP releases driver updates, which they don't.

and no driver support for HP laptops as well, so that ruggedness will be useless anyway if you are concerned with longevity of the laptop.

True that. I'm still using a high end HP Envy that goes in my backpack and all over the place on a daily basis.

Free ac unity!! I want one

Why would you want 4k on a gaming laptop? With that gpu you will have to run games at 1080 and subject yourself to scaling in windows.

That is exactly what everyone seems to be missing !!

That Acer sounds so good but its still an Acer. I have had no luck with Acer many broken netbooks/notebooks and desktops after just a few months

Sorry to hear that. I have an emachines (by acer) laptop for 7 years now and still working. Currently running W10 btw. Though the battery is broken obviously. We really just have that specific brand we are unlucky with

They are generally of low build quality. Its always worth it to pay a bit extra for a better brand and I consider HP to be better than Acer.

HP might be better in build quality but they suck in driver support, so in a year or two all you are left with is a paperweight that can't properly run anything graphics intensive.

It's a toss up for me, based on experience with lower end models from both. True, you get what you pay for. However, if your low-end models feel (and sometimes act) like crap, how will that convince me to buy one of your higher-end models? I'm going to wait and see until more people buy...

Would love to get this with AMD CPU and GPU inside :)

These are over priced Asus ROG is only 800$ so id go with it

Looks like some very nice rigs. I'm pretty happy with my Envy laptop though, and my next gaming rig will probably be a desktop in a few years.

WARNING about HP Just a warning to anyone considering buying an HP laptop; just don't. HP sucks with driver support and you can forget about getting new drivers period. I made the mistake of buying an HP Pavilion-dv7 quad core with AMD HD6770M GPU and HP refused to release new drivers and discontinued all driver support even before the two year warranty run out. Because the laptop uses swichable graphics you can't just use generic AMD/Intel drivers or it will simply not work. I could not even upgrade to Windows 8 and am stuck with Windows 7 because HP refused to provide Windows 8 compatible drivers. So until HP steps up and provides proper support for drivers and firmware updates not just for new BUT for existing owners as well, just stay away from them and their unsuported products. For anyone interested, the laptop I am refering to is Product number: LM726AV. You can find plenty of others complaing to HP about the lack of drivers.

Unfortunately happens with the odd model for every manufacturer. I had the same problem with my last Sony laptop. There's always ways to upgrade and find drivers, though it can be a hassle to find the solution.

Last time I looked into it when my GoPro Studio constantly crashed with an error to update the outdated Intel Driver, I found many forums discussing the issues with drivers for the HP AMD HD6770M/Intel combo, but ultimately no stable solution if you wanted to keep using the swichable graphics function, as HP have designed their custom AMD/Intel combo driver that can't be updated with the generic ones without breaking the swichability function. All I can say is HP is never getting my business again, unless by a miracle they release the updated GPU drivers for their older models using the AMD HD6770M gpu.

I've had an HP dv7 i7 with the AMD 6770 GPU since January 2012. Upgraded to Windows 8 that year and was able to download the drivers HP website. Now am on Windows 8.1 with most of the games still running as expected.

Care to link to the HP driver page for your model? or just list your model? I have the following model, bought in fall of 2011. http://h10025.www1.hp.com/ewfrf/wc/softwareCategory?product=5112006&lc=en&cc=us&dlc=en&lang=en&cc=us As you can see only Windows 7 drivers are available and even those are the really old 2011 ones. e.g. 2011-11-18 , Version8.882.2.3000, 338.98M Not a single updated driver, which is just disgusting for a laptop that cost me over $1500.

Sure: http://h10025.www1.hp.com/ewfrf/wc/softwareCategory?os=4132&lc=en&cc=us&... The one I have is almost a year newer: 2012-11-23 , Version9.0.0.0, 297.14M BTW, the first time I updated to Windows 8 caused issues for me for the gfx card. I reformatted the PC and installed all the drivers from scratch using the WIndows 8 versions. Let me knw if that works.

Acer wins hands down here

Gaming laptop must be 17 Inches Minimum -,-

That HP one looks sweet! I wish it had an option for a normal hard drive though instead of SSD for those who want more space

Alienware is pricey, but absolutely the best, when it comes to heavy mobile gaming BEST let that sound off...

thought you said gaming pc ? gaming pcs with those resolutions need good video cards like a 880. these are not high end at all.

There are still other OEMs like Razer and Dell but new OEMs is always welcome...

I don't know what's happened to HP but they have really lost their way as far as value proposition compared to a few years ago and now I wouldn't even consider them. This comparision with the Acer machine is instructive for the same price the Acer is a much better value proposition. No contest.

I just purchased the msi gt 72 - with a nvidea gtx 980 - why are oems are still using the 8 series? Then again the msi is a big heavy beast. The weight is nothing, for me, but I can see the draw on this. The Lenovo y50 has the nvidea 860 and I believe is cheaper... Better option to the hp and Acer? Though it's only 1080p - not that you need more. If you're serious about gaming you'll be investing in a monitor and other stuff.

Are they new? Who said that? The new gaming laptops are coming with a nvidia 960, 970,980.

I know! It's a shame but I guess these two devices were slow to the market. Not that the older cards are bad, but the newer Maxwell cards bring battery benefits and extras oomph.

Gaming laptops suck though...

The Acer just put the smack down.

Saw the review for Nitro by Boredatwork, not bad. I would buy the Acer.

I think I will stick to regular laptops theses laptops though are able to play latest pc release and even ps4 or Xbox one emulators should work fine... But I still haven't played thousands of older releases like Halo 2 or ect.. U get the picture...

All I want is a great AMD laptop with Kaveri. Their best mobile APU is still nowhere to be seen. Tired of all these Haswell variants. No sarcasm.

I'll take a plain looking laptop if it means I have the better display/ram/and SSD with tb harddrive. Looks aren't everything.

Am I the only person who *requires* a number pad in a 15" laptop? Back to the drawing board, HP.

Wow? Who said that the 860m is gaming series??? Gaming series have GTX prefix and those cost more. This is a weak gpu which will run most games in medium resolution or even less.I am searching for budget gaming laptops and they ask seem to have 8xxm gpu which is a weakling.I got pretty exited on teasing the title but disappointed after reading it.

Can PCs like these manage to look good(game settings on ULTRA) when gaming on an HDTV(46 inches +) via HDMI?

lol both these laptops have shitty up and dow arrow key size.

Wow this will very help ful for all game lovers..........