The Acer Jade Primo Premium Pack is a PC in a box for €800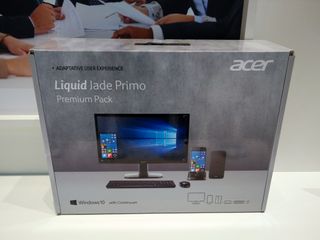 Acer is very much leveraging the power of Continuum with its forthcoming Jade Primo Windows 10 Mobile phone, and at Mobile World Congress we've had a glance at a forthcoming bundle that's quite literally a PC in a box.
The Premium Pack comes in a big box and contains the Jade Primo (of course), the Continuum dock, a case, a keyboard, mouse and a PC monitor. Everything you need for your pocket PC.
All this doesn't come cheap, but then it's also not likely targeted at consumers. The price in France will be €800, and we weren't able to get any other regional information. It's an intriguing prospect though, even if it's likely it'll be sold mostly to enterprise customers.
Would you buy it though? Sound off in the comments below!
Windows Central Newsletter
Get the best of Windows Central in in your inbox, every day!
Managing Editor - Tech, Reviews
Richard Devine is a Managing Editor at Windows Central with over a decade of experience. A former Project Manager and long-term tech addict, he joined Mobile Nations in 2011 and has been found on Android Central and iMore as well as Windows Central. Currently, you'll find him steering the site's coverage of all manner of PC hardware and reviews. Find him on Mastodon at mstdn.social/@richdevine
I so called this when they changed CEO's. Microsoft is going the way of IBM. Enterprise = good. Consumer = bad.

Enterprise is where they make money. Consumers only want things with subsidies. Companies buy things outright.

Consurmers only want Snapchat and tinder. Lame

I don't get Snapchat I think it's stupid.

I don't get Snapchat either, but that's probably because I'm getting old. oi...

You don't like snapchat because you are intellectually superior. :P

I totally agree with you. Posted from my free Obama phone while smoking my morning weed and earing my breakfast all paid for with my Obama welfare bucks $!

So did you forget about Xbox. The consumer has shown an absolute disinterest in the mobile platform from MS. They are just doing what is business smart. Sometimes you have to change your strategy.

No one speaks for everyone :P.

Why didn't you just answer Anurag's question?

Consumer is like that friend who say anything is fine when you asked what they want to eat, and then keep on complaining they don't like it when you made the decision for them. I'm really amazed of the peoples who can convince millions of heads to buy something they might not even need.

That's looking at a single thread and trying to divine the image on the tapestry. Any company trying to develop a product market needs to have a beachead market, one that it can capture and hold with dominance. For Microsoft, the logical starting point is Enterprise. Clearly, with XBox, XBox integration with Windows 10, Groove, etc. Microsoft is very interested in the the consumer space. But to get there in mobile, they need to first have a secure beachhead from which to grow into consumer. They're being smart about this -- they're leveraging their enterprise strength to get phones where they can form a mobile beachead. At the same time, they're leveraging their consumers strengths to get ready for Windows Phone making the move back to the consumer space. It's the right strategy. It might still fail because the competition will also fight to win it, but it's the right strategy when you look at Microsoft's strengths, weaknesses, and competitive threats.

I payed 740€ for a frikkin oculus.. and you get all this for 800€ ?

Can you stop this joke and come up with a bew one already? Posted from Windows Central for Windows 10

Not bad, really. Only like $150 more than a regular price 950 XL with dock.

Well, the Primo is a lower-speced phone, so the comparison isn't exact.

The Primo isn't massively outspecced by the Lumia's and this does include the monitor, mouse, and keyboard. It depends on the quality of the extras, really. Posted from Windows Central for Windows 10

Ahh, thanks for that clarification. I was thinking the Primo was on the 617, but it's on the 808 inside the 950. Maybe it's the Neo that's on the 617. One thing though, he said it was about $150 more than the 950 XL and Display Dock, but wasn't MS including the Display Dock with XL purchases? If so, you're talking $650 vs. about $880, or about $230 difference. For a low-end pair of peripherals and an OK monitor (whose specs I didn't see broken down), that's not too impressive, and it might even be a bit overpriced.

It might be, but it's not about value. It's focused towards enterprise Posted from Windows Central for Windows 10

What is the enterprise going to do with WindowsRT? This has fail written all over it. Again. Posted via the Windows Central App for Android

What are you talking about? This isn't RT. This is W10M and its context-specific functionality. For starters, enterprise almost certainly subscribes to Office 365, letting folks plop down the phone and do Office editing. Also, the potentials of Islandwood, the Win32 bridge, and virtualization like HP Workspace can bring aboard a lot more functionality. Oh, and TeamView lets me remote to my home PC on my phone and do stuff. This could make the phone a remote PC tool as well.

Well said From the Windows Central Universal Application on Windows 10

WindowsRT never had half the potential of Windows 10. Let's face it, WindowsRT was at the top of its game when it was first released.

I concur. I thought it a baffling mess when it launched, and was asking why it wasn't an Atom-powered chip on full Windows (which the Surface 3 now is, of course). They basically gave you the worst part of W8 (the split personality) and nothing else. It just didn't make sense, and it seemed they just wanted SOMETHING outisde of the $1,000+ market. It was a bizarre strategy.

Indubitably. From the Windows Central Universal Application on Windows 10

Nice lack of vision, this coupled with Citrix Xenapp is a game changer just by itself.

You can't do a straight comparison from prices in Euros to USD, or any other currency for that matter. Taxes man, taxes...and prices are generally much lower in the US for some odd reason (not just counting VAT).

We can. Clearly evident by the fact that we did. Now whether or not we SHOULD is an entirely different question, and a question that changes answers depending on its context. We're not trying to prove something through explicit empirical data, only speculating as to whether or not this is a good value. I believe that is altogether justified and within reason.

It depends on the situation. If I can get the bundle in the US, the comparison isn't great. If I have to import and pay the Euro price, then pay for extra shipping to the US, I'm absolutely going to make the comparison across currencies.

Considering everything it has I wouldn't say that it is expensive. Yes you could get a cheaper laptop but it wouldn't be as mobile and you would still have to buy a phone. For some people this could help decrease costs and clutter all while increasing functionality.

It's definitely not a BAD price, it's just not a great one. You can probably spend that much and get a better pair of input devices, or maybe a better monitor. It seems just slightly overpriced for convenience, but that's without having specs to look at on the included stuff, or taking the time to comparison shop.

That's a really good pack. If available in Brazil, I could consider buy it

If this was x86 this would sell like hotcakes...though if x86 would that improve app store...can't wait to see that play out over the next 12 months.

x86 would also need alot more cooling, otherwise it'd get hot as a stove in your phone

the intel compute stick runs at the same temp as my 950XL. slap a screen and a battery on that and we have a x86 phone.

And a 30 minute battery life Posted via the Windows Central App for Android

so it would be better then my 950XL....

BS I use my 950XL all day and it lasts all day.

did your mama not teach you what a joke is?

Not really a monitor that size can be bought cheaply these days if it were 1440 or higher id be worth it

Prices will drops and it will be a nice buy ;)

Waiting in England UK Sooner Posted from Windows Central for Windows 10

Want one as well Posted from Windows Central for Windows 10

Not bad for what is around £630. Whilst I don't think it would work out as too much of a better deal than getting a 950 and everything separate, it's certainly more convenient as one neat package.

The Primo looks nice but can I swap that out for the Elite x3 and still keep the price at $800? lol

The Primo's usb-c connection is off center. The HP wouldn't fit.

Between Acer and HP, it's nice to see vendors other than Microsoft pushing continuum.

I want Lenovo, Asus, Samsung to join

Acer should have the scale to get that down at least another $100 but I think that is targeted at enterprise so they will add higher markup.

Acer is also working on the Jade Primo 2 now. It could be a SD820 based W10M phone.

This will be the future of Windows Mobile. This, I believe, is what Microsoft's goal is.

Maybe we are seeing a bit of the future here? First the fruit phone folks will call it just a fad or say there is no market for it. The the Fruit Faithful will come out with their own version and say they invented it.

I think maybe I'll open a Continuum Cafe. Coffee, croissants and docks. Cater to business folks. Think it will catch on?

Oh my god. Thats one hell of a ******* idea. Posted via Samsung Galaxy S6 but still love for Windows.

@Pappa Ed. Don't forget the wireless charging tables! :)

Can charge up direct with a dock.

@peach001. Yes I'm aware.... lol However as it's a "cafe" it stands to reason people wouldn't want to eat solely at the docking stations :P.

Be nice if MS partnered with Starbucks et al, get a screen, dock, mouse and keyboard in their shop. Nice place to charge and do stuff. I am amazed at how many business types do work and have meetings in Starbucks.

Way of out my league, but I feel like this is the future for companies.

Not really expensive when you consider all the accessories you have in that box ! To bad I just bought my Lumia 950XL...

Too expensive, i would rather buy an iPhone and a 200$ W10 PC Posted from Windows Central for Windows 10

Can't afford it, just telling how i would spend those 800$ :D

Why did you open this topic? Just to whine? Nobody cares. Go and buy that ducking iphone or whatever you want.
This is amazing offer not interested don't open it. It's that simple. You don't go into sports section just because you don't watch it so do it with other things that you are not interested in. Posted via Samsung Galaxy S6 but still love for Windows.

So following you're reasoning, you should not comment on windows news as you're an Android user :D

Don't European carriers offer financing for phones? Posted via the Windows Central App for Android

Yes, well at least in Spain, where you at? USA ?

I'm from the US.
Why don't you just finance the iPhone that you want? Posted via the Windows Central App for Android

I'm not sure it's a priority for me right now, i have more important stuff , which make a 2 yrs deal for a phone somewhat not convincing, but how did u know I'm in Europe! Or were u asking someone else? Posted from Windows Central for Windows 10

Lucky guess lol... When you finance a phone you're paying the phone off in payment plans, a contact is when you're with that carrier for at least 2 yrs Posted via the Windows Central App for Android

My whole family has windows, I'm going to windows as soon as my contract ends for this phone aslo i have had L900, L925 and L930. Posted via Samsung Galaxy S6 but still love for Windows.

What about those of us who have forked out £500+ for a 950 / xl, only to have to stump up for a dock!! These guys even have the Monitor and ancillaries in the box for not a lot more in sterling!! Oh yeah, I know it's been said already, but, 'when in India' :-)

You can pick up a monitor and a mouse on Craigslist for $50.

@Argaron. Craigslist? Here in the UK? It's all about gumtree, didn't you know? :P. Heck you can pick up a monitor way less than that, even with vga or dvi to hdmi adapter it works out cheaper.

Hmmm, let's see... the dock, add 100 bucks, add a cheap monitor... oh wait, the 950 + all accessories is about the same price for a higher spec device... hmmm... yeah, I think I'll keep my 950 with all the fixings :-) Posted from Windows Central for Windows 10

I'd just wait a bit and go buy the phone secondhand. Most WPs don't hold their value very well in the USA.

No, I won't buy it.
​I still fancy a 6" Windows 10 device with Continuum that is sufficient for many uses, included high quality photography, that can slide into a 12" display panel to make it a 2-in-1 tablet/notebook with pen. Of course there should be a dock to create a full fledged desktop setup, which will make the 3-in1 experience complete. Not to mention, connect to huge screen through Miracast.

A smartphone come with monitor

Until the release Microsoft Project for as a supported app, I can't take this seriously.

Pricey, but interesting. This is what I expect to see with the HP Elite.

so basically you buy a monitor and oh look a windows phone is in the box as well lol

Good bargain Posted from Windows Central for Windows 10

Of course not , for 800€ u can get a much , much powerful pc than this

I agree, for much less you can get an Atom X7 small box/stick and get a powered USB hub, a keyboard, a mouse and monitor for much less price and better performance.

Acer, how about bringing a package like this but instead of the smartphone and Continuum dock, put a Atom X7 Stick powered by Windows 10 destkop, I would buy it. The issue with Continuum is the lack of Windows apps for the Windows 10 Mobile platform, having the desktop OS is much better for productivity. Just my 2 cents.

How is this not cheap? Much depends on the qulity of the screen but the price seems just right.

It's a better choice than lumia950/XL.

Most definitely. Convenience of pc. Anywhere any time. That is the future!

I hope HP do the same for under $1000

I'm guessing since the box is in English it's coming to English speaking nations

It's not a pc. It's a phone that can display your apps on a bigger screen.

If they would do good on marketing, this device could be a hit. Posted from Windows Central for Windows 10

This type of package will always interest me, and others like me, because I have always wanted to have a PC in my pocket that could be placed in a dock to convert into a desktop PC. However I am not sure the average consumer is ready for this yet and until the price comes down a bit, I think most people would prefer to get a cheap laptop or desktop PC and a regular phone which can be bought for less than this. Posted via the Windows Central App for Android

So...has anyone thought about Companies building continuum into monitors? Eliminating the need for an "extra" device. Would that make sense? I understand the wireless option exists, but just saying. I'm guessing this is where MS is headed with the SP (sans continuum box)!

yo mean monitors support usb type-c input, and also act as a Usb hub?

You don't really even need that, you just need WiDi built in and if you wanted USB out supplying power to charge the phone.

Pretty much! figured get rid of the actual box and have the phone plug right into the monitor. plug the usb receiver for the keyboard mouse combo into the monitor as well and go to work!

As long as enterprise had high end specs and a good camera, I'm ok!

so will here be a option without the monitor?

I would definitely cop this. I think they'll be consumer versions down the line Posted from Windows Central for Windows 10

I probably would buy this if it had an x86 CPU and ran regular win32 apps in continuum.

Considering the smartphone (600) the dock (100?) and the display (not less than 100), keyboard and mouse are for free...of course everything depends on quality. Q: are the mouse/keyboard bluetooth or wireless with usb dongle?

1113. USA dollars Hmm deducting for the mnoitor keyboard and dock, means the Smart phone costs 650 to 700 usa dollars. about the same price as the MS Lumia 950 / 950 XL. I will watch this bundles sales closely to see how mant Fokls go for it

hmm folks go to a flea market buy a used montor them buy a logitech USB wireless mouse and keybooard for less than 60 bucks and 950 XLith it's dock on phone contract and you are "in like Flint".

Hmmm... interesting move. I was hoping for something like this and the price seems to be fair. Cool
Windows Central Newsletter
Thank you for signing up to Windows Central. You will receive a verification email shortly.
There was a problem. Please refresh the page and try again.