Acer Liquid Jade Primo and Desktop Kit - Unboxing and first impressions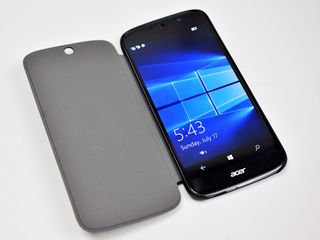 Late last week, the Acer Liquid Jade Primo made its way to the United States. The phone comes with a Desktop kit for Continuum (dock, wireless keyboard, and mouse) and is available at the Microsoft Store for $649.
I got my hands on one of the kits and today I'll unbox and give you my thoughts on what I think so far of this new Windows 10 Mobile phone!
Acer Liquid Jade Primo Specifications
Swipe to scroll horizontally
Category
Jade Primo
Processor
Qualcomm Snapdragon 808 (MSM8992) Hexa Core Processor
Memory
RAM: 3GB
Mass memory
32GB storage
microSD memory slot up to 128GB (SDXC compatible)
Display
5.5" AMOLED Full HD 1080P (1920 x 1080)
Battery
2870 mAh non-replaceable Li-polymer battery
Camera
Main, rear camera: 21MP, auto focus, Dual LED flashlight
Front-facing camera: 8MP, fixed focus
Connectivity
Dual SIM
USB 3.1 (Type-C)
Bluetooth 4.0 EDR
802.11ac WiFi featuring MIMO technology (Dual-Band 2.4GHz and 5GHz)
Sensors
Light sensor
G sensor
E-Compass
Proximity sensor
Hall sensor
Gyro Sensor
GPS/AGPS
Dimensions
6.16 x 2.99 x 0.33 in (156.5 x 75.9 x 8.4 mm) (L x W H)
Weight
0.33 lbs. (150 g)
Acer Liquid Jade Primo Unboxing
In this raw video, I take apart the kit and show you what you get for $649. While the kit itself has some unique packaging, the idea behind this Continuum all-in-one is certainly interesting.
What's in the Desktop Kit?
Acer Liquid Jade Primo
Smart Cover
Continuum Dock
Wireless Keyboard
Wireless Mouse
AC power adapter
AC power cord
SIM key
First thoughts
So far, I am pleasantly surprised by the Jade Primo. More specifically, I like it more than I thought I would. The build quality and feel is very different from a Lumia 950 and Lumia 950 XL, and I can't help by notice that Acer borrowed a bit from Samsung's design here. That's not a bad thing, however, as the Jade Primo feels great to hold albeit a bit tall.
Let's go through the high points and then I'll hit up the weaker ones.
Pros
Display – Even though it's "only" Full HD this AMOLED display looks sharp, clear, and is quite bright. Considering you look at a smartphone a lot, this is a strength of this phone. I also think 5.5-inches is the sweet spot, falling right in between the Lumia 950 and Lumia 950 XL.
Feels great – Being a thin phone with curved edges the Jade Primo has a great design
Good battery – Since this phone is using a Full HD AMOLED display it is getting better battery life the Lumia 950 so far
Loud speaker – Although the placement is a little odd that little speaker can crank loud; however, it lacks bass and is almost all treble erring on the side of being too crisp
Smart Cover – The smart cover only turns on the display when opened, but the cover itself goes well with the phone, and I like it more than I thought I would
Wireless Continuum – The Acer dock uses HDMI to connect to a display, but the keyboard and mouse are wireless. Result? This setup works great for a TV & Continuum experience. You can dock the phone by your television and use the mouse and keyboard on the couch. I find myself using it this way more often than I thought.
Decent Camera – I'm actually subtly impressed by the camera. The duo-tone flash works very well, and the camera can do some excellent metering and balancing of multiple light sources. It can get some better than average photos, which is more than I was expecting. Colors, however, are very muted, and there is a lack of vibrancy.
Fast Ring Ready - Being a new Windows 10 Mobile phone you can use the Insider Fast Ring and get the Anniversary Update. I had issues with 14390, but it so far 14393 is working quite well.
Dual SIM/micro SD - The new fad in smartphones including the HP Elite x3 is offering a dual-SIM/micro SD setup. This choice means you can run either two SIMs or a SIM and micro SD card. It's a weird situation as ideally some people will want everything – dual SIM and micro SD – but this lets OEMs save some space and give more options to customers.
LTE - I can confirm that you can run full LTE on AT&T or T-Mobile with this phone. There is no CDMA support, so Verizon and Sprint are still out.
Charge with the phone off - Lots of people ask for the ability to charge the phone while the display is off. The Jade Primo like the Moly phones can do this trick.
No Bloat - Acer doesn't even add third party apps to their Jade Primo. It's straight Windows 10 Mobile build 10586.318. There is also no customization.
Overall, that is a pretty solid list of pros for this phone. There is an LED for charging but as usual, there is nothing yet in the OS to enable it for notifications. Being a Snapdragon 808 you did get Fast Charging too, which helps make up for lack of Qi or a removable battery. The vibration and haptic feedback engine is stronger than average.
Cons
Nonetheless, there are some quirks and oddities as well.
No NFC - How do you omit NFC in a high-end (or near high-end if you want to be pedantic) phone in 2016? I don't know, but Acer did not put NFC on this phone and I'm not entirely sure why. That, of course, means no Mobile Payments for this phone, which is a bummer.
Weird buttons – The Jade Primo has all its buttons its side with the volume rocker in the middle of the body and the power button below it. The buttons are decent, but the power button feels lower than it should (it's below mid-point on the phone). Still, it's better than the Lumia 950 XL in this regard.
Brightness – The Darkest/Darker/Suggested/Brighter/Brightest presets do nothing. The whole auto-sensing part in Redstone is not working. [Update: On 7/22 this was fixed with the 14393.3 OS patch!] You can use the manual percent stepping instead. The display also does not get very dark, which is bad if you want to use it at nighttime.
Camera is finicky – While you can get some good shots the camera is a bit slower than expected and focusing is not that fast.
Odd screen accuracy – The display on 10586.494 has some odd accuracy issues where sometimes it feels like you need to tap twice on the screen target. However, this seems better with the Redstone/Anniversary Update builds.
Smart cover and dock? – While the smart cover is beautiful you cannot keep it on the device while using the Acer Dock, which is a bit of a pain
Plastic mouse and keyboard – The included mouse and keyboard are actually very nice to use, but there is no denying they feel hollow and rather cheap.
Also, there is some creakiness to the phone if you try to flex it. There is no double-tap to wake or Glance screen either. The camera button on the Lock Screen in the Anniversary Update does not work. Speaking of Anniversary Update, this phone suffers from the Wi-Fi/No Connection bug too and may be in fact worse. Microsoft is supposed to fix that soon, however, before the final release.
Acer Liquid Jade Primo Photo Gallery
Image 1 of 9
Without going into a full review, I will say so far I rather like the Acer Jade Primo. Despite some quirks, most of its issues can likely be solved with a firmware/software update. Comparing it to the Lumia 950 and Lumia 950 XL is a bit complicated, but the metaphor of it being the middle child seems to apply in this case.
Acer Liquid Jade Primo Camera Samples
I'll do more on the Acer Jade Primo in the coming weeks. Ask questions in comments and I'll try to answer.
See at the Microsoft Store (opens in new tab)
For now, you can check out the photo gallery, unboxing video, and camera samples. You can also jump into our Acer Liquid Jade Primo forums where users are sharing more information.
Windows Central Newsletter
Get the best of Windows Central in in your inbox, every day!
Daniel Rubino is the Editor-in-chief of Windows Central, head reviewer, podcast co-host, and analyst. He has been covering Microsoft since 2007 when this site was called WMExperts (and later Windows Phone Central). His interests include Windows, laptops, next-gen computing, and for some reason, watches. Before all this tech stuff, he worked on a Ph.D. in linguistics, watched people sleep (for medical purposes!), and ran the projectors at movie theaters because it was fun.
Actually, I think the price is a problem. They're competing with Android devices that have the same or better hardware and decent designs for $400-$500 (Moto g4+, ZTE Axon 7). Plus those phones don't have to ward off the "dead OS" goblins. It's a neat looking phone, but I wouldn't pay $650 for it. Posted via the Windows Central App for Android

Wil those Android Device act like a full fledged pc though?! For some Basic Mobile and PC users (like your classic mum and dad/granny and grandpa) this could be the perfect kit. Surf the web, do some text editing, banking or light gaming. That should be corners in the Windows 10 Store easily filled by developers. It all comes down to getting the message out to the right people.
If this takes of in enterprise settings? I bet you that with in a couple of years this type of personal computing will hit the mainstream. There are literally millions of people who would need no more then just this kind of kit! Posted via the Windows Central App for Android

Android is capable of it. I can do this with my Note 2. All I need is the docking station, HDMI cable, keyboard and mouse. And if needed can also connect external HDD to it. So, yes, Android can run as a 'mobile' desktop PC platform. I do this when going on vacation and connecting to the TV in the hotel room (after some fiddling) and working on it like it was a desktop.

Just wondering. While you do this on Android, are you still capable of using your phone as a phone?! Like with a Windows 10 based continuum capable smartphone? And are apps on Android just as good as Universal Windows Apps for big screen use cases?! Posted via the Windows Central App for Android

you mean like this https://www.youtube.com/watch?v=iF7yK7HAyVM http://maruos.com/

It's not a full-fledged PC. It's more like a Windows RT PC. It can't run x86 apps natively.

True, an iPad experience for computing is piss poor at best, there isn't an app for everything and are often limited from real outlook and websites. And unlike Apple whom have no plans to make iOS more than a mobile OS, eventually the user will see no difference in Phone OS and Computer OS for Windows, and Mac users will always need a mac OSX device and the iPhone if they want a real desktop experience and android will never have a real desktop experienc. Don't say chromebook that OS is a joke and the average untechie user will never be able fully integrate a Linux desktop in their lives, only power users use a Linux home environment.

you can run a full fledged linux with android! Before you get all win manned up im a windows mobile fan too! THe fact that windows phones arent value for money int new news! Its jut an acquired taste that a few of us like! Jusst for live tiles i sstay with Windwos mobile, drois and their widget look archaic compared to WM! But It time MS and OEMS upped the game here more!

Acer jade primo does not act like a full fledged pc either. more like a half baked counterfit. Continuum is a flop.

I will still Choose the Moly X1, a nice phone than this one, but without continuum function.

Does it support 720p60fps and a good recording sound for concerts ? Posted via the Windows Central App for Android

Yes, SD808 devices support even 1080p60 recording.

I need a proves that W10m supports it Posted via the Windows Central App for Android

Lumia 950 & XL is your proof

I'm also curious about this. Are there any W10M phones that record at 60FPS (720p or 1080p)?

Yes, at least 950 & it's bigger sibling can.

All newer W10M phones will support
- 1920x720 (24 fps, 25 fps, 30 fps, 60 fps)
- 1920x1080 (24 fps, 25 fps, 30 fps, 60 fps)
.
And if your phone has the Snapdragon 808, 810, 820, etc. then you will also have
3840x2160 (24 fps, 25 fps, 30 fps, 60fps, 120 fps)

3840x2160 at 120fps. Pull the other one RohanRon Posted via the Windows Central App for Android

sorry? What do you mean by "pull the other one"

It's a quote from Monty Python; roughly translated to "You're sh!tting me!"

It's a reference to "pull the other leg", a colloquialism for claiming a person is bs'ing you. It can be extended to "pull the other one, it has bells on it," adding an off-colour reference to parts of the male anatomy.

There's no 60 or 120 fps 4K option in the 950XL

My friend has the Lumia 950XL and it does have both those features.
.
I have the Lumia 950 and it has 3840x2160 @ 60fps

That's weird. My Lumia 950 XL doesn't has it either, just 4K at 30 fps, lower res up to 60fps

Weird. May be it was enabled with the recent firmware update.

nope I still haven't got the new firmware

Okay in that case I still don't have the option on my XL neither did I have it on my 950. Edit: I did some research I don't see the 950XL having higher FPS video recording @4K resolution. So either you've a prototype device or a bug in your camera software.

@pankaj981 you stop short of calling the man Pinocchio

i have the latest firmware, latest rs1 build and latest camera app it does not have those settings for 4k.

I concur: 950XL, latest "DTTW" firmware, but no way beyond 30fps at 4K. 40K@30fps is the max.

4K60? On a smartphone? If true, that's impressive. Any screenshots to prove?

YES YES YES, the 950 XL does support the 60fps in both 720 & 1080 Settings as well as 4K @ 30 fps. Not sure where the idea of 120fps came from but it is not on an XL. The XL is just AWES​OME! I'm sure this Acer unit will work well for those who can get by with it's feature set. It looks like a great phone as long as you don't need NFC and have no desire/need for it into the future. Nonetheless, everything else says this is a great phone. 21 megapix cam is also a plus It probably looks much better in person then online photo's enable you to experience. I also find it funny that talking about a 6" phone (1520) it's too big and 5.7" is the ideal size. Now that the Lumia XL is 5.7" the sweet spot is now 5.5". Is that just for Win 10 Phones or will every other manufacturer be held to this new 'sweet spot'? Personally, I like the size of the 1520 and find that the 950 XL is of an 'acceptable' size but reading is much better on the 1520. It's all about personal taste and feel once you get beyond the internal specs. And that's my humble opinion...

Noooo, please don't record concerts with smartphones! Go there to enjoy yourself, not to make bad videos as proofe you were there!

Wonderful article... HP X3 still the best windows phone as of now

When it launches at least.

And if your camera needs are mediocre. For an enterprise device, I think the HP and Acer options are pretty good. Although looking at what's missing from both of them, I'll *personally* definitely be sticking to my Lumia 950.

This! Since I've put on my mozo green back cover it's a new phone, and its camera is unmatched plus the size is just right. It really catches the eyes of everyone when they see it too :)

Agreed, one don't have NFC then Acer will blame MS, the other one a poor camera like corporate employee can't enjoy an nice camera.

In my opinion it's still the Lumi 820. Decent performance in a decent size. No better phone for my needs made yet. Only down-point is the rising price for new ones and lack of Continuuum.

950xl is better, just add mozo

Great looking phone and nice unboxing experience!

Thanks for the fist look. I like the long Pros list. I really feel like this phone is getting eclipsed by the X3 and the problem there is that the Jade Primo is the one prosumers really need to be looking at. Maybe the Daniel Rubino thumbs up will help this device get more traction.

The list of cons are pretty steep to me. No NFC, no auto-brightness adjust, no Glance? I guess Acer's long term support will be put to the test right out of the gate.

no auto-brightness adjust

This is a software issue, however. The sensor is there and it worked on TH2, just not yet on RS1.

That's what I mean by Acer's support. We've yet to see how other OEMs are going to support W10M. The track record for many on Android isn't very good.

Sounds more like it is in Microsoft's court... Daniel states it was in Threshold, but Redstone builds he tested dropped it somewhere.

I'm not 100% sure this falls on Acer if it worked before AU and doesn't now. The touch-accuracy thing improved with the AU update, so there are some things that Microsoft does too for support that may help. Not all things are firmware, but we'll see. I'll continue to monitor.

I don't think this is Acers fault at all. A LOT of devices suffer from the problem that the brightness setting isn't working right in RS1. So it's more up to Microsoft to fix it.

I'm not sure why the Cons you picked would be put on Acer for Long Term Support responsibility? No NFC would be hardware... No amount of long term support would address that unless you believe they will have you send the device in for service so the hardware can be installed/enabled. Auto-brightness appears related to running an Insider build as it was stated as a Redstone issue. No Glance... That one is tougher. Glance was a Nokia/Lumia exclusive in their firmware. Microsoft did inherit it. They seem to be sussing it out to make it part of Firmware to roll out for "made for W10M" devices. Witness that 950 and 950XL are just now getting it. Having it on a legacy Lumia worked when upgrading to 10... But I don't know of any non-Lumia that has it. I would put this on Microsoft as Glance is something they own now. Maybe they will licence it or bundle it in future WaaS updates. I can't put that one on Acer, they would have to code it from scratch and not infringe anyone else's patent. Maybe Microsoft is telling OEM's it is coming and they will roll it out when baked? IDK...

Think you might have got mixed up with the double-tap-to-wake ability that the 950's are just regaining, as they've definitely had glance from the very start.

You are correct... My mistake on that, but I stand behind the rest of it. Glance is owned by Microsoft and it is their code to impement, not Acer's.

I know Acer can't add NFC, and that is a big con since Wallet 2 is adding NFC payments. The other points are more valid in terms of support. Out of the box, Auto-brightness works, but it doesn't in the Redstone build. If this device runs stock W10M, is it going to be on MS to make sure that feature works on non-MS hardware, or will OEMs have to add some driver/firmware updates to get such things working correctly? That's what remains to be seen. MS is likely to own software issues on their own devices. What happens next if AU comes out and the feature is still broken? It's a pretty big unknown considering neither HP or Acer have much experience building and supporting smartphones.

I like the cat in the picture...

i dont think the mouse and keyboard are a con, look at all your getting and at the price. im surprised to see headphones.

Think about it, a mouse and keyboard is 20 bucks. How much value is REALLY there.

If I were buying a Windows phone today, I would have a really hard time picking between this and the 950 xl. This will certainly have better battery life @ 1080p, but I can't give up the camera, so the 950 would still come home. But it's a very intriguing device that should definitely be considered by anyone looking at WP this year.

Actually, the 950XL is better in a lot of ways and a lot cheaper. The 950XL has a bigger battery and an AMOLED screen which is more energy efficient, so I'm not so sure if the Jade Primo actually would last longer.

3340 mAh for 950 XL vs 2870 mAh for Jade Primo, right on there.... But Jade Primo also uses AMOLED. Jade Primo is lighting 1,612,800 less pixels than 950 XL. http://www.gsmarena.com/compare.php3?idPhone1=7263&idPhone2=7650

The 950XL is a lot cheaper? How do you arrive at that conclusion?

I don't know how he did, but I'll give you my experience: one month ago in EU I bought 950XL (white mono-SIM) at 323,00 €, tax and shipment included. That's an understatement of how low this device has come. Mind you: not subsidized. Full my own property and unlocked for any SIM I might want to throw in.

It does not! I kept forgetting to verify that and will add it as a con.

You should also add no Windows Hello. I think that omission is even worse.

Rather have fingerprint reader. Iris scanner doesn't have range on my L950 XL.

Fingerprint reader would also be part of Windows Hello (at least after Redstone). Windows Hello is not confined to just iris scanners. Point remains, something in this price range needs some type of Windows Hello security function.

Depending on what you want I think it's a good phone for the price especially looking at the combo, but for me i would rather go with the HP elite because it is more future proof

Not a fan of all that space at the bottom and the big logo.

Part of it is Type C, which is still huge compared to micro USB. The other part is the slim bezels on the side is made up for by the tallness of the device.

Depending on what you want I think it's a good phone for the price especially looking at the combo, but for me i would rather go with the HP elite because it is more future proof

Everything is best except its design and acer logo at front. Yes Hp elite looks hot

future proof.. if WP10 as a platform survives haha

If Windows survives, WM survives along with it.

Hey thanks Daniel for the unboxing. For someone starting fresh, this is a really great kit.

Lumia 650 looks better than this phone even my 540 looks gud as compared to acer

Maybe? But this trounces both of those in every which way.

I bought that device soon after it was launched, and my experience is very different from this review!
For me - coming from a Lumia 950XL - , the Acer is a total failure. I am very happy to see major brands such as Acer, and now HP, offering alternatives to the Lumia line (of course you've got smaller manufacturers such as Moly - check them out: they worth it! -, but what will really make a difference is when Samsung will join the WP10 bandwagon), but unfortunately from my own experience, Acer totally missed the point! The worst part?
Playing hit and miss when trying to click on an on-screen button or link.
You never know where to press and if anything will happen when you do - and most of the time, what happens is not what you want!
For me this is a deal breaker, and I went back to my Lumia:
Acer is now accumulating dust in some drawer. You say that this issue is corrected with the Anniversary update?
I will try again then.
Until Acer fixes this issue one way or another, my advice would be not to buy this device.

Try it with the AU. I experienced it too on TH2, but can't say it's an issue now.

Man you made it look so bad with unboxing :p It looks like you wanted to rush for something else.

Just shy of 10 mins while rushing ;) I have a lot to say.

I will and I'll report afterwards!

Its is a good looking phone... I like brushed metal finish. Although I think the price is set very high, even though with the case and dock (and the plasticky keyboard and mouse too). If I have to decide between this and 950, then definitely 950 wins. Unless Acer is giving special price for corporate sector for bulk purchase.

They need to also sell the phone alone. Most people already have a keyboard/mouse if not more than one. You can get continuum through a cheaper adapter or buy the HP or MS one. And maybe they should have went with a small portable keyboard that you can easily fit anywhere as well as mouse.

Get in touch with HP. for a few dollars more, you will get a permium phone which has everything. This is at best a mid ranger though priced high becuase of the bundle

You misspelled "pedantic". *pushes glasses back up nose*. I'm so meta!

Does the phone have a built in equalizer?

not sure BIG LOST WITH OUT THE NFC for me

No NFC and no Windows Hello make this phone a non-starter in this price range.

You are correct, this phone was lazily made and a Lumia 1520 is a better buy.

It has many more capablities than the 1520. It is 3-1 device.

I like how they sell is as a bundle. This itself will be the future of Windows 10 Mobile.... Looking forward to the Elite x3 and next generation. I can't wait for the laptop dock for the x3 and even thou Acer didn't bring out the best they could, they are bringing something first to the windows phone platform. I would still go with the 950xl if it wasn't for the sharpe square feeling.

I am surprised that MS Store isn't bundling some type of O365 deal with these. There's some high school and college kids that might be able to find use in these but requiring the separate O365 purchase at checkout might sting a bit. Maybe I'm inaccurate in guess college kids would want these though...

Yup, I don't think it will appeal to college or school kids. plus Elite X3 wil lauch at the same price in about a month's time

Just to add, this bundle is also available via online MS store Canada and in stores, priced at $799CDN. Picked one up todayseems like a nice phone.

Aaaaagghhhh!!! Still no Verizon!!!! We're starting to see the first of hopefully many very decent Windows Phones, but we "big red" people are still being utterly shut out!!!

Verizon pretty much shut itself out. Besides, they'll be transitioning to GSM. Welcome to modernity, Verizon.

I hope that's right about them switching to GSM. I've not heard anything of the sort myself, but I'm certainly not the all-knowing. Hopefully they won't feel like they can just rest on their "largest network in the US" laurels, and do nothing.

Will they make projector for Jade Primo? That can be use for Continuum. No need for external display.

They already do. Any projector with HDMI in will work.

I'm not sure if I can trust a review from someone who can't even open a box. HAHAHA!!!!!

Dan, any DTTW or DDTS feature on this phone? Also can you insert your L950 into its dock to see if it works? Thanks

Looks way better than 950 family Posted via the Windows Central App for Android

I am not at all impressed. The photos look dull to me, as if shot from an entry level device. The cons are far too much and too relevant to be ignored, No NFC, No tap-to-wake, No glance screen etc. are a real let down. On top of it, the 'smart' cover looks pretty cheap as well. Then they have priced it almost the same of 950XL, and expensive than the 950. Once HP Elite X3, is in the market, I don't think too many people will find any viable reason to go with this. That is in a different segment altogether, but at the same price!

Well, Tap-to-wake is sorted by the cover folding mechanism that triggers the screen unlock I guess. I second every other thing you said, though. ;)

has really bad scaling issues, had a very tough time with hard reset of phone after rs1 update, this phone is really in need of a firmware update. I think i shall return phone for refund, too many issues currently and the 950 runs much better on the same OS version.

RS1 already come out for non-insider? I thought August 2nd.. Posted via the Windows Central App for Android

No NFC and no glance. That's unfortunate. Although to be honest, I probably would've ignored this phone in favour of the HP anyway (If I was buying a new phone).

At that price tag any windows hello login option is a dealbreaker for me.

Looks good but I wonder about the menory. It will require you to purchase more.

Get the feeling that this is woefully delayed. No NFC
No 1440p Screen
No biometrics
No DTTW
Questionable camera performance
Last years SD 808 soc. I just can't see why I should go for this over 2015's L950.
HP EX3 & Alcatel Idol 4 pro will likely better every spec above.
On the android side of things it's completely outclassed at the same price point and below.

When my 1020 didnt get windows 10 that was the last straw for me, ive been on android now for a year and couldnt be happier after seeing the weak attempts by microsoft at pushing thier failing mobile os. I have all the apps i could need, a higher spec phone than the primo that cost alot less than the primo and its very unlikely microsoft will win me back! I waited for years for a flagship to come out and after the tragic excuse for a flagship came out (lumia 950) i decided that i would not be giving microsoft the benefit of the doubt anymore. Its nice to see that a brand like acer is trying wp but its too little too late, that train has already left the station. Plus the phone has mediocre specs at a high end flagship price at almost £500 (The specs on a oneplus 3 are alot better than this and it only costs £329), is continuum really that important to warrant the extra money for a cheap feeling mouse/keyboard and connectivity that can be done on android or ios with some workarounds? Another couple of points are: why has this got a Snapdragon 808? wheres the 820? (at that price you expect the best) Why is the battery not at least 3000mAH? (especially running the snapdragon 808) and finally wheres the NFC? (like was said above, its 2016! mobile payments are a thing)

I think the device are alright. The problem are that was announced in September 2015. The specs was fine then with Snapdragon 808. But now most of the competition have moved on to Snapdragon 820. Why all Windows phone devices take so long to reach the market?

Well i have since returned mine to the ms store, very bad phone constant freezing and reboots even after hard resets and using recovery tool, the techs in the ms store gave up even on trying to reset this device, They are forwarding the extremly bad experience to acer. I would not recommend this phone to anyone in its current state until acer issue fixes for this device.

I actually skipped the unboxing vid my first read through and I just came back in and watched it. "Grrraaaggghhhh!!! I am Daniel. All packaging fears me!!!" Two words, dude. Pocket knife.

How is the review going? I am looking forward to it before I make a decision:) Posted via the Windows Central App for Android
Windows Central Newsletter
Thank you for signing up to Windows Central. You will receive a verification email shortly.
There was a problem. Please refresh the page and try again.