Acer Liquid Jade Primo appears at the Microsoft Store for $649 with its Continuum-ready kit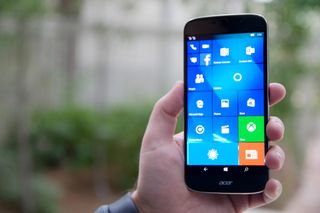 As of late, we have not heard too much about Acer's Jade Primo phone running Windows 10 Mobile. The phone has soft-launched in a handful of European markets but nothing Stateside until today. We're tipped by 'HeyCori' that the Continuum-powering phone is now available at the Microsoft Store, and sure enough, it is for a pricey $649.
Besides being able to order it online some Microsoft Stores are selling them locally now as well (speaking of, you can finally now check inventory at your local store from the website).
Before you panic the $649 you are tossing down is getting more than just a phone. If you recall, Acer is shipping this as a kit, and indeed you get more than just the Jade Primo in the box:
Acer Liquid Jade Primo
Dock
Keyboard
Mouse
AC power adapter
AC power cord
The only thing missing from this Continuum-ready kit is the display. Still, for many who would just want the phone you are going to have to shell out a bit more money than you would for even a Lumia 950 XL.
Regarding specifications, the Jade Primo holds its own:
Acer Liquid Jade Primo
Swipe to scroll horizontally
Category
Jade Primo
Processor
Qualcomm Snapdragon 808 (MSM8992) Hexa Core Processor
Memory
RAM: 3GB
Mass memory
32GB storage
microSD memory slot up to 128GB (SDXC compatible)
Display
5.5" AMOLED Full HD 1080P (1920 x 1080)
Battery
2870 mAh non-replaceable Li-polymer battery
Camera
Main, rear camera: 21MP, auto focus, Dual LED flashlight
Front-facing camera: 8MP, fixed focus
Connectivity
Dual SIM
USB 3.1 (Type-C)
Bluetooth 4.0 EDR
802.11ac WiFi featuring MIMO technology (Dual-Band 2.4GHz and 5GHz)
Sensors
Light sensor
G sensor
E-Compass
Proximity sensor
Hall sensor
Gyro Sensor
GPS/AGPS
Dimensions
6.16 x 2.99 x 0.33 in (156.5 x 75.9 x 8.4 mm) (L x W H)
Weight
0.33 lbs. (150 g)
We'll see about picking one up tomorrow to give it a spin, but for now, you can catch our hands-on video from back at CES in January.
See at the Microsoft Store (opens in new tab)
Windows Central Newsletter
Get the best of Windows Central in your inbox, every day!
Daniel Rubino is the Editor-in-chief of Windows Central, head reviewer, podcast co-host, and analyst. He has been covering Microsoft since 2007 when this site was called WMExperts (and later Windows Phone Central). His interests include Windows, laptops, next-gen computing, and for some reason, watches. Before all this tech stuff, he worked on a Ph.D. in linguistics, watched people sleep (for medical purposes!), and ran the projectors at movie theaters because it was fun.
Looking forward to a hands on review.

already done way before you were born

Yeah,I think that phone with curved back is one hell of a phone to hold

Acer need to make dock-projector hybrid Posted via the Windows Central App for Android

Maybe short thrown mini dock projector or a mini projector with usb-C hub built in,

I just wish it had a better name. I cringe saying I owned a Acer Liquid Jade Primo! Terrible name.

Very reasonably priced for what you're getting. Although, I expect to see a bunch of negative comments because it doesn't have the latest processor. I'm looking forward to hearing your impressions of the device, Daniel, after you've ahd it for awhile.

Thanks, we'll make sure to do a few things with it. It is interesting and I'm curious if I'll like it better/same than the Lumia 950.

I'd be very interested in the camera and battery life. We all know what Windows 10 can do, it's a matter of microseconds in terms of one high-end phone's performance versus another.

Hard to reach a Lumia 950

Windows 10 picking up, 1 billion goal may be far but it is always better late than never.

Still waiting on that 950 XL review Daniel ;)

What I know is that competition will make windows 10 ecosystem better. So we need more OEMs on board. Currently, It's HP elite x3 vs Acer jade primo.

You'll definitely like the feel holding it

I disagree on the price point. IMHO no windows phone deserves to be priced that high at this point regardless of how good the hardware is. They can only offer a fraction of the services even low end phones on the other platforms currently offer due to the huge app gap situation. The value for the money that consumers will get in return for this phone is really low. Until Microsoft is able to bridge the app gap, all windows phones should be priced very low. There is no justification to charge consumers this much until then. What good a state of the art music player is if there is no music available for it? Posted via the Windows Central App for Android

And whaich Android or iPhone has the capabilities that this phone or the Lumia 950/950XL have? I'll help you. None.

What capabilities are you talking about?

Continuum, and that's an important point here, because the poster above him was lamenting the price, WHICH INCLUDES practically a whole set of peripherals used for just that.

Almost every phone has external display, mouse and keyboard support. That isn't reason enough to charge more than double for a phone. This should be $299 at most. Even at that price, they will sell none. Just ask NuAns. Posted via the Windows Central App for Android

Do you think the LG, Samsung premier phones cost only 299?

You think Acer can command LG and Samsung prices for a Windows phone? There is no way. Even at $299 this wouldn't sell. Posted via the Windows Central App for Android

Oh the brand blinded fanboy!!! Do you think LG made good phones a year ago? Lol the naivette of you Andoid fans.. The OS that looks worse than the windows phone. Please dispute me and I will prove you otherwise.. What does it let you do? Fly?The Windows OS has no limitations.. It is just perception it is a pity how people like you fall for it. Android lags.. that's the truth

"Almost every phone has external display, mouse and keyboard support​"... That proves you don't know or have used Cotinuum!

What is the difference, other than the lack of Continuum apps and the inability to multitask? You can even get a laptop dock for Android and some of the phones can even run two apps at once. Continuum isn't special. Posted via the Windows Central App for Android

wow, the ignorance here is over 9000! Continuum isn't simply mirroring your phone's display over a bigger screen. It's about allowing you to ACTUALLY USE that extra screen real estate. But I guess you deserve to be using phone-optimized UIs on a 60 inch TV screen. We on the otherhand will enjoy continuum =)

Bleached, You obviously don't know what Continuum is.

What more is it than external display, mouse and keyboard support? Sure, the UI scales too, but that isn't exactly special. Android has been doing that for years. Apps are responsive and Android itself also changes based on screen size. The full Continuum functionality could be added to Android easily, especially once Android apps start getting updated with a Chromebook specific UI. Posted via the Windows Central App for Android

Can you receive/make calls and text on your phone while not being hindered on the external display? Here's a novel idea? USE CONTINUUM before making comments. You're looking more ignorant with each post.

Bluetooth headset? Speaker phone? Just different ways to accomplish the same task. Truth is multitasking is a myth. You can't read your emails while you send a text message anyway. Maybe the one benefit would be something like watching a video on the display while you are using your phone. Chromecast does the same thing though...so still. Continuum is neat, but the uniqueness and utility are overblown on this site.

What the iPhone and Android phones have is that people actually want them. Very few want WPhones and the numbers prove that regardless of whatever fanboy gibberish you will produce.


If Android is so hot on productivity, why is it that Samsung, the biggest producer of mobile devices (tabs / phones) have jumped on the Win10 bandwagon with their latest 'flagship' Galaxy tablet/2 in 1?? Their top end tabs have used android as their go to OS, so what's changed? Oh yeah, Win10 offers far more flexibility and productiveness along with integration between PC, Laptop, tablet and hopefully, with a few good devices from OEM's, Mobile. I've always used macs, but the way in which Win 10 integrates in my business, it was a no brainer. It just works, and that is the reason I use Surface, PC, 950, 950xl, 650, 640xl etc 14 phones, 4 PC's and just bought 2nd surface. All 'talk' to each other reliably, and that is where the enterprise sector will look long and hard are the new, developing ecosystem.

Samsung switched because Android is a mobile OS. Their new tabs don't have a Mobile processor anymore. Now they can run x86 programs plus continuum is great. They didn't switch because Android is bad. Posted via the Windows Central App for Android

Samsung didn't put windows phone on that tablet... Posted via the Windows Central App for Android

Many OEMs left Windows phone too.

Windows 10 only offers more flexibility on tablets and PCs. Android offers much more flexibility on phones. As you can see why all the OEMs are making Android phones. Windows 10 mobile is very restricted for them. They can't use different chipsets other than Snapdragon. Can't differentiate between other OEMs. They don't want to wait for Microsoft to implement a feature they need. Microsoft is too slow to add features to mobile.

Windows 10 flexibility on tablets is not that great. Only x86 supported and Intel cancelled the affordable product lines. W10 is also step backwards from W8.1 as a tablet OS.

I am hoping Samsung jumps on Windows 10 mobile for a note addition which I think may happen.

And just so I refresh it for you, it's not the price that makes people want phones with Windows 10. Otherwise there would have been a big rise in phones sold with that 1+1 deal in US and Canada awhile back

Exactly. There is a lot of things people don't like about Windows phones. Microsoft needs to completely change the branding and UI if they want to ever make any headway into mobile. Posted via the Windows Central App for Android

The UI gets praised, it's the app store, and always the app store. In every review of a Windows Phone I've ever read, comments have always been made about how different, elegant and useful the live tiles are, how simplistic and functional the UI is, or how they at least 'like' it. People just get turned off by the lack of apps. It's always been the major reason for Windows Phone's lack of success, not anything else. People that don't like the UI are entitled to their opinion on it of course, but that's not why people don't buy W10M devices.

If people really liked the UI and the platform they would have started buying them when WP7 was released. Android was still immature and didn't have the apps either, this was the time that WP had to catch on. It didn't. People didn't like it, they didn't buy the phones, they bought Android phones. They continued to buy Android and because of this the apps came to Android. The app gap is a symptom of people not liking and thus not buying the platform. Microsoft needs to completely change the UI and branding. It is the only chance they have. They can still use Windows 10 as the basis, but calling it Windows and keeping that failed UI will always end the same way it has the last 6 years. Posted via the Windows Central App for Android

Android had more apps than Windows. It was known by that point and was the safer option for consumers. WP was unknown and adoption by OEMS was limited (maybe due to licensing fees). WP got trapped in a vicious cycle of less apps = less sales = less dev interest = less apps etc. You may have disliked the UI, you may not have bought because of it. But that's not representative of the market. Maybe we can't say what factors really caused the problem, but UI wouldn't have been one of them and if it was, it would be a very minor one caught up alongside much larger ones.

One of the major reasons friends of mine didn't like WP was because of the UI. Posted via the Windows Central App for Android

If people really liked it they would have bought it and it would have snowballed at least a little. The exact opposite happened. It never had any success. In your scenario, Microsoft should not try at all, and you are probably right. At this point they really have no chance. Posted via the Windows Central App for Android

Maybe no success in the US, but in Europe it reached 10% market share in both the UK and Italy, amongst others. iOS in comparison was around 30% or under.

Those are small, price conscious markets and Microsoft was selling dirt cheap devices. You notice those people didn't buy another Windows phone. They obviously were not enthralled with it. Posted via the Windows Central App for Android

About as price conscious as the US with big economies, consumers go for high end just as much as anywhere else if not more. Certainly the case here in the UK, flagships make up most devices. There's been a drop in market share no doubt in those countries (extent unknown) - that drop, worldwide as well, is definitely in part at least down to MS, I won't disagree there; there's been a distinct lack of marketing and promotion since Nokia went. But as we're talking more about the early days, there's nothing to suggest the slow progress (and there was progress) was because of the UI. The 'App Gap', on the other hand, is well documented. Look, whatever. I'm not going to spend ages debating this because it's futile - what's done is done, W10M is where it is, people can buy what they want and enjoy what they want. Life goes on.

That was because people there wanted Nokia phones, not the OS that was running on them. Look at was has happened in those "10% market share" regions in the past two years.

It didn't lack on UI. It was the OS's fault then. In WP 7, Windows was too restricted that it didn't even had a File Exlporer. Windows Phone was so limited back then that making apps for this platform was unimaginable. Back then, android was immature. But it was open. Which let people from anywhere to come and make apps for it. Every aspect you can imagine...it was quite possible with Android. But in Windows? Man...it didn't even had Registry Explorer or File Explorer. Back in 2003-2006 WM5/6, PDA devices were so popular. Why? Windows was a better platform compared to other then. If you were a WM6 user and you upgraded to WP7, I'm blindly sure that how much frustrated a user was then. (sorry for my bad English)

You make a good point, but the UI is part of it. Manufacturers don't have any way to differentiate their devices. All Windows phones are exactly the same. That isn't compelling for OEMs, they want their devices to be different. There are so many issues with the platform and Microsoft hasn't fixed any of them. Posted via the Windows Central App for Android

Most people who bought Android phones are because of the price points. And not because they do not like one UI over the other. You cannot even compare the UI offered by one Android over the other. There is no consistency in terms of UI with Android due to the very large number of launchers and all.

It is the manufacturers who benefit more from being able to customize the devices. It gives them ownership of the devices, it isn't Microsoft's or Google's device at that point. They are more involved and more apt to push and market their own device. Posted via the Windows Central App for Android

And consumers don't like OEM bloatware (yeah, their launchers are bloatware), they just got used to it... You always blame the UI for the low marketshare, but you're still wrong :D In every Windows Phone review I saw, the people said, that they at least like it (and believe me, I saw quite a lot). They blamed everything, from the bugs to the app gap, but never the UI... It's not a bad thing, if a phones Start screen is not just a bunch of icon on a wallpaper :D

What do u think about different OEM provide different UI on their devices. When we move from company to other company we find different UI that is frustrating. Different icons and notification center and settings. For example Samsung to Huawei Posted via the Windows Central App for Android

People don't expect a Huawei phone to look like a Samsung. If they find one they like, they are more likely to stick with it. That is exactly why manufacturers want to customize their devices and why they would pushing their Android phone ahead of their Windows phone. Making Windows phones static is a big mistake, especially with such a polarizing UI. Posted via the Windows Central App for Android

Because we all know the reason Palm and Blackberry failed is because the UI... no they failed for the same reason Windows phone is having issues, App gap. Although Microsoft has made the issue worse by being late to party, charging licensing originally, giving Nokia preference over other OEMs therefore ******* them off, then finally rebooting the API 3 times in just a few years, and not updating users phones.
I do think they could get back to sustainable numbers but it would take them doing things that were unthinkable a few years ago. Bring back the Android bridge, do whatever you can to make it work, Make Java and Swift first class citizens on the CLR, Transform UWP to a Universal App platform that is truly cross-platform with as much code reuse as is technically possible. Create a LightSwitch style app maker that can create apps with little or no coding. They could create basic skeleton apps for specific verticals such as banking, airlines, shops, etc... that can be used as UWA tweaked branded and deployed across multiple platforms. If they did this they would have a fighting chance, but right now, I'm not holding my breath, unless the Surface phone can truly inspire some original ideas.

Palm and Blackberry failed because they are trying to do everything themselves and aren't leveraging all the phone OEMs to sell their platform. That, combined with being seen as the old "old way", is why they failed. Palm also had terrible hardware. Microsoft had similar issues, but demanding that manufacturers keep the UI is one of the biggest. They need to allow manufacturers their own identity so they feel some ownership of the device and are compelled to push it. As is, Windows phones are Microsoft's no matter who makes it. Microsoft is basically in control of everything but the apps that can be placed on the device. They need to change that and be more friendly with OEMs if they want them to make phones with Microsoft's platform. Posted via the Windows Central App for Android

Agreed Posted via the Windows Central App for Android

I could understand the idea of branding and marketing, but the UI isn't MS weak point. The direction and development of what live tiles can be seems to be lost though. Even when I talk to tech folk, they're so short sighted regarding the potential of the UI that the best they can come up with is improvements on the iPhone or a variation of a Android, like Cyanogen or Saltfish. I recently had a guy who is a iPhone lover say to me that I don't like WP, but I like it on your phone. As one that had to make software applicable to businesses for work I am at an advantage, because making a software work is what i did for a living. And I've had to teach many the potential and advantages of their WP, many who no longer see the need of going back to Android or iphone. But MS does have a problem with showcasing what makes lives tiles a better UI. But I think the problem lies with skewed developers and thinkers in the MS camp...because the only thing that seems to come out of them are ideas that are best suited for Android and iPhone lately. I read somewhere that the staff was tired of being the butt of a joke in the tech world and longed to play in the same sand as the cool kids. So right now it seems like the plan is to follow Android and iPhone instead of being leaders...being different. Which is sad, because Windows 8 with live tiles was on to something...especially when it comes to how people interact with their computers.

Except Live Tiles are quite useless. Maybe if they were interactive or at least gave you direct access to the content they would be more compelling. Chaseable tiles is a start, but Microsoft has been so slow to add these kind of features that should have been their from the start. They really need to make then interactive. Why aren't there music controls on the Groove Tile? Why can't you flip through articles on the news tile?! Why weren't these features the 3 years ago? Posted via the Windows Central App for Android

I agree. What makes the live tiles not as productive is the lack of functionality. These are some of the ideas that need to be added. Yet, even in their current state, it offers more than what you can find on the other platforms. For example, I'm more engaged with my CNN app than I am on my Android. In fact I don't know the last time I opened it on my Android. But on my WP I open it at least 4 times a day mainly because I see a picture on the live tile that piques my interest. And that is the minimum power of the live tile UI. Imagine if the tiles had functionality.

CNN doesn't have a widget? A Live Tile is just a widget with less functionality. Posted via the Windows Central App for Android

I agree as far as the function, but the implementation isn't as seemless...or as elegant. Due to the space limit on the page for iOS and Android, a widget may not even be seen unless I have to pass by the page the widget is on. But because the WP start screen is one page, my chances of interacting with the widget increases...which is why I have a tendency to see CNN more on my WP than on my Android, and as a result interact with it more.

People don't know what they want is what Steve jobs once famoulsy said.. lol. We will tell them what they want and they will obey.. That is the Apple mantra.. Anrdroid is well just mass consuption and people buying into it

Continuum is a hokey gimick. It makes a sub par mobile device, a sub par desktop and a sub par notebook all in one over priced item.

Services and capabilities on android you must be joking. Android has a better network effect, this does not mean that gmail is better than outlook. They just have more apps not more services.

There's outlook on Android and everyone knows Microsoft's apps are better on other Platforms Posted via the Windows Central App for Android

I disagree. I much prefer the outlook on my W10 phone over the outlook on my mother's Android phone.

This is funny:))). Youp android has a whole lot of more services then windows mobile: Fragmentation, lagg, gettin' slow with each and every app installed, viruses. Youp. I can hardly wait for this futures to come to windows. Thr only problem is the apps, for the people, cause i don't care about pokecrapp pants and whatever other app.

Fragmentation REAL problem is in W10. All unsupported WP8 devices will not be able to run universal apps, this is the TRUE fragmentation. Android 4.0 still can run almost all android 6.0 apps.

I'm not here to be negative, but people here are taking about phones that are 3-4 years old with the lowest specs ever, like the 520, 530, 535, 800, 830, 920, 925, and even the 1030 had an inferior professor to have such a great camera. All can someone here look up the exact agree and specs of each of these devices and post it here so these people can stop whining? The best phone created with the old lot I'd the 1520; Nokia built that unit with it lasting a while and capable of receiving future updates; their goal with the others was to make cheap phones to flood the market and they weren't shy about that strategy; just like cheap printer are made to be disposed of after X about of time, so are cheap phones; older printer don't even get windows 10 desktop drivers and m must be replaced, why wouldn't phones be the same. It seems like many of you here just don't have common sense.

There is no need for share specs. What I do not understand is why everyone points the finger to the competition on the fragmentation story, while we have the same or worst issues. Or is just a way to deceive youselves?

I have a 535, and it's a very great phone to be honest. It's stable, fast, and has good cameras for such a low price. I had android phones before, that did cost twice or even thrice as much as my current 535, and it leaves them in the dust. It's just a much better experience to use a 535, than for example using an Xperia P back in the day when it came out. Yeah, it looked a bit better than the 535, and I still like the design of Xperia phones, but it's a no brainer to trade in that design for a much better user experience. So don't underestimate the 535 please :D

Weren't t the HTC m8 and Samsung ativ se also left behind? Those were hugged devices. the Lumia 930 was also only recently updated. Posted via the Windows Central App for Android

Common sense? In a phone debate? Surely you jest!

Exactly. My HTC 8X is just sitting here...on 8.1...sad. Posted via the Windows Central App for Android

problem is HTC doesn't want to support the issues during upgrade and I understand them too.. Its a sad sad situation.. windows cannot stop progressing because HTC doesn't want to fix issues in their devices with windows 10.

They will not be able to run universal apps with all the bells and whistles but can run them nonetheless. Just like Android 4.x is still able to run the latest apps.

Universal Apps do not run on devices below W10M. It is not an issue of bells and whistles. Its a all new app format which is unsupported on previous OS versions.

Youp, you used that twice. What does that mean? You may not care about Pokemon however the rest of the world does. I'm not bashing on WMobile however you and others in this thread are just delusional.

Indeed, there is no need to bash WM or Android. But spread desinformation about the competion is not good for this comunity.

It doesn't appear that people in windows central care enough because I asked in the Pokémon go articles comment section for WP use to bombard Satya and Terry Myerson's twitter, Facebook, and Microsoft pages and unlike the petition that was started on change.org, they didn't get 30k comments regarding them wanting the apps or others and the importance of having them. Mind you this is coming from a person who does care about Pokémon go, but I know others do and I'm willing to attempt to assist getting the app whether i use it or not. Even though i I'm a loyal windows devices and eco system user, i bet Satya and Terry hate me if they've been reading their twitter pages. I can't for the life of me understand why they thing business people don't play games on their phone and that these types of apps affect important! I'm an IT director, trust me i know what my 300+ users do whether i agree with it or not!

Where is this lag? I don't see any lag on my HTC 10. I didn't see it on my G5 either. There was none on my m8 and none on my nexus 5. Android lagging has been a thing of the past years ago. Let it go. Posted via the Windows Central App for Android

These are arguments from 2012. It is just convenient for some to use this has an argument.

You're totally missing the point, you're basically saying that because it doesn't run Android or iOS it should be given for free as an apology.

Exactly. You have to make so many concessions if you choose Windows phone that they should lower the price to make up for it. Posted via the Windows Central App for Android

Give me a break. If apps are the most important thing to you, don't get a windows phone, but believe it or not, not everybody cares about the missing apps. Windows 10 mobile is a superior experience to iPhone for sure. Android is on par, if you get a Samsung. I'm not making any concessions. I'm willing to pay a premium for a W10 phone.

You and .6℅ of the market. You don't think Microsoft wants to sell phones? Actually, maybe they don't want to sell phones. That makes sense giving their strategy and pricing. They want to fail. Posted via the Windows Central App for Android

Microsoft's strategy is to target the business market, hence exploitation of continuum etc, for business travellers. The requirement for apps by corporate employers for staff use is generally a different profile of apps, compared to the general rabble, wanting to play whichever game is flavor of the week, or do other things that wouldn't be done via a corporate intranet, if the employee was at work, on their premises. Whilst we're not all happy that consumers are a lesser interest to MS, they have been very public about their desire to create a more integrated proposition to business customers. This potentially puts them into a different position, compared to both Apple and Android, in most business sectors.

We will see if that works, but they don't have much penetration into enterprise mobile either. How many phones can they sell that way? This strategy didn't seem to help Blackberry and doesn't seem to be working for Microsoft. We will have market share numbers soon and it will be surprising if they above .5℅ last quarter. Posted via the Windows Central App for Android

I understand his point but what he has failed to understand is the fact that the phone comes with all these accessories. If this was just a stand alone phone without accessories it won't make sense to charge this price which is close to the price of an s7 edge. Alone, it should cost 400 dollars which won't still make sense to me but I don't want to anger many on here. In my opinion 300 dollars is an ideal price considering the fact that flagships such as the Le max 2 and OnePlus 3 are going for 400 dollars. This phones have 6gb of ram, Android and snapdragon 820. Microsoft needs to compete. The accessories that come with this make the price look reasonable. Posted via the Windows Central App for Android

False. What all important services can't you get on Windows phone? There is a gap, but it's not nearly as big as you make it out to be.

reasonably priced?????
Its overpriced, not worth the money. If the JADE costs 649 how much will the HP Elite X3 cost??? and NOT, continium in this state as it is now... is just a nice feature for geeks but you wont use it everyday because its useless. If you want to browse the internet, check your mails than you can use your mobile, no need for continium and withou X86 support, its just a good sounding but not working "feature"

So far HP'S website has the x3 listed at $799. Although there is speculation that it could go down before they take orders...but not by much.

There's a reason we're not posting that info yet. Not everything is "official".

Launch prices are invariably higher than they will be once they have established interest and take-up. They also mean that corporate buyers could be offered greater discounts for bulk purchases.

Your point about Continuum may be some what valid at this point. You're correct in saying that most people will not use it. It was never truly developed with the average consumer in mind. It was created with Enterprise in mind. The HP Elite X3 will be able to run x86 through HP's service that will allow a remote desktop type service, while using Continuum. Yes, this is only really useful for small business and enterprise. However, enterprise is comprised of people, people that could potentially encourage the growth and use of Continuum as a consumer feature, whenever the technology catches up to fully utilize this feature without a desktop remote type service. Until a mobile CPU processor can be made that can run x86 programs on something the size of a 5.5 to 6in smartphone, increased battery life and increased onboard storage, we may not see mass adoption of W10 Mobile for that purpose. On the other hand, if MS can continue to improve on the OS, the same people that use their Windows 10 Mobile devices at work, might be inclined to use them as daily drivers, at some point. This may put more demand on it as a viable option for the average consumer and increased interest from popular app developers. Just my thought, but I guess time will tell what direction this can go.

You are spot on and as a enterprise user and c consumer, if I get a devices like this, I'll use it at home too, because the types of things I go online to do are less intensive than at work. This will keep me from purchasing a desktop or laptop in addition to my phone at home; two for the price of one!

All the new Windows phones are for enterprise now. They don't care about consumers anymore.

I don't think that's an absolute statement. Considering, enterprise is about consumers. I think what we are seeing is an attempt to address it through enterprise. MS cares about the average consumer, but it does no good, if they can't win over enterprise. These same enterprise consumers will or could recommend Win 10 mobile to their friends and family, on the best case scenario. Worst case scenario, people will notice them being used more in the workforce and public, which could garner more attention. As long as I've been using Windows phone/mobile, I believe enterprise is the last dich effort to gain more popularity. If it doesn't happen here, it may never happen, unless MS can come up with something that everyone will want to use, but no one has.

I think MS has the near term focus on profits, which they calculated they'd have best chance at via businesses. As Windows 10 is going to be ongoing, then it can morph as hardware opportunities morph - but they are also likely to be dependent upon their partners, as I'm guessing they don't want to be supporting huge volumes of handsets for some time - possibly never, unless they're very expensive premium handsets. Support via customer service etc obviously eats into profits but if enterprise supports their end users and have their support provided by equipment manufacturers or MS account managers, then it's lower cost per unit sold. We're just in this interim period, where most users are consumers and it will switch, if effective, to corporate end users instead. Whether OEM manufacturers see profit opportunities in handsets to consumers in the longer term keeps things uncertain.

I agree with some of you points, but the bulk of society use computers for light things like surfing the web, paying bills, and social media; all of this can be done using continuum. I'm an IT direct and also have my own business and you would believe that the bulk of society doesn't want to spend $400 on a desktop/laptop computer, but if they can get a devices that serves as they're desktop and phone for under $700, they would bite. The problem is, that Microsoft or no one will advertise these features or points anyway, because they're touting and pricing these devices as business only as in enterprise as if c consumers paying bills, banking, watching their stocks, and retirement accounts isn't taking care of business! There's several different forms of business, but business is business and Microsoft and go just don't get it!

I TOLD YA its overpriced, the Hp ELITE X3 starts at 699USD - without dock and keyboard but with better specs and design additional dock is for 799 http://www.windowscentral.com/hp-elite-x3-699-usd

So, if we back out the price of the dock, mouse, and keyboard, what would just phone and charger cost? About $499?

This is same processor as Lumia 950, only the screen is 1080p instead of 1440p. But who cares when you can get the whole bundle for cheaper price.

I'm curious who is the market for this phone, business I guess. The Continuum features really aren't relevant for the vast majority of everyday consumers and in any event there are cheaper options for consumers. Is this Acers answer to the HP Elite?

If exposure fpr Continuum was complete, it'd be a phone for many consumers.

Why? Virtually every consumer has a laptop or a tablet. Continuum is a dead end when it comes to consumers. Time will tell if it is successful in the business sector however given the recent history of WPhone it's hard to see.

Continuum fits my life well. I have a Surface Dock and Display dock at my desk, and have my Start menus mirrored on both phone and Surface. When my Surface Book is out of my reach, I just plug in my Lumia 950 and voila, still doing work. It's magnificent.

As a frequent traveller, for several weeks at a time away from home, flying between places, having to cart multiple devices about is frustrating and limits what other stuff I might transport. I'm not the target market, as a consumer but am interested in a little way down the line, when options may be greater and it fully meets my needs, to potentially ditch the laptop.

I know lots of young adults who have nothing but a phone. When I tell them about this, they are really interested in the idea that they can use it like a computer.

About Continuum, you will get its full potential in RS2 builds (we're still at TH2 builds, soon we'll go to RS1). Acer Jade Primo isn't a direct competitor to HP Elite X3, as HP's focused on enterprise market. (no signature)

Continiuum without X86 support is useless

I use continuum quite a bit. Then again, I'm out and about quite a bit and lugging a laptop around isn't my cup of tea, especially when working in certain area's of London! Sitting duck! I'll leave the proud owners of iPhones vulnerable to visits from the bottom feeders.

You are right, that is Windows phone's best feature. You don't have to worry about someone stealing it because no one wants them! Are you serious! Posted via the Windows Central App for Android

Dumb de dumb, dumb, dumb!

Totally True. Posted via the Windows Central App for Android

True, but just for its initial release. As they went RS2, they will focus on x86 support on ARM, which will enable phones to run x86 apps on the phone. And that's nearly the same way as Project Centennial does, but with its focus based on converting x86 apps to Windows Store apps (which is (probably) compatible with ARM, too, instead of just x86). (no signature)

I found Continuum quite useful, but indeed, it has more potentials. If (only) it can run x86 apps, then it will be a big deal. (no signature)

Continuum with Remote Apps, like HP is implementing. It allows one to use x86 apps without needing to install, store, and locally run tons of x86 apps.

Which is more productive??Continuum or Continuity feature in Apple. I understand, Continuity helps us to start writing with iPhone and continue it with Apple computer. So isn't that more useful in daily life. I am just a layman. Kindly advice.

The continuity feature you speak of is in Microsoft Word, Excel, PowerPoint and OneNote. All these are application that allows a user to start typing on any device and finish on the device of choice as long as the device has internet. If you haven't checked it out, try it for yourself.

Thank you for responding.. I have used Office 365 and it is useful for working with multiple devices for the same file.. But I have heard Apple allows even SMS, mail and some other third party apps to be continued in a different device by Handoff.

Continuity and handoff are not bad...but are not really the same thing. What they apply to is iMessage and the like. Can't SMS. It basically just works when al devices are on the same network and is super limited in which ones applications actually do it. However, it's fine for really basic needs, for some but not nearly enough for me.

I can dim do the same thing using windows 10, it's called sync settings combined with the Cloud. I receive the same text messages on my computer that I get on my phone and can respond accordingly from the of to both texts and email as well as the O365 thing you mentioned.

You are right, Microsoft is trying to solve a problem no one has had since the cloud made your data ubiquitous. They are stuck in 2004. They will learn soon enough. Posted via the Windows Central App for Android

You guys understand that you ate arguing about PHONES, right? Posted via the Windows Central App for Android

Anyone using Office with their documents stored on OneDrive had that feature before Apple invented it. Doesn't matter what platforms are involved.

Apple's implementation works over Bluetooth LE, so you don't need an Internet connection to move the files

IIRC, Microsoft is also starting building a featute similar to Apple's Continuity, which will continue the app on your phone right where you left off from PC. But I think, Continuum combined with Continuity will be a better feat instead of choosing one. Full experience guaranteed. (no signature)

How could it be their answer when it was introduced first? The elite x3 is HP's answer to the jade primo if anything. And this isn't useful for consumers who don't use the full capacity of their brains to think, "how can having a phone that can do this help me"? All you have to do is this think a and I guarantee you, that you'll think of some benefit that continuum bring to the y table.

Any news about rolling it out to other countries like in India??

Get it online, through ebay or something -- it'll be cheaper, considering the crazy taxes in this country. I mean, the SP3 costs close to USD 1300 here. This device bundle will probably cost 800 USD (or 54K rupees) if it comes to india, which I doubt many indians will be willing part with.

This phone hits like lightning for me. I've been waiting for news about it ha

I am Sorry for this question, but I am really interested to know, does 3GB RAM will make switching apps faster? Currently on the latest build of win10m on 640XL, and switching apps is good, though far from fast. If 3GB is such a huge step up to switching apps, I might consider getting one of these.

Yes, switching apps is faster with 3GB of RAM. You don't see the loading screen. When you see it, you know that your phone is in trouble. Speaking from the experience of using the L950 XL.

Thank you kind sir, although I don't have $6++ to spend right now, I might consider getting a 950XL then.

switching apps, even on low end devices, are only slow for non-optimized apps. Viber (6+) for instance, doesn't show the resuming screen even on my L735 w/ SD400. I'm expecting this to become the norm when more apps start focusing on W10/UWP for developing their apps instead of supporting WP8.

Feeling the same. Universal apps are awesome at resuming whereas wp 8 apps such as whatsapp sometimes show a resuming screen

Switching is even better on RS! My 950xl's have been liberated! Feels sluggish on TH builds, RS is a different story altogether. Once this one has RS, which I assume it could be released with, it will be a monster of a device. Considering everything you need comes with it, it isn't to far off the mark. My 950xl was £549.00 without a dock!!

I wonder if this will have better battery life due to being "only" 1080p. My 950 and 950XL both sport 1440p and it says ~2/3 of battery is being used just for display.

Yeah, I'm really curious about that too. It should make a difference.

Good point. I'm thinking 1080p is the sweet spot for devices 6' and under.

"...devices 6' and under"

You must have really big pockets.

Hope so. MS made a big mistake with the display. It should have been 1080p at least for the 950.

Yes for XL also. I see no benefit of having the 1440p display over 1080p on 1520. Just eats battery and slows down performance.

The 1080p (IPS) on The 1520 was absolutely perfect for me

Sounds like a great deal to me. Wish I had the money.

So Happy that now windows fans has some phones to discuss about and compare about such as lumia 950 vs HP elite, HP elite vs Acer Primo, lumia 950 vs Acer primo, lenovo softbank vs acer primo and HP elite.... So happy.

Android has 500 phones to compare with lol. Just show you how horrible job Microsoft is doing with the OEMs. Microsoft created enterprise-focused OS for the consumer-focused OEMs.

Does those 500 android phones has "Hall Sensor" built in. Lol

Yep, but most of them are useless! Think before you post! Most of the android devices are cheap £50 throw away, stuck with 4.4.2, and maybe a couple with 5.0. No one is particularly interested in anything outside of Galaxy etc. Even then the OEM's of the *cough* top end devices have to come up with some gimmick to convince the lemmings that it is so far removed from last years model, which they told you was far better than the model before that. And so the wheel keeps getting reinvented. Even then they have to stack so much power in them just to run it smoothly, which, inevitably, is a useless exercise because within a month or so the performance will drop dramatically. Android OEM's, well one in particular, isn't interested in support when a new, rehashed, device hits the stores. They have convinced people that their devices, along with apple, will make your life more enjoyable, successful and you will be the envy of all your equally shallow friends. I used to be a big Android user, but I could never get it to work, reliably, in an office / work environment. As a fashion item or lifestyle choice, they excel. As a tool it's too fragmented.

True. I'll only buy an Android phone if it has top of the line specs. If not, it'll lag like a ***** Posted via the Windows Central App for Android

It isn't 2011 any longer. Android runs fine even on SD200 devices. That isn't a winning argument for Microsoft. Posted via the Windows Central App for Android

Not useless if people keep buying them. Personally I prefer iOS over Android anytime.

Well, iOS can be laggy too. I remember reading about ppl having slow down after upgrading their older iPhones to the latest iOS.

and almost 495 phones are absolutely useless.... Ya, you can use them as phone but not as a smart phone....

I just hope there will be some mid range devices available to replace 650 when it nears the end of its lifespan. $650 is a lot to pay for an old guy like me who wants a place in the ecosystem on a limited budget.

You should check out the new Lenovo Windows Phone ;) (Don't know what its name was :D )

Thamks for your response. If however you are talking about the Lenovo Softbank phone yeah it would be excellent but it looks at this time like a Japan only launch. Too bad though the specs look darn good.

Yeah, I forgot about the Japan only thing. But maybe later, it will be released everywhere, or you can buy one from ebay and stuff like that.

Does it come with Pokemon Go?

It was announced way back in January when pokemon was not born.

It's upto the developers that they want to come or board and for info. This game does not come natively on any mobile.

No, but with Snapchat and the official Phillips Hue App

Haha maybe once YOU code it.

I would buy pokecrapp rights and developement just to sink it.

Inaccessible grapes are sour.

So many wonderful Pokemon, but you choose to be Krabby

It's grown ups phone.... not a toy!

What's a Hall Sensor in the spec listing?

Hall sensors are mostly used to detect changes of magnetic level. iPads (and some other phones/tablets) use one to detect if the cover has been closed. I'm assuming Acer will or plan to release a smart cover for the device.

Indeed, the have a cover in one of the photos.

I highlighted "hall sensor" and then selected "ask cortana". Got me this: A Hall effect sensor is a transducer that varies its output voltage in response to a magnetic field. Hall effect sensors are used for proximity switching, positioning, speed detection, and current sensing applications.

The real shame for me is that it doesn't look premium or even modern. The curved top and bottom make it look dated and I don't like the treatment of the back. May look better in the flesh but in the pics just looks like something from 3-5 years ago

True. This looks like a cheap Samsung or iPhone 3GS from 2009.

Wait for hands-on review.

What, like the one in the article?

In the photos, I agree, the phone doesn't look premium to me.

Not worth having this at $649

It's having dock, keyboard and mouse free. It's reasonable.

haha its not "free" its in the price.. so think about it, its the keyboard, mouse and the dock worth it??? Its continiuum worth to pay for the dock?? Will you use it everyday?? No, No, No and NO. Overpriced.

*In your opinion. Others will not think the same, some people will use this.

Literally dozens will buy this. Actually I am being generous. They will sell several, to Microsoft stores. No actual human will bother. Just look at the NuAns Kickstarter. That thing tanked hard and they were selling it at a big discount! Posted via the Windows Central App for Android

1. There's a fair few comments on this page, left by yourself, that almost​ give the tone of heavy opinion against a simple phone OS. Getting a distinct impression you don't like it - that's fine, freedom of opinion and all that, but it's pretty obvious you've got bias and bias, of whatever form (whether that's haters or obsessed fanboys) clouds logic and a objectional view. ​2. People on this site seem to treat large multinational businesses with large profits to their names as if they are inexperienced start-ups run by fools. Acer has not got to where it has without experience and wise decision-making. It possesses the brains to at least carry out market research and assess the viability of a product before selling it. This will sell, maybe not in droves, but it will do fine.

1. I want to see Microsoft create a compelling product and not fail again with the same product that has been rejected repeatedly for 6 years. 2. Every other corporation doesn't make Windows phones. Acer and HP likely are only doing this to get a deal on Windows licenses for their PCs. Sorry I am not cheerleading Microsoft down a failed path. Until they completely revamp the platform so that it looks completely different and becomes marketable, they will have no luck. Posted via the Windows Central App for Android

OK then. Are you finished now? Posted via the Windows Central App for Android

You sure like speaking for other people when the truth is, you can only speak for yourself. I've been using Continuum since November 2015 on a Lumia 950 and Lumia 950 XL and I use it nearly daily via a Microsoft DisplaY Dock at work (our computers run Windows 7, this gives me Windows 7 on one monitor and a Windows 10 environment on the second monitor. Windows 7 doesn't have ANY UWP apps) I use a second Microsoft Display Dock at my photography studio. I use a Screen Beam Mini 2 at home on my 4K TV to watch movies from my phone and the Movies and TV app. I also have a Microsoft Wireless Display Adaptor along with the new Microsoft foldable keyboard and a Microsoft Bluetooth mouse that has a built in Start button in my camera bag so I can create a Windows 10 desktop environment no matter where I am. Your comments show that you are self centered and have a shallow understanding, barely any experienced with Continuum in various real world situations and that you are an extremely close-minded individual. Some people simply require more and do more with their devices and Continuum allows those that need to do more, even opening their mind to new possibilities enabled by Continuum, to do so. You also seem exalted because you believe you can answer a question for someone else. How can you tell another person that their answer would be No? My answer would be Yes for all of those and for ALL future phone purchases for me, Continuum is a requirement, for me.

I can only give one upvote, but please know if I could, I'd give 99 more.

yeah but the same goes to you. YOU will use continiuum, me, my family and my friends WONT because they dont own a WP phone and DONT WANT IT! They have they iPhones and Samsungs with Android. My friend wanted to add me on snapchat, guess what was my answer?? Guess what was his reaction!! I wanted to buy those fancy Philips bulbs with changing color, guess what happened?? I cant control them because WP is not supported. So what now? Who is in charge? YOU and YOUR opinion about using continiuum or other peoples opinion who dont use and wont use WP because.... read bellow..... ??!! Just look at the marketshare numbers. Any other opinions are variable and wont change FACTs :-) Upvotes or Downvotes are just good for the EGO of fanboys, the reality is on the "other side".

This isn't about being in charge of anything, market share, ego, fanboys or any other detractors. I am talking about you speaking for everyone. The difference is, unlike nearly every comment that you have given, where you have spoken in absolutes, as if they were facts, for other users, for everyone, my comment was about my own usage of Continuum. I never said that everyone would use continuum or that EVERYONE'S answer would be Yes. You are correct, I spoke for myself, or as you said, my opinion. You spoke for everyone as if you absolutely applied your own opinion, thoughts, the scope of your mind, to be for everyone. So yes, the same goes for me and that is why I do not speak for everyone, just for myself and my experiences.

this is just poor BS listen to me, Microsoft wont release new products for just 10 000 fan boys, get it? IF the product isnt good enough for making profit than its not worth to produce it, get it??? Now whats your problem?? Like seriously, defending a platform with just 1% market share is like waiting for good weather in December. No arguments just the idiotic, poor brainwash, meaningless words from A to Z.. who cares dude? This platform needs more improvements, not BS from fan boys. You would love anything from them just because you are a fan boy or Micorsoft pays for your comments... but this wont help us in improving. And YES, those people around ME are just regular people who want to enjoy new SW, not just HW. They want to play Pokemon and change the color of the Philips light bulbs. They dont care about your BS and fan boy ****. THEY WANT EFFICIENCY and not marketing. What a fancy idea to use W10 on your mobile ... woooooow... just use your TV as monitor and.... wait, what can you do?? Write documents and browse the internet, play some light games... woooooooooooooooooooooow... i will throw out my tablet, notebook, smart tv, console and my desktop PC just because i can do it with my phone with CONTINIUUM :D :D now i need a break from this fan boyism

You ate so un-intelligent that you cannot answers a simple question, "if you don't like or use windows 10 mobile, why are you on a site dedicated to the platform you clearly don't want or use"???

Those 2 are morons who can't understand written points. No sense arguing with people who twist your words to fit their narrative. Their to shallow and pin headed to have adult debate, discussion, and a sensible back & forth

You require your devices to do more so you use a gimped Windows RT? Good argument. Posted via the Windows Central App for Android

SD 810, Carl zeiss lens, dedicated camera button, Office 365, bundle dock offer(region and stocks specific), better and bigger display- Go get a 950 XL for a lesser price!

I don't need a new phone immediately (especially since my 1520 still runs extremely well). However, I hope this bundle is still around next year.

Lumia 1520 is best, when i buy new phone it would be android or iphone not a windows phone

New iPhone coming this fall. Best app store. You get new app first and stable OS.

How long are you going to brag about instability of OS? From the last 4-5 build windows 10 mobile has been on par with any OS in the world. You are the guys who brags about that you don't have a GF and in the end you end up losing the one which had a chance. All in all learn to praise when things are good.

I never said Windows mobile is unstable. My Lumia 950 XL is very reliable.

Well since you're ask iPhone cheerleader, just move on; why brag about something you clearly admire and want in a windows phone forum? If you want an iPhone, get one and move on it's your right just like it's our right to use windows Phone. I don't go into android or iPhone forms bashing them or posting about windows phones at all.

@OMG55 Because I have WP, iOS, and Android phones? Why can't I post here?

I haven't used an Android/iOS device for quite some time, but I wouldn't call Windows 10 Mobile "stable". My Lumia 950 is on Release branch, and I encounter at least 3 or 4 bugs (or at least quirkiness) every week. On the other hand, Windows 10 on my PCs has been what I would call "stable".

Is that the same OS that on its recent release caused some serious issues? Is that the OS, that on a 16gb device, you are lucky to 8 or 9 gig of useable storage? I have an iPad Mini 3 and the OS icons still look like they were designed in a kindergarten! They look like they belong on a £30 kids android tab. Even on my pad, I get force closures of apps. I've had the OS crash a couple of times, so stable could be overstating things somewhat. NO OS is uber stable.

I always wonder how it benefits people when they come here and put down Windows Mobile. If you don't want to be here then be gone already. Please!

Just put down others who have varied tastes than them. And also they've been told by everyone that so and so is good. Blindly follow hearsay. Independent thinking and individuality is a difficult habit

Or they can go to MSPoweruser :D All they do recently is blaming MS for trumped things :D

I have never been able to understand this myself! If you 'hate' or are unsatisfied with WM or windows, what exactly are you looking for on Windows Central, which as the name explicitly suggests, is home of everything MS and Windows? Talk of a vegetarian going to a steak barbeque!

I'm with you on the 1520. I still have mine and it still runs pretty well. I would consider maybe getting the HP Elite X3 at some point, though. I like the overall design of it. On top of that, it's closer to the screen size on the 1520. But, I will wait for a hands on with the consumer version.

I agree, but I'll wait to see if a surface phone is built.

Same, here, my 1520 is running great!

With that kind of specs, it should be at around $450.

agree. at $650 it need an 820, 4GB ram and 2560x1440 display. over priced.

Take one 1gb ram extra or Continnum.

read the freaking article!. It's not just the device you're getting at that price.

either way it's still too much. its a freaking windows phone with no apps. so what, you can use horrible Edge and Office on a monitor, wow. that makes it worth $700 with tax. NO, it doesn't.... those specs are for $350 phones. so really you are paying $350 for continum.

Those specs are for a $350 phone, fine I can agree with that considering devices like OnePlus 3 or Le Max (or whatever it's called). They're adding a mouse, a keyboard and a display dock in to the mix, which would normally lay you back roughly $200, so if you manage to sell of those 3 (if you didn't need it), you'd be getting this for $450. A $50 extra over a OnePlus 3. For that you still get usable Continuum, and an enviable photography experience. I'd also add that these devices are for people explicitly looking for Continuum. That puts the competition at L950 (roughly the same price or more) and X3 (not yet available), so there.

I'm growing weary of the "no apps" comments. It may not have the apps that you want, but there are hundreds of thousands of apps available. To say "no apps" is not just hyperbole, it's ludicrous.

So don't buy it then. No one's forcing you Posted via the Windows Central App for Android

More like 199$. This is what you get for 399$ from mainstream OEMs nowadays: "Axon 7 has a quad HD AMOLED display, Qualcomm's Snapdragon 820 processor, 4GB of RAM, a hi-fi audio system, a 20-megapixel camera, and a full metal design. It has dual SIM card slots that are compatible with GSM networks, such as AT&T and T-Mobile." http://www.theverge.com/circuitbreaker/2016/7/13/12158956/zte-axon-7-day...

Right, and you can find the Nexus 5x, which is similar specs to this for $235. Microsoft is delusional. Posted via the Windows Central App for Android

you can't tell WP users something is a rip off. they have so little, ANYTHING is worth $700

What does Microsoft have to do with an OEM like Acer and HP pricing phones they built, not Microsoft? The only thing in the phone that is Microsoft is windows 10 mobile which is free on all devices 9" or less!

It is a Microsoft store. They set their prices. Acer is going to sell then for whatever they can get Microsoft to buy them at. Posted via the Windows Central App for Android

No, Microsoft will not force its OEMs to reduce the price of their products. That OEM, Acer, is a reputable company in of itself, with its own reputable marketing department that would have done its share of marketing before setting this price. We, being consumers, can only protest by not buying, or buying other devices. In the end, if they're wrong to price it as such, we'll know by how much they sell. You don't have to act like you see the future.

It is obvious they won't sell many, you know they won't. Why would they be so dumb to price it so high? Are they that incompetent? Posted via the Windows Central App for Android

That Axon 7 looks really interesting.

What's a Hall Sensor, never heard of that before but anyways the battery is less fortunate, it should have been 3000mAh plus it's non removable, that's kinda tragic....Niceeee**Pari**

A Hall effect sensor is a transducer that varies its output voltage in response to a magnetic field. Hall effect sensors are used for proximity switching, positioning, speed detection, and current sensing applications.

I have a question is that which is better? HP Elite X3 or Acer Liquid Jade Primo? would like to have an article on this.

I think except back camera all other aspects elite x3 will win like a boss

Seriously?? Your next phone will be Windows Phone???

Re: Monil d,
Yes, I wouldn't think of anything else.
Best Wishes

Mine too, actually. Me and my wife are just too invested in the ecosystem to switch at this point. We'll be following the best available upgrade paths within the ecosystem for as long as those paths are available. That is, we'll be getting the next best thing in the Surface and Windows Mobile worlds when they come. Changing OSes will simply mean too much to purchase from the store, too much to transfer from the cloud, and too many subscriptions to change. Let's say I'm just the kind of customer that any company would love to have, and currently, at least on phone and computers, MSFT has me..

All MS services and apps work on iOS and androif. I would even say the iOS versions are better than the windows versions. Posted via the Windows Central App for Android

I was curious about that too, but to me the HP looks nicer.

I guess I might wait for HP. Sent from the Android version.

Even if you're being generous, this is a $400 phone.

With a 950 costing ~280€, that price seems a tad high.

Wait when it goes down to $199 by end of next year, when they discontinue it.

Looks like a nice phone. I feel kinda bad for Acer though. Really hope they won't loose money on deciding to go with Windows Phone. :(

for a company that criticized microsoft so much over the Surface and Windows 8, I'd say they wouldn't have dared if they weren't confident of their chances.

MS probably told them the Surface phone would be out by now. Posted via the Windows Central App for Android

Wouldn't touch this thing with 10 foot remote controlled pole. Sooooo disturbingly ugly and cheap looking. :(

May be looking at it. But in hand the metal finish could have a nice touch to it.

This isn't going to sell. Acer is seen as a budget brand. That fat acer logo on the back is a huge mistake. We have to admit people see their phones as a status symbol. That fat ugly acer logo isn't going to help. Sure a few geeks won't care about this, and say acer makes very good stuff lately, but that all doesn't matter. It's the mindshare among the sheeps. Acer should have put a more subtle logo. So people don't see what brand it is. If the phone looks awesome the people will ask you, hey what phone is that?? And then they walk away impressed.
Besides, I also hate the Microsoft logo on the front, on my 950.:)

Surely if they ask you what phone it is, you'll end up revealing it's an Acer? Nobody buys a smartphone without first working out what brand it is. Any potential customer will find out at some point before they buy, wouldn't it be best to tell them as they see it in action?

I hope this sells nicely. Especially if the stock of 950 is almost out. I think MS was trying their best to clear the way for this phone. They cannibalise each other.

https://www.kickstarter.com/projects/nuansneo/nuans-neo-windows-10-mobile Half way through the campaign and they have stalled at only 15% of their goal. There is no way this Acer is going to sell at more than double the price! NuAns has struggled to even sell 400 units! Posted via the Windows Central App for Android

Thanks but no thanks. It's easy enough to predict that. And that's why I said I hoped.

It's a horrible looking device, what did you expect.

You would expect more than 400 devices after a few weeks. That is just sad. It is time for Microsoft to throw in the towel or go in a completely different direction. They are not going to sway OEMs with the numbers. Posted via the Windows Central App for Android

Bleached,
I have tried not to answer back to you and keep my focus on the topic. You're clearly not a Windows Mobile fan and enjoy arguing with all people. I don't know why but this site and all its news should not bother you anymore. If Windows is not part of your life, there is no need to be a doomsday boy. Life is short, let us live our lives in the way we want.

Yea Bleached is a total dickwad. He spends most of his time here. I don't think Microsoft has haters. I think they're just undercover fans. Posted via the Windows Central App for Android

Haha, that is indeed pretty bad. Too bad, too sad. Posted via the Windows Central App for Android

I guess that this new phone won't run on Verizon?

Looks like no. The info at the MS Store in the link at the bottom of the article says "Compatible with GSM carriers." Too bad, given GSM carriers already have access to the 950 and 950XL.

The price quoted is Recommended Retail. I have yet to see anything sell for RRP in UK. This price will be a tester to see what they can get away with. As for Acer..the Laptops etc a big sellers in the UK. People have forgotten Acers other phone. The Zen phone is pretty darn good. Priced correctly, never sold for the pre release price, and very capable. One of my drivers has one and it isn't half bad..

Are there any marketing for this phone, or is it released into the wild quietly?

No sense wasting money on marketing when no one will buy it either way. No amount of marketing in the world will make this phone desirable. Microsoft and Acer knows this, hence the lack of marketing. Posted via the Windows Central App for Android

if Acer believed that, they wouldn't be making this in the first place.

They are probably getting some deal from Microsoft on Windows licenses for their PCs. Microsoft must be sweetening the pot in someway. Posted via the Windows Central App for Android

When this deal was made, MS was telling them MS Surface phone would be out by now (as it was originally supposed to be). Alas, it is not, if it ever will. Posted via the Windows Central App for Android

The more OEM's the merrier. Let's not forget the Alcatel idol pro 4 coming to T-Mobile soon,...hopefully anyway.

I work for tmobile, and other than that article that came out a few months back I haven't heard a thing about the idol pro 4 :(

It passed FCC certification recently so it shouldn't be long.

FCC certification has little to do with TMo availability, unfortunately. Posted via the Windows Central App for Android

399€ chez Darty France Posted via the Windows Central App for Android

Why isn't this article in the phone category in the wincentral app?

No camera button and a pretty blah design, but nonetheless it's good to see more Windows phones.

What cell networks can this run on?

Crash and burn Posted via the Windows Central App for Android

Nonreplaceable battery is a deal breaker for me, especially for a $650.00 phone. No thanks, I will pass.

Does it support Wallet? I don't see NFC listed. Hope to hear about Alcatel Idol 4 Pro soon.

i tried one of these out at an MS store. nice but slippery... sticking with 950xl

After that buy one get one deal at the Microsoft Store for the 950xl and 950, I ended up paying $220 for my 950xl. Of course I also traded in my Lumia 920 for $150 and sold the 950 on eBay though. So why would anyone buy this garbage for $649?

And how ironic there are less "This device looks Ugly/Bad Looking and Fugly" compared to when the Lumia 950 and 950XL debuted with better specs and all :D

I didn't see NFC in the specs. Anyone know if Acer included NFC? Posted via the Windows Central App for Android

With all the talk of the X3 recently, I forgot about this one! Hopefully it does well enough for Acer to do more phones at different price points. Posted via the Windows Central App for Android

If I had to bet, I would bet on no it won't.. sad but true. Posted via the Windows Central App for Android

They couldnt put smaller battery.It should be at least 3500mAh.This one is a joke...

I can't wait for a windows phone with that Instead of plugging into a monitor, it plugs into a 14 inch laptop and offers pen, and tablet support. The laptop support could add in more ram and a dedicated graphics chip like on the surface book. That would be the ultimate dream. Posted via the Windows Central App for Android

Not showing on microsoftstore.ca.

I'm sure it won't be a big seller.

Sounds like a lot of money but: this looks like the future to me. We will never buy lap tops and far more frequently buy a "phone" or a 2 in one tablet.

Will it work on Verizon? =)

Well would you look at that. I've been asking about the Primo for months now. Looks like I'll have to stop by the mall this week and get a hands on with this one myself. One picture at a time -- LG V10

Those in the Philippines can buy this for 28,980.

This, or Galaxy S7.... just saying

It doesn't cost more for what you're getting if you were to buy a display dock, mouse, keyboard and the lumia 950 xl it'll be around $795 without taxes. Posted via the Windows Central App for Android

I love that FHD screen over the L950 screen with much higher resolution and much higher battery consumption.

This is fugly as typical Acer. The price should be $299 max

Let's see if Continuum can make any difference. I really doubt it. For $100 or so more you can get a Surface 3 + a Lumia 650.

Will make 0 difference for Acer. There is a 0.001% chance that it will make a 1% difference for HP. ;-P Posted via the Windows Central App for Android

I see on the Microsoft Store page it says "Compatible with GSM carriers," so no Verizon. That would have made it interesting, because those of us on Verizon don't have a modern phone option right now (Lumia Icon w/Win 10 is pretty good, but definitely an aging phone). That plus the smaller screen might have made this actually a better bet than the upcoming HP Elite X3 for users who don't want a 6" phone (I don't want a phone quite that big). I think neither supports Glance, which is my other main negative with the HP. I hope the HP runs on Verizon. If so and if the reviews are good, I think I'll grab it in spite of the huge size rather than wait for a Surface phone in 2017.

For christ sake can we stop saying "APP GAP" when in reality its only 4 dominating apps ATM which are an actual FB(not the beta, which works quite well IMO) Instagram( which IMO 6tag is as good if not better) SnapChat( which i get it for the young generation because its a trend) and recently Pokemon GO (which is prolly the one im bummed out about). Im sure theres other Nic Nac apps that ppl want as well but as a main app these r the 4 that seem to really drive the market as far as likeability. I was a huge iPhone user but switched when the one M8 came to windows and i was currently contemplating a jump to android. But now that phones r becoming mini tablets/laptops theres programs such as bluestacks and other 3rd party that allow u to port apps so in the Grand scheme of things i think windows is on a decent course especially now with CPU OEMS coming on board making phones. Present is a bit dim but future looks pretty bright

LOL WP is only missing four apps, guys!

HA HA HA...4 apps my ass. I have at least 20 on my iphone that are not on my 1020 phone. and those are ones I use regularly....APP GAP, APP GAP, APP GAP.....its there and it's real. 3rd party crap on WP is garbage...never works right and are hokey attempts at getting use out of the offical products.

Lol.. some people crack me up.. Ballmer was right. Posted via the Windows Central App for Android

No surface phone....called it!

Sorry with these specs this phone should have been released last year, or now it should be priced no more than $400 even as a kit. Overpriced, wait for price drop or save money for the HP phone.

I sure it will sell several thousands of units! ;-P Posted via the Windows Central App for Android

Well, Acer couldn't add much bloatware to the phone, so they added bloat to the box it comes in. No-one needs/wants an Acer keyboard/mouse set.

Glad to see Acer give Windows users a solid flagship offering. I hear that the 4K video capabilities on this thing are reportedly astounding.

Yay... sounds good, looks good, but... Wife is sick of not having apps (I think losing Amazon killed it finally) and kids want Pokemon Go. :( After 6 years with Windows Phones we are probably going to be gone before the truly great phones ever come out. :( Really too bad.