Acer strikes back with the Iconia W4 Windows 8 tablet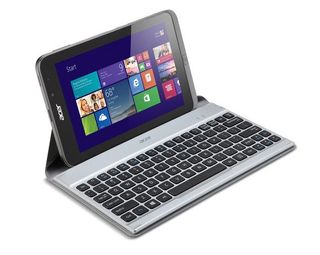 Remember the Acer Iconia W3? Acer introduced the world's first Windows 8 tablet, dubbed the W3, and disappointed the world with a lackluster display. What appeared to be a display with a bad screen protector over it, was simply the screen itself.
Now, Acer is ready to redeem themselves with the Acer Iconia W4.
The new Acer Iconia W4 is powered by a 4th generation Intel Atom processor clocked at 1.8 GHz and packs 2 GB of RAM. The W4 is not meant to be a large innovation over the original W3, they are simply here to fix what was wrong – the display.
The W4 houses a 1280 by 800 IPS display which sits snuggly under a 2 MP front camera, that is complimented by a 5 MP rear facing camera. The unit will include either 32 GB or 64 GB of SSD storage, which can then be expanded by another 32 GB via a MicroSD card slot.
Acer will be preloading a copy of Microsoft Office Home and Student 2013 onto the unit, so you can get right down to work. Port selection won't be the largest on this tiny Windows 8 tablet, but the W4 is said to include a micro-USB socket and a micro-HDMI port.
The company will also be offering a collection of different accessories with the Iconia W4 tablet including a passive stylus (no active digitizer) and two different cases. The more first cover is named the "Crunch Cover" and folds back into a kickstand for easy use. The second, "Crunch Keyboard", will perform the same folding trick, but also includes an integrated Bluetooth keyboard. Both covers appear to be well designed and remind us very much of Amazon's Origami cover.
The Iconia W4 serves as an important launch to bring budget Windows 8 tablets to the market and compete with the likes of Apple's iPad Mini. The unit will launch later this month with a 32 GB model priced at $330 and a 64 GB model priced at $380.
Are you going to run out and pick up Acer's latest creation?
Source: PCWorld, Yahoo Finance
In the picture it has 8.1

Windows 8 is the name of the release. Product is Windows 8. You won't find designed for Windows 8.1 stickers anywhere, as you shouldn't. When Microsoft advertises, they shouldn't advertise the product as 8.1. The product name is windows 8. 8.1 is only a major revision of Windows 8. In the history of computers, I have never seen anyone advertise revision numbers. For example, it was always Windows 7, not Windows 7sp2.

Where did you find that copy of Windows 7 SP2?? We wants it!!

Lol well truth be told I've always hated windows until surface pro and 8.1. Work got me a MacBook pro, and have always been Linux. Loving 8. It was XP that had SP2?

Hi Sholokov, Windows 8.1 will commonly be reffered to as simply "Windows 8". Just as in the past we didn't say "Windows 7 Service Pack 1" everytime. Cheers! :) -Mike

Why would they call it windows 8.1? It's just an update to windows 8. Windows 7 or 9 and maybe even 8.5 is a difference but, windows 8.1 is just windows 8 with minor changes. This isn't Android OS where 4.1 and 4.0 are treated as different OS.

Hell, Apple is still calling it MacOS X a dozen years worth of updates later! :-P

Better adjust the price for Lenovo with a bit better spec and processor

I believe built-in MS Office compensates the price but anything lower than $300 would be preferred

Not really a difference. All Windows tablet less than 10 inches have Office for free (and built in). So the Mixx 2, V8Pro, Encore.
Acer is generally a crappy company and their CEO hates Windows 8 so I would tend to ignore their products anyways.

Oh this is good Windows 8 is just going to keep growing and improving along with the hardware! Woohoo

the same you saw with vista and windows 7.
the 64bit hardware stuff that vista was build for just slowly came and boom.. windows 7 suddenly worked just fine since everything shipped with 64 bit

32gb and 64gb both available. But that's the storage and not RAM. RAM is 2gb.

The article says 32 or 64 GB of RAM, which I believe is what Aniket is referring to. Sounds like enough to run some crazy virtual machines on, and all for only $330! :P

64GB of RAM would be awesome! It would be a mini server!

Darn, I leaked the secret of the Iconia W5.... Haha, fixed. Thanks! :)

Still has the terribly poor resolution of W3. Cannot snap apps in windows8. What a shame.

If it comes with windows 8.1 you can. If it doesn't just upgrade to 8.1

It's hard to believe that Acer really thinks such a low spec machine belongs alongside the iPad Mini in price point. Even most phones have higher resolution displays these days, to say nothing of the cheap Android tablets like the Nexus 7.

I think the reason that Google's devices can be well specced and are so cheap is because they are selling those much closer to cost, if not break even. Acer can't do that since they make all their money on the hardware. Please correct me if I'm wrong, of course.

What are you talking about, this has a higher resolution than the ipad mini, more ports, comes with windows... Are you trolling?

You're kidding, right? All Windows 8.1 tablets have a higher screen resolution than the vaunted ipad mini AND run full Windows with Office, have real ports and the Dell even adds an active digitizer. The icrap mini is totally outclassed by the W4 and other 8 inch Windows tablets.

That apple juice man, that apple juice

In Windows 8.1 it should be fully cabable of snapping apps.

Unfortunately the nexus 7 is much cheaper has a 1200p display and a much more powerful processor

The nexus also is a mobile operating system only (a toy basically). This tablet will have full Windows 8.1 (mobile, tablet, desktop) whatever you want. And the 32gb Nexus is about $270, not that much cheaper.

Some people are just too narrowly focused on the specs, and forgetting to count the productive things you can do with a tablet.

I thought atom processors where on par with arm processors

They're close, and getting closer every year. Arm's big remaining advantage is in power management, but Intel will likely surpass Arm in that department too. Any time someone surpasses Intel (Motorola 68000, Alpha, Power PC, etc.), Intel eventually surpasses them right back. They're an amazingly resilient company.

That keyboard would make u look funny.

Essentially this is a W3 with better screen and 4th generation processor. Read reviews of the W3 and disregard the display and processor part of the review.

I like Acer, but... The Dell seems better IMO

In the article it indicates that the microSD can accomodate up to 32GB, which seems typical of all the 8" Windows 8 tablets that are coming out. Can anyone confirm if it can actually go higher in capacity? I have a 64GB microSD card that I would like to repurpose on one of these new devices.

Unfortunately, you won't be able to go higher. There is a limit on what Micro SD formats are supported by the unit.

Thanks Michael! I thought the same until I read this article on the forum that would suggest otherwise. I'm not sure what to believe anymore :(
http://community.acer.com/t5/Tablets/acer-w3-and-microsd-64gb/td-p/98985

Its funny that the $100 Lumia 520 can handle 64GB cards while these $300+ PCs can only handle 32GB.

I'm under the impression that the Dell V8Pro will support 64gb cards

I really hope so! My Surface RT that I used to own support that format size, so I would "assume" that the other devices should too...*crossing fingers*!

I can't speak for the W4, but I have a W510 (which in reviews I read was claimed to support only 32gb) and it runs my 64gb card without issues

Thanks for the confirmation Henry!

My wife just got the W3 in September and it works perfectly for her needs. While the screen isn't the best, it isn't as bad as people make it out to be. It's a mediocre tablet that has its niche.

I'm hoping to find a W3 for sub-$200 once the new ones come out. Otherwise I'll get one of the four new models.

Sorry for my ignorance, but have any tablets in this size launched with 4G capability? I'm looking for one to mount in my car as a stereo replacement

As of now, No. The Lenovo Miix2 8-inch tablet will have 3G connectivity though.

Cool thx Mike. I'll keep crossing my fingers that the Nokia device is feature packed

Another fail of a Windows tablet with no full USB 3 support. And I don't get why you would limit the microSD to SDHC cards when SDXC are now standard even in low end devices like the Lumia 520.
Cheap tablet price does not justify skiping on features that do not cost any extra to implement, Acer can keep this pile of dung.
Just wait till Microsoft or Nokia release an 8" tablet with full USB3 and microSDXC support to show these moron OEM how its done.


It is a limit of the Atom architecture. If you want to hunt down a USB 3.0 Windows 8 device, you are going to have to look at machines running Core processors from Intel.

Bay Trail supports USB 3.0, check the Dell Venue 11 Pro with its full size port.

theefman, Ah, let me check that out. Thanks for the tip. -Mike

Isn't the Dell Venue 11 Pro running haswell cpus? With that said, You are correct about bay trail supporting USB3. The Transformer Book by Asus has one, but it's only on the keyboard dock.

Not sure I want to "crunch" my keyboard...

"Both keyboards appeared to be well designed..." Michael, did you mean to say "both covers"?

Not sure why'd you pick this over the new Lenovo, which comes in at $299.

Or the venue 8 pro which also comes in at $299. And with a stylus if I'm not mistaken?

Stylus is an optional extra on the V8 pro. Still a better value than the acer though.

It is a capacitive stylus so not a big deal. I would like to have a wacom style digitizer or at least support built into the tablet.
Full USB is a must so W4 is out. Lenovo and Dell are good competition.
I sold my Asus Vivotab Smart because it was pain to fiddle with the microUSB port. I do have a Dell Latitude 10 and I loved it. It has full USB, HDMI and Wacom Stylus.

I am still intested in 8 inch model though. I will selling my Latitude 10 and buy one of the above.

I'm pretty sure it has an active digitizer: http://www.dell.com/learn/us/en/uscorp1/secure/2013-10-02-venue-tablets-xps-laptops

Yay, wonder how much it will be in UK, im glad they have updated the screen i did not believe the reviews about the screen until i actually saw it at pcworld! i was shocked at how bad the original one was!

Very attractive price for full Windows 8.1 and preloaded Office.

I am really looking forward to a sub $399 Windows 8.1 tablet with Wacom digitizer pen (not capacitive stylus). Anybody knows of something in pipeline with that spec?

Dell is touting their stylus as the Active Stylus. So I'm sure it's more than just a standard capacitive stylus:
http://www.dell.com/learn/us/en/uscorp1/secure/2013-10-02-venue-tablets-xps-laptops

You assume, or you hope? Or both? ;-)

http://www.wpcentral.com/preorders-live-dell-venue-8-pro-starts-299-and-ships-next-week
Doesn't look capacitive to me, and actually they've been selling the active stylus's since their latitude series tabs. Those were WACOM.
http://accessories.us.dell.com/sna/productdetail.aspx?c=us&l=en&s=bsd&cs...

Shut up and take my money!

I bought it after a year.Below 199(us),it's a miraculously productive champ.Full Office is there too.

I bought this tab 2 days ago....everything is working fine....only one problem is that it just goes to sleep while watching movies or browsing....i dont know if this is occuring only in my tab or is it a general problem..please help to resolve thus issue.
Windows Central Newsletter
Get the best of Windows Central in in your inbox, every day!
Thank you for signing up to Windows Central. You will receive a verification email shortly.
There was a problem. Please refresh the page and try again.