Acer W4 spotted at Computex 2011, November release? [Update: Specs]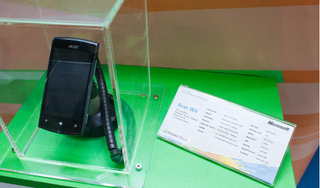 An Acer Windows Phone 7 handset was spotted at Computex '11, and looks vaguely similar to already available devices (LG in particular). If you remember, Acer are one of the announced manufacturers (opens in new tab) to be making handsets by the time Mango arrives and the notable mention of November on the information sheet ties in with our coverage of Acer to bring products to the table in Q4 this year (opens in new tab).
Anyone looking forward to this device, and others from newly focused handset manufacturers?
Update: Specifications have been posted:
3.6-inch WVGA Capacitive screen,
Screen Resolution: 480×800
5mp Camera with auto-focus.
HSPA 850/1900 or 900/2100 /GSM quad band 850/900/ 1800/ 1900 MHz Support.
Qualcomm MSM 8255 running at 1GHz (same processor as in the Xperia Play)
Wifi, Bluetooth 2.1
DLNA Support
Windows Phone Mango
8GB Storage
Source: WMPU (opens in new tab)
Rich Edmonds is Senior Editor of PC hardware at Windows Central, covering everything related to PC components and NAS. He's been involved in technology for more than a decade and knows a thing or two about the magic inside a PC chassis. You can follow him over on Twitter at @RichEdmonds.
The specs are no better than whats available today so no, not looking forward to it in any way.

Is it 4g? how is the screen? I like that form factor.

God I wish someone would have taken a pic of the specs next to the device .. It would be nice to know if its a cdma ? mem, CPU ?

the specs are posted at wmpoweruser - 8Gb, 5MP cam, DLNA, Snapdragon 8255, 3.6" screen, GSM.

GSM not CDMA (so no to Verizon or Sprint for this model, unless they release another model see "HSPA 850/1900 or 900/2100 /GSM quad band 850/900/ 1800/ 1900 MHz Support").8gb memory ? What are we 2 years ago ? 16gb minium or at least 32gb in a new phone.

im looking for sony ericsson to make a wp7, but i think im just dreaming

BOOOO!!!i am REALLY expecting a 3D wp7 SOOOON!!! thats what im now saving for , after getting my FOCUS stolen :( im just gona wait for a 3D Phone to come out ( should be soon )

I wonder if it even has a gyro...I think releasing with those specs is risky. It sounds weird that going low-end and reducing cost would be risky, but I'd think there'd be other higher-end phones that people would choose over this. Or else, the other lower-end phones would have a better design or some extra feature, like a better screen or something, to make it an easy decision to choose that over this.Hope everyone else "plays it safe" and releases more amazing devices.

This may be the "low end" offerings that Microsoft has been talking about. It actually makes sense to get as many different devices into circulation as fast as possible. That is what Android did, and look at their market share?

I just worry that it won't sell as much as even the first batch of WinPhones (Surround, Focus, and Quantum), which are already priced on the low-end (assuming this phone's coming to the US). I hope that Acer isn't using this phone as the sole unit to test the WinPhone waters for themselves, where, if it doesn't do well, we'll lose them as an OEM (not that I particularly like them or anything, but I want to continue having options and OEMs pushing for better phone designs).And I definitely know what adiliyo is talking about below and have no doubt it'll still be a good experience for those who might choose it. My bf has the Samsung Transform and I strongly encouraged him to exchange for an Arrive when Best Buy finally got them and we were still in the 30 exchange window. Now, every time I need to "fix" his phone or show him how to do something on it, I feel like pulling my hair and teeth out.

even if it's the low end, the nice thing about a minimum spec for the chassis, is that it'll at least still be quite snappy and smooth, unlike android's low end handsets, which i really don't understand how people are able to use on a daily basis...as for me and this phone, i'll pass. i can't use small screens anymore

Thick phone, lame specs, except for the DNLA.I find it interesting that new/leaked Mango handsets all have DNLA, suggesting that Microsoft has perhaps added that as one of the chassis requirements, meaning we might get native HD-out in Mango. Crossing fingers...

Wow. Talk about "phoning it in".
Windows Central Newsletter
Thank you for signing up to Windows Central. You will receive a verification email shortly.
There was a problem. Please refresh the page and try again.