Note-taking made easy with Action Note for Windows 10 PC and Mobile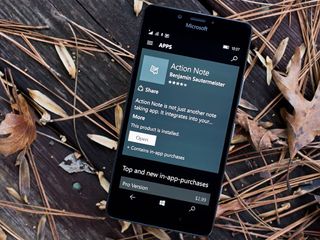 Action Note is a relatively new app that is available for both Windows 10 PC and Mobile devices. As you might guess from the title, it is a note taking app with a simple interface and integration with your Windows 10 Action Center.
This integration gives you access to your Action Note documents by simply pulling down your Action Center. Additional features include Live Tile support and audio playback of your notes. We were tipped on the Windows 10 app and after tinkering with the Windows 10 Mobile version, Action Note comes across as a solid note-taking option.
The layout of Action Note has a "+" button at the bottom of the main screen where you can create new notes, a hamburger menu to access the app's key features, and any existing notes will be displayed center screen. You will also find a menu along the bottom of the app that will pull up several note management options.
The hamburger menu contains options to view your notes, view your archived documents (deleted notes), upgrade the app, view the About screen and access Action Note's settings. The upgrade option ($2.99) is to the Pro Version of the app, which will allow you to synchronize your notes across multiple Windows 10 devices.
Settings for Action Note includes options to turn on or off the following features:
Auto Save Notes
Display notes on the Action Center
Allow to delete notes from the Action Center
Enable quick notes (ability to create a note from your Action Center)
Synchronization options (Pro Version)
You will also find settings for input methods, theme color and the order in which notes are displayed.
Note creation is simple. You can enter a title for the note and then the details. You can add a photo attachment, color code the note (sets the color of the title bar) and flag it as important. Once created, you can pin the note to your Start Screen and have the note read aloud. All of the note management and creation options are displayed on the bottom action bar or beneath the three-dot menu.
Should you need to edit or delete your note, tap on the listing from the Notes page to re-enter the creation screens. Any deleted note will be sent to the Archived page (accessible from the hamburger menu) should you ever need to access it again. If you want to delete it completely from existence, you can do so from the Archive page.
A simple Windows 10 app to replace scratch paper
I don't utilize the note taking capabilities of my Windows Phone enough. I still jot things down on scratch paper far too often. Action Note is a Windows 10 app that is well suited for those like myself who need a simple, yet effective way of jotting down notes on your Windows Phone.
The integration with your Action Center is a rather nice touch to give you quick and easy access to your notes. The Pro Version will give you the ability to synchronize notes across devices (much like OneNote), but the need for the Pro Version will vary from individual to individual. Overall, Action Note is a great addition to the crowded field of note-taking apps already in the Windows 10 Store. It has a nice feature set and possibly the only key feature missing is an audio option for creating notes. I don't think this is a deal breaker, but it could come in handy.
If you have given Action Note a try, let us know what you think of things in the comments below. Also, don't forget to rate the app in the Windows 10 Stores. It is an easy way of sending the developer a little feedback on their work.
Download Action Note for Windows 10 PC and Mobile Devices (opens in new tab)
George is the Reviews Editor at Windows Central, concentrating on Windows 10 PC and Mobile apps. He's been a supporter of the platform since the days of Windows CE and uses his current Windows 10 Mobile phone daily to keep up with life and enjoy a game during down time.
We actually need Tsunami of apps to Compete with Android and iOS

No, we don't.
Few big ones such as banking apps are must.

Can't have a tsunami without a little rain

Actually, what causes tsunami is earthquake, not a rain.

Tsunami will happen in sea and Rain happens in Clouds..

Agreed, we don't need aa many apps, we just need quality apps that are practical.

Most of the apps in Android / iOS are just pure crap, there are few apps worth mentioning but those are also missing from WP ...

I couldn't have said it better

But also a few gems missing form Windows like being able to remote shoot from high end DSLR and ILC cameras from your phone. But I agree out of the millions apps available how many are we really using? One picture at a time -- LG V10

There's a huge difference between number of apps and quality of apps. Windows Store is behind both in number of apps and in app quality. Even Microsoft's own apps for iOS and Android are greater in number and in quality than for Windows Store.

Fun fact : That is true :(

It's true. Posted via the Windows Central App for Nexus 5x

This is a seriously clever app.

Yeah but where are the big apps?

I have been using the apps for a week now. Great apps.

Why are there no quick links anymore? :-(

This app is is outdated and ****,compromise for now,new one is coming soon and expected to be better

It would only be "better" if "Mobile Nations" is the developer and not Jay Bennett. We mustn't pay for what is free. I'm thinking of starting a petition. You in mate? UWP's for -
1) WC
2) Windows Central forums.
3) iMore.
4) Android Central.

Actually, they should make WC app for iOS first, and it should be better with more features and updated more often than the Windows app, because this is in line with Microsoft's methodology of making better apps for rival platforms.

Ha-ha Posted via the Windows Central App for Nexus 5x

I hope when the new one release they remember who paid for the app

why? I have "Take a note" on my Settings bar already. One Note works great and it's always in the cloud.. We do not need this local saving sh****


I'd like to thank the app developers for this app, although I haven't used it yet. Some people don't need the syncabilitu of OneNote. And some people don't have Cortana for reminders. So it's a nice addition to the store

This app works faster then One Note ( In case you need to take a note of 1 or 3 lines. Although their is no limit to the lines)
One note takes time to open, On the other hand this app shows note in the action center and they also come back if we clear all the action center.
This app is actual note taking! ;")

Exactly. Onenote(win10m) is bullcrap. To complicated, no ease of access, the ui, the whole app beeing nothing but a scaled down desktop program and definitely not made for mobile devices. This new app here tho :3 it just needs a menu with all the notes sorter by date and an in note list making option ( 1. 2. 3. ) and I am happy :3

I just say "Cortana, take a note" and she records it into OneNote. It none in a couple of seconds.

Ah the "my method is best so we don't need alternatives" person has arrived. And yet there's an app problem on Windows 10 Mobile. And attitudes like this are meant to encourage developers?

I first thought "again a note taking app" but then I tried it and the integration with the action center will make it my go-to app for short notes. I can just open the action center and write a note from there without going into the app.

I want these type of linking to notification center in every app....

Yup :3 imagine : Controlling music, sound, whatsapp and so on from the centre ! Like facebook beta has is partly now and skype messenger beta

I agree. The notification centeris so useless at the moment.

No option for hand written notes on phone. Atleast provide it in 5"+ mobile.

Apps coming to store, nice. But I prefer OneNote mobile.

Thank you WindowsCentral for reviewing my app Action Note! :) Regarding the missing audio option for creating notes: I'm not sure if I misunderstand that, but I'm quite sure you mean the annoying sound that is played when you create a note within the Action Center. Unfortunately, there is a bug in the Windows 10 SDK that even if I disable the sound, it is played nevertheless. After a short discussion with Microsoft, they told me that this bug will be fixed in the RS1 update ... yeah, waiting until summer 2016 is quite a long time. Best regards from Munich,
Benjamin

Benjamin, Thank you for supporting the Windows ecosystem with a quality app!

Great app Benjamin! The only problem i encountered is that it made my 520 a bit slow(i know its an old phone).

During the development, I'm testing the app on a Lumia 925. I try to get back my old HTC 8S for testing purposes, which is comparable to the 520. But I'm note sure if I can change a lot in sense of performance. But I think Microsoft will improve the overall performance in the next updates. Hopefully... :)

Keep up the good work, I'm loving the app.

Nice to hear. I will do my very best... :)

Thank you for your hard work.

Hey benjamin ? Keine ahnung wie das auf englisch heißt aber in onenote hat man die funktion, in einer notiz listen zu erstellen, also 1./2./3. Usw. :D du weist was ich meine . Glaubst du du kannst das noch einbauen ? Dann wäre deine app perfekt.

Sounds okay... I will give it a try for sure !!

Anyone know how to disable Action Center prompts? Keep getting "Quick Notes Create new note" prompts on my WP 10 Lumia 640.

In case you do not want to use the Action Center integration, you can just disable it in the settings of Action Note. You have to options: 1. Either use no Action Center integration at all 2. Use the integration, but disable the ability to create notes from the Action Center, by disabling "Quick Notes" Hopefully this answers your question :)

Yep. Did number 2. Thanks for the quick support. Great support.

As soon as i clearall, it would be gone

You can disable to "Clear all" in the Action Note setting. Currenlty I'm using a workaround here, because of a bug withing Action Center API (Microsoft told me they will fix it in the Redstone1 update). Because of the workaround, it only detects the "clear all" when there is more than 1 note.

This is a great app with functionality I have not seen in other quick note apps. I downloaded as a lark, but definitely a keeper. Nice work!

It's always nice to see new and or improved apps in the store. When i read about this appa a week or so ago I decided to try out OneNote instead from the Action Center. I found it fairly quick to open, and being a frequent OneNote user, I think I'll stick with OneNote. Nice ap though for those who don't regularly use OneNote.

This is a nice app! Developer's efforts are much appreciated. Nevertheless, I would recommend to enhance it by integrating with some other note taking app (eg Evernote, OneNote) so as to exchange notes with other devices and people. Any standalone app, however good, has no future IMHO if it can't integrate with others.

Those guys just need a list funktion like one note. That's it. Nothing more. OneNote is bullcrap and this app has great potential.

Just bought this. Thanks for the heads up. These are the kind of developers I love to support.

@Benjamin Do you have some feedback channel? I'm developer and really like this app, but there are few things which I think would make it even better. :) For example the ability to restore note from archive when accidentally deleted in action center. Or tutorial/preview of settings, because when I cleared my notes in AC they get archived and I didn't immediately know that this could be prevented via settings. Next would be ability to handwrite, but isn't it feature of keyboard? Dunno that. And lastly the cortana integration for dictating notes without opening AC or Action Note. @George

the only key feature missing is an audio option for creating notes.

Well It's not missing. You can use dictation on your keyboard for supported languages. But If you are talking about Cortana integration for something like "Action Center take a note" that would be nice. :)

Reviewing this app is one thing, but recommending it ... It is simply redundant as OneNote does the job well with a Quick Note that syncs for free and that can include audio. If one asks Cortana to take a note, it will create such a Quick Note with an audio file included about your note. That makes me agree with all other commenters who say we do not need redundant crap in the Windows Store.

Everybody says "It's raining apps" that's a fact but it doesn't rain apps of interest which make customers hesitate between W10M and another platform.
Wait and see...

Now just clash of clans is needed and then see how ppl jump to this OS. Many of them haven't changed just bcoz there's no COC.

It's worth mentioning that you can swipe from the left to open the hamburger button just like in groove! It's nice to see that. Also it would be nice to be able to swipe left or right for archiving or deleting a note from inside the app. Kudos to the developer.

No export no love. Also, how fast does it start? If it's slow to boot, no love from me.

What do I need this for if I have one note?

Why do they show this app on a phone? Who has WIndows 10 on their phone? Still waiting for It to be released. Microsoft is throwing their phone business down the toilet!

I paid for the pro version unfortunately it is not synchronizing as claimed by the author and he's not answering the emails. Very tricky person, be warned!
Windows Central Newsletter
Thank you for signing up to Windows Central. You will receive a verification email shortly.
There was a problem. Please refresh the page and try again.