Activate Cortana alpha version in India, Canada, and Australia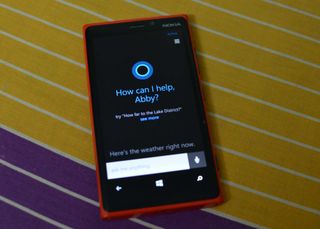 Earlier today, the Windows Phone 8.1 Update 1 started trickling for users who are on Windows Phone 8.1 Preview for Developers. As the Windows Phone team at Microsoft shared a few days ago, the latest update brings Cortana to China and UK in beta and to India, Australia, and Canada in India.
This early adopter program for the latter is opt-in, and gives people the option to try Cortana using English language models from the US and the UK. Let's see how we can configure it for Windows Phone devices in these regions.
Steps to activate Cortana alpha version
Essentially, all you need to do is to change your speech settings to English US or UK. If any other permutation works, let us know in the comments.
If you've changed region or language settings previously to try out Cortana when it released for the US, revert to the original settings for your country. A restart maybe required if you change these settings. If you haven't, confirm that the settings are in order.

Language: English (India)/English (Canada)/English (Australia)
Country/Region: India/Canada/Australia

If you've not made any changes before, you'd need to start here and just change your speech settings.

Speech: English (United Kingdom)/English (United States)/English (United Kingdom)
How do you know if it works? Tap the search button, and you'll have Cortana greeting you rather than the vanilla Bing screen. The top right corner will inform you that it's an alpha version, so things might be awry or some features may not be available. Microsoft would be learning from the user behavior to improve the experience as the product evolves.
How do you find Cortana in alpha edition? Do you find any limitations or mishits? Tell us in the comments!
Windows Central Newsletter
Get the best of Windows Central in your inbox, every day!
I would love to have an alpha in Ireland with English(United States). I changed my region from US to UK and I'm not satisfied. No chit chat. I prefer Jen Taylor, the actress behind the real Cortana. I'm a big Halo fan.

Same here in Australia, its just not Cortana with the pommy voice..mine at the moment doesn't hear me something wrong with it it just times out have checked all the setting but to no avail....may have to do a reset, voice only work if Cortana is turned off

I'm in Australia and I'm getting a mix of Jen Taylor and a British generic voice.
I still get the fun stuff from Jen when I ask "Sing me a song". Anything else like weather I get the British voice.

How could you do! I cannot do it :(

I faced the same issue, mine couldn't hear me at all and it just spins a Bing search for whatever!

I wish they would even release the Alpha version for Ireland.

Alpha version should be released for all Europe countries!

But what's the difference between alpha version n beta version ?

Basically, end users (on the DP) are doing the internal testing for Microsoft. Beta is usually where the end users come in.

Alpha is a pre, prerelease, beta is a prerelease

Agreed, I tried the Canada version and went back to US. I love Microsoft, but can't understand them sometimes. Just give us the same experience. The US beta works fine in Canada, just let us use it without having to change region. Another thing I tried, if you ask the Canadian version to track a flight, I won't do it like the US beta does.

what else did you notice was missing in the Canadian Alpha? i just switched to it from the US beta and i notice Cortana doesn't give stock quotes.

Just Change Your Speech Settings To UNITED KINGDOM TRUST ME AND IT WILL WORK FINE LOVE TO SEE CORTANA TALK IN CELSIUS AND NOT IN FAREINHEIGHT :D

So it says Celsius in Jen's voice? Cortana never said the temperature in Celsius, but now it does.

Do I need DP update 1 to get UK version of Cortana? Just switched from US to UK and Cortana is gone.

I just switched from US to UK and Cortana is gone. Checking through my settings trying to get her back.

Me too and I have the new update too.

I'm keeping the region in US for now. Switching to UK is not working for me somehow.

So nice to have Cortana respond in Metric/celsius instead of U.S./Fahrenheit :) Love the update.

yeah im glad its using metric/celsius. I actually prefer our UK voice over the US one, the way the UK cortana sounds so happy once completed a task like adding an event! makes me smile.

Me too. I much prefer the British voice over Jen's.

What about time format? Please tell me UK version uses a 24 hour clock.

Just ask Cortana to give you the weather in Celsius, heck as for it in Kelvin if you prefer...

Just plain stupid to always ask her to convert it to Celsius every time.

Instead of "what's the temperature", just ask "what's the temperature in Celsius" Cortana actually says it now.

But having to ask it to convert it to celsius every freaking time is very annoying.

But if you are using US settings, then that is to be expected. When localized for your area it will use whatever you use. I'm not sure why this is still being talked about.

Well just look at the thread. OP is glad that we, europeans, can finaly use Cortana in our own format. Then duk3togo replies, saying that it's not that big of a deal, because we could have asked American cortana to convert it to celsius already, and we're saying it was annoying having to ask for it every single time, and this is why we're glad that we finally have a UK version.

lol nice.
aussies lovin the celsius down here too

I cannot understand why the US are still using imperial units! That in itself is enough to stop me from ever switching my settings to US regional settings.

To introduce the metric system over here in the US would be a complete disaster. People are way too stupid to understand change, Americans think of the metric system as "that funny lil european measuring thing", and the amount of money it would cost to change the entire transportation system signage from Miles to Km would be Billions of dollars.

Try multiple trillions of dollars. The entire infrastructure, houses, piping, factories, etc...

Btw some stuff is in inches in Europe (pipes, tyres, rims, tv screens)

People would catch on quick.

Would be a great make work project to employ those with out jobs and get more money flowing through country.

We actually use miles instead of km in the UK too lol

Hey, if drug dealers can do it, the rest of the population should be able to do it too, don't you think? Besides. The rest of the world was able to do it, too. Americans can't be that stupid. Also. You don't have to change all your signs over night. Just use the metric system as an offical measuring system and keep the imperial system around until people get used to the metric one. Use it side by side for multiple generations if you have to. That's how you get rid of it.

A bit funny, US got rid of Empire more than 2 centuries ago, but ended with Imperial measures, while Empire moved (some elements at least) to metrics :)

But their gallon isn't a gallon. LOL. They are their own system, to say the least.

F has more integer accuracy

But only with tempeture. Anything else has more accuracy on metric system.

I doubt you'd feel the temperature difference between 0.3F and 0.7F so that's moot.

I also dislike their month/day/year date format. It feels so randomly shuffled. Imagine counting time like that: minutes:seconds:hours. It would be crazy. I prefer day/month/year or year/month/day.

I can deal with both. In the military we did yeah/month/date and a 24 hour clock. In civilian life I do it like we do it here. They all work and I wouldn't say one is "better".

I would. I could sort of see day/month/year vs. year/month/day and 12h vs 24h formats as a matter of preference, but month/day/year sounds totally silly to me no matter which way I look at it.

I've said it before and I'll say it again it all depends on what you were raised with. The way you wrote it wouldn't make sense to an American. Different strokes for different folks. We do understand the metric system too but have no real reason to use it outside of certain measurements. It's a base 10 system versus a base 2 system, one is decimal friendly and the other is fraction friendly. :shrugs: Still not sure why it's a big deal.

Its simple things like volume.... Now i could show a 5 yr old how to do this its simple in Metric and they could easily say how many litres it contains with simple math and just pen and paper if need be.There really isnt a good reason to have multiple base systems in weights and measures You just "carry" as you normally do

Yes. Finally. Now I don't have to convert Fahrenheit to Celsius in my mind every time. :)

Can anyone help with or explain an issue for me. I'm using Cortana UK in South Africa. Everything works fine except I can't make calls. After I switched my region to UK my phone thinks I'm making international calls. Is this part of the alpha flaws or is there something activated wrongly? I was forced to disable Cortana now...

In speech English US does NOT work for me, only the UK version activates Cortana

I'm glad they're opening this up to those who want to experience Cortana in their region! Might not be the best at the moment, but beats nothing. Also will help Microsoft localize and bring it to these regions proper faster, because they have more data to work with. All in all, awesome!

In Australia - I found cortana will only activate with speech set to UK, on US it says I need to match my speech to phone language... Which is English Australia. Anyone else run into that?

Yep, Australia and India require the English UK voice, just like the article says.

Us Aussies and those in India currently have to use the English (United Kingdon) speech settings. Here in Australia I've noticed that the traffice reports I used to get on Cortana US have gone. (Cortana used to remind me to leave the house for work :) now all is quiet. I expected the Alpha to have some parts missing. lets hope they get turned back on soon. At least we get to help improve Cortana for everyone in the current Alpha Countries. (As long as MS turn on extra features sooner rather than later.)

I noticed that I'm getting inaccurate KM when asking "how long will it take me to get home" etc. The part at the top that she reads out is incorrect, and the area below the map is accurate.

No.... Not working brother!
1 language: English India
2 region: India
3 speech: UK This combo not working!!

Working on my 1520 with that combo.

I am on 1520 itself.....WP8.1 official wid Cyan Official update! No luck....did u restart afyer this combo??

Official Cyan update yes, but have you updated to 8.1 GDR 1 or are you still on just 8.1? PS: make sure your locationis turned on.

Am still of official 8.1..... No GDR1

You need GDR1 for Cortana Alpha.

Windows Phone 8.1 Update 1?

If you got Cyan, you can't get Update 1

Not true, I have Cyan and Update 1.

My mystake "If you are on Lumia Cyan right now and obviously Windows Phone 8.1, then you can enroll in the Preview for Developers program by downloading the app, accepting the terms, and enabling it. When Update 1 is available, you will be notified that there is an update, and you are good to go." So you need first to get Cyan, then enroll and finally update 1 Currently using preview can't install Cyan "Whenever Microsoft lifts the 'hold' on the Lumia Cyan software for those in the Preview Program, Lumia Cyan is downloaded an applied to your phone."

This combo is not working on my lumia 1520! What can i do for activate alpha version here in India? Please help me ! Send screenshots !

Try this link: http://wmpoweruser.com/guide-to-enable-alpha-version-of-cortana-in-australia-canada-and-india-windows-phone-devices/

Thanks a lot Posted via the WPC App for Android!

Enabled the alpha on my 1520 (India). It's not recognizing any commands when I say it. Is the speech part not enabled yet? Cause it works when I type it out.

Same here. She says that she didn't get that!

Switch your speech back to English US and make sure you uncheck the box for improve recognition for non-native speakers. Now switch back to English UK for your speech. It should work with English India for your language and India as your region and regional format set to match phone language.

That fixed it. Thank you so much!

Thankx mate, it worked fine and now taking every voice command perfectly. :D

Thanks mate. So helpful. Finally, it Cortana can now understand what I speak! Hourrah!

Is it for wp preveiw or for all updated if 8.1?

I tried to get Cortana with region as india and language as English india, but there is a message given by Cortana that I am not speaking your language. So I tried with engish us also still I couldn't find Cortana working. Then I revert my settings to USA and using Cortana now. Please tips me if anyway the alpha is available.

Change language and speech settings to UK.. It's the only way out now.. US settings not working.. But Cortana is not receiving any voice commands in the alpha right now..

Same. Region India/ Speech US English gives the same message

For Cortana alpha just change your speech settings to English UK and region to India, phone language to English India

Ahh....done at last Posted via the WPC App for Android!

As my region is India, just to install the speech file English (United Kingdom) it requires a re-set and again I'm stuck on the spinning gears for over 35 mins.

So far a very nice update, live folders are actually cool and Cortana seems neat but limited locally for me...giving ms time to update servers

Can you share your background, please?

Update failed to install l625, IDK the reason from Microsoft this time around. I hope not downgrading and updating.

Can we use Celsius in US yet? I refuse to use regarded system

Fahrenheit and Celsius are both completely arbitrary systems.

Oh lord . Everyone getting updates except 1020
its nearly enough to drive me to android

This is the Windows Phone 8.1 update 1 (GDR1) update which is available through Developer Preview program.. Came up fine on my 1020..

Its the developer preview. Sign up for it and you can get it too.

I just noticed that Cortana's voice sounds much more natural now if I ask her, for example, for the weather.
:)
I really hope that Cortana will in the future be able to speak Czech. :)

Abhishek in the first paragraph the last word should be 'alpha' not India.. Just check..

True
...in beta and to India, Australia and Canada in INDIA(BETA)

How long has the "improve recognition for non native speakers" speech option been available? If I am English speaking and in the US am I actually helping anyone by using it?

I think that's new in this update.

Just tried and failed to update to 8.1 DP for my Lumia 920, in Canada on Rogers, though it goes through the download and installation, I get to the gears for 30 seconds then it quits and restarts, saying that the update could not be completed, this could be a temporary problem... Crappy.

I get the same with my 920 in Australia

All good for me, I did have US settings on for Cortana.

Yeah I also had the us settings to get Cortana, but after it not working the first time I tried again with the settings for Canada but no luck

A shame Microsoft seems to think Ireland is not close enough to the UK to also enable Cortana for the country. Shows ignorance and cluelessness.

The article reads towards the end of the first paragraph, "...the latest update brings Cortana to China and UK in beta and to India, Australia, and Canada in India." What is india? The sloppy/crappy/shit stage before alpha? :P

In Canada, had to switch from English (UK) to English (US). It said that she 'could not speak my language' when set to UK English.

I noticed that too. Our English is closer to UK english and, frankly, the British accent is just that much more classier.

I'd ditch "classier" for the "real Cortana" any day! Its just not Cortana.... AUS.

I can't get it to work, doesn't matter what I set for language clicking Cortana shows the same don't speak your language message. Also it says beta in the corner not alpha.

Hmm, weird. Is it possible that your phone's region is set to a place that isn't compatible?

Cortana works when set to US language but not UK. 920 in Canada.

that makes sense. Canadian English is much closer to American than British (contrary to some comments above).

Its because thats not a typical setup even for windows

with my region changed to uk, when i ask cortana questions like; what's my name or who are you? i get bing searches... anyone else? or just me?

I did at first but working now....

Working now too... Had to do a soft reset

I did... On changing my language settings to English UK, Cortana alpha version became active.

Ah...damn you HTC...well at least mostly everyone got access to Cortana now :D

And tech people are stating that this HTC W8 Is what WP users have been waiting for! Lol....

Am facing the same issue , cortana couldn't hear what am saying except the basic things like " open, text , call " I hope to fix this quickly

I know this first in India any way thx

Lost my commute times. This was working fine in Australia. Also lost near by places...

I lost nearby places when switching to Australia, but commute is still there.

What language settings do you have? I put everything back to Australia and deleted all the US stuff.

Location as Australia, Regional Format as English (New Zealand), speech language as English (United Kingdom). I just noticed that commute is gone from interests (I only have News and Weather) but I still get commute reminders for home, work and appointments.

Guess that is the same as me then. I have never had a reminder about meetings though. Only going to work. What format do you put your locations into the meeting? Even if I put the address in the location, I can not click on it in the meeting/event details. Will see if it shows up tomorrow.

UK Cortana sucks in Aus! Doesn't sound any where near natural... Please give us the US language option :'(

Abhi, I see Cortana has called you Abby :') are you going to change that anytime soon? Or does she pronounce it better than Abhi

I haven't done a bunch of comparison myself to the USA version, but she doesn't know what the fox (and others say).

She didn't for me at first but now Jen does it instead of the UK...

Ok sometimes I'm getting Jen's voice and sometimes in getting some stuck up UK robot........ AUS :|

Been there, done that. Figured out out by trial-error method

Maybe its just me, but i still have to keep the phone location as USA, if i switch it to Canada, i loose cortana. If i keep it as USA, i do not see English-Canada listed anywhere. Maybe im doing something wrong? T-Mobile 925. Update-- Works now, i had USA english language as first option, moved English-Canada up and works now.

After installing the 8.1 update through DP I got Cortana on my phone, and my language is set to Australia, the app just set itself to UK speech. So I don't know if that's something that changed since the article, but yeah, didn't need to change my language.
Initial impressions? The level of conversation depth is staggering (only played around with that based on the weather, can't understand "how's the weather", have to use "what", however then checking other days is incredibly intuitive, I can just say, after getting that, "and Friday" and it gives me that) but there are a lot of things it still only gives a search on.

Also, apparently I it can't understand when I say "halo". I've got to get this working so my mate at work can get phone envy, he's a massive halo nut.

So I tried the Alpha Canadian version and here is my feedback: - It still sounds like Jen Taylor but happier (I like this better). She also says my name much nicer and human like than the U.S. version.
- I love how she talks more naturally in this version (e.g. the weather and in celsius.. YES!), though there's lots more robotic responses too.
- It disabled tracking of my flights! :-(... not sure why that's location dependent since it works fine tracking Canadian flights with U.S. version of Cortana.
- She's missing a lot of the quirky searches and regular searches such as "Do an impression" and "How old is Bill Gates?" again not sure why since the U.S. version worked fine.
- It's missing a lot of the Cortana animations and greetings that the U.S. version has... not sure why For an Alpha version this is great, but I switched back to the U.S. version simply because it uncessary disabled some key features I needed (e.g. flight tracking). Thankfully when I swithced back, she still remembered my flights. :-) Great job so far. I really wish we eveventually get an option change the Cortana icon to the Chinese one. It's much more fitting to the happier personality this one has.

Would you mind telling me which phone and carrier you are using? No luck for me on Telus 1020.

I don't get it why did they change Cortanas voice

Dod she say your name when you asked her? I tried asking her to call me by name oh well she just searched" what's my name"

Can't wait till Cortana resides here in SA

The setting says that Cortana will only work when speech and display language are the same.

Set speech language to UK not India it will work..I know how you feel now

Tambien queremos una versión Alfa en Español!!!

I'm using it Australia and it works almost perfectly. More localisation would be great though.

Not working on my Lumia 1320,India with the settings mentioned

Use his screenshot it will work speech language UK not india

No luck checking settings again with my 1020 telus canada

I know you Indians are happy...

How do i joine this? I cant find thw update om my Phone. Do i need to join some developer preview? And if so, how?

Is it available only after update 1 or without updating it

Cortanaaa... Welcome to India.....

For Canada, there is no "Canada English" speech, there's only one for Region and Language. I'm Canadian and using "English (US)" For speech worked. If its still off, goto Settings>Swipe to the right>Cortana>Then switch her ON. PS: While using the US Cortana in Canada, she gave Restaurant suggestions fine, but after switching her to Canada, she doesn't give Restaurant suggestions... Yes she is in Alpha for Canada, but that feature worked for Canada already...

When i open cortana it's showing "I cant speak your language". i am from india.

Change your speech language to UK it will help....enjoy yaaar...

Cortana is calling me "Master Bruce".... OMG!!

Mine says that " I could not speak your language yet." After setting it to English (us)

works great once you figure out the settings

Err hate to nitpick lol but don't you mean "the latest update brings Cortana to China and UK in beta and to India, Australia, and Canada in Alpha" As opposed to your funny typo haha :P: "the latest update brings Cortana to China and UK in beta and to India, Australia, and Canada in India.". Never the less it is a great and helpful article for those looking to activate the Alpha.

Most of us have stopped pointing out the typos on wpcentral. Sorry to say every single article has mistakes like that. sigh.

Most are not as funny as this typo though lol :P.

No it ain't working on my l925

In India With. Language :eng India
Region :India
Speech us

I'm in Canada and did exactly what the instructions said but no Cortana fir me. Samsung ativ s

India - Tried it. Was disappointed. Went back to US region. Main issues are: No quiet hours. You get Cotana on the live tile, but not activated. So it says Cortana is not available for the region. It works on search button. But one of my main uses is queit hours and updates(news/ stocks etc). So went back to US region.... If this is fixed for Alpha (even the same as US screens) I would go back..

Set speech language As UK

1320 stuck on spinning cogs for a long time after I changed speech language and update was installed. Soft reset did not help. Any tips?

Its good cortana cannot be effective in natural language but surely can type and search o Tel her to do hell lota things loved it.amazing by Microsoft.

Wondering when MSFT would be releasing the 'Gamma' versions for any other countries.. Hehe!!

Got Cortana......but if you ask her to sing she says I am still in alpha so I am still learning to sing. Although she had some wise cracks to make you laugh... Well some part of Cortana is still way better than no Cortana....

And yes Quiet Hours is very much active after I got Cortana. I still love my L920

why they cant just have an alpha version of Cortana for global release??? They're just slow in everything

Working perfectly apha .. For me I m using Lumia 1320 and Cortana know my home address and office address,asked do u love she replying nicely so apha also good for me

How did you did that. I tried all the ways, but it only activates when everything is on US. Help me out brother! Currently having language and region it India and speech to English UK.

Ate you using WP preview version?

Im using 720, India. I tired the with local regional and language settings with speech set to US and UK doesn't activate Cortana.
She activates only when everything is set to US.

Not working for me here. Have set region to Canada, speech to English US and language to English US. On Lumia 920

ive set everything properly I am concitering a reset of my device or to force it back to usa region on my lumia 1020 here on telus to get cortana back.

fixed it follow this post. http://forums.wpcentral.com/cortana/301097-cortana-canada.html

This is so annoying first people getting 8.1 dev preview earlier than anyone got officially now when 8.1 is released again they got it first and normal user who has 8.0 is waiting like idiots of 8.1 still no news , they are delaying update like hell i'am just tired of waiting now.

Didn't work for me either on my Telus 1020. The first time I didn't even have Canada (english) as a language option, so I only changed the region. Then I rebooted and Cortana didn't work. Then I checked the language again and this time I only had two options, English (United States) and English (Canada - available) (which was weird because the first time I had an entire list of languages to choose from), so I selected English (Canada - available) and rebooted. This was when I experienced the blue screen of death. It was literally a blue screen with an error message instructing me to use the Software Recovery Tool to wipe the phone. I couldn't get past it no matter what I tried so I currently have my phone plugged into my PC and the Nokia Software Recovery tool is downloading software for me. Sigh.

Scrary good luck. No blue screen here. Any telus 1020 have Cortana in Canada tuning???

followed this post got it to work. one thing needs to be on canada one thing needs to be on usa. not both set to usa. http://forums.wpcentral.com/cortana/301097-cortana-canada.html

Can any body tell me.how to start using Cortana in India.every I open application she says that I can't speak your language.I tried all languages such as English us English UK and English India.plz guide me...

Working in India... But still more updates needed

Not able to activate Cortana India

Suresh can you tell how to activate Cortana,i tried following steps mention in Wpc

I activated Cortana India and
Wpcentral, WhatsApp,hike stopped working.. Reverted my changes fixed the issue.. I am using Cortana US as for now until MS fix this problem with Cortana alpha version..

I did change everything as shown in this blog,bt cortona is showing "speech failed try again later" anyone having the same issue??

Me too have the same issue... India L720

Yeah tried it in Aus and it don't work... Complains that Cortana only works if your speech language matches your display language. Guess I'll go back to how I had previously (which was region set to US but format set to Australia)

I'm in Aus and it works. ensure speech is set to English UK, region Aus and match phone language.

Thanks... After messing around I thought I'd give that a go and it worked - came back to update my comment but you already posted the answer :) Thanks :)

So I switched to the Canadian alpha version while my partner continued to use the US beta version. To be honest we didnt see much of a difference. Some responces in the Canadian version failed to use Jen Taylors voice at times. Other then that didnt feel the need to switch backk to thee US version. If it helps Microsoft obtain Canadian data to improve the service im all for using the Canadian alpha.

"the latest update brings Cortana to China and UK in beta and to India, Australia, and Canada in India." 1st paragraph, 3rd line..correct the typo please ;)

is anybody getting error "Sorry, speech fails to start. Try agian later" Lumia 720, Region: India, Language: UK, Speech: UK, Internet: On, Location Services : On When I start Cortana by Holding Search soft key, it throws above error.

u found any solution? which phone?

Just a quick qn....so this Cortana alpha only works if you are living in either india/canada/australia? What if you are living in other parts of the world but do a region, language and speech language change? Will it still work? If it does, how do you guys do it? Can't seem to activate Cortana on mine.....living in Singapore atm

I think it should work in other countries as well. Region: Current Country Language: UK or US (here in India it's UK) Speech Recoginition: UK or US and yes, you will need Windows Phone 8.1 GDR 1 update.

Typo in the first para, last line.

Is it for only preveiw version or normal 8.1 users are also there can use the same? Plz help

I live in South Africa and Cortana UK works perfectly (with change of region of course). There is only 1 problem, when I want to make calls my phone does not allow me. It sees my local calls as international calls. How can I change this?

Hi,
I would like to know how this works, I updated my Lumia 525 with developer preview installed and then I completed all the steps mentioned on your post and still no luck. Also Cortana showing as "Beta" not alpha.

Not working in Lumia 820 what should I do now?

What is the problem you are facing?

Cortana in action in India Alpha. She does recognize my thick Indian accent - https://www.youtube.com/watch?v=DI5cCw5Wf7A

I've tried it in India, Cortana opens up but does not recognize voice instructions

Not sure if I should go with the Cortana Alpha (Australia) and update to the preview Update 1 or stick with vanilla 8.1 and US Cortana...

Do I have to change my region as well ? I've changes the speech settings,but it doesn't seem to work.

Well whatever I speak only "Listening" appears then says "Sorry I can't get that" alpha version is the worst found in Cortana & it has no ability added to understand what we speak !

Listening?? I think its default speech app. Not Cortana

Mistype in first paragraph: "...to India, Australia, Canada in India...". It should be 'alpha'

Getting the same vanilla Bing with the update 1 and region to India... I have tried the same setting but no good!! Going back to US mode..

Cortana not working in India. I applied all the settings as in your post.

It didn't work for me @ all

European can Also talk English Posted via Windows Phone Central App

All except the U.S. version of Cortana is bullshit .

Bro I followed all your steps but was unable to enable it in india... pls hlp me out... I can be contacted at roxx.anish@gmail.com

I checked update it was not available for my NOKIA LUMIA 925. I checked windows store saw this there "http://www.windowsphone.com/en-in/how-to/wp8/cortana/cortana-alpha"
then I followed all the steps mentioned there. Still not got Cortana. I contacted them via chat support they said it is not available in India. I was just amazed with the two different information given by the Nokia /Windows Phone . Its misguiding. While I was chatting with their customer care executive, after sometime NOKIA Customer Care called me to inform that Cortana Alpha not available in INDIA, with an apology they accepted its a fault of developer team to put that content on website. I don't know whose fault is this but once again I got victimized by NOKIA. This not the first time this happened. With the poor service, miscommunication and faulted devices by Nokia I dealt in the past also. Here is the story:
I brought NOKIA LUMIA 925 by the end of 2013. After 6 months it suddenly got dead. Nokia was unable to respond why this happened. They replaced my NOKIA LUMIA 925 with a new one. I was happy that I got a new device without knowing it was not long lasting. Same day I brought the replaced NOKIA LUMIA 925 it started restarting again and again. Then I came to know Nokia handed me a faulted device. Again I reached them, this time again they were unable to find the fault & returned the device with an "unattemped" comment. Second time also I observed the same problem. Again I reached them, submitted device. I spent weeks waiting for my NOKIA LUMIA 925. Felt like cheated bu NOKIA. Finally they again replaced my NOKIA LUMIA 925 with a new one. God knows how long it works well. I was loyal to NOKIA since I brought my first mobile & never used any other mobile, but after going through all these experiences I will never buy or suggest anyone to buy a Nokia device in future. This might be the one of the major reason why Nokia comes at third place after Micromax and Samsung at first and second in mobile market share. #Cortana #Nokia #WindowsPhone #Lumia #Lumia 925

It's perfectly working in India. Initially, Cortana was not chatty but gradually it started giving witty answers to some of the questions.

And those who have still not got Cortana..please make sure that your location is turned on. You don't have to change your region, just change the speech to English UK

It's not working in Lumia 625... Does it require windows 8.1 update 1?

Sorry, Speech failed to start. Try again later. anybody getting this error? After Cortana welcome screen when treid to tap on Mic gtting above error.

This is a solution for all of those whose cortana pulls a bing search for everything you ask her: Change the region and keyboard to United States. Set up your cortana and then revert to your respective regions. this way you automaticaly unlock all the beta features available in the US version of the Cortana and the settings are saved in the cloud/server. Once you revert Cortana will automatically pull the data for the available options under alpha and will work fine.

may i ask something, are you using the correct intonation, context for do an question, i have tried Cortana before when was in 8.1 developer and now in the 8.1 in a 520 and yes sometimes do not get the question if you do not use an correct question intonation, more if your first language is not american english but the most of the times works, besides i tried siri and did the same questions like i did to cortana and almost an 89% of the times of questions in human format were not answered even asked to siri who was bill gates and she just gave me an ironic answer, even have asked by time and how far is an country x and was an disaster with siri, i do not have an iphone just tried siri in spanish in an mac store and did the same questions that do to cortana in english same format and question and i love cortana am just waiting to get released in spanish ...

I was expecting even more from cortana. It will be good if its shows the browser history related news on the cortana. Like google now where it shows all recent news which I have browsed on my browser and also shows the the score of my favourite team, alerts me with traffic

Was working fine in the beginning
But now has started to showing
Speech failing to start
Any solution or will it be fixed by an update

Can we use cortana in Lumia cyan also?

I m in india...It doesn't hear me at all...jus spins n does bing search..:(

Not able to do so.. Help me

Doesn't work for me. Windows Phone 8.1 Update: installed Language: English (Australia) Region: Australia Language: English (United Kingdom)

I did the same which is mentioned but for me it is not coming...it says I can't speak your local language after changing to English(United Kingdom)...kindly please someone help...my region is India

I have my Cortana changed to the Speech language as US and set my country as my actual country (Tanzania) and it works in Beta for me

I've changed speech and language as us English and kept region as India! Its not working for me.. She say I'm sorry I cant work this region

Thnx for your help I successfully got cortana on my Lumia 1320 but cortana does respond and it just say listening and is unable to proceed plz help

I was facing similar problem, i changed the speech back to English US when you do, there is another check box down says ,improve accent understading capability or so(paraphrasing). Uncheck it and then again go back to english UK.

Cant say I care as its gimped without the proper server access ie. Still cant access local scout, etc, etc. Guess im still using the region hack for local scout when blue(cyan) drops

As someone suggested to get it work in India set speech to US and uncheck recognize for non-native speakers and then set the speech to English UK and now its working fine.

not working for me too lumia625 India tried all language settinsg seems to be tht=at we have to wait either for beta or the Final ver...

I have changed the settings as mentioned but not able to see Cortana but she is not greeting. Also nothing is appeared on the right side while tapping the search button.
Can we get the Cortana live tile? If yes than pls let me know how to do it. My email id is anupam_p1979@hotmail.com

I updated my Lumia 720 today with wp8.1 update (OTA). I tried setting up Cortana alpha but it didn't work. I changed my settings to US and it worked. But the windows store shows US apps and that becomes a problem. Is the Cortana alpha only for users who have installed preview for developers?

Same here using Lumia 720 Tried everything as mentioned above but get nothing but old bing screens. not able to activate cortana. microsoft do something.

I have Lumia 520 and Lumia cyan in India. I don't see Cortana. What should I do? It is compulsory to have 8.1 update 1 to have Cortana?

From India. Cortana does not recognize English(US) and unable to download English (UK). Any solution??

Do I need to have update 1 preview inspite of having windows phone 8.1 to activate alpha version

I'm unable to use Cortana aplha ver in mu Lumia 920 India help me I'm using speech language UK English as u have shown it help me

I changed it but there's not any popup for Cortana help me

Hey is it available for preview for developers ony

Not getting cortana alpha in India. Ihave updated my phone on CYAN. please help.

Dear sir i'v already updated to lumia cyan release in India. but i've used cortana US version after update as shown in wpcentral tutorial. now i want to use cortana alpha version in India. but after setting to india and speech to uk i'm unable to see cortana

Hi..I have a Lumia 630 (windows 8.1)..Its my first windows phone..Cortana has very limited functions as of now i.e voice commands can only dial a person from your contacts and open apps installed on your phone (u have to clearly state which app ur looking for)..I'd love to see Cortana say more than 'Sorry i Didnt understand you'!!!!

is it available only for developer view or normally updated phones as well in India?

I am trying to download Uk keyboard it doesn't download in lumia 630 please help me i just fill resion carefully it need restart i restart my phone bt after that it does not download keyboard of Uk

i just updated my phone to 8.1 but i am not able to see cortana in settings.

M not able to activate cortana

Hi all i just can,t find cortana on my 1020 after update last week in australia try to change speech setting to uk & usa yes i have 8.1 on my 1020 i have turn phone off and on cortana is just not there all im getting is bing tried for two night i have read all support pages checked all setting guessing i can,t get cortana on my 1020 phone only bing not happy jan

i love it................... it helped me with my daily life................. it sounds me as Naveen.....

So how do you get the alpha version in the US? My Cortana is still beta.

Does Above setting work only for Developer Preview versions?

I've Nokia Lumia 520 updated to 8.1 but couldn't activate Cortana. now I changed region into English UK, speech to USA. when i press Search Button it speaks but it's not Cortana i guess. so what should i do?