Active Fitness gains SensorCore integration, now counts steps and more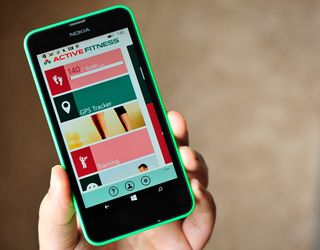 Last summer, Active Fitness joined the Windows Phone ecosystem. The app is a sister app to Winter Ski and Ride, our favorite app when hitting the slopes in the winter, and comes from the same development team. Active Fitness is an impressive app for staying fit, but today it gets even better thanks to some hardware found in newer phones. Rocking a Lumia 630? Then you'll want to try out the new SensorCore integration.
It was just yesterday that the SensorCore SDK was publically released to the Windows Phone development community, alongside an update to the Nokia Imaging SDK. Before yesterday, devs interested in trying out the SensorCore SDK had to request an invite.
By the looks of it Active Fitness is the first app outside Bing Health & Fitness that leverages technology from SensorCore SDK to count your steps on supported devices. It was just a few weeks ago that Bing Health & Fitness received the update, today Active Fitness gets in on the fun.
The update to Active Fitness, version 3.0.1.0, introduces the following:
Step counting (Thanks SensorCore!)
New weekly and monthly reports
Improved navigation
Improved user interface
New activities have been added, like horseback riding
GPS tracking has been improved
Do note: That you'll need new hardware with the Lumia Cyan firmware update to take advantage of the SensorCore technology. Right now, that's just the Lumia 630 available at retail. But devices like the Lumia 1520 and Icon will work with it too once they get the update. You can also add the Lumia 930 to that list once it becomes available. Basically Lumia Cyan + Snapdragon 4xx or 8xx processors will get you SensorCore.
We fired up the new version of Active Fitness on our Lumia 630 to check out the step tracking. Right now we only have Bing Health & Fitness to compare it to and will probably do a proper comparison between all SensorCore apps once a few more get released. First impressions show that it might not be as accurate as Bing or maybe it doesn't update as frequently. Again, we need to spend more time, but that's just a first impression.
Rocking a Lumia 630? Active Fitness is a free app for all your fitness needs (it's also a Universal Windows app). Take it for a spin and let us know what you think.
Windows Central Newsletter
Get the best of Windows Central in your inbox, every day!
Am I right in assuming no sensorcore on 920?

Correct. Only 630, 930, Icon and 1520

What about other WP OEMs supporting this .. is it even possible? I just need a better WP than 635 on T-Mobile .. something with 1GB and flash.

Only MMo or Nokia devices with cyan. No phone older than the 1520 and almost no low end support. SC is Lumia.

Put simply, I believe it is the Icon and all phones released after it.

how 'bout 1020 ?? not on the list ?

1020 and older are sadly not supported.

What phone is that? It's beautiful :D

That looks like the Lumia 630

Can it count steps on devices without sensor core or any other app who allows to count on other devices ? :(

Anyone know of a good stop to keep track of calorie intake? The health app on Samsung phones is extremely good compared to what we have available.

The app seems to have what I'm asking for but from looking at the comments and reviews, it needs a big update to address the performance issues.

An update is supposedly on the way.... I use it with little problems with the exception of the barcode scanner. You hae to allow it to run in the background to avoid most problems I believe

Fit Buddy works with sensorcore

Those is kinda useless once we get BT4.0LE enabled with cyan right? Because then you can just get a FitBit or something of the like assuming there's an app? Was bummed that older devices are left out but that can be an alternative?

It's useless if you own a Fitbit. Very valuable if you don't want to spend another $100 on something your phone does for free.

just try Fit Buddy it uses sensorcore sdk to http://www.windowsphone.com/en-us/store/app/fit-buddy/73e99af6-1590-4109...

It would be good if timex(one of their supported hardware partners) would add a Bluetooth le ironman watch to their lineup but as it stands all they have thats passed thru the sig is 2 alarm clocks & that was overs 6 months ago

I'm glad to see that many apps are incorporating the sensor core SDK into their apps and taking advantage of this sweet tech. Too bad I dont have a phone with sensor core. I'm still rocking my 925.

I have not given the new version a run through, but I had to stop using the last update because on my rides it would randomly shut down the tracking. Hopefully they fixed that. It would also be nice to see Healtvault integration.