Activision's next three Call of Duty games will release on PlayStation
Beyond that, it's unclear if Call of Duty will stay on Sony's console.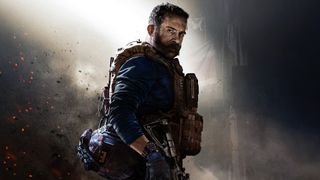 (Image credit: Activision Blizzard)
What you need to know
According to a new report, the next three Call of Duty games will release on PlayStation.
These games include a new Modern Warfare from Infinity Ward, another new Call of Duty from Treyarch, and a new version of Call of Duty: Warzone.
Beyond these three games, it's unclear whether or not future Call of Duty titles will release on PlayStation or be exclusive to Xbox.
We expect to know what Microsoft's plans are once its $69 billion acquisition of Activision Blizzard finalizes, which is expected to happen in 2023.
After Microsoft announced its plans to buy Activision Blizzard for Xbox, gamers and analysts alike have been wondering if the immensely popular multiplatform shooter Call of Duty is going to become an Xbox exclusive. According to a new report from Bloomberg, we finally have our answer: the next three Call of Duty games will release on PlayStation, but the future of the franchise is hazy beyond that.
According to the report, four people with knowledge of Microsoft's $69 billion acquisition deal (speaking anonymously since they weren't authorized to speak to the press) have stated that before the deal was announced, Activision Blizzard had plans to release the next three Call of Duty games on PlayStation. This includes a new Modern Warfare title from developer Infinity Ward that's expected to release in 2022, another Call of Duty currently being developed by Treyarch, and a new version of the free-to-play battle royale Call of Duty: Warzone.
This news follows recent comments made by CEO of Microsoft Gaming Phil Spencer, in which he announced Microsoft's intent to honor existing Call of Duty agreements. "I confirmed our intent to honor all existing agreements upon acquisition of Activision Blizzard and our desire to keep Call of Duty on PlayStation," said Spencer. "Sony is an important part of our industry, and we value our relationship."
Beyond these "existing Call of Duty agreements," it's unclear whether or not future entries in the franchise will come out on PlayStation or not. On one hand, the majority of Call of Duty's players are on PlayStation, meaning that Microsoft would be leaving money on the table if they made Call of Duty exclusive to Xbox consoles. On the other, Call of Duty being exclusive to Xbox would likely drive many gamers that didn't previously have plans to get an Xbox to consider buying one, bringing more players into the Xbox ecosystem.
Microsoft is expecting the acquisition to finalize within the next year and a half, so ultimately, we won't know for sure what Microsoft plans to do until the deal goes through and it shares its decision publicly. We'll also likely find out if Microsoft plans to stop annual Call of Duty releases once the deal closes, too.
Best option
(opens in new tab)
Call of Duty: Vanguard — Cross-Gen Bundle
The bundle for most players

Call of Duty: Vanguard is here but you may run into some problems or server issues while you're trying to play. If you do, know that you're not alone.
Brendan Lowry is a Windows Central writer and Oakland University graduate with a burning passion for video games, of which he's been an avid fan since childhood. You'll find him doing reviews, editorials, and general coverage on everything Xbox and PC. Follow him on Twitter.
Great! After 2023 put the franchise on a break for 10 years. cod is just milk for cash, lack of fresh approaches and ideas is really showing.

The majority of COD players are on Playstation. PS4 to be precise. Today.
Lets see how the platform user base breaks down after COD has been on Gamepass and Series S (and cloud) for three years. (Four more likely: two CODs, two years apart. New Warzone in between or after.) "The future won't be the present with a different calendar."

So basically either one COD game this year and war zone and then one COD next year or one COD game this year and next year, one cod game and Warzone, and then it's a wrap.

Who releases a AAA free to play service game 2-3 years apart? That project needs to be cancelled asap! What a waste of resources by Activision... maintain existing Warzone with content + develop new Warzone game + release new call of duty on annual basis = pure madness. No wonder every Activision studio is in the call of duty mines and Raven's devs are striking due to insane crunch. As for PS releases... $70 on PS vs. Gamepass on day 1. If a PS user has the lower priced Series S as a secondary console or gaming PC it will be a very attractive alternative option for them, which would be a lost sale + lost microtransaction revenue for Sony. It's not likely but it is possible this deal could close before the end of the year.... Call of duty, Redfall & Starfield in game pass to end the year would be even bigger than Age, Forza & Halo in 21.

Kotick's contract expires Mar 2023 so that's the likeliest date.
But contrary to the hopes of the console obssessed the biggest obstacle is the shareholders, not the regulators.
So it's not impossible they could close by December.
Amusingly, the MS case gets easier the better their competitors do. Especially the non-console crowd.

"had plans"….doesn't mean contractually obligated.
That needs to be cleared up.

It's pretty clear and straight forward brotha. After the contract is up, COD will more than likely be exclusively to Xbox & PC.

No it doesn't. MS *benefits* from leaving it murky as long as possible.
XBOX *will* have COD eternally--PS5 *will* have it for 2022 and 2023 but after that...???h
If COD is important to you and you have a working PS4, why buy PS5? Why not wait?
Keeping the long term undetermined is a good thing. And if MS wants to be as nasty to Sony as Sony has been to them, they can support PS4 (and PS4 features only) indefinitely.
Finally, we don't know how the balance of power looks come 2025. Gamepass might be so far ahead that COD on PS won't matter either way. It pays to keep options open. Make'em sweat.
Windows Central Newsletter
Thank you for signing up to Windows Central. You will receive a verification email shortly.
There was a problem. Please refresh the page and try again.