Adobe announces Photoshop CC 2014, updates to Creative Cloud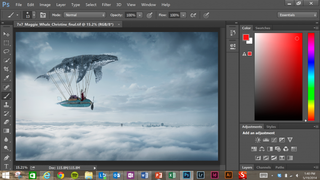 Adobe's flagship Photoshop image editor is in for a big update. Details of the upcoming Adobe Creative Cloud 2014 were revealed today, with some notably cool update coming to everybody's favorite image editor, Photoshop. The CC 2014 version of Photoshop is getting a new Focus Mask tool (you can see it in the video above), which will automatically select the in-focus portion of a photo so you can apply effects to just it or the out-of-focus area.
Photoshop is also getting two new blur effects in Spin Blur and Path Blur, and improved content aware fill with smarter color adaptations for better-looking patching and blending. Users will also be able to link smart objects across multiple documents, and share them all together in a single package.
Touch-enabled Windows 8 devices are getting improved smart guides, layer comps, and overall performance improvements.
Last year Adobe introduced a pilot $9.99-a-month plan for those that only wanted their photography apps, and this year that plan is sticking around (though the cloud storage for new customers is dropping down to 2GB from the previous 20GB). For that price you get the latest version of Photoshop, Lightroom, and Creative Cloud integration with Adobe's mobile apps (including the just-announced Lightroom for iPhone and Photoshop Mix for iPad). If you want the complete Creative Cloud suite, the full $49.99/month plan still isn't going anywhere.
Source: Adobe (opens in new tab)
Windows Central Newsletter
Get the best of Windows Central in your inbox, every day!
Derek Kessler is Special Projects Manager for Mobile Nations. He's been writing about tech since 2009, has far more phones than is considered humane, still carries a torch for Palm, and got a Tesla because it was the biggest gadget he could find. You can follow him on Twitter at @derekakessler.
It sure is. Been using it today on my Surface Pro 2. The new beta touch features are very nice. The 200% scaling is a fail on the SP2 though. It was clearly made for the SP3. Basicly the toolbar gets cut off and you don't have access to all the tools.

Try using the 150% scaling. Adobe Illustrator got this hiDPI support and toudh features earlier and i think it uses 150% and 200% scaling. I don't know if it works the same way for photoshop, illustrator looks ok with 150% scaling on my surface pro (same screen as on surface pro 2). I haven't tried new photoshop yet because i mostly use illustrator. As for me i prefer it without scaling at all, i like the tiny panels and lots of workspace.

Anything for Windows Phone?? Naah.. :/

There should be PDF to word convertor

Doesn't Word 2013 do this already? I use it many times to sign and annotate documents.

Now I might just sign up for the $9.99 plan.

Love that pricing, as an amateur trying to get into that field you can't beat it. Would love a WP app to go with it, especially with phones like the 1020 &1520.

They need to reduce the subscriptions as a whole for main all in one packages, our clients are holding back as all they require is Illustrator and Photoshop however thy have to pay much more than what they need to use, up to 30 per month would be good rate for the two products.

You can sign up for a single program for 19.99 a month. Your clients could do the photoshop/lightroom for 9.99 + illustrator for 19.99. That hits your $30 a month. I only need those three as well, and have thought of doing this exact idea.

no that's not possible. You can only choose one package (the photography one, or a standalone suite), or the entire creative suite. It's on Adobe's website. Stupd rule. I've had the photography one and would like to add After Effects, but that means jumping from $9.99 per month to $49.99

Wasn't windows phone supposed to be getting PhotoShop ?

I wonder why Microsoft never bought Adobe. Adobe has a lot going for them right now, especially brand recognition. Could really help Surface take off with the "creatives" (I hate using that word).

There is the problem of... Well, price... They might evaluate as much as Microsoft is worth

Sorry if I'm wrong but isn't Microsoft 345 Billion vs Adobe 35B? That's by market cap. Microsoft should be able to easily snap them up I believe.

But Adobe won't just sell out to Microsoft...they'll charge them a subscription service to own the company monthly

You gentleman at WP Central, you are aware that the mail notification doesn't work?

Yes, it doesn't for me either.

No, have to go back and check. Really easy when there is 800 comments :P

I thought it was just me...

They changed something and it's not even an option now.

cortana is down..says csnt seem to connect right now....im connected to wifi ..everything thingy is working..so cant be net issue..anyone else havung this issue?

Cortana is working fine for me.

Since yesterday I am with problems with servers from Microsoft. Problems with Store, OneDrive, and... Cortana. -Brazil

do they support high DPI yet? PS is worthless on surface pro 2 because the controls are so tiny you barrely use it with a mouse let alone your fingers.

Unless they have hidden a setting it still has the same absolutely useless non-dpi scaled interface. I just did the upgrade and the tools are still microscopic. It is a shame there are no equally robust products on the market. Given Adobe's appaling customer service, security breaches, and buggy applications, plus the multi-year running battle to get them to update PS for high resolution displays, I would drop them without any hestitation. BTW, before people chime in with their favorite alternative, none are as robust and all have other flaws....

I will correct myself. PS CC 2014 does support high def displays but you will find the option under experimental features within preferences. Easier to use but also definitely beta/use at your own risk. Touch enabling for Windows is also under experimental features. Ironically that one says Windows only which is a bit silly given there are no touch screen Macs.

How much I would like an RT imaging sdk from Adobe....

Hey bro u have a good collection of apps. Can u please cut down your rates of your applications.!!!!

How about support for high dpi Windows displays?

The answer is still no and this is not a Windows issue - never has been. High reslution (retina) dsiplays share the same problem. Adobe uses a universal installer and has stuck to old/generic max display resolutions. They have now promised that will change but at least based upon the update I just did it is still vaporware.

Excuse repeat answer from above but: PS CC 2014 does support high def displays but you will find the option under experimental features within preferences. Easier to use but also definitely beta/use at your own risk. Touch enabling for Windows is also under experimental features. Ironically that one says Windows only which is a bit silly given there are no touch screen Macs.

Thanks for the heads up, Stephen. Looks great on my Samsung Ativ Book 9 Plus. (3200x1800) Finally!!;

Funny that iOS 8 was completely ignored on this site, which is a mobile OS and should have been discussed here from a WP community/expert/users' point of view, but then Photoshop which isn't even available on WP is actually covered.

I do not get it either, what does this info has to do with wp?

I guess you missed the fact this site covers a full range of Windows devices since Windows 8 was released and has forums and regular news for the Surface products? I thought that was pretty obvious but apprently not for some....

So ios 8 should be covered on the Windows Phone site that also has Windows 8/Windows tablets/Surface news and forums but the relase of major apps for Windows should not be reported? Now there is impressive logic. You do know there is an actual sister site for ios?

iOS 8? What in the whole wide world is that?

I would prefer it if iOS and Android were completely ignored.

if iPhone does have Lightroom... WP should have it as well!

That logic will work just as well for WP as it does for the Linux people. Adobe will not support Windows Phone with a Lightroom product unless the market numbers justify. Those numbers are not there so it will not happen. It doesn't matter if Nokia phones have nice cameras, it is all about profitability which Adobe's subscription prices should make clear.

Think it's a bit funny, Norwegian government has given out an app now... for Android and Windows Phone... iPhone to come...

What exactly does that have to do with a poorly run for profit company not developing apps for low market share platforms?

Anyone else see their ridiculous Adobe Ink pen? What a joke. Surface Pro 3 rules!

I am not sure to what you are referring. With respect to pen usage in PS CC 2014, as expected Wacom pens (ie., Surface Pro 1/2) got enhancements and precision improvements. It never was going to be a case that Surface Pro 3 would get anything special from Adobe. They may be nice devices but I am really not sure what is supposed to rule about them on this subject.

The Adobe Ink and Ruler. The Verge did a writeup on it. A $200 accessory for the iPad; it will flop.

In a move befitting Adobe's frequent episodes of idiocy, be aware the CC 2014 update does not update the previous applications. It installs the new applications side by side with the old omes, with the exception of Lightroom which is replaced. If you run off a SSD with limited capacity (as in almost and Surface Pro 1, 2, or 3), you will be carrying the full bloat of the current and previous CC applications unitl you manually uninstal.

Heads up After Effects users - I just got an email from Red Giant saying that they are in final testing of CC 2014 compatibility for their plugins. "If you want to keep using your Red Giant plugins, we recommend that you do not install the cc 2014 update for now. We are very close to an update that will let you use all CC-compatible Red Giant products in CC2014." Red Giant will send out an email when their plugins are CC 2014 ready.

So upset no Windows Phone stuff. Windows is barely mentioned at all with their "There's iPhone then there's everything else" mentality so all the apps are iPhone only. The prices aren't that great either. I wish it was more a la carte so I wouldn't have to pay upwards to $50 for too many things. Give me my 3-4 programs with none of the fluff for $9.99 and I'll be happy.

Does this Version already support Multitouch Gestures like the zoom, rotate & pan function shown during the Surface PRO 3 Presentation? I have a Wacom Cintiq 24HD Touch and I'm still kind of agitated about Photoshop CS6 not allowing me to naturally work with the Canvas despite the investment -_-

And this is why alot of people are leaving Adobe Products... well people I know and I have seen in forums, they have MANY features they could work on and have announced in this 2014 release but then, they add more blur stupid things, and some mask crap, and other while good, still not "I was dying to have this" features.... that's why I have plugins for, many of the new things are not relevant to me.
I wish Adobe would rethink their development plan and give people a reason to leave the CS6 and go CC on a montly suscription plan (since you don't own your software anymore)
I am not saying Adobe is bad, I would say Autodesk sucks, but Adobe is weird, I guess they think their first position will always be the same and they seem slow and while they are adding some new features, it doesn't seem to be the boom some people need or justify the CC thing, when they aren't fixing some features and aren't adding more needed features.
At least Illustrator thanks to CC got the easy way to make rounded corners although some programs already have it since years ago... oh well, what can we do... find an alternative? keep using adobe? don't upgrade to CC for the people who haven't? there are many options and sometimes Adobe doesn't show they can be fast enough to keep some customers happy.

$50 a month is too expensive for the full suite. Even all other software that are subscription is from $3 to $25, I can't justify spending $50 a month when I'm not getting regular income in this business anymore. Its not like 15 years ago when graphic designer you can get good money from work. A lot of stuff now is template even down to InDesign template. If it was $25 a month then I would have easy throw down that but with bills like gas, phone, internet and other. I'm just better off using CS6 master collection which you never had to pay full price of $2500. You could always find it cheaper and for half the price.

My second day in using Photoshop CC2014 as opposed to CC version before. The program got very buggy. All of a sudden leading or line height wouldn't change and I couldn't set indents for body paragraphs because they wouldn't change. They are ging to have to fix these things before I can make the switch. I am not going to take up my precious business time sending error reports to Adobe. Why launch something before its completely tested. Very dissappointed.