Aeries is now a universal Windows 10 app, complete with a new design and more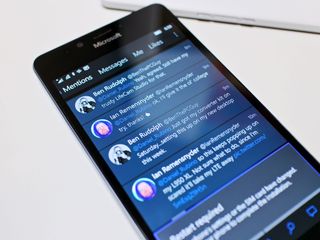 Aeries, a popular Twitter app for Windows Phone, has made the leap to become a universal app for Windows 10 and Windows 10 Mobile, bringing along a new design and a ton of new features and tweaks. With the transition, Aeries has moved up to version 2 as well, and here's the breakdown of all that's new:
Universal Windows Platform (Desktop!)
Streaming realtime updates over WiFi
Sunset mode automatically switching themes
Direct message image support and unlimited character count
Advanced filters for users, keywords and clients
Rewritten for massive performance and stability improvements
New design for Windows 10
Custom options to bookmark tweets for later
Translate tweets
Completely customizable gestures and appearance
New user profile design
Improved background tasks
Manage your timelines in sections
Unlimited user accounts
The update doesn't appear to have propagated on the desktop store yet, but it should be visible soon. In the meantime, you can go ahead and grab Aeries version 2 on mobile and check things out. And yes, this is a totally free update for those that have already purchased the app, so rejoice! Here's a bit of a look at what Aeries 2 looks like on mobile while you wait.
This is surely a pretty impressive update, and it's great to see the developer fully supporting the future of Windows on both desktop and mobile platforms. You can go ahead and grab the latest version of Aeries now on the Windows Store, and be sure to let us know what you think in the comments below.
Update: Looks like Twitter is causing some issues as they have restricted token access for Aeries. The developer is trying to talk to Twitter regarding the situation, stay tuned!
Download Aeries from the Windows Store ($2.49)
Source: Aeries
Windows Central Newsletter
Get the best of Windows Central in in your inbox, every day!
Dan Thorp-Lancaster is the former Editor-in-Chief of Windows Central. He began working with Windows Central, Android Central, and iMore as a news writer in 2014 and is obsessed with tech of all sorts. You can follow Dan on Twitter @DthorpL and Instagram @heyitsdtl.
Liking the app a lot especially the actionable notifications. I do, however, need mentions only from people I follow less my phone blows up lol

Universal apps look delicious haha

They just pulled the app because of Token problems.

https://mobile.twitter.com/AeriesWindows/status/674026935907966977

Daniel, here i can't post anything, gets error all the time. Any fix?

There's a token issue. They're already looking into it.

Can you easily switch between multiple accounts?

If thats your usage scenario then you should try the twittone app. It has actionable notifications with inline reply and selecting people for whom you get notifications. I switched from aeries to twittone 2 weeks ago and will probably use aeries on the desktop when it comes.

I can't find twittone in us store,on which region are you?Can you please provide the link?

Apparently the app is in beta and cannot be searched. you can find the downloadf link on their website.
http://twittone.it

Be interested in seeing how this compares to Tweetium now. Posted via the Windows Central App for Android

Update. Doesn't seem to want to let me post a tweet haha. Posted via the Windows Central App for Android

It's awesome. Adios crap official twitter mobile app

I just set up my first Twitter account. This app update is a perfect first step into the world of Twitter!

yeap, they did it. This is the best Twitter app.

Streaming realtime updates over Wi-Fi, awesome! Just like tweetcaster pro on android.

I'm tryna told jall...
............
The Universal app concept is working... At least it seems to be making current developers pay more attention.. Not sure if it's bringing very many newcomers along,,, yet.

No it is not. This is a 3rd party app, not a major app from the developer of Twitter. No, it seems twitter is blocking the app from working.

Did you read everything I said?

nice to see it out can't wait for the desktop version :)

Is this app better than Tweetium?

Very much personal preference. I dislike Tweetium, but like this...a few things missing though that may keep me on the official app. For now....

I strongly agree with personal preference. On 8.1, I only use Aeries, but I have the offical app installed so I can get notifications. That way just works for me.

Does quote tweet work well on this app (i.e. embedded)? I'm using the regular Twitter app, and it just gives the tweet link, so if I want to read it I have to click the link to open in Edge.

You can choose 4 different types of retweet.

I'm wondering how it is displayed, is the quote tweet retweet displayed in the app?

Do you get notifications for mentioning in twitter? Tweetium requires you to pay an extra 7.99 a year to enable that feature.

Yeah, but it's limited to every 15 min.

Umm.. Right now the app can't retweet. So, I can't tell how it actually works. Posted via the Windows Central App for Android

Does this or tweetium support tweet notification?

Does the app allow users to reply on the notification center, or does clicking reply opens the application?

Can i see gifs and videos in the app? If not, tweetium is still the best twitter client.

Another app I wont use. Thanks

I tried it but it gives me an error on install. In the past these were Microsoft OS problems so I'll just wait for an update that hopefully fixes that.

Is there a decent free Twitter client? I don't use Twitter nearly enough to justify spending money on a decent application for it.

If it's free, it will stop working quickly because of the token limit.

Love the design.. Why not make a standard. Even google is now trying for tabs/pivots... Looking at mail app and this app.. I think this dssign will rock if they implement.

Neeeds a free add supported version. I dont use twitter enough to justify spending $$ for an app when I can use the official app/web page for free.

Aside from the official app, I don't think there are any that are actually actively updated and also free.

so you can buy a smartphone with $$$ but you find it hard to buy an app for 2.49$ ? :X

Poor logic right there. A smartphone has multiple uses that can be justifited. I'm required to own one for my job, as are many people today. Twitter is a FREE service, and it's difficult to justify adding a cost to that free service.

The free/ad supported model for Twitter clients has basically been killed by Twitter with their app token system. A user that uses an app once takes the same permanent token that a regular user does, and an app is only given a limited number of tokens by Twitter, use them all up and no new users can use the app.

Can this app plays gif format?

This was my favorite twitter app while I wason WP. Missing a couple features that Tweetium has and no real time notifications but the user experience was so much better.

Aeries is a much better app than Tweetium is. However, the app right now seems to have problems with Twitter's APIs. It can neither tweet nor retweet anything. Hope the developer can fix the issue soon.

Does this support instant notifications?

If you like Aeries, you will also enjoy Twittone (currently in BETA), it is hided in the store but you will find the direct link on his site http://twittone.it - it supports true interactive push notification from selected people and it is also already universal!

Anything happening with the token restrictions? Think that's why I can't use it. No update since your update that's all. Posted via the Windows Central App for Android

Just had a reply from him via app feedback and he's working with twitter to fix the token restiction issue asap. Hpefuly we'll hear something soonish.

I tried about 5 Twitter apps for Windows Phone, includng the offical one, this is HANDS DOWN the best Twitter app on Windows Phone.... You dont like buying apps ? But, if you use Twitter a lot, spend the $2.50, it is really worth it...

Was always my favorite Twitter app! Was waiting for this update so happy he was able to get it done and continues to support WP.

I just about abandoned Twitter until I got this app.

When I try to sign in, I get an error (cant contact Twitter), app won't even open. Is this the token issue?

I'm having the same problem. Is there a fix?

Same problem here! Please get this fixed!
Windows Central Newsletter
Thank you for signing up to Windows Central. You will receive a verification email shortly.
There was a problem. Please refresh the page and try again.