Aeries picks up some performance improvements and bug fixes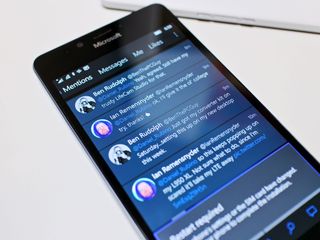 Aeries, the popular third-party Twitter app, has been updated, improving performance and fixing several bugs in version 2.2.31. Streaming stability has been improved, and there are fixes for issues such as unresponsive action drop downs, Live Tile problems, and syncing bugs.
Here's what you can expect from Aeries 2.2.31:
Fixed issues where the actions dropdown could not be opened on a tweet.
Fixed an issue where manually starting streaming could cause you to miss out on a few tweets.
Improved streaming stability.
Improved performance and caching of user profiles.
Added expand button to quick reply on mobile, it's now easier to send more elaborate replies!
fixed an issue where the live tile may not be getting updated in some cases.
Fixed an issue where syncing save read position between devices could cause the position to get stuck or display an incorrect number of unread tweets.
Debugging and logging improvements to help me get fixes to you faster!
Fixed issue where quick reply send button could seem unresponsive
Autosuggestions now don't echo what you have currently typed.
Fixed some issues where autosuggestion can get stuck in the wrong state.
You'll find Aeries 2.2.31 in the Windows Store right now.
Download Aeries from the Windows Store (opens in new tab)
Windows Central Newsletter
Get the best of Windows Central in in your inbox, every day!
Good app Posted via the Windows Central App for Android

what's the point to use windows central app on android and read articles about windows phone?????isn't it stupid???

Maybe he has Windows phone and Android tablet

I think only Windows fans doesn't read much about google and apple news as much as they do. I'm a proud Windows fan.
In the end, it's all Mobile Nations that provides us better news and updates everyday!

I'm a super windows fan boy, but I even have a sidedroid. Just because it has alot of better games.....sad but true.

True. Posted via Windows Central for Windows 10 on my Lumia 650.

Why not? Posted via the Windows Central App for Android from the iPhone

He might be planning to change his android phone for a windows phone and so he's interested in things about the windows ecosystem. (That's exactly what I am doing, and I can't wait to get rid of my android phone) Posted via the Windows Central App for Android

No more than it is to read Windows Phone articles on a PC =/

Good point.... They are just a bunch of showoff losers

There are plenty of us using multiple devices. Each OS has its pros and cons.

I like windows phone too even though I am using Android. Problem? Posted via the Windows Central App for Android

Could have a Windows 10 PC/Tablet?

Hey guys what should I purchase, Tweetium or Aeries? I know Tweetium is available for both phone and PC but in terms of UI and performance what should I purchase for my Lumia?

Both have PC app... Tweet it also update you on the background about mentions, messages and other things that aeries do not...

So which one do you suggest?

Up, thanks much :) cheers. Posted from Windows Central for Windows 10

Up, thanks much : ) Cheers

Wondering the same and why they are better than regular twitter?

The official Twitter app is ages behind the same app on other platforms. But even on iOS/Android third-party clients still give a better experience.
- each client is packaged with some extras, with some of them being *copied* by Twitter. As an example, Tweetium had a gif-search option for months before Twitter brought it to their official apps recently;
- Instagram pictures show up natively on most third-party clients. Twitter dropped Instagram cards once the latter was bought by Facebook;
- as a major con, Twitter put restrictions on its API so third-party apps can't have all the bits. Currently no third-party client supports polls or group messages, and have limited notifications support. Tweetium circunvents this issue by assigning notifications to an external server, which is why the notifications are exclusive to Tweetium Pro users ($5 per year).

Tried many clients through the years, and Tweetium is still my favorite. It's the only client to have actual real-time notifications and a great notification center (Connect+) which is backed by the dev's server. Unfortunately notifications are only available if you get Tweetium Pro (IAP = $5 per year) but it's worth the value. Looking forward for Fenice v3. It's a great app already but it has some major flaws, which are expected to be over in v3. If it comes with real-time push notifications it may easily become my to-go client.

As far as I can tell, Tweet It! is pretty near real time notifications including actionable notifications. Posted from Windows Central for Windows 10

Tweet it ! Does real time notification pretty well

Lots of bug squashing, downloading to check out the performance improvements Posted from windows 10 mobile

Losing my hope on the official Mobile version of the Twitter app. On the other hand, BUILD 2K16 is around the corner...

This app is good but i revert back to tweetium after 2weeks Posted from Windows Central for Symbian Belle

Ineed app and games Arabic

Are there no free decent Twitter apps in the Window store? Posted from Windows Central for Windows 10

Hey guys...im developing windows phone apps..i don't know how to connect database in windows phones...pls help me guys how to connect db....anyone knows abt it????????

I wish the Facebook Beta app has that Aeries does, opening webpages within the app. I like not having to leave the app to read an article from the Guardian that I come across on the app. But yeah, Aeries is my favorite Twitter app! Posted From Windows Central for Windows 10 Mobile on Lumia 1520
Windows Central Newsletter
Thank you for signing up to Windows Central. You will receive a verification email shortly.
There was a problem. Please refresh the page and try again.