Aeries for Windows Phone updated with many new features, changes and fixes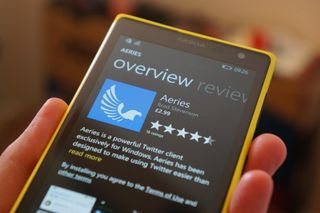 The recently launched third-party Twitter client Aeries for Windows Phone has received an update today that brings with it a ton of new features, improvements and bug fixes.
Here's the very long and detailed change log for the new 1.2.7 version:
Trends section no longer hides last trend behind app bar.
Big perf and battery improvements.
Fixed a few rare crashes with tweet gesture actions.
Fix for hide app bar not correctly hiding.
Fix for status bar not being visible when system theme is light and local theme is dark.
Memory footprint reduced by up to 60%.
Fixed a bug where filtered tweets can be re inserted in the wrong order when the filter has expired.
Viewing who retweets a status will now fetch the latest info for it.
Design changes for pinned searches and lists when Icon headers are being used.
Option to apply tint color to inline buttons.
Last viewed trend will now save for each account.
Improvements to pinned secondary tiles.
Navigation fixes. Prompts to save drafts and apply settings now show before navigating backwards and back button fixes for exiting imageviewer.
Fixes for viewing who has retweetd your tweet.
Instapaper support.
Additional font size options.
Options to set your style of Tweet quotation.
Fixed a race condition which in rare cases could lock a user out of the app until they reinstall.
Improvements to user file management.
Fixed an issue opening imageviewer from tweet details page.
While Aeries first launched at $4.49 (with no trial version available), but it has been lowered to $2.49 as a "limited time" sale. That price is still in effect so you might want to jump in and get this impressive Twitter app now, just in case the developer decides to increase the price again.
Thanks to Abhishek for the tip!
Download Aeries from the Windows Phone Store ($2.49)
Best twitter app on windows phone :)

When will it become free?

What Legoboy said. Its beautifully done and looks great on my 1520. I didn't jump right in but I snapped up the price break. I would have spent more.

best app. worth RM8.70 incl. GST xD

Hoping one day it'll be free :) Being Optimistic :P

It wont, due to his deserving effort and the twitter token limit on 3rd party apps.

Either that or carrier billing. Come on Airtel...

I used gl33k too, but can't find it in the store anymore. Was a great app!

I remember that cost $100 for a while!

How do we know this won't one day be discontinued like so many others?

How do you know a meteor wont hit tomorrow and kill everyone?

It's been giving me a break from MeTweets lately

Wow. Another great update. Knew he had one coming, because the new "quoted tweet" thing hadn't been implemented yet. Been using it since beta, a great app.

Best twitter client on this platform. It is fantastic, especially at the reduced price. I only wish the desktop client would come out so I could use it on my PC instead of Tweetium, which isn't a bad app by the way.

Good looking app, but until it supports tweet marker, I'm sticking with Tweetium.

can't open others profile, just loading and loading.. then the app unable to close

I will wait till it lands up as 'free app of the day' on myAppFree

All those who won't drop $2.50 for an app of this quality, no problem. But it is one of the nicest apps on the platform, the developer is incredibly responsive and the updates constantly include a ton of new features and improvements. Don't complain about developers not bringing apps to the platform when all you do is complain if the price is above $1.

I have no problem with the price, as long I can get a free trial to test out the app before I buy it. If I wanted to gamble with my money I'd go to Vegas.

I do agree with that. I'm not sure why a trial wouldn't be offered for a paid app. I usually pay for apps after I've gone through a trial, or if I happen to use the beta program like I did with this one.

Best twitter app. Was hooked from the start

Ok i have been looking for something to replace my beloved Rowi (RIP) and cant take th stock app from Twitter any longer. Too bad its isnt a Universal app but i'll drop $2.50 for a dev supporting the platform with a promising approach to Twitter.

I've been using it and it's a great Twitter app, totally worth the price!

would love to see these features on the official twitter app for windows phone. But since they are on a long sleep that's impossible.

Is group Direct messaging enabled on this app?
Windows Central Newsletter
Thank you for signing up to Windows Central. You will receive a verification email shortly.
There was a problem. Please refresh the page and try again.